Europe's Most Beautiful Cities: A City Break to Krakow, Poland
I love to travel. I always have and I most likely always will. There is something special about exploring another culture and walking on foreign streets, sampling new cuisines and breathing in the air of a new land. So, when The Blogger Programme invited me on a city break to Krakow, Poland I simply couldn't resist. Thoughts of pierogi (Polish dumplings), vodka and Christmas markets danced through my head and the deal was sealed. I was going.
I've always wanted to go to Poland actually. It's always been on my 'hit list' as I like to call it and I had heard great things about Krakow. It's a city that wasn't destroyed during World War II so the buildings are all in original condition and it's a city of food and culture which you can't beat, really. I also LOVE Polish food. I live around the corner from a Polish supermarket and you can very often find me there scooping up rye bread, sauerkraut and pierogi. I once picked up what I thought was a kind of hummus only to realise later it was trout fish paste. Well, live and learn people (I still ate it).
So on to Krakow it was last week with Wizz Airlines who do a mean deal on flights to Krakow from London Luton (I'm talking as little as 22 each way). So, if you are looking to save on flights and then spend it all on food and drink (what I did) then this is the way to do it. Sometimes it's all about where you want to spend and where you want to save. If you can save on airfare perhaps you might splash out on accommodation? Everyone has a different style of travelling but Wizz is a good way to get to Eastern Europe if you are on a budget – the planes are modern, clean and also on time.
I wasn't sure about the weather in Krakow so made sure to pack plenty of warm clothes. I was lacking sweaters so had headed to Primark (who kindly gifted a voucher for the trip) a few days before to stock up on some quick purchases in the form of cosy sweaters, fuzzy hats and warm gloves. I have to say that Primark are actually killin' it with the clothes right now and have some of the same styles as some of their other high-street competitors at half the price. Again, for quick holiday purchases Primark is always a goodie.
Upon arrival to Katowice Airport we were whisked away to Krakow by Krakow Excursions who took us by a fabulous Mercedes Van that was super luxe and comfy inside. Katowice Airport is about an hour away from the city of Krakow so if you do fly in there you would need to book some kind of transport in and I always find it's easier to just arrange it prior to getting there so I don't waste any time once I've landed.
Once in Krakow we checked into the Sheraton Grand Krakow which is an absolutely stunning 5-star hotel that overlooks Warwel Castle which is BEAUTIFUL. It's also about a 7-minute walk from the main centre of Krakow so it's close to everything – all the shops, restaurants and market square with all the Christmas markets! I have to admit, I've spent many of my younger years backpacking around the world and staying in hostels so with age I've decided I like to have a bit of luxury and comfort. I think it happens to the best of us!
The Sheraton Grand Krakow certainly doesn't lack elegance or class with high ceilings and rooms with a view. And did I mention that their beds are well-known for being the most comfortable beds in the world? Well, I tested them myself and I have to say they were pretty darn comfy. Didn't want to leave that bed…
Also much to our surprise (hello when Christmas comes early!) there were some amazing goodies waiting for us on our beds that the lovely girls from The Blogger Programme had set out for us. In particular a beautiful leather backpack from MyWalit caught my eye and I actually ended up using this the rest of the trip. It's so chic and minimal – right down my alley.
I also brought along with me the perfect handbag to take around the city from Radley London. I have to say that this bag which is the Lavender Gardens Satchel has taken my fancy as of lately and I am in love with the guitar strap that are embroidered – so chic, so unique and most certainly one-of-a-kind. I've been admiring Radley bags for a few seasons now and each season they get more and more chic and modern. The textured leather of this bag is unique in the white colour and it also has a hidden push lock which means your stuff inside is quite secure – an added benefit when wandering around a new city. It also has a back slip pocket which I find is quite handy for putting in items like city maps, etc. that you may need to access quickly when navigating foreign streets.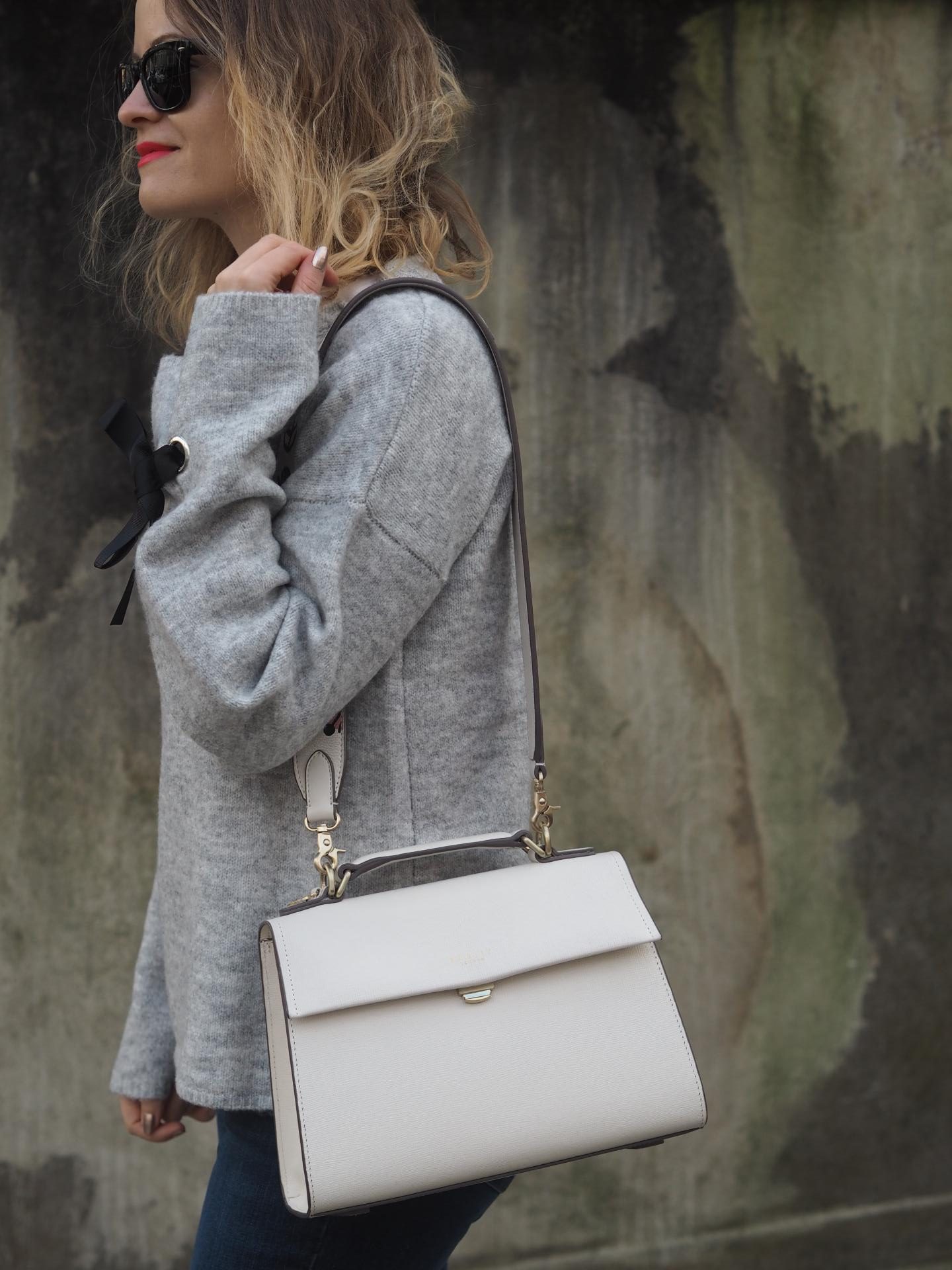 And to go with that amazing bed at the Sheraton Grand Krakow was the loveliest PJs from Figleaves – so soft and the style and design is right down my alley. With the PJs came some gorgeous lingerie from Lepel Lingerie who are also stocked at Figleaves – honestly nice lingerie is such a treat right? I feel like us girls don't treat ourselves to nice lingerie nearly as much as we should.
And I always love the beauty treats so was super happy to find the new Lip Top Coat from Urban Decay (one of my favourite brands), XLash Cosmetics Lip Plumper, XLash Cosmetics Eyelash Serum and Maria Nila Sea Salt Spray. I'm already a big fan of the Maria Nila Sea Salt Spray and have been using it since!
The staff are also super friendly and I was also impressed with the amazing breakfast at the hotel. I always like a good breakfast, it's my favourite meal of the day so I appreciate if there is an amazing breakfast buffet which at the Sheraton Grand Krakow there most certainly is! They even had coconut lattes for goodness sake. So you certainly won't go hungry!
So after checking into our rooms, we headed out to explore a bit of the city. Emma from Emmasphere who had been to Krakow before recommended trying some rose marmalade donuts near the old town that were amazing. And they were only $1 so you can't go wrong. The city is truly so beautiful and for me it was pretty much love at first sight. Everything has that elegant grandeur of Old Europe and every corner is Instagrammable – that's the best way I can describe it. The old town square is wide open and surrounded by open-air restaurants that people sit outside at even in the cold because there are so many heat lanterns so it's ok to do so. Krakow has a lovely feel to it – it's not overly busy but it's busy enough and you can stroll along without feeling stressed. It's a city to wander and browse and that's exactly what I would recommend doing if you visit there.
After strolling through the city at night we headed back to the Sheraton Grand Krakow and to the bar to enjoy some champagne and canapes before dinner at the Sheraton. There was sooo much food, including a famous Polish cheese that my Polish friend had told me that I must try. It tastes like smoked halloumi and it is certainly well worth adding to your foodie hit list when visiting Krakow. We then dined on a variety of meats (fish and steak) and so many amazing salads. Everything was fresh and delicious and I ate so much that I had to sneak away and get to bed so I was ready for the next day!
The next day we woke up early and took a walk through the city by day before heading out to Auschwitz with Tell Me Travels. If you do have an extra day in Krakow I would highly recommend visiting Auschwitz. I will warn you however, it's not a pleasant day. But it's an important one and it's important to remember these horrible acts in history so that they are NEVER repeated. Auschwitz was an extermination camp for Jews during World War II so you can imagine the heavy feeling in the air that the place has. I had to fight back tears several times and I didn't take many pictures while I was there out of respect. It's hard to digest some of the atrocities in history but again I think it's important to know about them and I would highly recommend a visit there with Tell Me Travels who got us there and back to Krakow quickly (Auschwitz is a bit over an hour away from Krakow).
Once back in Krakow at the end of the day we had a bit of extra time to explore. After such a heavy day at Auschwitz a drink was certainly in order and so Emma had some recommendations on some places to visit. Again, we had pierogi and vodka on our mind after having not eaten all day and while we didn't end up having enough time to get pierogi we did find the most amazing vodka shop in Krakow that you must visit. Sadly I don't even know the name of it but it's just off the main square and there are so many different types of vodka that you can try from mint to lime to more exotic flavours such as chocolate orange. You simply pick a glass bottle and choose what vodka to fill it up with. You can sit and sip on shots as well and also test before you buy.
After vodka tasting our spirits were revived a bit and fortunately so because it was time for a Segway tour of the city with Tell Me Travels. Now I had never been on a Segway before and after a bit of training we were off and speeding through Krakow at night. I have to tell you that this was the highlight of the whole trip! If you haven't been on a Segway before you really must try – they are SO much fun! I found I was quite good on them and when the tour end I really didn't want to get off of mine. I could have sped around that city all darn night.
After the Segway tour it was time to head to Boccacino's for dinner which is an Italian restaurant next to Camelot Café (another must visit) in the heart of Krakow. They make amazing pizzas and Italian food and the atmosphere is lively and fun. After such a long day it wasn't long before the prosecco went straight to my head and it was time to head back to the Sheraton Grand Krakow (where a fruit platter was waiting in my room BTW!) for a dreamy sleep on those amazingly comfy beds…
The next morning it was time to pack up and go and I have to say I was really sad to be leaving Krakow after such a whirlwind trip. It's definitely a city that I would go back to and one that I would highly recommend visiting.
Don't forget to follow me on Instagram @beautyrocksblog for all my travel adventures and you can also scroll through and see all my pictures from Krakow!
Thank you so much to The Blogger Programme who made this trip happen and all the brands (Primark, Figleaves, MyWalit, Urban Decay, Maria Nila, XLash Cosmetics) who kindly provided gifts for the trip. If you are a blogger or a brand reading this I would definitely recommend signing up to The Blogger Programme because they connect bloggers with brands and vice versa so it's well worth signing up!