There is nothing quite like a bit of beach therapy hey? Especially in the winter when it's cold and grey outside. Planning a beach trip in the winter is such a good idea – it really breaks up the long winter and gives you the sunshine boost you need to get through the dreariest months. It's great going to the Caribbean in the European or American winter because you just know that sunshine is guaranteed.
I recently took a trip to Antigua with Virgin Holidays and left on what appeared to be the most miserable day in regards to British weather, making me even more grateful when I arrived to the sunshine on the other side. I was lucky enough to split my time between two resorts while I was there with multiple activities on either side to explore more of Antigua. I've written a post on things to do and experience in Antigua HERE and also a post on the first resort I stayed at in Antigua, The Verandah Resort & Spa. Antigua is great because it's a small island so you can easily find time to see all the sights and relax in one week. The island is only 14 miles long and 11 miles wide, making it pretty easy to navigate by car.
The second half of my stay in Antigua was at the St. James Club Resort & Villas and let me just say – it is STUNNING. If you are looking for a chilled, relaxed holiday then I would highly suggest staying there. Because it's an all-inclusive, everything is sorted out for you when you arrive so there is no stress about where to go and how much money it costs. In fact, as soon as I rocked up I went straight to the beach bar, ordered a margarita and looked at the stunning views of Coco Beach, where one of two white sand beaches on the resorts sits (the other is Mamora Bay on the other side). Although there were other guests, I never felt like it was too overcrowded or too busy – the resort is huge (100 acres) and there is a lot of space to roam around.
The atmosphere is super laid-back as well and seeing as I was already 3 days in at The Verandah Resort & Spa, sinking deeper into the relaxed Caribbean vibes wasn't hard at St. James. Honestly, no matter what time of the day it is you can get something to eat or drink at your leisure because there are four restaurants. The choices are endless. Also there is nature everywhere from beaches to palm trees so you always feel in touch with it – in fact my room looked out to Mamora Bay and was dreamy.
One of my highlights during my stay at the St. James Club & Villas was spending a half day on a catamaran trip to Green Island (more about that HERE). I just love being on the water so in my spare time I was taking a Hobie Cat out to sea. Hobie Cats were free to rent out and are mini catamarans that you can sail yourself after having a lesson with an instructor. What I realized now is that I need a Hobie Cat in my life. They are SO much fun and I've never been to a resort that has them and rents them out for free. The Verandah Resort & Spa also had the Hobie Cats to rent out but I hadn't had enough time to try them out while I was there. They were such a highlight of my trip and if you like water sports like kayaking, pedal boating, snorkeling, etc. then you can rent out all the gear for free at either of the resorts.
The room at the St. James was also really spacious. I was lucky enough to stay in the Royal Suites which had waterfront views of Mamora Bay and access to two pools which only other guests in the Royal Suites could access. We even had our own bar which meant endless pina coladas on tap which BTW are my new fave drink. My favourite part of the room was probably the deep tub in the bathroom and the His n' Her showers which are bigger than my whole flat in London. And in the evenings in the room, I actually enjoyed watching soca music videos (soca is a type of Caribbean music) on the flat screen TV every night as well and sleeping in a bed so comfy I could weep with joy.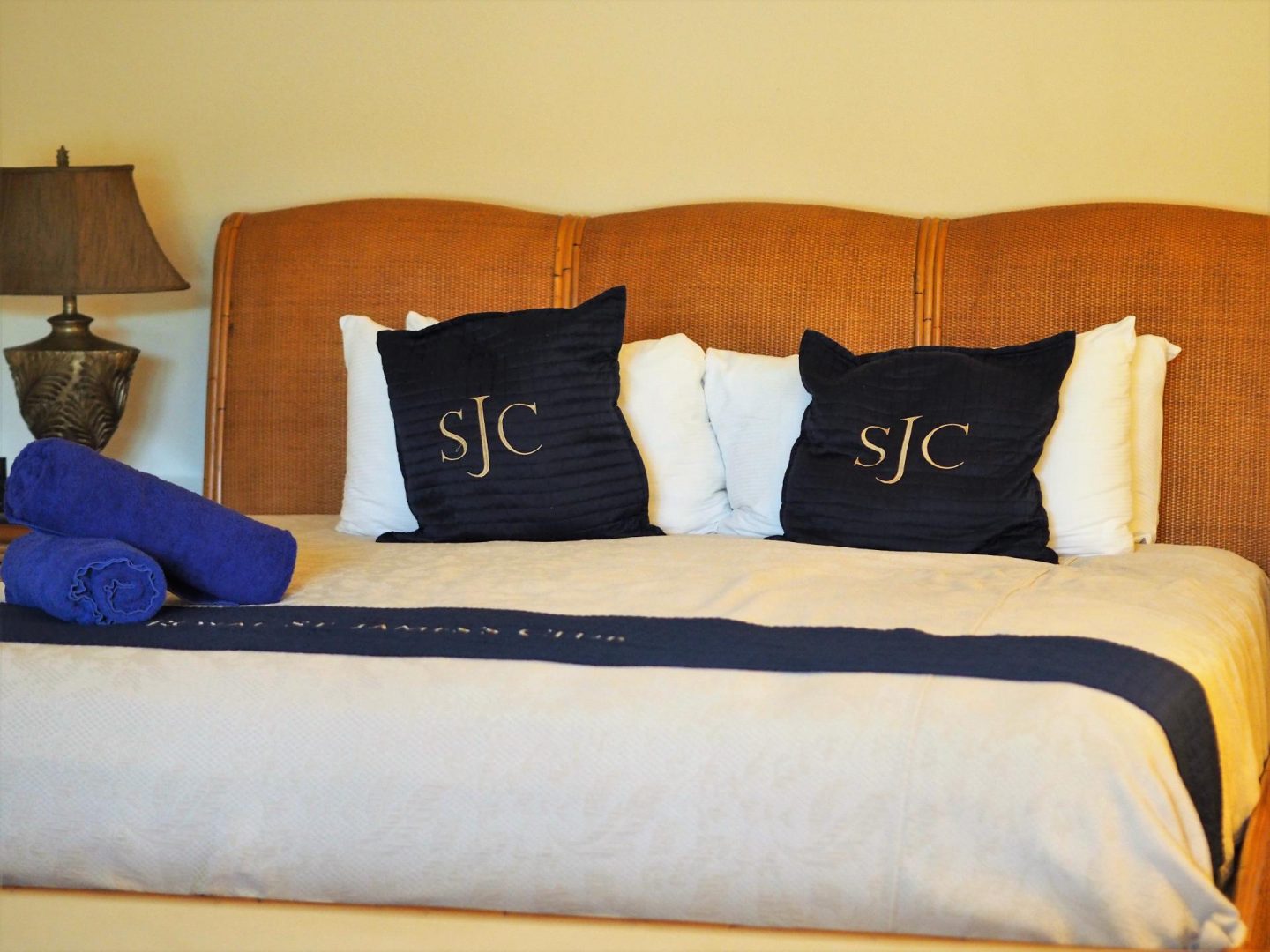 As I said, by the time I got St. James Club Resort & Villas I had really sunk into the Caribbean vibes as well and I could actually feel my whole body start to relax.
And let's just talk about the food, shall we? Rainbow Garden was where I ate most of my morning and midday meals and from here you can see the sea. I loved having my breakfast leisurely every day with a coffee and sitting outside looking at the water which was fabulous. I could have stayed forever!
In the evenings for dinner however, I liked that The Docksider had a lot of Caribbean dishes to choose from as well at every meal so you could sample the local cuisine alongside your favourites. I like trying all kinds of food so I had fun experimenting at all four restaurants at St. James Club. Another one I liked was the Coco Beach Restaurant & Bar where I had the MOST deliciously fragrant, flaky and crispy fish and chips and ice-cold refreshing strawberry daiquiri. Coco's is great if you want a beach bar experience as it overlooks Coco Beach below. It's got a super relaxed vibe to it as well.
A foodie highlight of my trip was the Caribbean BBQ night on the beach by The Docksider. I'm talking Creole fish, rice and beans, dumplings, chop up, rum cake and much much more. I could tell that the chefs put sooo much effort into the food and it was amazing to experience all the local specialties in one night, sitting on the beach listening to the Caribbean steel drum band play. You know what they say in those moments right? Priceless.
And last but definitely not least I had an amazing dinner at Piccolo Mondo which is the St. James Club fine dining restaurant (i.e. no sandals allowed!). The restaurant has an intimate, romantic vibe to it with a quiet atmosphere, lit by the glow of candlelight flickering on each table. I would highly recommend trying it out because I had the most delicious lobster while I was there. The seafood is excellent and there is also an extensive wine menu as well if you like wine. You do have to pay a surcharge of $40 if you choose to eat here but it's well worth it for the lobster, trust me! Otherwise, you won't lift your pocketbook at any of the other restaurants and bars. A cashless society that I could definitely stay in for the long term!
And I've just spoken about the restaurants but haven't even told you the story about the BARS! There are four lounges/bars which are The Reef Deck Bar, Coco Beach Bar, Mamora Bay Bar and the Jacaranda Lounge all with different vibes. My favourite bar was The Reef Deck Bar for pina coladas which honestly is the best afternoon drink ever in the Caribbean heat.
I really loved my experience at the St. James Club and would really highly recommend it if you want to have a relaxing holiday and not be rushing around worrying about everything. Because you have everything at your fingertips already, there is not a thing to worry about! And it's that 'no worries' vibe about St. James that I would definitely return to if given the chance!
Of course, there is a lot of time to relax, lounge on the beach and also go to the spa while you are at the St. James. I got the most relaxing massage at the Tranquility Body & Soul Spa which I would highly recommend. First of all I'm quite picky about massages and honestly, this one was muscle-melting fabulous. Second of all it's all about the atmosphere – I had the massage on a terrace overlooking the sea. I mean it probably is up there at the top of my list for best massages ever because of skill, ambience and location. The last time I had an experience like this was in Bali years ago so it was such a pleasure to be able to experience a massage in such a beautiful atmosphere. Also, I was really impressed to see so many options to choose from in regards to massage and body treatments with everything from a Water Lily Sun Soothing Treatment to a Green Coffee Cellulite Wrap.
If you want to explore more of the island on your own you can also hire a car from the resort. Honestly, they sort out everything and just take all the stress out of planning. For a frazzled girl from London, this can only mean one thing. Priceless!
So now what are you waiting for? Your winter sun is calling…
How to book and costs:
7 nights in Antigua from £1,315pp with Virgin Holidays including scheduled Virgin Atlantic flights from London Gatwick to Antigua, all-inclusive accommodation at St James's Club & Villas with transfers included. Price is per person based on two adults travelling and sharing a garden view room, including all applicable taxes and fuel surcharges which are subject to change. Price is based on a departure on June 12 2018. To book: visit www.virginholidays.co.uk, call the Hotline 0344 557 3870 or visit one of our stores in Debenhams, House of Fraser, Tesco, Sainsbury's or V-Room stores nationwide.