Everyone knows the basic beauty essentials to pack for a summer holiday and the most important one of all is of course, sunscreen (please never go without it, even when not on a holiday). But there's so much more to prepping for a holiday including making sure your toes are on point (sorry, no pun intended), your skin is prepared for the onslaught of sunshine, your hair is protected from harsh UV rays and that your stomach is properly ready for a change in diet and possibly unfamiliar food/new bacteria. When I go away, I think and consider all these things. So, without further ado, here's what I've been taking with me on my summer travels.
SkinCeuticals Mineral Radiance UV Defense
OMG if radiance came in a bottle this would be THE ONE. I swear sun protection gets better and better. Gone are the greasy creams of the past – they've been replaced by sleek and modern versions that not only protect your skin, but make it look better at the same time. I remember when wearing sunscreen on my face always made me break out and now I realise it's because there was only one kind of sunscreen – the thick gooey type that you used all over your body and your face. No wonder my skin broke out every single time.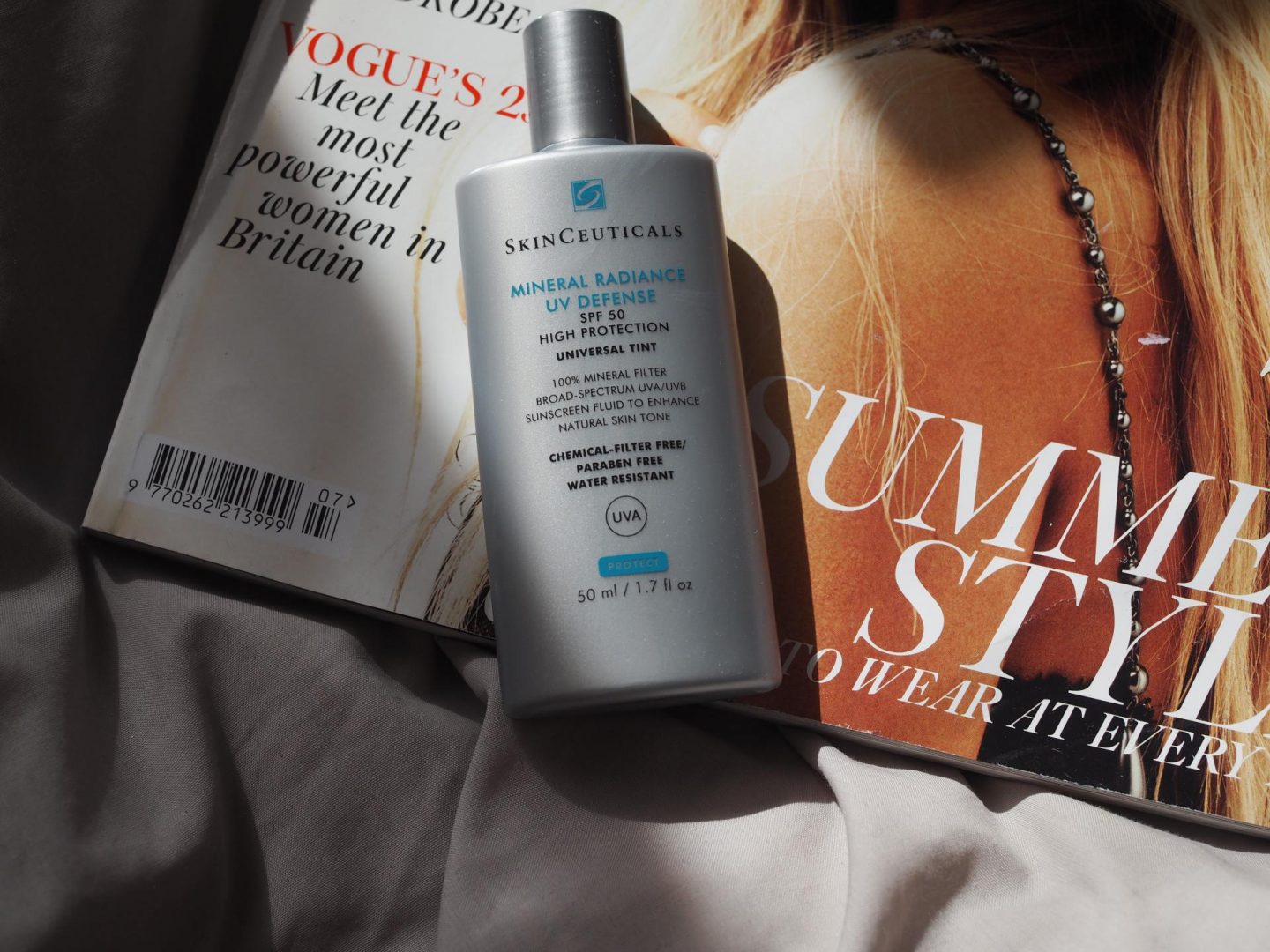 The SkinCeuticals Mineral Radiance UV Defense SPF 50 is what I would call one of those breakthroughs in sun protection. First of all, it's 100% mineral so it naturally gives you that kind of radiance that mineral make-up is good at doing. It's a sheer fluid formula that adapts to any skin tone (woohoo!) and it feels lightweight on the skin – much like a primer. In fact, it actually adds radiance to the skin whilst at the same time protecting it with a special plankton ingredient that helps increase the skin's defence against heat and UV stress. It's also water resistant so perfect for a beach day and it has NO CHEMICAL FILTERS. Could we ask for anything more in our sun cream? I don't think so.
Elemental Herbology Macadamia & Papaya Radiance Body Scrub
A great way to get an even self-tan? Exfoliate first! If you exfoliate before using self-tan your self-tan also lasts longer. Fact. And actually, you should be exfoliating your body twice a week and I heard that from a celebrity facialist in London so I'm taking it as good advice. The Elemental Herbology Macadamia and Papaya Body Scrub is a dreamy little scrub which contains essential fatty acids, rich bio oils and botanicals. So not only does it get rid of the dead skin cells but it also nourishes the skin at the same time. And it smells like a dream as well! For a deeper scrub, I used this before getting in the shower on dry skin,s but you can of course use this in the shower too.
Vichy Ideal Soleil Solar Protection Water
As I said previously, sun protection upped its game this year. The Vichy Idéal Soleil Solar Protective Water Enhanced Tan is a GENIUS product that is a sun protection WATER. You know how now we can use tanning water instead of the messy tanning mousses of the past? Well now you can use a sun protection water instead of a messy sun cream. The Vichy Idéal Soleil Solar Protective Water Enhanced Tan offers SPF30 sun protection in a convenient spray bottle. The formula comes out as a clear, non-greasy mist. This is not a spritz oil but a lightweight mist so you don't have to worry about it staining your clothes or leaving your skin greasy. You can also use it on your face. A BRILLIANT sun protection product for summer holidays.
We always think about what we can do to protect our skin from the sun on the outside, but do you ever consider how to protect it from sun damage from the inside? Yes, more genius sun protection products are HERE. The Hello Day Sun Prime tablets are food supplements that you take prior to going on a holiday in the sun to help better prepare your skin for the onslaught of damaging rays. It does this with a combination of ingredients like copper (which helps to balance skin pigmentation), Vitamins A & E and also Selenium to help protect skin from oxidative stress. Genius, I know.
One thing that can ruin your holiday is an upset stomach. I've lost days from previous holidays due to being ill from eating unfamiliar food or coming into contact with bacteria that my stomach just couldn't handle. One way that you can help your stomach out (if you want to read my post all about probiotics please do HERE) is to UP the level of good bacteria in the gut by taking probiotics. I LOVE the Optibac Probiotics Max which you can take every day to strengthen your gut and make it healthier with three strains of live cultures. I've seen a difference in bloating as well since taking probiotics so it is well worth it.
Legology Sun Lite Sheer Lingerie for Legs
Remember when everyone used to wear pantyhose? I mean that's what they called it back in the day but of course stockings are another word for it. Either way they were skin-toned stockings that made your legs look amazing but I haven't seen anyone wear these kinds of stockings for years now. Because now we have sheer stockings in a bottle thanks to the Legology Sun Lite Sheer Lingerie for Legs. Basically, think of this as a tinted moisturiser for the legs – it just gives your legs a nice airbrushed look so if you are wearing a mini skirt or shorts on a night out and just want your legs to look a bit nicer then this product is fab for holidays. Think of it as your legs' new best friend.
Elequra Pure Balancing Cleanser
When I travel my skin does get out of whack, so I sometimes get spots from change of diet, schedule and jet lag. I always say that good skin care starts with cleansing. If you don't cleanse properly nothing you do after will be of any use. The Elequra Pure Balancing Cleanser is a fab cleanser because it is all about balancing the skin. So, when your skin feels like it has had just a little too much then this is a great product to use. It also contains fruit acids so doubles as a light exfoliator as well. A great cleanser to take with you on your travels!
Okay so what happens when you don't have much room left in your suitcase or are topped out on the weight requirement? The Vichy Ideal Body Oil is the solution. Why? Because it's a dry oil that you can use on your face, body or hair (even though it says body). Beauty products always weigh down my bag the most so any products that can multi-task are good by me. The oil contains 10 essential oils including Apricot, Rosehip, Blackcurrant Seed and Rice Bran which means that not only does it smell amazing, but it also leaves skin super soft. And because it's a dry oil, it doesn't leave any greasiness behind. Who wants stains on their clothes anyways?
Masquebar Intensive Moisturising Foot Mask
My feet get so dry in the summer. I think this is because they are exposed to the air and sun and get dried out due to exposure to the elements. I've really been getting into foot products and masks for feet lately because I'm conscious that if my feet are on show, I want them to look good! Masquebar have some fabulous masks for basically everything (face, hands and feet) that do all sorts of things from hydrate to brightening to detoxing.
For the feet I use the Masquebar Intensive Moisturising Foot Mask which are little sock masks for the feet. You simply put them on the feet (they are socks where the inside is soaked with serum) and leave them on for about half an hour and then take them off. My feet were super moisturised and all the dry spots gone after using these so they are worth a try before a holiday or for an at-home pedicure.
SkinCeuticals Mineral Eye UV Defense
As you probably know reading my post, I am a big fan of SkinCeuticals so I always try to get my hands on their latest products because they WORK. So, you know when you apply sunscreen to your face and you get it too close to your eye and your eye then waters for the rest of the day? My eyes are really quite sensitive and water easily, so I was really excited to find out that SkinCeuticals had launched a Mineral Eye UV Defense SPF 30 – yes, that's right – just for the eyes. So, for those of you who can't use sunscreen too close to the eye for this very reason there is now a product especially for you (us). Eyes are the first to show signs of ageing, so it is really important to use sun protection around the eye area every single day.
Spongelle Beach Grass Pedi Buffer (Cleanse & Buff)
I talked about the Masquebar Intensive Moisturising Foot Mask but before using this you should definitely use the Spongelle Beach Grass Pedi Buffer. This is a product that both cleanses and buffs/exfoliates the feet. And as I explained, if you don't properly cleanse and exfoliate then nothing you do after is going to really matter. So, for the feet definitely cleanse and buff them properly before you apply a foot mask for the best benefits and to get your feet sandal-ready!
Jessica Zenspa Intense Hydrating Heel Repair Cream
My heels get particularly dry and rough during the summer so as a follow up to cleansing and buffing the feet (as well as using a foot mask) you should also use a good foot cream to keep feet consistently moisturised. I'm loving the Zenspa Intense Hydrating Heel Repair Cream and love to apply it at night for an intensive overnight foot treatment. And it smells of lemongrass – lovely!
TIGI Bed Head Beach Bound Protection Spray for Coloured Hair
Lots of people know to wear a sunscreen on their summer holiday but what about UV protection for hair? Well, your hair can definitely get sun-damaged (exactly the same as your skin) so it's really important to protect it. If your hair is coloured, it's even more important to protect it in the sun. TIGI Bed Head Beach Bound Protection Spray for Coloured Hair is the perfect product that not only protects but one you can also use to create some fab beach waves as well. And it's good for colour-treated or highlighted hair. Another great multi-tasking product!
What are your favourite holiday beauty essentials? Don't forget to follow me on Instagram @beautyrocksblog for all my latest posts!
Shop the post here: