New season, new dress. You know what they say – there's always an occasion for a new frock. I like to invest in a few key seasonal pieces each year when the weather changes in order to update my whole wardrobe. Trends come and go but in the name of sustainable fashion I still make whatever I purchase a considered one. I also do tend to look past trends and go for staples that I'm going to be able to wear again and again. One of the best autumn dresses that I'm loving lately is a long-sleeved one. I mean, the long-sleeved dress is a bit of a revelation, really. We tend to shove dresses towards the back of the closet when it gets colder but with the long-sleeved dress you don't have to do that. And because we live in the UK our summers aren't that hot anyways so a long-sleeved dress will take you from season to season.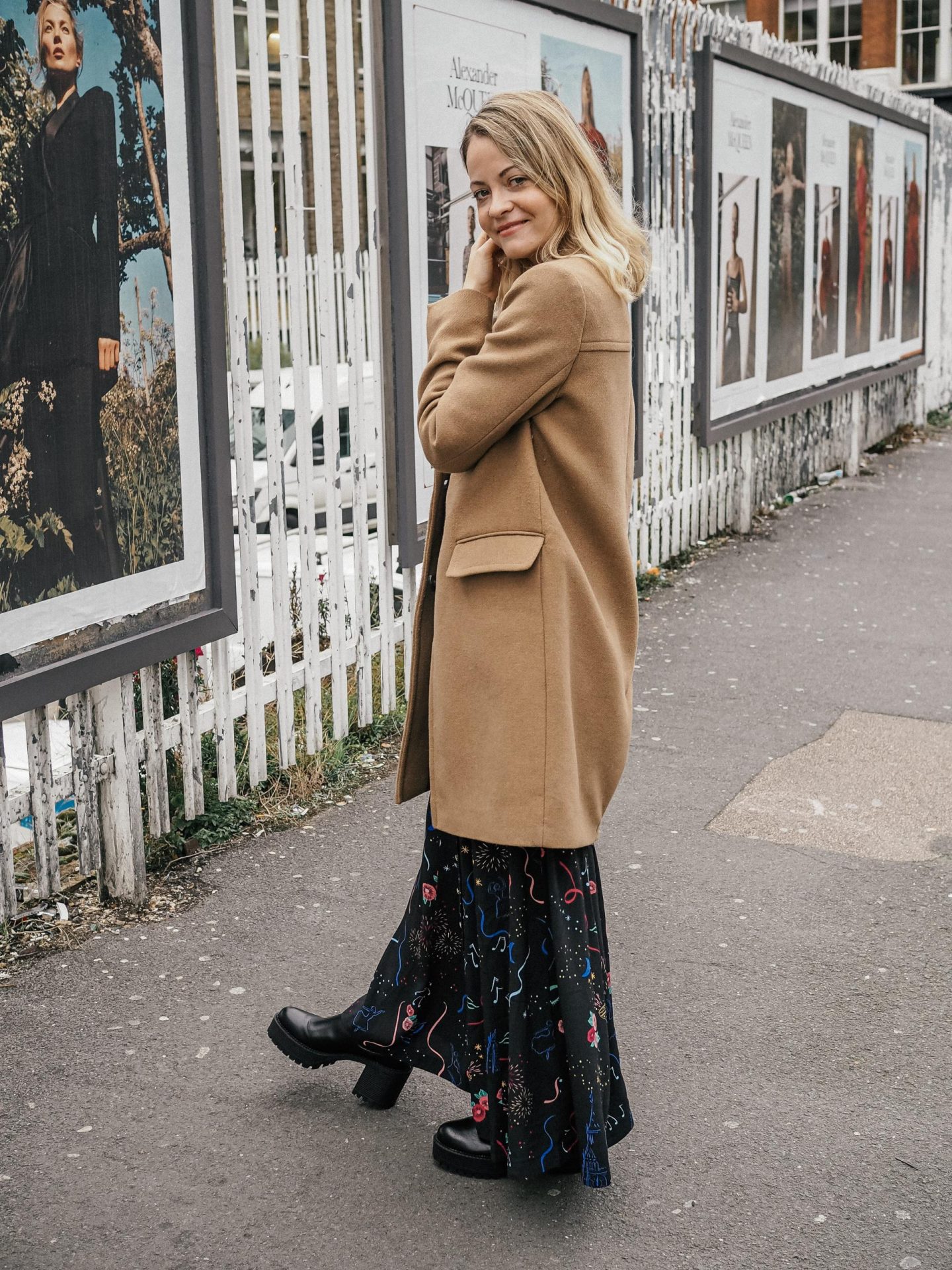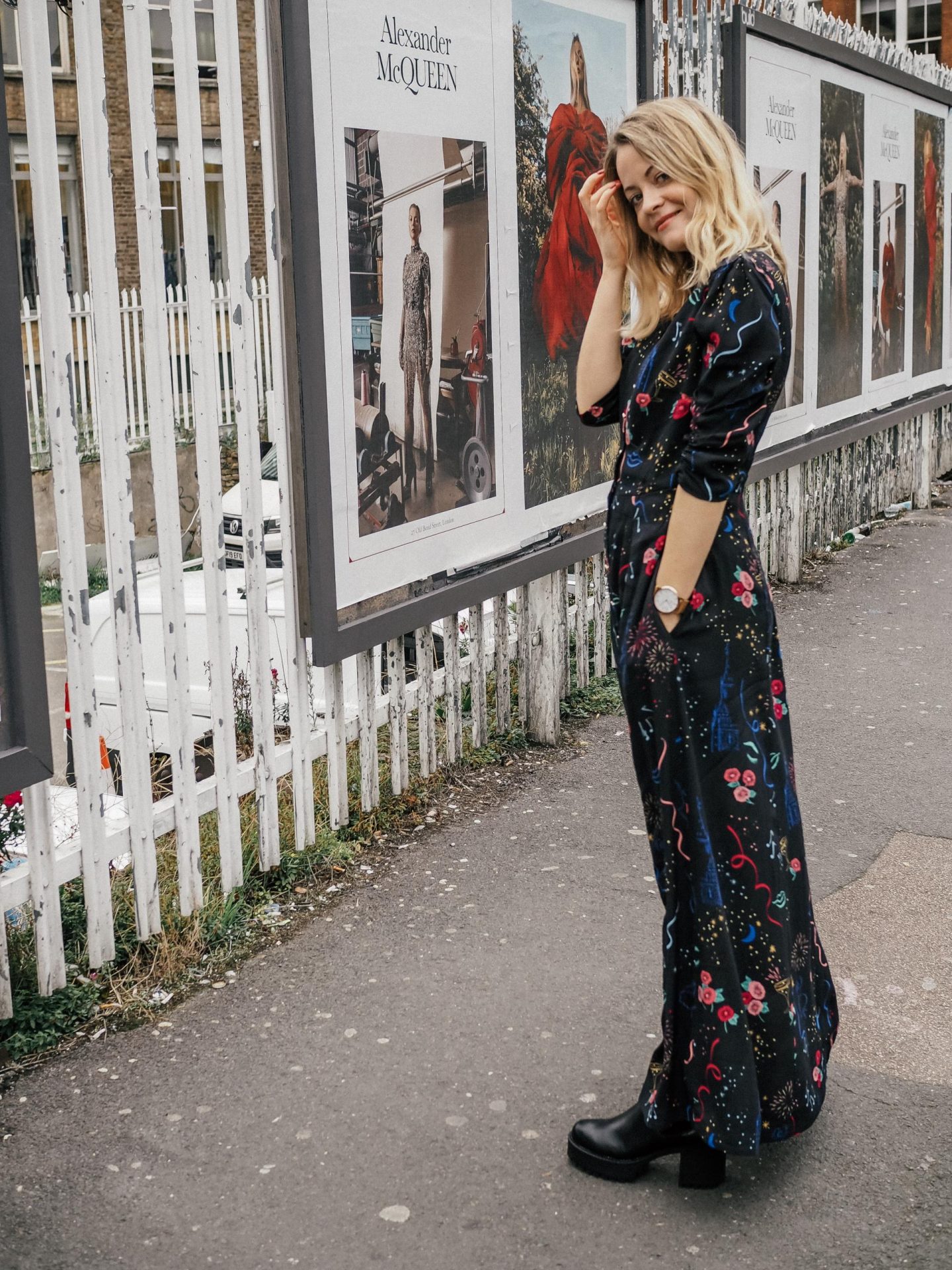 I'm also always looking for dresses for the party season and in particular dresses that aren't going to make me feel cold! Hence, the long-sleeved dresses work for me, as well as dresses that you can easily layer a blazer or cardigan over.
My first pick for the best autumn dresses category has to be the Felicity Party Print Maxi Shirt Dress from Emily and Fin. I love the long sleeves so it's a perfect dress for colder weather as well as for the party season because the design on the dress is the New Year's Party print with fireworks, champagne glasses and sparkles.
I love the details of the print and also that the dress has pockets – honestly this is a lifesaver. We need more dresses with pockets out there! You can also dress it up or down with a belt and heeled boots. And with a belt you can actually adjust the length of the dress so you can wear it in multiple lengths with a fitted belt. I love Felicity Party Print Maxi Shirt Dress as well because it's comfortable and loose. And we all know that for the party season in London this is a must-have because overindulgence is always on the cards during this time of year, whether we intend to or not.
Speaking of party season I absolutely love the Suzanna Gold Dust Midi Dress from Emily and Fin as well. The dress is in the shade 'Gold Dust' and I think the metallic sheen is really unique – it's a green gold that is perfect for the party season. Also I can guarantee no one will have the same dress as you at the party (which always happens when you shop at Zara).
I love as well that the Suzanna Gold Dust Midi Dress is a nod to the 40s with the flowing sleeve detail and fitted waist. And sometimes it's hard to get the perfect fit for a dress when you are ordering online but this really is a true size 8 and one of the best autumn dresses I've seen. The dress hugs my shape so well with a natural fit but still is so comfortable. I like a party dress you can still breathe in!
If you want to shop sustainably in terms of shopping for quality that lasts season after season and support a local London fashion brand, then Emily and Fin make such amazing dresses that are of such good quality. All of the pieces are designed and developed in house at their London-based studio.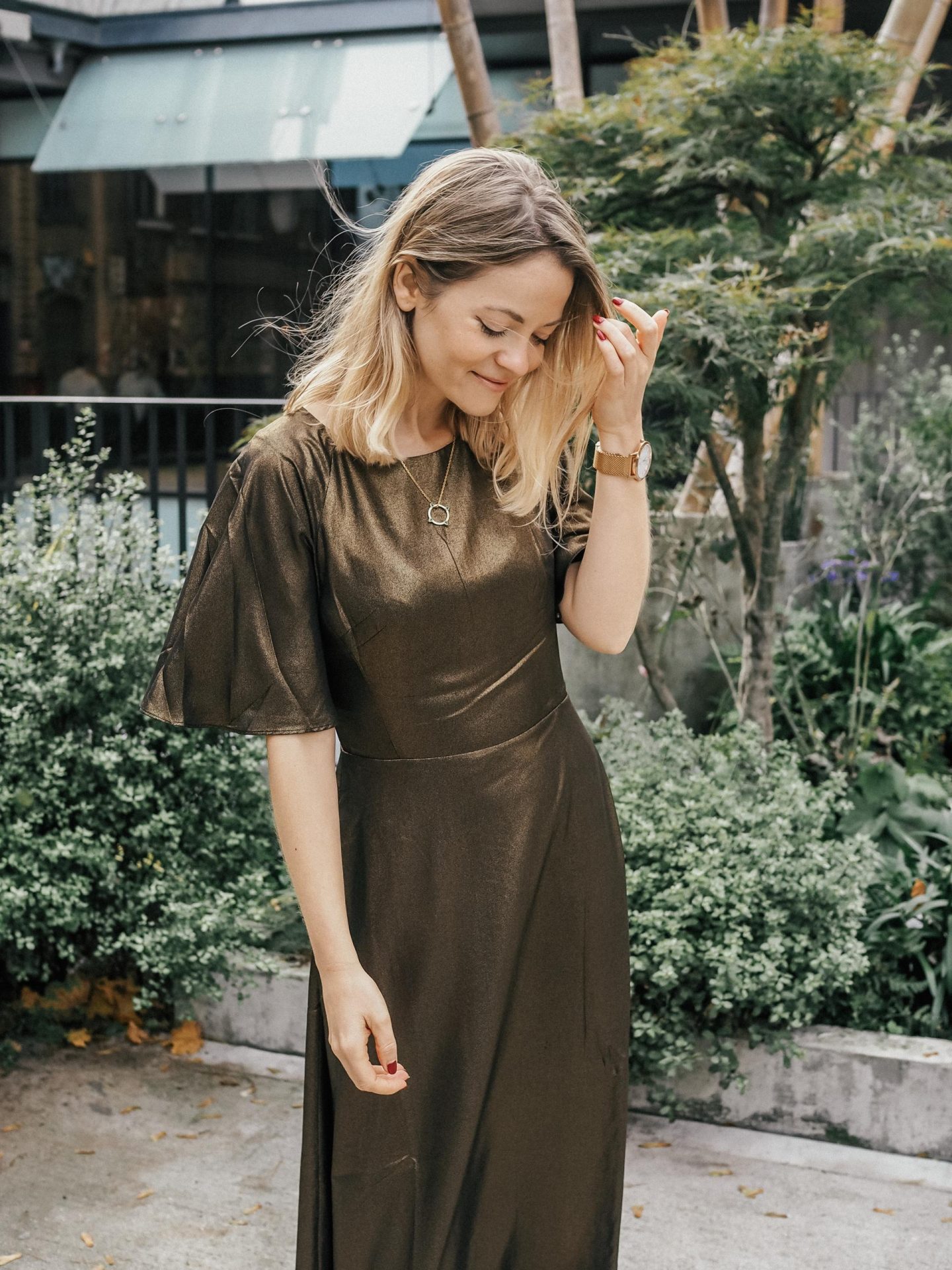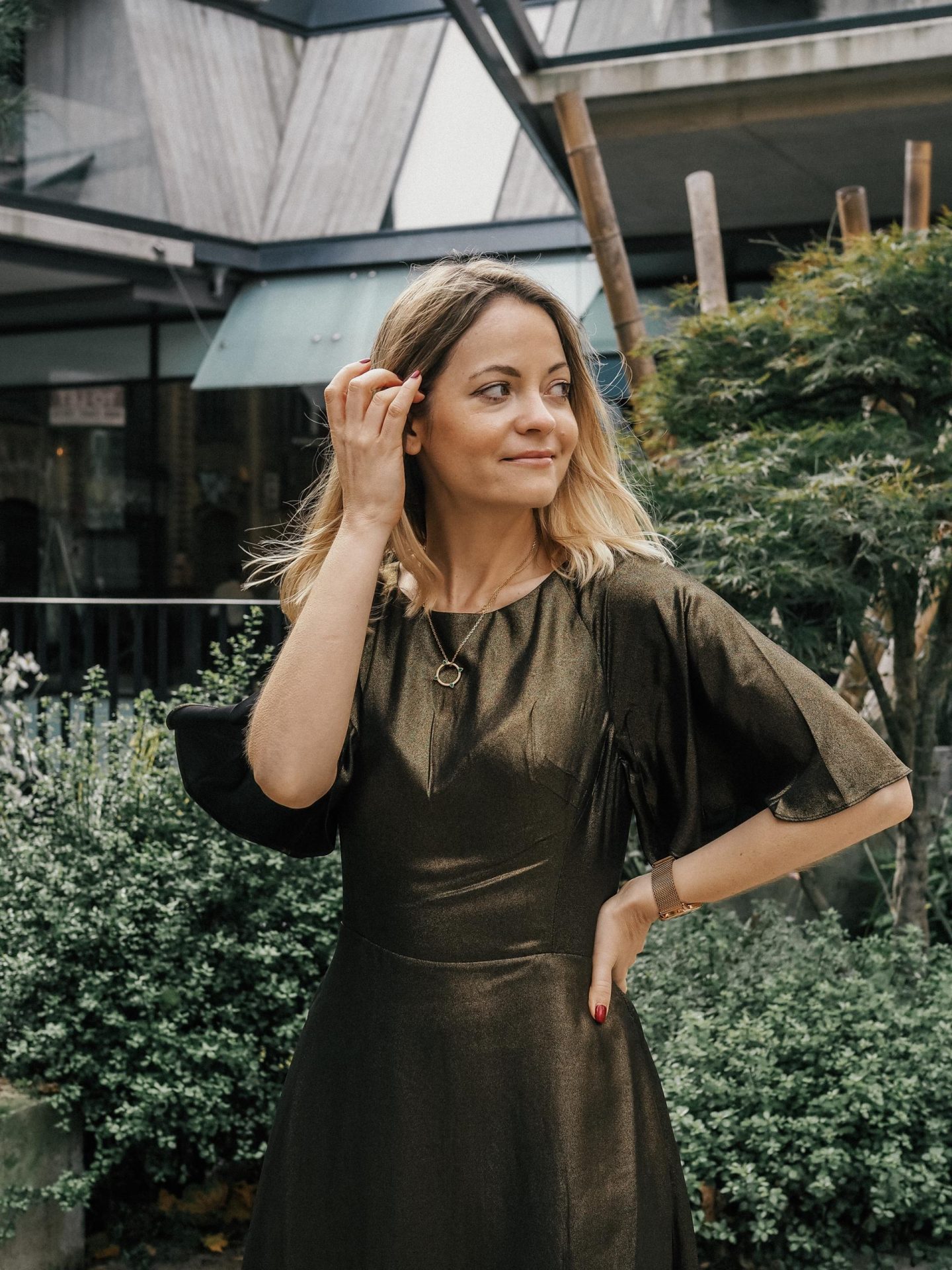 Don't forget to follow me on Instagram @beautyrocksblog to see my Emily and Fin styles on my feed!
*This post is in collaboration with Emily and Fin and is an ongoing partnership but all opinions and words are my own.