I love nothing more than a night in, full of pampering. The amount of Instagram DMs I get from club promotors asking if I want to go to the likes of Reign, Fabric, Printworks on the weekend drives me crazy sometimes. NO, I do not want to go out out. I want to stay in in. So, when Philips proposed a girl's night in and a night of pampering who was I to say no? After all, a night of pampering with the girls is what I'm all about.
Hence, Mona, from Mona's Eyes Beauty and I found ourselves checking into The Curtain Hotel in Shoreditch for a little overnight stay with Philips with a chance to check out their latest at-home beauty and lifestyle devices. I'm already a fan of the Philips Lumea Prestige which I've talked about extensively on my blog previously. I've tried at-home IPL with it before which I had a great experience with. Winter is the perfect time to prep for the summer months! They always say a bikini body (which is anybody by the way) is made in the winter and that can certainly ring true for IPL as well. I always like to do all my peels and IPL in the winter so by the time I hit the summer my skin looks great and I'm also hair-free in the places I want to be hair-free.
So, first question – where do you use the Philips Lumea Prestige? The Prestige comes with 3 attachments – a Body attachment for areas like your legs or arms, a Precision attachment for your bikini line/armpit and a facial attachment for your upper lip, cheeks and jawline. I love using the Philips Lumea Prestige on those pesky little chin hairs that pop up now and again. I think more people get them than we know so I tend to use the face attachment on my Prestige quite often. I also like to use it on my legs. The hair on the top of my legs is quite blonde and sparse so I don't really need to target those areas as much – it's more about the hair on my lower legs which grows just slightly darker. The thing about the Philips Lumea Prestige is that the more contrast between your skin and the hair, the better it's going to work. Hence why it doesn't work as well on black or very fair skin tones, because the contrast between skin tone and hair isn't that much of a difference, for the light pulses to differentiate.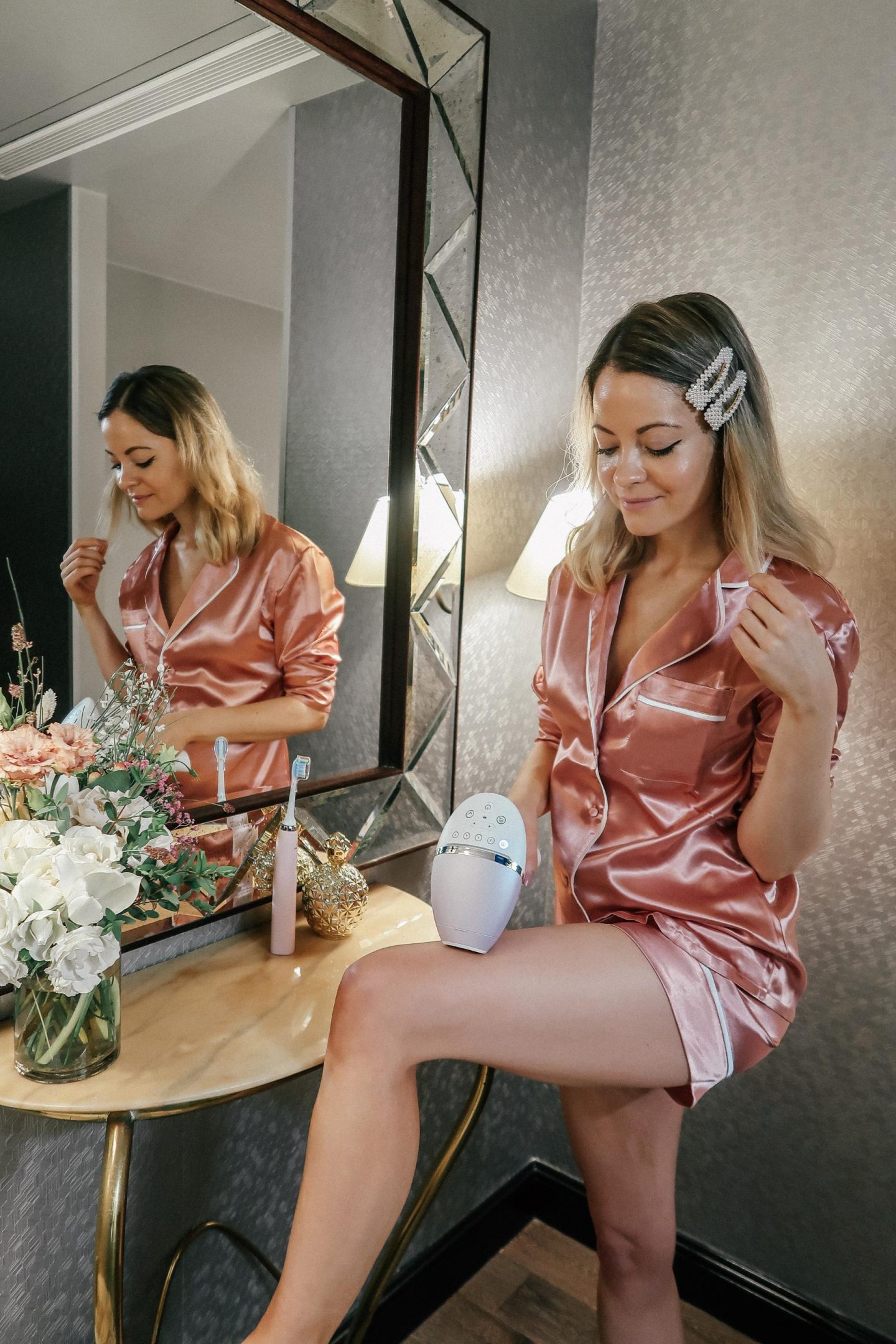 I am fair-skinned so I use it on my lower legs where the hair grows a little darker, as well as my upper lip, chin and bikini line. So even if you are fair there are probably areas on your body where the hair will grow slightly darker vs. other places on your body. People did ask me about how often they should use the Philips Lumea Prestige when I wrote my original post and the best way is to use it once, wait two weeks, use again, wait two weeks and use again. Some people report up to 92% hair reduction after 3 sessions[1] but for others it may take up to 5 sessions.
Another question I was asked a lot about at-home IPL with the new Philips Lumea Prestige was about pain…essentially, does it hurt? The honest answer is NO. It's totally pain-free. Whereas I've heard some pretty scary stories about IPL in a clinic being extremely painful the Philips Lumea Prestige is just a warm flash. So not only do you save yourself money in the long-run by buying one, it's also a lot less painful than IPL in a clinic.
The device is super easy to use and it's also cordless (once charged) so you can use it whilst watching your favourite Netflix series! Once you press the power button you simply press the window of the device against your skin, if the area is properly covered the light will come on, then simply press the flash button and the device will emit a burst of light. This travels down the hair follicle, putting the root in to resting phase so that it naturally sheds. The device also features a SmartSkin sensor to identify the correct intensity setting for you. Once you place the window against your skin you will see the setting settle on a number as it assesses your skin tone. Mine was at level 1.
One final thing to note about the Philips Lumea Prestige…when you use it, you must use it on clean, dry skin where the hair has already been removed, either shaved, waxed or epilated. For example, if you are going to use it on your legs, make sure your legs are hair-free first.
Mona and I tested out our Philips Lumea Prestige devices over a coffee and a laugh at The Curtain on the morning before we checked out so it's easy to do and quick at that. This also brings me on to the next must-try tool from Philips which is the Philips Sonicare DiamondClean Toothbrush. Honestly, I have never ever been so excited about a toothbrush because this is the Ferrari of toothbrushes. The toothbrush to end all toothbrushes! Once you have brushed your teeth with the Philips Sonicare DiamondClean Toothbrush I PROMISE you that you will never go back to any other toothbrush. And for a girl's night in there's always lots of snacks involved so a good toothbrush is in order!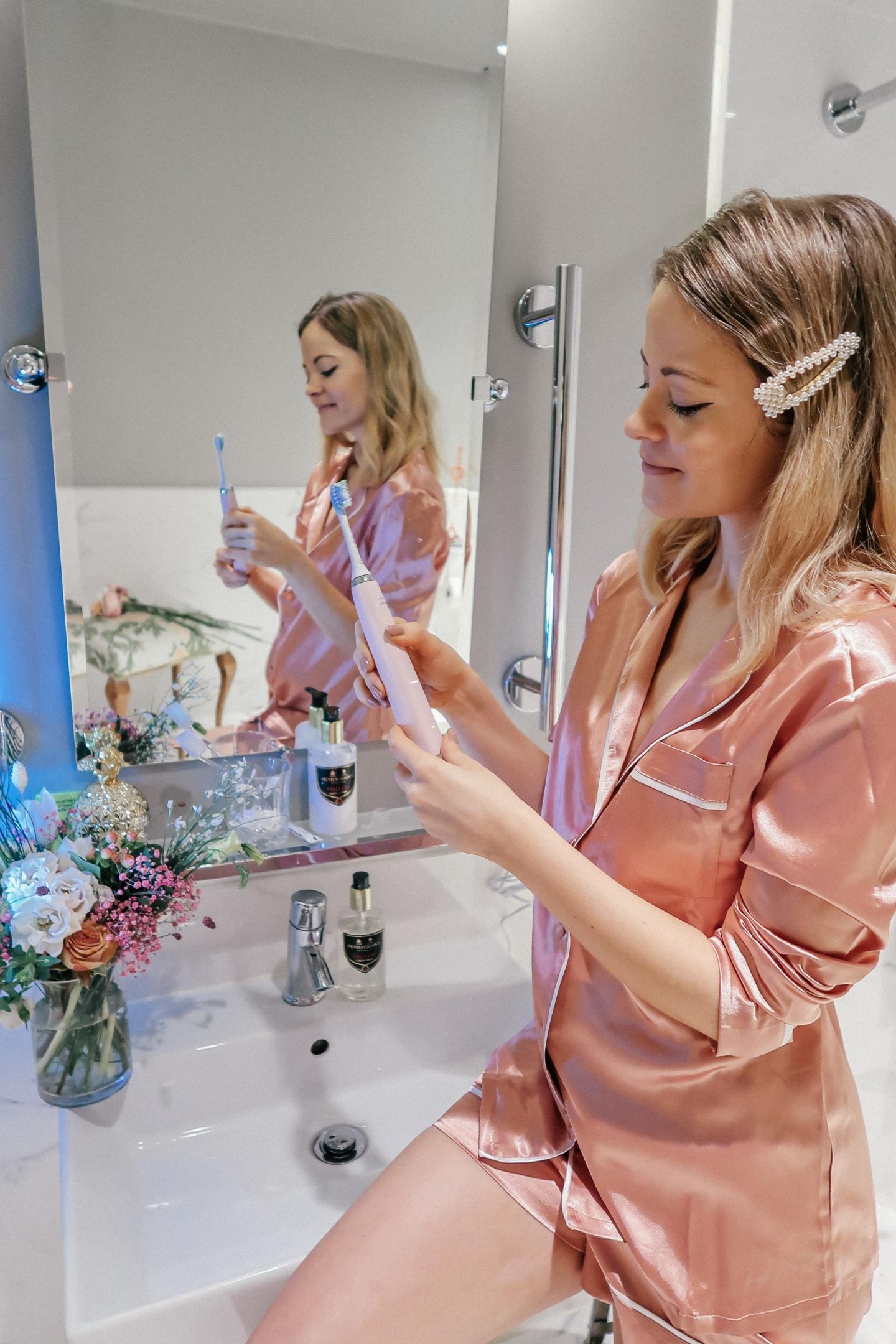 The moment you hold the toothbrush in your hand you will know how good it is – the design is so slick and smooth. There are 5 modes, the one I use everyday is the 'Clean' mode so this is great for just everyday cleaning. I promise you that your teeth will never feel so clean. You know those hard to reach spots as well like the back of your wisdom teeth (I still have mine) or the back of the bottom row of your teeth? This toothbrush gets all those spots sparkling clean.
The next mode is the 'White' mode so this mode will help remove surface stains safely without damaging your enamel. This mode is super important for me because I do like a good coffee and I love a great glass of wine.
If you have sensitive teeth there is also a 'Sensitive' mode which very gently cleans your teeth and gums and you can also choose 'Gum Care' mode for a good gum massage. Healthy gums after all equals healthy teeth. For our girl's night in (due to all the snacks consumed) I went for 'Deep Clean' mode which deeply cleans your whole mouth. This toothbrush is also super easy to travel with and for overnight stays it's the best because you can pack it away in the travel case that is included and also charge it via a USB plug. Genius.
When Mona and I have a girl's night in we always take pictures – as you can clearly see from this post. One thing that you just can't have in a picture? WRINKLED CLOTHES. I cannot tell you how much wrinkled clothes just takes away from a picture because everyone's eye goes straight to…that's right…the wrinkle.
I LOVE the Philips Steam & Go Plus Handheld Garment Steamer in Black/Rose Gold. My goodness, it's pretty. Pretty useful that is. I take this steamer everywhere I go. As a content creator who is constantly creating content, I cannot tell you how useful this steamer has been to quickly get rid of wrinkles from clothes that have been packed too tightly into suitcases. And don't even get me started on linen! It heats up within less than a minute and you are good to go. No waiting around for an iron to get hot and no second-guessing if the hotel even has an iron (some of them don't and this is faster anyways).
So… there we go! A girl's night in with Philips and an introduction to all their best at-home beauty and lifestyle devices that we have tested and tried for ourselves and cannot recommend enough.
Don't forget to follow me on Instagram @beautyrocksblog where you can see all the videos from our girls night in with Philips on my Instagram bio under a highlight reel called 'Philips Retreat'.
A big thank you to the Philips UK team for working with me on this post!
*post in collaboration and ongoing paid partnership with Philips but all opinions and experiences my own as always!
[1] Philips data on file when following the treatment schedule, measured on legs, after 3rd treatment, individual results may vary