Wow, I can't believe it's almost 2020! The year went by so fast, in such a blur I can hardly believe it. And now we enter a new decade so with it I'm putting on the party shoes and using my favourite products that make me feel good. If there's anything I learned this year it was that life is short, enjoy it while you last. Be kind to others and be kind to yourself. I love indulging in luxury beauty products so that's what I'm featuring here – across all sorts of price points. Hope you have a good read for my favourite party make-up products for any new year's make-up ideas!
Stila After Hours Eye Shadow Palette
Stila does amazing make-up products and once you get hooked, you get hooked. The Stila After Hours Eye Shadow Palette is absolutely stunning with a range of eyeshadows that are perfect for both new years party makeup and also everyday looks. I love that the Stila After Hours Palette has a combination of earthy shades with vibrant brighter colours so you can play it safe or go a little bolder for your new year's make-up ideas for the perfect look.
And let me tell you – these shadows blend like a dream. Each powder is formulated with micronized silicone-treated pigments which help aid 'superior blending'. My favourite shades? Probably Sunset Soirée (a burnt orange shimmer) or the Bright Lights (a butter gold glitter).
If you are travelling for New Year's Eve and don't have much room in your handbag then the Paul & Joe Z Palette is fabulous because it has four eyeshadows that are really versatile and wearable as well as one lovely soft pink blush. I love all the packaging with everything that Paul & Joe do as well – it's all so adorable with the famous cat print. So basically any palette you have from Paul & Joe is definitely one to covet and this one travels so well too!
Pixi x RachLoves The Layers Highlighting Palette
Pixi do some incredible palettes! I'm loving all of their make-up lately and they do the best influencer collabs in the biz with one of their latest with RachLoves with whom they have created the Pixi x RachLoves The Layers Highlight Palette. Everyone wants to glow when it comes to new years makeup and with this palette you will most definitely get your GLOW on. These are essentially highlighters but you can actually blend them together to create your own shade if you wish. There are 5 shimmering shades to choose from including pale rose 'Lace', lilac 'Zipper', cool brown 'Knit', cool gold 'Tee' and champagne 'Clutch'.
MAC really blew it out of the park this year with their holiday Starring You collection which I've featured a lot this year because the whole collection was so fab. If the MAC Star Dipped Face Compact doesn't make you feel like a star for New Year's Eve then I don't know what will! The palette comes with four shades that you can use as blushers or bronzers. I've got the Medium Deep version so I even use these as base eyeshadows so you can use this as a base layer and then add a sparkly shade on the top.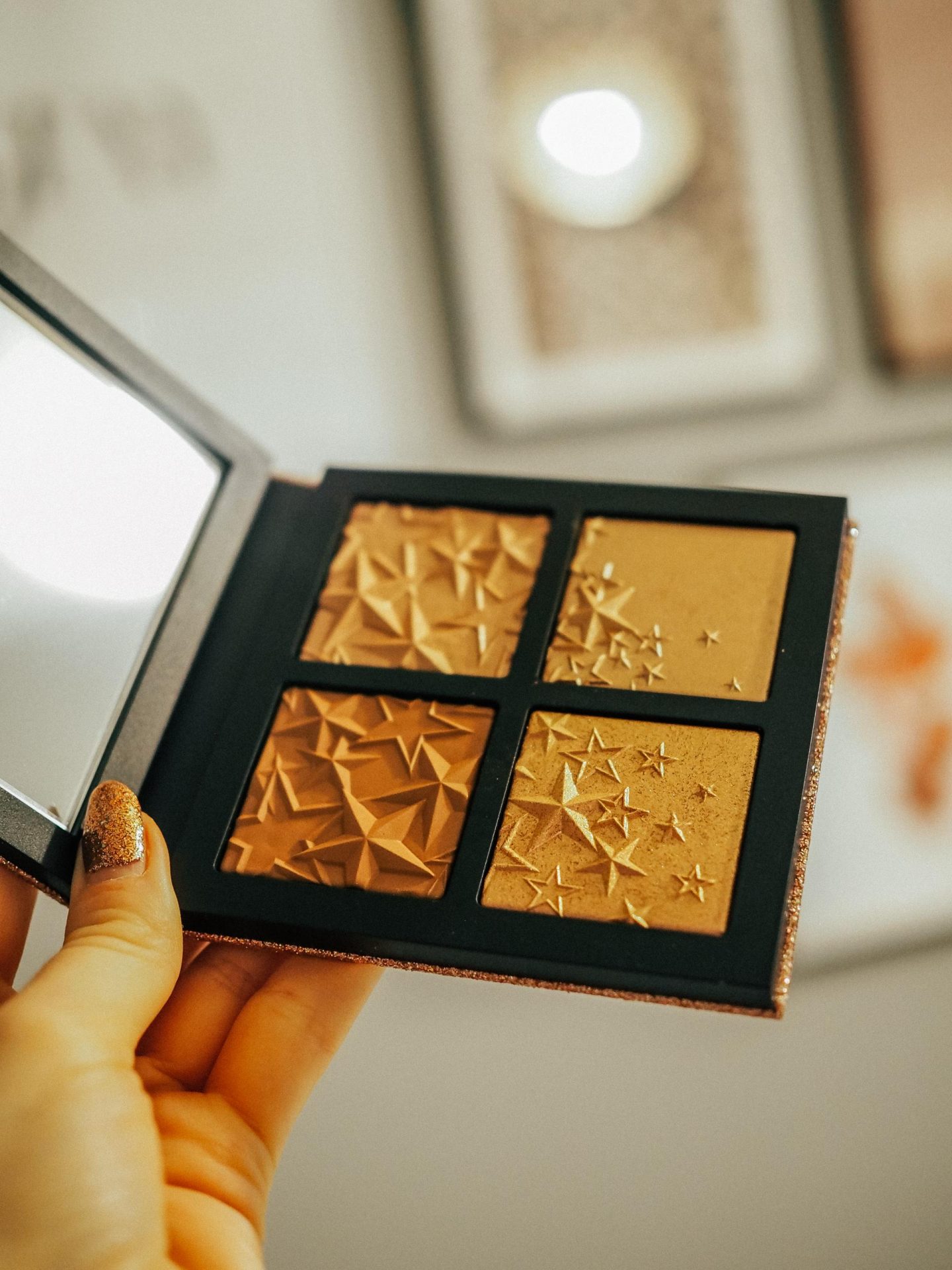 Paul & Joe Pearl Foundation Primer
If you've over indulged over the holiday season and want to get your glow back then the Paul & Joe Pearl Foundation Primer is a BEAUTIFUL primer that contains pink pearls that melt onto the skin to give you an illuminating glow. Everyone wants to look their best on New Year's so if you want to keep your glow going past midnight this is the primer for you.
I rave on and on about the Marc Jacobs Le Marc Lip Crème – it is honestly incredible. The pigment lasts and is so creamy and dreamy on the lips. The colour also lasts so for New Year's when you are eating and drinking into the night you need a lipstick that is going to last for the long haul.
I'm obsessed with pretty hair jewellery to liven up your hair. If you are like me and don't do much styling with your hair then a gorgeous hair clip will really change up your look. It's the perfect way to add a bit of glamour. I love the Kela Hair Jewellery – I've got the two Sea Shell and Pearl Hair Pins which have natural shell and three freshwater pearls that look absolutely stunning in your hair and jazz up any outfit for the New Year's Eve party.
Guerlain Goldenland Eyeshadow Palette
If you are looking for glamour then Guerlain is the go-to make-up brand. Everything they create I love, from their foundation to lipstick to eyeshadows. I especially fell in love with their Goldenland Eyeshadow Palette. The palette itself looks like a clutch so it's perfect for your handbag. There are 10 matte to metallic shades which you can apply both wet and dry depending on the intensity of the look you want to create. So, for New Year's makeup ideas and New Year's party looks then the Goldenland Eyeshadow Palette is perfect. I'm a sucker for a coppery shade which is a perfect eyeshadow for green eyes so this is a palette I will be using into 2020 and beyond.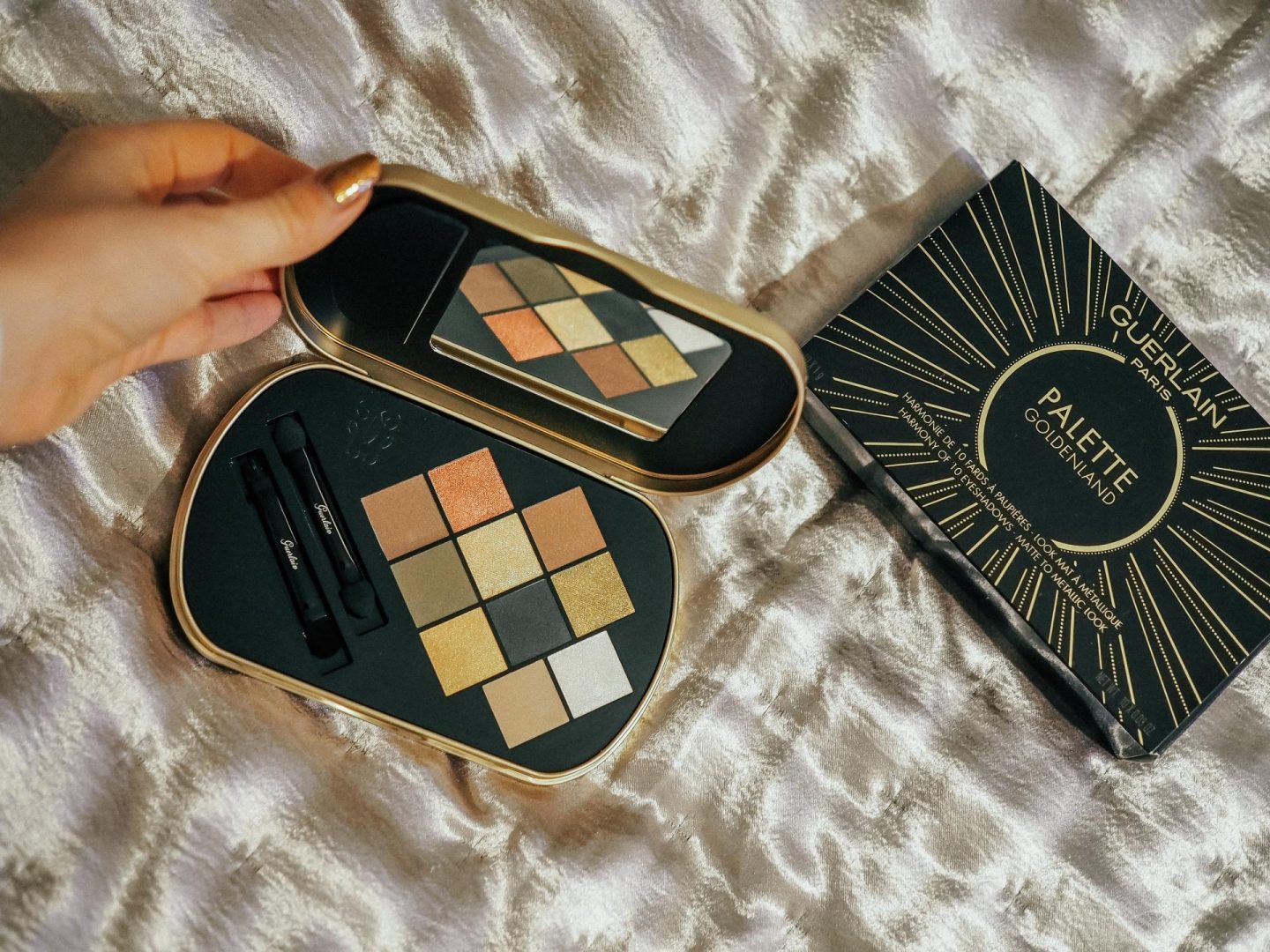 RMS Beauty Hidden Desire Palette
RMS is a beautiful clean beauty and clean make-up brand who make products using organic ingredients. RMS was created by global make-up artist Rose-Marie Swift who wanted to bring cleaner ingredients in beauty to the women of America. The products are thoughtfully created and the RMS Beauty Hidden Desire Palette is another beautiful product from RMS with six shadows, a pressed blush and a luminising powder. This is a great palette for on-the-go beauty because all you would need to add to your make-up kit would be a foundation, mascara and lip balm. My favourite shade is the True Love Swift Shadow in Pink Suede.
What are your favourite party make-up products for New Year's? Let me know if you have any New Year's make-up ideas! If you haven't read my post about the best eyeshadow palettes make sure to have a read.
Don't forget to follow me on Instagram @beautyrocksblog for all my latest beauty posts!
*Post contains PR samples