As someone who tries and tests a lot of products as a beauty blogger let me tell you, there's a lot of products I absolutely love and rave about but there's not a lot of products which immediately give me that WOW factor moment with instant results. I recently tested the My Perfect Cosmetics My Perfect Facial kit and let me just say, this was a product that definitely had the WOW factor – the best at-home facial – with instant results. I always tell people that skincare takes time to work – most lotions and potions you need to use for a few weeks before you start to get results. But with My Perfect Facial, the results are instant and they are seriously impressive.
So how exactly does it work? My Perfect Facial is a facial lifting treatment that literally gives you a mini face lift in a manner of minutes. I know it sounds far-fetched but truly when you see it, you'll believe it! All you have to do is mix together the ingredients in the kit and apply to skin for a minimum of 8 minutes and a maximum of 20 to 30 minutes (for best results) to get the lifting effect.
For me personally (as I get older), I'm concerned about my skin sagging around the nasolabial lines from my nose to my mouth. They tend to look 'heavy' at times and give the appearance of tiredness, which I certainly don't want. I've noticed over the last few years that that particular area needs some work so I've spent a lot of hours doing facial massage techniques to lift the skin. But what if you don't have time? And what if you need an instant effect for a special occasion?
For example, what if you are going on a date or need to look your best for an event or an interview or anything that you feel you need to level up your appearance for? In that case you need something that is going to work fast and give you an instant effect so that you can look and consequently feel your best.
My Perfect Facial works best if you want instantly firmer skin, a more even skin tone and a smoothing of fine lines. To mix the solution take the large measuring spoon provided and add 1 level spoonful of the activator gel to a bowl. Then add in 1 medium measuring spoon (provided) of the elevating powder and mix together to form a thin paste.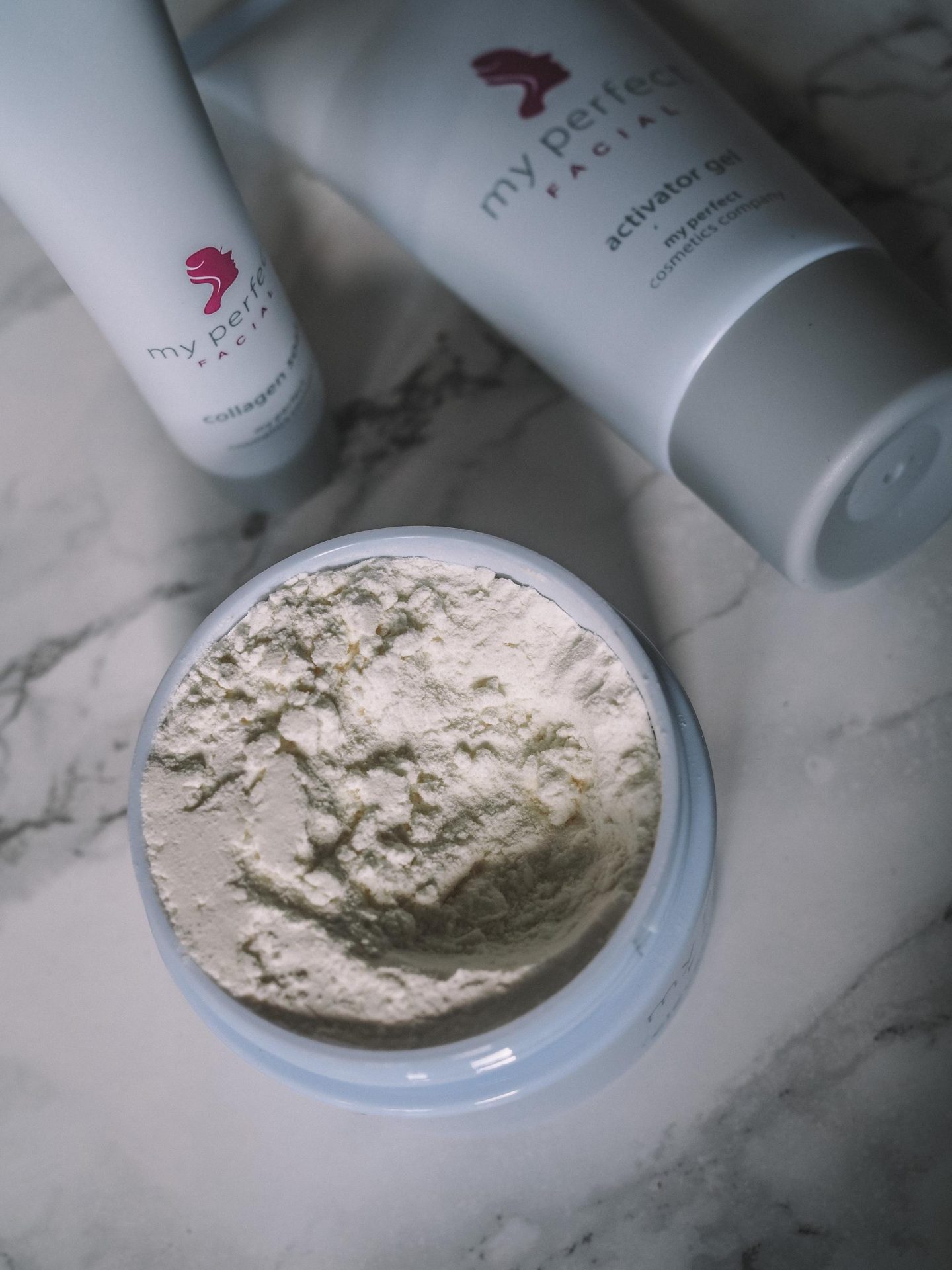 I started with my neck and worked in upwards strokes with the fan brush provided, then moving onto my chin and cheek area, always working in upwards strokes and then finally my temples and forehead, again working in upwards and outwards strokes.
What you will start to feel is a tightening sensation as the mask then starts to dry. It feels a little funny but isn't uncomfortable at all – all worth it for the best at-home facial! Just don't try to make any facial expressions while doing it! What the product is doing at this time is actually giving you that mini face lift – firming and lifting the skin. For the best results I would leave the mask on for 20-30 minutes. Once you've left it on for that amount of time simply wipe the solution away with a wet cloth.
As a final step you can massage the Collagen Soak Moisturising Cream into the skin and then take a look at your more lifted and smoothed appearance! I was honestly wowed by this product.
The whole My Perfect Facial treatment contains active ingredients that helps to tackle dead skin cells, increase cell turnover and also give a moisture boost to the skin which overall contributes to a younger-looking complexion. The key ingredients you ask? Papaya extract (helps to exfoliate the skin), Algae extract (hydrates and softens the skin) and Vitamin E (protects skin from free radical damage). It really is the best at-home facial if you want immediate results.
Another great product from My Perfect Cosmetics is the My Perfect Eyes. If you have dark undereye circles or fine lines (most of us start getting those as early as our 20s) then this product gives an instant effect to obliterate those concerns. The key tip is that you can't have any moisturiser on under your eyes as this decreases the power of the product. So, all you need to do is apply a small amount to under the eye area and then sweep the product gently outwards and then down, just below the dark circles to give the appearance of a fully smooth canvas under the entire undereye area.
A key tip? Shake the bottle before use and a pea-sized amount is perfect to treat both undereye areas. Also don't tap or dab the product, use outward sweeping motions to really smooth the area. In addition, don't make any facial expressions whilst it is setting (takes 2-3 minutes).
The My Perfect Eyes serum is very, very impressive as well. It instantly smoothed my undereye area and my dark circles and fine lines vanished straight away. If you are looking for an eye treatment for fine lines, undereye circles, wrinkles – this is for you!
One last thing to note is that if you are using the My Perfect Eyes serum you can apply make-up after but make sure it's oil-free! The result can then last up to 10 hours.
The last product to talk about is the My Perfect Mask – this is a really lovely hydrating sheet mask that is perfect if your skin is feeling a little bit dry and dull. It really gives a boost of moisture to the skin with hyaluronic acid, bee propolis and geranium flower oil.
My skin was left fresh and dewy after use. Can't wait to use these again! What's your best at-home facial routine?
*This post is in partnership with My Perfect Cosmetics but all product reviews, words and thoughts are my own, as always.