Happy Organic Beauty Week!
Happy Organic Beauty Week (starting on the 8th of September)! I thought I would celebrate slightly early because I have recently discovered two amazing organic brands. One is from the US and one is from the UK and on one of them I am going to be focusing on body care and the other on face care. Organic products make a difference not only to beauty but also to our beloved planet. Here are two of my new favourites:
Erbaviva
This brand hails from L.A., the motherland of organic-loving, health-food advocates. The founders of the brand used their own children as their inspiration to create healthy and safe products. I can't think of better inspiration than that!
Organic products have to go through rigorous testing to be labelled as 'organic' so it's a rather big accomplishment when they are. Erbaviva has a line for babies and also mothers-to-be as these are two groups who most need to watch what they put in and on their bodies. I want to focus on bodycare with this brand and show you my favourites from their collection.
I recently have been reading a lot about aluminium and other nasties in our everyday deodorant so was really excited to see that Erbaviva has created an award-winning organic deodorant. Seriously, I never thought I would be so excited about deodorant! I have a full-size Jasmine & Grapefruit (100ml) and also a small travel-size Lemon & Sage deodorant (30ml). The Jasmine & Grapefruit is great to keep at home to use in the morning and I carry the Lemon & Sage with me in my handbag for freshening up during the day. The scent is heavenly and I feel better using this instead of my regular deodorant which contains aluminium. I tested this on a hot day and thought it did a good job!
The organic deodorants contain powerful essential oils that fight bacteria under the arm for safe and pure bacterial and odor protection and can be used on men or women.
Another favourite product I have from Erbaviva is their Relax Spray. I like it because you can use it on linen (hello pillow!), clothes, on the body or as a room spray. It is truly a multi-tasking product. The spray has aromatherapy benefits from a blend of oils that are infused in a base of organic alchohol. I love the Relax Spray because it actually makes me feel relaxed and soothed with the essential oils of lavender, rose and neroli. I can't stop spraying it everywhere and on anything. Lovely.
Erbaviva not only makes high-quality organic products but also does good and supports The Blink Now Foundation as well as projects in Thailand and Burma. All of Erbaviva's products are compassionately made by hand at the company's own renewable energy powered facility in Southern California. This is certainly a company that practices what it preaches.
Since Erbaviva has taken care of the body now let's talk about organic care for the face with a lovely UK brand.
Pink's Boutique
Pink's Boutique is a luxury organic spa range that is also available to try at home. I have an anti-age facial 'try me kit' which I thought was the perfect size to enjoy the best of their anti-ageing products. I also think this is a great size for travelling if you are away for a few days. The owners of the brand had a desire for organic products and a fascination with Asia and the exotic ingredients of Indonesia, Tibet, Nepal, Thailand and Japan. They took these ingredients and blended them at home to create Pink's Boutique, which was the only complete professional organic spa range at that time.
The 'try me set' comes in a beautiful brown box that is also gift wrapped so would make a great present for someone and it's a great buy at £20.00. Inside are minis of the Deep Cleansing Melt, Ocha Organic Toner, Anti-Ageing Serum, Ocha & Rosehip Moisturiser and Night Balm. There are info cards about each product that tells you what they do and also the box contains a sprinkling of rose petals which is a lovely touch. It's the little things, right?
The first step is to use the Deep Cleansing Melt which really does melt into your skin. The instructions say to massage this onto the skin for about two minutes to remove all make-up and impurities and also to give your face a massage to increase circulation and revive your cells with fresh oxygenated blood. Within the blend are antioxidants camellia and natural vitamin E which promote cell rejuvenation and help combat the effects of free radicals and ageing. I loved the rich and thick feel of the balm and the way my skin felt very soft after using it.
Next up is the Ocha toner and serum. I don't often use a toner because I can't be bothered to use a cotton pad to wipe my face and don't like toners that contain alcohol. However, this mini toner is a spray-on which I love as it is easy to apply and preps the skin before applying the Anti-Ageing Serum.
The serum is a little powerhouse of goodies – packed full of natural plant extracts, antioxidant rich oils and essential fatty acids omega 3, 6. and 9. Super-charged rosehip,scientifically proven to reduce the signs of ageing and sun damage,works in harmony with avocado, apricot and jojoba oils to rejuvenate and restore skin cells with a boost of Vitamin A, C and E. It's like a smoothie for your skin. I loved the texture, smell and feel of this serum and after a couple of days of using this I thought my skin actually looked clearer and was glowing. I would recommend using the serum at night but I did use in once on a weekend day and mixed it in with my foundation for sheer coverage.
Follow the serum with the Ocha & Rosehip Moisturiser during the day and with the Night Balm at night. The Moisturiser is lightweight enough for the day while the Night Balm is thick and rich for the night.
I was really happy with both of these organic brands and with that, I plan on having a very Happy Organic Week. Here's to organic and to our lovely planet!
***
First Class Beauty: Don't Leave Home Without Them
I am currently on holiday in the States and as I post this from America's sunny heartland I want to let you know some of the products that have travelled with me along the way.
Before I left:
Burt's Bees Naturally Nourishing Milk & Honey Body Lotion
I slathered myself in Burt's Bees. I love Burt's Bees because it is natural and I like to use it before travelling because I know that it is going to be sitting on my skin for awhile. It is also scientifically proven to provide moisture for up to 24 hours which is about the time that I would be travelling so it seemed perfectly suited for me.
Also, as I was going to the U.S. and Burt's Bees are from Maine-this seemed even more appropriate to use. In this formula, milk nourishes while honey helps to soften skin; plus, coconut and grape seed oils and vitamin E deliver beneficial nutrients to the skin. And it smells delicious too.
On the plane:
PitRok Crystal Deodorant Wipes
Here are some nifty little wipes that I got out of a Latest in Beauty box  that can be used as a natural deodorant in place of your regular roll-on or solid stick deodorant with all-natural mineral salts and no aluminium (yay!). They are really great for travel and I used them to wipe my hands off as well after eating on the plane (I am not sure if you are supposed to use these for that purpose but they worked!). Even if you don't use them as deodorant wipes they can double as wipes for anything such as a spilled glass of wine (yes- I have done that on a plane before and it didn't make the guy sitting next to me very happy) or to dry your hands with if there are no paper towels. You never know.
Inner Me: Daily 4 Me For the Hectic 30s
Health is wealth and that's the truth. I hate flying long haul simply because it makes me feel unhealthy – as anyone would feel after travelling for that long and not sleeping or eating properly. I have also recently discovered (in a Latest in Beauty box) the dietary supplement pack made by Inner Me called Daily 4 Me for the hectic 30s. I love these to travel with because they are pre-packed and idiot-proof. They contain strips of four vitamins for each day; an Advanced multivitamin with added B Vitamins and Vitamin D3, High Strength Omega 3, Co-Enzyme Q10 100mg and Lactospore® 15 billion complex capsule with Aloe Vera, Spirulina & Alfafa.
The box comes with a month supply and I took two weeks worth to the States-no bottles to deal with or a million different vitamins hanging around in my bags! I also like that these come together in a pack so I feel like I am getting all the vitamins I need without overdosing on anything.
Moa Green Balm
I love this little 100% natural balm. It can be used for (almost) anything and I used it on the plane on my dehydrated lips and parched hands from that crackling dry plane air. You can even use it as a cleansing balm and I did this in the restroom while changing planes on a layover in between two long flights. It is gently cleansing without stripping your skin which is not what you want at all when flying, as your skin is already dehydrated and needs a barrier to protect against the circulating air in the cabin.
I also used this on my mother who spends a lot of time in the garden and has gardening hands. Yep, she loved it too.
I also love the packaging of the Daily Cleansing Ritual. Who wouldn't like to open that everyday? Perfectly stylish for travelling.
Mrs White's Legs In The Air
I always get achy on the plane and usually stick with Tiger Balm but this time decided to switch things up and try a little British brand called Mrs White's who makes 'Legs In The Air'.
Mrs White's Legs In The Air is all-natural and is designed to increase circulation when flying or on long journeys. It is slightly tinted as well to give you a bit of colour although I always wear several layers when travelling because I tend to get cold very easily. This has a slight peppermint scent and although it's not as potent-feeling as Tiger Balm, it probably also doesn't offend your neighbour with any strong menthol smell so is great to use on the plane.
Skeyndor Corrective Eye Expression Lines Eraser
Skeyndor is a Spanish brand and I have been using this for slight expression lines under my eyes and really like this product. I took it on the plane with me to dab it under my eyes every couple of hours when I could feel my skin getting dry. I was quite liberal with the application and used a thick layer of it so it almost sat under my eyes like a mask.
Skeyndor is relatively pricey at £63.00 for the eye cream but you get a lot for that money as you get 20ml of the formula instead of a usual 10ml or 15ml. The reason for the price is that it took three years to develop, with over 200 combinations tried before the final formulas were developed. That's a lot of testing! So you can see that a lot of effort and time has gone into this product. This product also contains some pretty cool ingredients. One is a peptide complex based on the famous snake venom ingredient that slows down the link between the nerve and the muscle. It also contains hyaluronic acid (the miracle ingredient) to help soften lines and also contains tissue redensifiers that help to fill out and plump your face. This is a truly scientific product. The hyaluronic acid is medical-grade which provides the deepest penetration to get at those pesky wrinkles. You won't be sorry you bought this.
On the layover:
I had a ten-hour layover with no one to see in North Carolina on my trip to America so I tried to occupy my time with these products.
MitoQ Antioxidant supplement
These little miracle-worker supplements are chock-full of antioxidants and the perfect way to combat free radical damage that has occurred on a long-haul flight. I took these while waiting for my next flight and felt like I was really helping my body out. MitoQ is a Mitochondrial Targeted Antioxidant that delivers antioxidant CoQ directly to your mitochondria (which age), supporting their natural function and restoring their health. This means they can get on with their job, eliminating free radicals, preventing oxidation, and keeping your skin and organs healthy. And MitoQ does this 847 times more effectively than any other CoQ formulation on the market. That's amazing! Certainly needed during a long-haul flight.
B. Treated Blemish Gel
I used B. Treated Blemish Gel from Superdrug (who doesn't know Superdrug if you live in the UK?) on a small spot that had cropped up during the flight. My skin is very sensitive to stress and environmental factors and it shows if it is not being properly treated. I used this gentle clear gel-based spot treatment on my spot to prevent it from getting any bigger which I am happy to say it did not! The gel contains Salicylic Acid which is scientifically proven to unclog pores and eliminate spot-causing bacteria to help prevent breakouts. It has been clinically proven to help clear imperfections, reducing both redness and inflammation in just two hours. And as this is Superdrug's own brand, you can get it for under a tenner. Beauty that doesn't break the bank!
Optimum Super Antioxidant Grape Serum 30ml
http://www.superdrug.com/Skincare/Optimum-Super-Antioxidant-Grape-Serum-30ml
I am pretty excited about Superdrug's Optimum – PhytoCellTec products because I just recently did a post on stem cells from the Swiss Apple (which Superdrug also makes at a sliver of the price of competitors). I wanted to try out a different plant stem cell based serum so went for the Optimum Super Antioxidant Grape Serum. As there are a billion free radicals floating in the air when you fly, I tend to grab onto anything that says antioxidant as this is what is going to be your army against those nasty free radicals. This particular serum is targeted to 25+ and helps protect against free radicals. Perfect for the plane.
If you are on a budget, this serum is very reasonably priced at £14.99. Seriously – this serum contains the same/similar ingredients as much higher competitors (I am talking close to £300 here) so it's definitely worth a second look at.
The stem cells used of this particular grape are known for having a high UV resistance (good for if you are sitting next to a window on the plane). Stem cells are responsible for creating new cells and fixing damaged ones. Of course as we age we lose stem cells. However, scientists have found that plant stem cells work similarly as human stem cells so to have them in our serums is fascinating and fabulous news in the world of skincare.
At the final destination:
Tea MD
This is a U.S. brand of natural face wash that contains no harsh chemicals and has all-natural ingredients including Rose Hip Seed Oil (one of my faves) and Seaweed Extract. The face wash is very cooling to the skin due to peppermint oil and also contains tea tree oil which as we know, is a great for acne. As I am certainly prone to a spot or two, I do like to use cleansing products with tea tree oil to prevent breakouts. The best thing I found about this cleanser was its cool, minty feel which is great in the hot weather and perfect to revive your skin after a particular long flight. Peppermint oil is renowned for its therapeutic effect on skin disorders and for its cooling sensation.
Nip + Fab Viper Venom Body Serum
Once I arrived at my final destination and after having showered, I slathered on Nip + Fab Viper Venom Body Serum. It's serum for the body which is brilliant. Why shouldn't the body have what the face gets? I love this product because it is a refreshing gel-like formula that feels so nice when you put it on. The serum contains age-defying syn®-ake peptide + skin tightener ST to help diminish the appearance of wrinkles and tighten skin. I found it very refreshing and cooling after a long flight. Vitamin E in the serum also helps to combat free radical damage.
Cocoa Brown Lovely Legs
http://www.superdrug.com/Cocoa-Brown/Cocoa-Brown-Lovely-Legs-Spray-75ml
Having come from the UK I was feeling particularly pale around all these bronzed Americans so for a quick fix, Cocoa Brown lovely legs has pretty much saved me. This is a spray on, wash off colour for pale legs that makes you look like you have been out in the sun. I sprayed mine directly onto my legs and then blended with a tanning mitt. I also tried applying this right after moisturising when my skin was still damp and found it worked even better and blended well. Just look at the difference in colour in my legs below! A suntan without the sun damage? Can't get much better than that.
So this comes highly recommended for anyone who is going on holiday and is planning to wear shorts!
Glo & Ray
Glo & Ray are another little colour-enhancing miracle product I love. I actually got several compliments on my skin when I wore this as a finishing powder. It set my make-up and made my skin a nice soft matte texture. I LOVE this powder and carry it with me everywhere and use it everyday. The powder comes in a compact so I find it's perfect for handbag use because it has a mirror. Again, a travelling necessity.
Nails Inc.
Oh, Nails Inc. how I love thee. I have recently gotten my hands on two Gel Effects polishes directly before I left on holiday. I have taken both of them with me and have been really impressed with the gel effect and also the lasting finish of the nail colour. I put this to serious work as well and was happy with the chip-free outcome. The colour below is perfect for summer and looks nice against a (fake) tan. The below colour is Soho Place.
Laura Mercier
http://www.lauramercier.com/uk/home.jsp
This metallic crème eye colour has been a little travelling buddy of mine on this holiday. It is a gorgeous copper colour and doesn't crease or smudge and develops into the most luscious creamy metallic sheen on your eyelid. EVER! Tiny and perfect, a great size for travelling and since it is a crème base, it won't crumble like a powder in your hand luggage.
Sure, the most important thing on your holiday is to have fun. But why not look and feel good too?
***
Etat Pur: The French Pharmacie Comes to Moi
We've all heard rumours about the amazingness of a French pharmacie due to high quality products at reasonable prices. So I was absolutely thrilled when the French pharmacie came to me in the form of Etat Pur (www.etatpur.co.uk). At the moment however, you can only buy these products online in the UK or at their concept store in Paris.
Etat Pur is made by the same group who makes the Bioderma brand, which is ever so popular due to their micellar water. What is great about Etat Pur is that you can make a bespoke skincare product depending on your skin's needs and they also strictly choose ingredients that are only in perfect affinity with the skin. Think of it almost as DIY skincare. What I mean is that Etat Pur offers an A + B bespoke skincare solution with their pure Actives (A) + Biomimetic products (B). You can choose which active you need according to your skin.
The pure Actives can be used on their own or combined with the patented Biomimetic (B) products to provide personalised solutions. The pure Actives should be applied first onto the skin and followed by a B product.
There are pure Actives that can be used to solve a variety of problems: wrinkles, loss of firmness, blemishes, hypersensitivity, dryness, dark circles, etc. The choice of Active that you use is your choice alone-which is where all the fun lies. The B products also contain ingredients that are only in perfect affinity with the skin so this can be a great product for those with sensitive skin.
An interesting thing about each pure Active is that they are concentrated at the exact effective dose that allows them to act wherever the skin needs them so they are in fact, smart Actives.
I have a pack of Etat Pur products that I have been trying out from cleansing to moisturising and every step in between.
Let's start with…
Cleansing:
The first product I have tried in regards to cleansing is the Micellar Purifying Cleansing Water. I love Micellar water because it is really gentle on the skin and binds to the oil and dirt to take them right off. I think it's a great alternative to the double cleanse if you use the Micellar water to first take off all of your make-up so you can wash your face with a clean slate. I find this Micellar water takes off make-up without making your skin feel like you have stripped it too much. It's great to use right after work is finished and when you get home so you can wash off the grime from the day.
The second step in cleansing is the Melting Exfoliating Gel. This was really gentle on my skin and 'melted' into my skin. Upon contact with water, it turned into a milky liquid which rinsed off easily.
Pre-Moisturising/Pure Actives:
I chose the Acmella pure Active because it is especially for expression wrinkles on the forehead, eye contour and mouth. I am getting the faintest lines around the eye contour (expression lines) and thought this would be a good choice for that. Wrinkles first set in wherever the face's expressions impose greater constraint on the skin. These are further deepenened by environmental factors such as stress, pollution and UV rays.
One interesting thing about Acmella flowers is that they have a "botox-like" effect. They contain myorelaxant molecules that act directly on the face's micro-contractions to smooth out the skin and quickly restore a smoother appearance. Natural botox straight from Mother Nature? Count me in.
The second Active I chose was Arbutin. This pure Active is indicated for treating hyperpigmented areas and dark spots. It is well known for reducing melanin levels, whitening the skin and the marks caused by sunburn. It inhibits the production of melanin and lightens the skin, evening out the skin.
Never forget the eyes-the expression to the soul! We want to take care of the skin around our eyes because our eyes are what people look at. I chose to use the Bioactive eye contour care B42 which targets fine line and fights signs of fatigue. Yes, please.
Another thing not to forget is your lips. Lips are generally forgotten when it comes to sun protection but this is important to remember. You never miss your lips until they are wrinkled and thin (think of all those fish trouts that are a result from too many lip plumping procedures!). Full lips are a sign of youth so always take care of your lips. I have tried the Bioactive B43 Lip Care which repairs dry and cracked lips. As it is summer and I am in and out of air conditioning and then back outside in the hot sun, I find that my lips dry out really quickly.
Moisturising:
I always leave the moisturising for last to let my other products have time to sink in. Serum is always first, then eyes and lips and then finally moisturiser. Oil-free quenching fluid – B20 is one of the Biomimetic products that can be combined with a pure Active. I combined mine with two pure Actives that I personally picked to address my skin concerns. So I apply one pure Active to my skin in the morning and another pure Active to my skin at night and follow up both times with the Oil-Free Quenching Fluid.
Suncare:
You better bet that when I headed to the sunny States for a holiday that I packed both of these high-performance sun products. I love the 50+ Sun Spray because it stays put all day and I really feel sheilded from the sun with this high protection and I know that I've prevented a few sunburns.
There is also an Active for sun care. I love the idea of the Peptide-6 Pro-melanin pure active which is recommended as a great after-sun and tan extender. It can also be used to to prepare sensitive skin for exposure to the sun.
Peptide-6 is a complex of 6 amino acids present in the skin. This molecule is capable of effectively stimulating the production of melanin, a natural skin pigment causing it to tan. Peptide-6 is very complete and also helps the skin protect itself optimally against UV rays: more even and deeper tan, reduced skin hyper-sensitivity, helps to prevent skin alterations induced by the sun.
So if you feel like playing with your skincare a bit and mixing up your routine, Etat Pur is a great French brand to try. What are your favourite French skincare brands?
***
Skincare Ingredients For Hair? Where Science Meets Beauty
I love it when science meets beauty. It's just plain exciting! Science-backed results are exciting stuff and when products have proven results, this is what makes people want to buy them. What makes it even more exciting is when science uses nature to create products with proven results.
What if you take plant bio-actives and stem cell technology used in premium skincare products and then put it into haircare products- does it work?
Well that's what the people at Salon Science have been testing and have found that indeed, it does work as clinical studies have shown -with remarkable improvements in hair! This Swiss brand uses stem cell technology previously only used in skincare and applied it to hair. Genius!
In order to talk about this some more we have to get technical…or scientific I mean.
Here is how the Swiss Apple works in hair care. Hair bulge stem cells have a limited life expectancy and a number of stress factors can determine their funtionality. Remember, stress is no good for skin or hair, either. Cells do diminish with increased age so this is also a factor which results in thin, brittle and fragile hair.
The Swiss Apple extract enters the hair follicle through the scap and helps retain their self-renewal capacity (i.e. 'stemness').
This in turn delays the ageing process for hair.
I was able to trial the Swiss Apple CELLULUXE range, which is targeted for anti-ageing and restored volume. Essentially, I wanted to use what was in my skincare in my hair.

There are five products in the CELLULUXE range. The first is the CELLULUXE Shampoo, enriched with nourishing phytonutrients to restore and rebuild fine, fragile, ageing hair. I say it's all about prevention people!
The next product is the CELLUTENSIVE Masque. This should be used after shampooing the hair, left on for 5-10 minutes and then followed with the conditioner. It can be used once a week. The masque contains the advanced plant stem cells of a rare Swiss Apple, PhytoCellTec™ Malus Domestica, to protect the longevity of hair cells. Together with the repairing actives Keratine and Wheat Protein, CELLUTENSIVE™ helps improve the hair's health, strength and thickness.
The masque is followed by the CELLULUXE Conditioner and should be left on 1-2 minutes.
Next up is the Scalp Tonic, which I found to be very refreshing and cool on my scalp. This meant to be applied directly to the scalp and massaged in to increase circulation. Think of this as a serum for your scalp because it is the most concentrated product of all.
Finally, follow up with the CELLUMAX Volumising Foam which is a light weight, long lasting foam that instantly lifts and adds volume to fine, fragile hair. Use it on towel-dried hair and spread throughout the length of your hair.
This collection should have all your hair needs covered in five products and as the products are all from the same collection, they will work together to create healthier and stronger hair. So is putting skincare technology into haircare a good idea? It's a great one.
To find out more about Salon Science, visit http://salonscience.com/
***
Bodhi & Birch Launch Rosa Rosa Skincare
I was able to attend the launch event last week for Bodhi & Birch, a relatively new British eco-luxury brand to hit the market and one that uses ingredients sourced from sustainable origins. The company was founded by Elijah Choo, who wanted to bring together Eastern and Western skincare and well-being philosophies into one brand. Therefore the name Bodhi (from the East) & Birch (from the West) was created.
There has certainly been a revival of all things rose and Bodhi & Burch is hot on this trend with the Rosa Rose skincare launch. Rose it seems, is certainly having a moment. The collection features a 3-step system including the Clarifying Cleanser, Hydrating Toner and Daily Moisturiser, which have been designed to combat dull-looking skin and aims to smooth, tone, brighten and even out the complexion.
I was able to meet Elijah Choo, the founder of Bodhi & Burch, who told me that his inspiration for the products comes from his surroundings and from being in nature. For example, the inspiration for his Jasmine Falls collection came about after following his cat out into a field one evening and seeing jasmine 'falling' in abundance.
On Rosa Rosa he says, 'Creating Rosa Rosa is a step into the past to source legendary ingredients that have been tried and tested for their skincare and well-being qualities. The idea may be simple but it is in this simplicity where its beauty exists.'
Well stated. Rose has been around and used for centuries for its skin benefits and is now being re-appreciated for that.
One of my favourites from the launch was the Lime Blossom Protecting Hand Serum. It sank in beautifully but still left a barrier on my skin for protection. I feel like this would be great to use on the tops of your hands where your age starts to show the most. Elijah showed me his hands and said one hand he used to test products on a lot, including the hand serum and the other hand he didn't and I could easily see which one he had been using the serum on because it was smoother and younger-looking.
The Lime Blossom Protecting Hand Serum is made with ant-ageing Olive Squaline and Rosehip Seed Oil (my fave!) plus antibacterial Lime and Green Mandarin which gives it a lovely citrus scent. It can also be used as a nail treatment as it is oil-based. It helps to shield skin from environmental damage and helps diminish the signs of ageing.
Another lovely fragrance that I smelled at the launch was the Chamomile Sky Bath & Shower Therapy. To me, this lovely concoction smelled like a Mojito. Yum!
I left with a Rosa Rosa Hydrating Toner and a Jasmine Falls Bath & Shower Therapy. I have used the Rosa Rosa Hydrating Toner as a facial mist throughout the day and I find it is very soothing and refreshing at the same time, with Damask Rose, Orange Blossom and Chamomile. I feel like this is great to put beside your desk if you work in an office and exposed to air-conditioning or heating constantly.
The Jasmine Falls Bath & Shower Therapy is truly therapeutic with its scent alone. Combining Jasmine, Vetiver and Lavender it is really soothing and great to use after a stressful day. Lavender has shown to calm the mind and help promote a good night's sleep. Zzzz…
 ***
GLOSSYBOX Celebrates 3rd Anniversary
GLOSSYBOX celebrates their 3rd anniversary this month and with that who doesn't like a beauty box? It comes every month, nicely wrapped up and filled with luxury products at the sliver of the price. What's not to love? For beauty junkies like me, beauty boxes are great because they allow you to try new products and learn about brands that you may have otherwise never known about or tried out.
I consider beauty boxes as a kind of 'beauty education' and enjoy getting a gift every month that is full of surprises.
This August, the GLOSSYBOX came in its iconic pastel pink box, wrapped with a black ribbon. There is something special about unwrapping a package that is tied together with a ribbon. It just feels luxurious.
My August Box contained a bespoke Kryolan Illuminator created exclusively for GLOSSYBOX, and a mix of beauty heroes including Philip Kingsley Elasticizer, Figs & Rouge Hand Cream, Comfort Zone Cleansing Milk and Lalique's renowned, L'amour eau de parfum.
I had never tried Comfort Zone previously so was excited to get the full-sized cleansing milk which is appropriate for all skin types, from the most sensitive to the driest. The cleansing milk is good for your skin as it doesn't strip it of its natural oils but still removes make-up, pollution debris and impurities on the skin. It's great for urbanites living in the city because it contains Betaglucan, which is a powerful biological agent extracted from yeast that stimulates the skin's defence mechanisms, leaving the skin more resistant to attack by free radicals.
Another product in the box that I am already a big fan of is Philip Kingsley's Elasticizer. I use this as an overnight treatment on my hair if I am planning to wash it the next morning. It has been around for awhile and was originally created for Audrey Hepburn. And if it's good enough for Audrey, it's certainly good enough for me.
A fun little mini-sized Yves Rocher nude pink nail polish is also included in the box and it's a perfect size to carry around in your handbag for touch ups on-the-go.
Another favourite in this box? I love the scent and packaging of this Figs & Rouge hand cream. I had never tried this brand before but it is a British brand and I found it didn't leave my hands with a greasy feeling. I also felt it was the perfect size to take in my carry-on bag on my holiday to the States. 
So all in all, I really enjoyed this month's GLOSSYBOX, simply because it contained the right mix of brands that I love and brands I've never tried before.
The August Birthday GLOSSYBOX is £10 (+P&P) and will be available throughout August 2014 from www.glossybox.co.uk while stocks last.
***
W7 Skincare Launch
I was able to attend the launch of W7 Skincare at the lovely Cafe Royal Hotel last week to see what this cosmetic brand had in store in regards to skincare products!
I was familiar with the W7 nail polish range and had seen some of them at the CEW Awards last year. I was looking forward to learning more about the other products in their collection.
W7 http://www.w7cosmetics.co.uk has a range of very affordable cosmetics which can be purchased (among others) at Next and TK Maxx and they have recently ventured into a very affordable skincare line.
The skincare range starts with the Dream Clean Cleanser which feels like whipped butter. This is a cream cleanser so is meant to be applied to dry skin and then wiped off with a damp cloth which is great as it doesn't strip the skin of its natural oils.
The next product in the new range is the Wakey Wakey Daydream Cream. The packaging is simple but cute and as the skincare range starts from £3.95 it is certainly affordable. The Daydream cream is very light and sinks into the skin easily. This would be great as a primer for make-up.
The skincare range also comes with the Eye Love It Eye Cream-another very light cream for the eye area that is supposed to be good for reducing dark circles and visibly reducing wrinkles. Again would be great under make-up as it sinks in and is very lightweight.
There is also something for the evening; the Nighty Night Dream Cream. Very cute name and again, a very light night cream for those who don't need or like a heavier cream. This cream smells nice as well and left a nice, clean fragrance on my skin.
I was able to explore some of the other products in the W7 cosmetic collection and also really liked the Lip and Cheek Stain in Tahiti. Really nice and goes on naturally!
I left with a bag of goodies, including the new skincare collection. A special thanks to W7 for having me!
***
Born in the U.S.A – Face and Body
Today I would like to focus on some lesser known and some better known brands born in the U.S.A. and now I am moving on to face and body.
As I mentioned in my Born in the U.S.A. – Nails post, I have recently fallen in love with the Vegan brand SpaRitual. https://www.sparitual.co.uk/
In addition to nails, SpaRitual also makes an absolutely delightful sugary body scrub. I use it to thoroughly exfoliate my skin before self-tanning and the smell of it is heavenly. The formula is thick and sugary-just the way I like it. It leaves my skin feeling super soft and the scent is of Chinese Jasmine.
Another speciality of SpaRituals is their soy candles. I have the Infinitely Loving Chinese Jasmine Soy Candle. The candles are hand poured and blended with pure essential oils and carefully selected plant essences. They burn for up to 50 hours which packs a punch for the size of the candle. The candle holder is made with recycled glass and the wicks are 100% hemp. There is something very calming and soothing about a burning candle and this one brought a sense of serenity to my room and to my own mental state. Perfect to burn after a stressful day.
Now we move on to face. I have been using a recently discovered brand called Artistry and their range of Ideal Radiance products.
I needed something for dark spots and discoloration which led me to the Artistry Ideal Radiance collection by Amway https://www.amway.co.uk. This collection targets the 3 layers of the skin's surface to reduce the appearance of dark spots and discoloration. I have discoloration on my cheeks from old acne marks that seem to never fade (mind you they are light ones but annoying all the same). Therefore I have been looking for a product that specifically targets these annoying little spots.
I started with Artistry's Ideal Radiance Spot Corrector which I smooth over dark spots before applying the Ideal Radiance moisturiser.
I did notice a slight lightening of dark spots on my cheeks after using this for two weeks and would like to continue using the collection to further brighten those spots and even my skin tone.
The products contain selected botanical extracts that work to add shimmer and glow to the top layer of skin. Pearl Protein works with carefully selected natural ingredients, such as Red Algae, Pea Extract and European Geranium, below the outermost layer of the surface to effectively make the skin look more radiant and even out skin tone.
Talking about products for the face I have also started to use Urban Decay's Vitamin-Infused Complexion Prep Spray. This can either be used as a spray on toner which will save you a cotton pad and saves time or you can use it as a refresher throughout the day to refresh makeup. I love spray on refreshers and as my skin starts to get oily in the afternoon I like to use these to freshen up my face.
Let's carry on to lips. I love Boston brand Fresh for luscious lip tints such as the Sugar Lip Treatment, Sugar Berry Lip Treatment and Sugar Cherry Lip Treatment (below). These are the perfect travel size and also with the screw on tops, they won't come off in your bag and melt/smear all over the interior. They contain SPF 15 so are great for layering over your regular lipstick for added protection as well.
Let's talk about cosmetics next. Amazing Cosmetics that is (www.amazingcosmetics.com). This is actually one of the very best concealers I have ever used and no wonder it has such a huge celebrity following because it delivers amazing coverage. I attended an event where I was able to be matched to my perfect colour (which was darker than I would have originally thought).
This turned out to be perfect however because what I have tended to do in the past is buy super light concealer that then draws even more attention to the spot because instead of a red spot, I have a white patch! I've learned that with concealers and foundations it really is better to visit a makeup counter and get matched to the perfect colour, otherwise you will end up having an orange line along your jawline because you didn't pick the right colour. Unless you know your colour and brand very well and don't tend to switch between brands like a maniac like I do, then it is best to leave the colour matching to the professionals at the make-up counter. Amazing Concealer's mantra is dot, blend, repeat. Simple but effective.
While we are talking colours I absolutely love Fashion Fair, a lipstick brand from America aimed at African-American women. The lipstick colours, of course, can compliment any skin colour and I have fallen in love with the Ole Orange (second in the picture below). This is an understated orange-red lipstick that seriously delivers luxe colour. The formula is creamy and is infused with Vitamin E so it is also hydrating.
The lipsticks are availabe in the UK from Boots (£12.00) and Debenhams (£14.00). (http://www.boots.com/en/Fashion-Fair-Lipstick_1040720/)
***
Born in the U.S.A. – Nails (and giveaway to one lucky winner)!
Today I would like to focus on some lesser known and some better known brands born in the U.S.A. and with that would like to particularly focus on nails.
First up is natural nail brand Zoya (www.zoya.com). Zoya has more colours than any other nail brand I have seen out there. They have every single colour under the sun and every single texture and version of that colour. There are colours that Zoya has that I didn't even know existed! They offer over 300 types and colours of professional nail polishes which means never getting bored of your nail colour. The possibilities are endless.
The great thing about Zoya is that they are a natural brand, meaning that the nail polishes are not as harsh or stripping to your nails as usual nail polish would be.  Zoya was the first nail brand to remove toxic ingredients such as toluene, camphor, formaldehyde, formaldehyde resin and DBP (dibutyl phthalate) from its formulations and can be found at top spas, salons and resorts.
Below you will see the colours Ling (blue) and Charisma (bright purple).
I used Zoya Professional Nail Polish in Ling and my toes are still chip-free after ten days!
While we are on the subject of nails, let's move to Michael Kors (www.michaelkors.com). We all know about his luxe bags and watches but did you know he did nails too? The man clearly has many talents. I have to say I felt pretty special matching my nail polish to my MK bag. The colour below is Envy and it has a lovely gel effect that lasted me for a week without chipping. Envy indeed.
I am having so much fun talking about nails let's showcase another natural brand of vegan-friendly nail polish from the U.S.A.: Spa Ritual (www.sparitual.co.uk). SpaRitual is committed to creating eco-friendly products and packaging  and uses vegan ingredients from around the world, including many specially sourced and selected plant essences that are wild crafted OR organic. SpaRitual nail polishes are 100% DBP, toluene and formaldahyde free.
What is DBP you ask? DBP, or dibutyl phthalate, is a plasticizing ingredient that is banned for use in cosmestic products in the European Union. Essentially SpaRitual is a brand to feel good about and support as they are doing things the right way.
A really cool and fun product they make? Glow in the dark nail polish. Yes, that's right. You can use their Lighthouse Top Effect over any nail lacquer. Simply brush it on, charge it with UV light and you are good to go. Because why should nails have to hide at night?
One more star nail brand from the U.S.A. that is a household name is Essie (www.essie.co.uk). Essie is one of my favourite nail polish brands out there simply because of the vast range of colours they offer (over 250) and the lasting, chip-free power of the polish. The names of the polishes are fun and unique and I feel like I am having a great time just by applying them. Below I have the colours of (in order) 'Don't Sweater It', 'Peach Daiquiri' and 'Muchi Muchi'.
What's your favourite nail brand from the U.S.A.? Follow my blog and leave a comment below to win a brand new nude pink Essie Nail Polish in Muchi, Muchi!
***
Born in the U.S.A. – Hair Care
Today I would like to focus on some lesser known and some better known brands born in the U.S.A. and now I want to talk about hair!
John Freida (http://www.johnfrieda.co.uk/) has done a great shampoo recently: Luxurious Volume Touchably Full Shampoo for Colour-Treated Hair. I have just had highlights put in my hair so appreciate that this is a volume booster with the added benefit of being gentle enough for colour-treated hair. How does it work? The shampoo is formulated with a specialised volume polymer that adds space between hair strands. I did notice that when I used this by itself without putting in any elixers, oils or serums in my hair afterwards that my hair had a bouncy, soft feeling to it.
Let's keep talking about hair because there is another brand from the U.S.A. that I love. One reason is because of their sexy and bold packaging and I have to admit that I am sucker for packaging so this one ticks off that box for me. But it also proves to be more than cool packaging as there is a particular product in the range I want to talk about.
I love Sexy Hair http://www.sexyhair.co.uk/and in particular I like Soya Want It All 22 in 1 Leave in Treatment. My hair is really fine and I have found this to be a great product that doesn't weigh it down and make it greasy like other leave in oils and serums. You simply spray it in damp hair and comb through. With soy, cocoa and argan oil, it doesn't weigh hair down at all and I would highly recommend it for fine hair.
Satinique is another brand made by Amway from the U.S.A. and I have the Dual Defend Spray for environmental and thermal protection. I don't like using styling products on my hair and I use this to refresh my naturally wavy hair in between hair washes as well as for added protection against UV rays and environmental damage. It contains humectants, emollients and sunscreens to help prevent dryness and brittleness and strengthens hair by up to nine times. I think it's great for refreshing beach waves without using styling products.
The Dual Defend Spray is £ 17.05 RRP and can be purchased online at https://www.amway.co.uk
Another brand from the U.S.A. that I have recently discovered is Unite Luxury. This brand has a huge celebrity following, including Victoria Beckham, Eva Longoria, Sienna Miller, Demi Moore, etc. I have the U Luxury Shampoo, Conditioner and Oil. The products are made with a decadent blend of Crushed Pearl, Hawaiian White Honey and Pure Argan Oil and are sulphite, paraben, gluten, sodium chloride, DEA and MEA-free and are Vegan and colour safe. The oil acts as a thermal protector as well.
I am really excited about this range as it combines high quality European ingredients with the cutting edge of American technology, the benefits of which include moisturisation and antioxidant protection alongside rich minerals and amino acids which strengthen and reinforce hair. The products are pricey but if you have damaged hair it might be worth it to consider these.
U Luxury Shampoo £27.95 at Urban Retreat http://www.urbanretreat.co.uk/
U Luxury Conditioner £29.95 at Urban Retreat
U Luxury Oil £30.00 at Urban Retreat
What are your favourite hair products from the U.S.A.?
***
It's A Man's World: Do Men's Grooming Products Work for Women?
It's a man's world. But it would be nothing without a woman or a girl (James Brown sings in the background)!
Men's skincare products-do they work for women? It's a question I have often pondered. It has been said that women's products can be used by men but what about the other way around?
Noticing some men's brands out there like Bulldog and Lab Series makes me sometimes (gasp) want to try out some of their products such as cleansers, moisturisers and toners. Perhaps it's the packaging that makes it look tough, making me think that somehow it will work harder for my skin.
Men and women do have different skin. Women, sadly, age faster than men and this is due to the fact that our collagen and elastin present in the dermis shrinks faster as we age. For women, the loss begins earlier. Men also have a higher collagen density than we do.
Due to hormone levels, men's skin can also be oilier. The texture of their skin is tougher. And it's about 25% thicker.
So men do have advantages over women in regards to skin and ageing. Lucky guys.
Some products for men I secretly like?
I love the Papaya smell of this Nip + Man cleanser and the granules seem to be a perfect amount for daily exfoliation: not too little and not too much. The cleanser also contains caffeine to energise the skin.
Another product for men I have come to like? Lab Series Daily Moisture Defence Eye Balm. This advanced, daily eye treatment helps defend and protect skin from environmental assaults that promote a multitude of eye area concerns: dryness, fine dry lines, dark circles and puffiness.
In regards to colognes I do sometimes like to spritz on a men's fragrance. I love Crabtree & Evelyn Moroccan Myrrh Cologne. In this distinguished fragrance, warm and spicy myrrh is blended with sparkling, verdant notes of bergamot and petitgrain, spiked with black pepper and cardamom. The precious resin is further enriched with the smoky, mysterious tones of guaiac wood and amber, resulting in a signature that's exotic and intriguing. Very nice indeed.
Whether you're male or female, the most important thing to remember is to moisturise daily with a pH-balanced moisturiser. But can women have a spritz of men's cologne? Absolutely.
***
Juicy Couture Launches Viva La Juicy Gold Couture
It's gold and bold. Juicy Couture has just launched its newest fragrance, Viva La Juicy Gold Couture. It was love at first sight for me with the packaging and lush fragrance. If this perfume had a song it would definitely be 'Material Girl' by Madonna. One whiff of it made me turn on the song and dance around the room like no one was watching.
It also comes with organza swiss dot bows that you can use in your hair…perfect for channelling a fun-loving party girl like Madonna. Not to mention a nail lacquer duo in hot pink and gold sparkles.
I felt the fragrance deserved its own post as it was truly the life of my party this week.
The packaging is decadent and indulgent and the scent doesn't disappoint either. With lush wild berry notes that move to a sultry mix of golden amber and melted caramel, it is sweet but playfully sexy.
The bottle is a luxurious melted gold with a hot pink 'couture' nameplate in the centre. This is a bottle that doubles as a decorative piece on a vanity table-it begs to be in the centre of attention. And it should be.
Juicy Couture is a fun and glamourous L.A. lifestyle brand www.juicycouture.com. The fragrance, in my opinion, can be worn both day and night and will easily take you from a daytime shopping trip to date night. Viva La Juicy Gold Couture reminds us that we 'never need an excuse for couture.'
***
Billion Dollar Brows: Never Leave Home Without Them
Eyebrows are something that are so important to me I never leave home without them! Honestly I don't know what I did before without them. Well, at least without defining them anyways.
Eyebrows take care to define-you don't want to go overboard and then have two slug-like marks over your eyes or under-define them and pluck them so thin so they are just two skinny lines over your eyes. Neither are a good look.
A cool little discovery for brows I found? Let me introduce you to Billion Dollar Brows (www.billiondollarbrows-uk.com)
The kit compels you to 'take your brows back' and comes with four useful tools.
1. Tweezers 
These are fantastic and have a great grip on fine or stubborn hairs. I'm definitely throwing my old one out after using this one.
2. Brow Scissors (you know what these look like!)
Necessary for trimming brow hairs if they get unruly.
3. Universal Brow Pencil and Brush
This brown pencil comes in a flattering brown which matched perfectly to my brows without making them look unnaturally dark. The liner is also water resistant so won't come off in case you get caught out in the rain!
4. A Brow Buddy
This little genius is great for finding the perfect arch!
Step 1: Finding the Perfect Arch
Place the Brow Buddy flat against your face in the closed position with your nose in the centre. This is where your brow will START. Using the pencil, draw a thin line on the inside of the tool, as illustrated by the pink lines.
Step 2: Finding Your Arch
Look straight ahead and extend the prong until it lines up with the outside corner of your iris (the coloured part of your eye). This is your ARCH.
Using the pencil, draw a thin line on the inside of the tool, as illustrated by the pink lines.
Step 3: Finding Your End
Extend the prong until it lines up with the outer corner of your eye. This is where your brow will END.
Using the pencil, draw a thin line on the inside of the tool, as illustrated by the pink lines.
Step 4: Establishing the Bottom of Your Brows
Once you have your start, arch and end points, you can now connect the lines.
Following your natural brow line, draw a line to connect the start, arch and end points on the bottom of your brow.
Step 5: Establishing the Top of Your Brows
Following your natural brow line, draw a line to connect the start, arch and end points on the top of your brow.
This will create an outline that should look like the illustration.
Kerry Hoy is the UK Master Trainer for Billion Dollar Brows (www.billiondollarbrows-uk.com) and she says, 'Brows frame your face and having brows shaped properly can be the equivalent of a mini-face lift.'
I couldn't agree more. Let's be honest: brows are important!
On that note don't forget about your lashes either! A great lashes product that I have found (that is also a multi-tasker and anti-ageing eye contour serum as well!) is Vichy Liftactiv Serum 10 for Eyes & Lashes (www.vichy.co.uk). It's the first anti-ageing and lash fortifying eye serum from Vichy with Rhamnose, ceramide and instant light reflectors.
 ***
Solutions for Stressed Skin: Elizabeth Arden Launches Flawless Future
I have always been a really big fan of Elizabeth Arden and have been using the Visible Difference cream for years, especially when I notice my skin getting a little bit dry.
So when I had the chance to attend the launch event for their latest range, Flawless Future, I jumped at the chance.
Why did Flawless Future appeal to me? Because it's targeted for stressed skin.
On arrival, we were taken through a presentation about stress and the effects on skin. Everyone knows stress isn't good but did you know that it can age your skin by up to ten years? Yikes. Stress can rear its ugly head in your skin with symptoms such as blotchy tone, redness, dullness and fine lines. These all happen because stress decreases cell turnover. Scary stuff.
Stress ages skin at a cellular level in three ways:
1. Stress depletes ceramides
What are ceramides? These are the molecules that help keep the skin healthy and form its collagen matrix. Think of it as the glue that holds things together. Ceramides deplete rapidly as we age and stress can negatively impact the body's ability to make more of them.
2. Stress damages telomeres
What are telomeres? Telomeres are the caps at the end of chromosomes and their primary function is to prevent our DNA 'fraying' as cells replicate. However, as cells divide, the telomeres shorten and shorten until the cell can no longer divide. Cells can generally divide about 50 times before the telomeres disintegrate. Stress, as you guessed can accelerate early disintegration.
3. Stress irritates skin
Stress releases a lot of hormones that are not good for skin, namely cortisol, adrenaline and histamine. These hormones interfere with the skin's ability to heal itself and therefore it ages faster.
To help combat all of this stress related ageing, Elizabeth Arden have released three hero products.
1. Caplet Serum (£48)
This serum contains mini caplets that contain a second skin protective matrix that when dispensed, bursts to activate the powerful ingredients within the serum. Very clever.
2. Eye Gel (£25)
This is a brightening eye gel that fights the appearance of stress and fatigue around the eyes. The tip also precisely controls the appropriate amount of product to dispense, making for a perfect application again and again.
3. Moisture Cream SPF 30 (£40)
I like this cream because it is non-comedogenic which means it doesn't clog pores and cause a break out, which I am prone to. It feel intense without being too thick and is perfect for daytime protection against UV rays. Needless to say, it makes me feel safe!
Although this is not a part of the Flawless Future range I also love the Elizabeth Arden Prevage cleanser and have used this as an addition to the Flawless Future ritual. It's an anti-ageing boosting cleanser that contains Idebenone antioxidant technology. It's another step in the fight against ageing and although I haven't tried the other products in the Prevage range,  I have heard great things about it and it has a dedicated celebrity following.
The most important thing to learn from all of this is that stress is evil for your skin. Do what you can to minimise it and use products that help you defend against it.
Flawless Future launches nationwide on August 15th.
***
Playing With My Hair: The Highlights
Recently I have been playing around with my hair. This all began at Tatiana Hair Extensions in Kensington. Tatiana is an extensions expert and manages the extensions of the stars. She is the go-to for extensions!
So when I had a chance to visit her shop and play around with the hair extensions myself, I was really pleased by the result. Tatiana uses real European and Russian hair for the hair extensions. I was able to try the clip in version of the Russian Hair, which matched my own wheaten blond locks perfectly.
Once the extensions were put in, voilà, suddenly I had thick, luscious hair that I've always wanted. The hair I tried costs around £500, which is a good price if you think about the longevity of the hair and if you will be using it everyday.
My hair is very fine and although I have been told there are a lot of individual hairs, the hair itself is so fine that it does tend to look on the thin side. In order to recreate the look of the thick locks I saw at Tatiana's I compiled a few tools in my hair toolkit.
Tool #1: Envy Dual Fix 12
This retails at £19.95 and I do believe it is worth it as it delivers a bang for the buck. It is a professional hair treatment that can repair all sorts of hair types. With Keratin Amino Acids and Silk Proteins, it coats the hair to make it feel sleeker and smoother.
There are two ways to use this product. The first is to use it as an intensive treatment and apply generously to dry hair and then blow dry roughly until the hair is dry. Afterwards shampoo and condition as normal. This type of treatment is meant to be used monthly.
The second way to use this product is to use it in the shower on a weekly basis on wet hair. Shampoo and then apply to wet hair, leave one minute and then rinse and condition as normal. This is the way I used it as my hair is not severely damaged but needed a boost.
I definitely felt that my hair was silkier and smoother after this.
I also like to use the Sebastian Drynamic Dry Hair Shampoo to carry in my bag for any oily hair emergencies or if my hair feels limp.
Tool #2: Sexy Hair
I like the Healthy Sexy Hair 'Soya Want It All' which is a leave-in treatment for hair containing soy, cocoa and argan oil. The Big Sexy Hair Volumising Dry Hair Shampoo is also great to give your hair some texture, especially if you are creating a side braid or updo.

Tool #3: Wella Ocean Spritz Dry
This product is good on a day after you have shampooed your hair to create that 'I just came off the beach' look.
Tool #4: Diva Professional Beach Curls Wand
        This is a fun tool to use to create sexy beach curls! And you get to wear a heat protective glove which is always fun. This titanium styling wand is perfect for creating random, natural beach curls. The wand heats up super fast, within seconds so there is no waiting around for ages. There are also a range of heat settings which made me feel better as I could put it on a lower setting.
Tool #5 Get a professional blow-dry at the L'Oreal Hair Studios
For a fabulous, full look with lots of volume…sometimes it's best to leave it to the professionals.
***
Deskside Beauty: 'Think Smart, Look Amazing'
We all need some beauty rescue at the office, sitting in front of a computer all day, being exposed to UV rays through windows and radiation from the computer, germs on keyboards and phones, fine lines from squinting at the computer screen, heating and air-conditioning wreaking havoc on skin not to mention the day-to-day stress a job brings. Our skin and bodies battles through a lot at our desks!
I have a personal deskside rescue kit that I turn to in case of any beauty emergency which helps to keep me feeling fresh and energised instead of wilted by the end of the day.
In the words of Marie Claire magazine, 'Think smart, look amazing.'
Deskside Beauty Kit, I turn to you.
Some weapons I use in my daily deskside beauty battle? I love La Roche-Posay Eau Thermale. It is thermal spring water for sensitive skin that contains natural antioxidants. I find this is an instant refresher if I am feeling tired at work. Gave up coffee and feeling horrible? Try the Eau Thermale-it's an instant and natural refresher.
For oily skin, I freshen up with my By Flower Powder Pact by Nature Republic. This is a Korean brand and a compact powder I picked up on a trip there. I like it because it doesn't make me break out. Simple as that.
To freshen up limp hair I love Percy & Reed Eau My Goodness Shine & Fragrance Spray. I have a perfect desk-sized 50ml can that sits nicely by my computer and doesn't take up too much space.
If I need to freshen up hair that has become oily throughout the course of the day I love Big Sexy Hair Volumizing Dry Shampoo. The bottle makes me feel confident just looking at it which comes in handy before a big meeting! The smell is also nice and it's great for giving your hair a semi-matte, rough texture to quickly swipe it off your neck when you are under pressure and feeling the heat.
For tangles it's always a Tangle Teezer and I absolutely LOVE my travel-sized one. I have a sensitive head and also fine, baby-like hair which doesn't want to be pulled out. The Tangle Teezer is perfect to get unruly locks under control while at the same time being very gentle.
We also can't forget germs. They are everywhere in an office, lurking on keyboards and hiding on phones. I use Crabtree & Evelyn's La Source Antibacterial Gel to fight off the nasties and keep my hands clean in case I touch my hair or face…which one always does! The scent is fresh and clean and reminds me of sea minerals instead of the usual horrible alcohol smell of other antibacterial gels. It's also non-runny and feels moisturising instead of drying.
With the recent hot weather, it's also important to smell nice. Which is why I love the new fragrance from Hugo Boss Ma Vie Pour Femme. This is PERFECT for the office! It's strong while at the same time still remaining feminine. It is inspired by the Cactus Flower accord which is one tough little flower. So in my mind this fragrance is perfect for the modern, working woman who can have it all-or at least try their hardest to!
Hands, hands…one must never forget their hands. They show your age worse than your face so take care of them. Crabtree & Evelyn make amazing hand creams that feel rich without being sticky and this Lily one came in a Perfume Society box so it has been my new deskside beauty hero for the week.
I find that with indoor heating and air-conditioning this has a drying effect not only on my skin but also on my lips. NARS really comes  to my rescue in this department with their sleek, glossy and hydrating Larger Than Life Lip Gloss in Place Vendome. This delivers high-impact shine which always gets me compliments. EVERY TIME I wear it.
As one can never have too many lip glosses, lipsticks and lip balms (yes you can), I also love to keep Bourjois Color Boost Glossy Finish Lipstick in Peach On The Beach. It also contains SPF 15 to protect my lips if I venture outside on my lunch break.
For a more subtle look I go for a frosty pink with Lavera's Organic Lipstick. This just feels good to put on as it is 100% natural and organic. It makes me feel like I am doing something very, very kind to my lips.
If I am having a particularly tiring and stressful week at work I love Better You B12 Boost Pure Energy Oral Spray. It contains chromium and green tea extract to reduce tiredness and fatigue. As it is sprayed directly into the mouth, it absorbs quickly. B12 is notoriously difficult for the gut to absorb which is why this is a really innovative spray as it bypasses primary processessing by internal organs to be delivered into the bloodstream immediately.
On the health note, I discovered an amazing juice company this week called The Juice Well. Their juices contain over 1 kilo of raw vegetables and fruits in the bottle and only keep for a few days (note in below picture where it says 'alive until 03.08'). I love Pinamour which has a very unique taste and reminds me of the fennel candy that is available at Indian restaurants after you have eaten curry, in order to freshen your breath. It is truly refreshing and a great drink to have on hand at work.
***
Vichy Normaderm Launch
Vichy have recently launched Normaderm, a collection aimed at adult acne and those who suffer from oily skin…which is me, unfortunately. The products in the collection target the six signs of  blemish-prone adult skin: blemishes, pores, shine, 0ily skin, marks & uneven complexion. Acne is caused when tiny holes in the skin, known as hair follicles, become blocked.
Adult acne is caused by sebum, an oily substance produced by the skin's sebaceous glands. Sebum clogs pores, which attract bacteria and become inflamed. Some acne is also caused by hormones. A great example of hormonal acne is the spots that come out right before females start their periods.
There are three steps in the Normaderm routine which involves using a cleanser, the daytime Hydrating Care moisturiser and Night Detox treatment. There are three types of cleansers in the range; the Purifying Cleansing Gel, the Daily Exfoliating Cleansing Gel and the Tri-Active 3 in 1 Cleanser, Scrub & Mask.
The Night Detox does the real job however. During the night, skin renews itself, working twice as fast than during the daytime because it has to regenerate and counteract all the damage it has suffered during the day. Oily skin produces three times the amount of sebum than that of normal skin.
The nightly imperfection production cycle breakdown:
1. Overproduction of sebum at night
2. Accumulation of residues and toxins
3. Oily skin feels dirty
Day-time Hydrating Care
After using this for a week, I did notice that my skin was less oily. The Hydrating Care day cream works underneath only certain foundations, as it has a matte effect so it's better to use with mineral make-up like bareMinerals.
***
A (Relatively) New Organic Kid On The Block: Orico London
A relatively new organic kid on the block (since 2012) has arrived in London in the form of Orico. Orico stands for Organic Rich Ingredients in Cosmetics & Oils and all products in the range are certified organic (face, body and baby). The skincare range is designed for the everyday demands that urban living puts on us – including pollution, sun, stress, air-conditioning and heating. Orico is the brainchild of naturals pioneer Shirin Valipour and the flagship store is located on Kings Road in Chelsea.
I was able to attend the brand's recent launch of Streetwise Coco Spritz (£18), a refreshing toner with coconut water and cocoa seed that instantly hydrates thirsty skin. I have been keeping mine next to my desk at work to refresh and hydrate my tired skin through the day. The spritz also contains papaya and mango fruit extracts to nourish and brighten as well as orange flower water to tone and smooth. Sitting in front of a computer all day and also next to the air-conditioner does not do any good for my skin and I like to keep this spray next to me when I feel that my skin needs a boost.
Coconut water has become really popular these days, not only to drink, but also has recently begun to appear in beauty products. It contains humectant properties that hydrate and lock in moisture, is high in nutrients, helps reduce blemishes and provides both antibacterial and antioxidant benefits. And it tastes good. What's not to love?
My favourite product in the range? The Full Cup Bust & Neck Enhancing Elixir (£28). An organic breast and neck enhancer? Now this is exciting! I haven't seen anything like this of its kind in an organic form and was really excited to use this. It contains Mukul Bark, which has been proven to enhance breasts by 2 to 4 cm after 6 weeks of use while improving skin quality. The all natural breast enhancement oil contains powerful natural moisturisers and antioxidants that firm and tone the bust and neck area.  I have found that my décolletage does look smoother and has a nice sheen when I use the oil. This has now become part of my night-time beauty ritual.
Another product that I have been using in the range is the Superseed Vitamin Dry Multi-Oil (£19) which is great to use if you don't want to be too 'oily' as some oils will leave you. This oil absorbs fast and as it is organic, feels as though you are just covering yourself in pure goodness. It is multi-purpose and can be used on face, body, hair, hands and nails and comes in a 100ml size so this would be a perfect product to travel with and bring on the plane. It contains Baobab, Rosehip, Macademia, Wheatgerm and sunflower plant oils.
I was particularly interested in the Baobab oil, which I don't often see in many products. The oil has a high content of vitamins A, D, E and F, fatty acids (Omega 3,6 and 9), proteins, potassium, iron and amino acids making it intensely hydrating, which helps to improve skin elasticity and tone. This is certainly a product I will be taking with me on my holidays.
***
Perfect Summer Feet
Summer is officially here…finally! And with that comes the exposure of the feet…yes, that's the feet that have been wrapped up in socks all winter and have come out all pale and white and starved of the sun. Open-toed wedges, slides, flip-flops and sandals don't leave much room for your toes and feet to hide.
I am a huge fan of creating an 'at home spa' and this has recently extended to my feet with Scholl's Pedicure Foot Spa.
I first poured half cold water and half boiling water into the Scholl Pedicure Foot Spa to create the perfect temperature. This is great after a long day-especially if you have been on your feet all day. I find that if my feet feel refreshed then this slowly spreads to the rest of my body so take care of feet first!
The Pedicure Foot Spa is really easy to use. It is plug and go with a large power button on the top. Once it is on, there is a vibration at the bottom of the foot spa and this gently massages your feet and increases circulation. It also comes with a splash-proof pad to decrease the chance that you will end up with water all over the floor.
Once your feet are fully relaxed and dry, it's time to make them look as good as they feel. I take off all traces of polish with Crabtree & Evelyn's Nail Polish Remover Wipes, which are oil-based and very gentle and nourishing for the nails. Think of them as a cleansing oil-just for nail polish.
I used the Scholl Pedicure Kit that comes with the Pedicure Foot Spa to perfect my toenails. I buffed, filed and cut away any jagged edges and it wasn't long before my toes were looking quite nice…like I had received a professional pedi!
For toenails, follow up with a clear base coat and the colour of your choice. I used Essie Professional Application in Peach Daiquiri.
Voilà! Perfectly polished toes. Now…where did I put those open-toed wedge sandals?
***
 Festival Beauty Essentials: The Breakdown
These warm days are full of summer music festivals to hit up. You will find that girls go through a lot of trouble to look good at them. Although it's nice to look good, it's also important to be comfortable and to be prepared for sun, rain and anything else that comes your way!
Part 1: Prepping and Pre-Tan
When prepping for a festival the first thing that I can think of is tanning…fake tanning that is. As we can't always predict the weather I think it's best to go with a fake tan that will work with the natural colour of your skin and one that enhances it rather than turns someone who is supposed to be pale into a bright orange oompaloompa.
One of my favourite self-tanners is Madame LA LA Tan. As I am naturally pale, I go for the light colour. Madame LA LA Tan provides an instant L.A. glow that develops into an even sun-kissed colour in 3 hours. It is a lightweight, tinted mousse and I use it with a Velvotan Tanning Mitt (no one wants orange hands or nails either). The mousse is also hydrating; with coco water, aloe, green tea and Vitamin E. I also love that this tan lasts for about ten days and fades naturally. I wouldn't recommend a wash-off tan for festivals as these tend to run in the rain and don't work with sweat either. And the last thing you want is brown streak marks all over your body and clothes!
To get the best look it's always good to exfoliate before self-tanning. I find that my Rituals Fortune Scrub in Sweet Orange & Cedar does the trick. I also love Rituals Yogi Flow Foaming Shower Gel in Indian Rose & Sweet Almond Oil which can be turned into an exfoliator if you pair it with exfoliation gloves. The smell is absolutely heavenly.
Part 2: Nails
I love nail colour and my colour changes with my mood-which means it changes often! You don't even want to know how many nail polishes I have in every colour of the rainbow. One of my favourites, especially for a festival would be Leighton Denny. Why? Because these are hardy nail polishes that don't chip easily and last for days. I like a pinkish-red Leighton Denny with a touch of sparkle for a classic daytime look with a twist. At least I know that I won't have to retouch my nails for a few days.
Part 3: Skincare
Recently I have become a big fan of Dr. Organic. I especially love their Organic Rose Otto Restoring Oil which optimises the skin's natural cell regenerating and anti-ageing process. I mix a few drops in with my day cream for a natural glow. For glowing skin for festivals (and if you will be out in the sun all day), it's best to use this the night before and applied thickly over the skin so the skin has a constant supply of it through the night. I would be sure to lie on your back so it doesn't rub into the pillow!
Part 4: Haircare
On the same note, I am a big fan of Dr. Organic's Organic Moroccan Argan Oil Hair Treatment Serum. I have very fine, thin hair and I find that this doesn't leave my hair looking oiler than before I washed it! It leaves my ends feeling very soft. As a pre-shampoo treatment, I use Philip Kingsley's Elasticizer, which is a moisturising pre-shampoo treatment that adds elasticity and shine. This was orgininally developed for Audrey Hepburn and if it is good enough for her, it's certainly good enough for me! Using these products ensures my hair is soft and not weighed down on festival day!
Part 5: Body and Nutrition
Let's be honest. Festivals can wear you out. Exposure to the sun, being on your feet all day and singing your heart out can leave you feeling pretty exhausted by the end of it all. Making sure you are taking proper supplements to support skin and body health is vital, especially as poor food choices at festivals combined with alcohol consumption, can mean that you aren't getting the proper nutrients. I always take a skin supplement, such as Vitabiotics 'Perfectil Plus Pro-Tan' and 'Ultra Lycopene Extract'.
The extra benefit that Perfectil offers is that it contains 1000mcg of Copper, which contributes to normal skin and hair pigmentation so it is good to take if you are planning to be in the sun. Lycopene is one of the most potent antioxidants available and contributes to normal immune function and helps to nuetralise free radicals that can damage cell DNA, which can cause premature cell ageing.
Another thing I like to carry in my bag if I know that I am going to have a long day is Vitamin B Energy Shots. These help with tiredness and fatigue and contain a combination of caffiene, taurine, vitamins and amino acids (www.6vitaminshot.co.uk).
Part 6: Make-up
It's really important to protect your skin with SPF in either your day cream or in your foundation if you will be outside all day. I love mixing my Sleek Make-up CC Cream in with my day cream. It has an SPF factor of 29 and protects against UVA and UVB rays. It also has colour adaptive technology to adapt to the colour of your skin. I like to be a little heavy handed with moisturiser and have to be careful with what foundations I use as some can get clumpy. However, I have found that if I mix the Sleek CC Cream with my day cream, this creates the perfect, glowing base that gives enough coverage and manages to look natural at the same time- a win-win!
Another make-up obsession? Magnifibres! These are brush-on false lashes that can extend your own lashes by up to 5 mm.
Part 7: The Takeaway Kit
In my festival handbag, I always carry an antibacterial gel. My favourite is Crabtree & Evelyn's La Source Antibacterial gel. It is thick and smells fresh, like the sea – without any of the alcohol scent or runniness of the usual antibacterial gels. I also love Bourjouis Sun Cream Blush in Tropical Coral for a quick colour touch-up. It melts into the skin and looks natural. Last but certainly not least, I always carry sun cream with me if I will be out all day and find that Ultrasun is great because it comes in a handbag size.
A cult product I love and always pick up if I am in Australia is Lucas' Pawpaw Ointment – made of fermented papaya fruit. It's good for chapped lips, dry skin, cuts, burns, insect bites, etc. A good all-around product to carry in your bag!
Part 8: Fragrance To-Go
I love solid perfumes for on-the-run fragrance touch ups and Fragonard does an adorable boxed set of mini solid perfumes. They look cute and come in what looks like a lip balm tin. And who doesn't like cute?
Part 9: Have fun!
The most important part, naturally!
***
Chrys Spaulding-Chapman – Make-up Artist – Unveils Her Top Make-up Picks
Make-up artists – they know all the tricks. I recently had the opportunity to ask some serious (but fun) questions about make-up and skincare to my lovely friend and make-up artist, Chrys Spaulding-Chapman.
Chrys is a trained make-up artist who has worked for luxury beauty brands Guerlain, Laura Mercier and Charlotte Tilbury and also blogs at www.makeupartistinsider.com. She was kind enough to take time out of her busy beauty world and answer a few questions for us.
Beauty Rocks: What trends are you seeing in make-up right now?
Chrys: Current trends in make-up? Today the rules seem to have been abandoned. The flexibility to interpret trends, moods and personality through make-up has never been more available. While there has never been so much emphasis on artistry throughout the brands, there has also never been so much emphasis on accessibility.
Last year we saw a return of the ultra natural/ dewy/ Bambi-eyed look. Now, I think people are craving a bit more glamour. So it is a great time to be able to alternate your look.  You can wear a sophisticated smoky eye to the office and ramp it up BOMBSHELL for the evening. I think trending today is you… on a really good day… whoever you want to be today.
Beauty Rocks: So what's in your handbag?
Chrys: Oh good Lord… I virtually have a lipstick bar in my bag. I would like to add they've sort of accumulated over time… I don't repack my bag with that many products everyday.
In my bag you can find:
1. Laura Mercier glosses in: Sparkling, Bonbon, Bellini, Bare Blush, Cerise (limited edition), and Lychee (plumper)
2.  Laura Mercier lipstick rouge nouveau in Coy and crème lip in Red Amour and Peche
3. Laura Mercier Secret Camouflage in 2
4. Rimmel Scandle 'eyes' mascara
5. Laura Mercier eye pencil in Special Brown
Beauty Rocks: If you were stuck on a desert island and could choose only one make-up product what would it be?
Chrys: Desert island product picks? I would have to choose:
1. Laura Mercier Protect Primer (b/c SPF AND PA are ESSENTIAL on a desert island!)
2. Charlotte Tilbury Beach Stick in Es Vedra
3. Estee Lauder Waterproof Mascara… best waterproof ever!
Beauty Rocks: What's your make-up routine?
Chrys: My make-up routine starts while I do my hair so my morning routine consists of getting my kids ready for their day and therefore I break up my own personal routine into three parts with my kids' routines
1. Make breakfast and do my hair/ skincare (skincare = Laura Mercier Repair Serum and Tone Perfecting Cream with Clarins Eye Revive Beauty Flash).
2. Make kids' lunches and get everybody dressed (including me… which determines my make-up look for the day).
3. The last bit is just for me, which usually means the kids get to watch the last bit of Peppa Pig before the school run … so prime — ALWAYS USE A PRIMER. I change which primer I use based on what look I'm going for and how full I want my coverage, but my favourite look for summer is radiance primer and oil free tinted moisturiser (Laura Mercier).
Then bronze (or the "trendy" version is contour… which I would like to point out… bronzer does contouring and contouring powder does bronzing. Play with the products you've got before you go out and buy more).  I like Guerlain 4 Seasons Bronzer, which is pricey but well worth it. Then, blush and highlight.
Eyes… there is no formula for my eyes… everyday is different depending on mood and look, but I always TIGHTLINE and use mascara. And that's it.  I have really full brows so don't normally do them and lips I almost always leave until I've arrived at my destination so I don't destroy my lip look. I know it sounds a lot but step 3 (which was the actual make-up stuff) takes me no more than 10 – 15 minutes.
Beauty Rocks: What's the most common mistake you see people making with make-up?
Chrys: The most common makeup mistakes…
1. Touché éclat is NOT concealer. Please stop using it like one!
2. Over cleansing your skin… this one is controversial, but from my time in the industry and special interest in skin… what I've learned is that skin mostly wants balance.  Using something too abrasive or cleansing too often or with too many products = problem skin. Whether that's because skin panics and starts to over produce its own natural oil or becomes sensitive and flakey – no good comes from too much. Find gentle, good for you products and don't forget your diet which is essential to good skin.
3. Eye liner (and this is battle of extremes). I find there are those who do too much- it's too heavy, too dark and the wrong texture. So a dark feline flick but in a khol liner will bleed, whereas a liquid or gel is harder to work with, but will stay put. Or the anti-liner. Tightline is my all time favourite make-up technique and EVERYONE can do it. It's essentially filling in the lash line at the root of the lashes. It's the easiest way to create impact and weight to the eye. Great for any age, any eye shape, and any ONE.
***
Bourjois Blogger Summer Beauty Party
The first time I ever spotted Bourjois was in South Korea in a Duty-Free shop and I remember being attracted to the bright pink of the Bourjois logo. My interest piqued but I never managed to try a product. Until now.
I was fortunate enough to go to the Bourjois Summer Blogger Event at the scenic rooftop of Global Radio in Leicester Square to experience an evening of summer beauty and see what new beauty launches Bourjois had up its pretty pink sleeve.
The first thing that caught my eye were the Rouge Edition Velvet lipsticks which were spread out in an array of pinks and reds next to a lovely flower display. My personal favourites and two I got to take home were the Nude-ist and Grand Cu, both of which are new additions to the range.
Nude-ist is best described as an everyday colour of dusky rose while the Grand Cu is a deep, dark burgundy red which was really dark on me with my fair skin but definitely made a statement. This is a lip colour I would certainly be taken seriously in!
For any fair skinned beauties out there I would recommend Nude-ist for the day and Grand Cu if you want to make a statement. Grand Cu should be worn with minimal make-up elsewhere for a classic look.
Another exciting product I have discovered through Bourjois and didn't even know that I needed all along is waterproof eye-liner. Their new Contour Clubbing Waterproof Pencil Shades have just come out and although I usually use a liquid eye-liner pen, I have now switched to these gliding pencils that have a creamy texture and are so accident-proof it's amazing. I found that the eye-liner didn't make the usual horrible marks above the crease in my eyelid and onto my eye-shadow due to its waterproof formula. And the gliding formula of the pencil makes this perfect for everyday use. The Ultra Black and Up and Brown colours are now snuggled together, safely in my make-up bag.
For those who are more daring than I there is also a Pink About You and Dynamint shade. I used the Dynamint on the weekend as a shadow, simply colouring the lower part of my eyelid. I found it didn't budge all day and makes a great pop of the perfect amount of colour  as long as you don't bend it up into the crease of your eyelid and beyond.
Another surprise of the evening and a new find was the Bourjois Cream Blush in new sun shades of Pink Sunwear and Tropical Coral. The Pink Sunwear suited me perfectly with my fair skin while the Tropical Coral would be great for medium skin tones. I found these extremely easy to blend. I thought I would never switch from my powder to a cream blush but have found that I have more control with a cream blush and it looks more natural as I can blend it into my skin much better.
Bourjois also left me with a contouring tutorial with their new Delice de Poudre Gold Bronzing Powder + Highlighter. The first rule of contouring is to:
1. Apply the bronzer to warm your complexion and contour your features. Sweep the bronzer along your hairline, across the hollows of your cheeks and along the sides of your nose.
2. Apply the highlighter over areas where the light naturally hits for an iridescent glow. Sweep the highlighter along the high point of your cheekbones, onto the centre of your forehead, under your eyebrows, over the bridge of your nose and onto your cupid's bow.
The icing on the cake? A Bourjois mani with a fantastic bright yellow colour which has lasted for days and which I have received so many complements on. Pink leopard print nail art was added on the ring fingers-perfect finish!
***
#NARSissist
During the month of July, NARS Cosmetics is taking over Space NK Soho. I was lucky enough to get to visit the pop-up to try their new Dual-Intensity Eyeshadows, 12 shades that can be worn dry for a soft look or wet for a dramatic and dense finish.
When I think of NARS, I think of high-intensity, pigment-rich colour, colour and more colour! My NARS glossy raspberry-coloured lip gloss is a permanent fixture in my handbag so I was excited to visit the pop-up and be inspired to live more colourfully in my make-up routine.
NARS has been around for quite some time, founded in New York in 1994 by make-up artist and photographer François Nars, who remains the artistic director today.
I was given a NARS makeover and smoky eye with the new Dual-Intensity shadows, using Callito on the lid, Phoebe on the bridge and Subra as the dark smoky finish.
Another fab product I fell in love with? The Vanilla Radiant Creamy Concealer #40. I will be adding this to my wishlist.
***
Spotlight On: Glycolic Acid
I have recently noticed a lot of products are using glycolic acid as an ingredient; everything from cleansers to serums to eye creams. Glycolic acid isn't just for peels anymore, it is now an active ingredient in skincare. What is glycolic acid anyways?
Glycolic acid is defined as 'a natural ingredient derived from sugar cane and one that falls into the set of ingredients called AHA's, or alpha hydroxy acids'.
There are five ingredients that fall into the AHA category, which Dr. Brannon, Guide to Dermatology explains as: glycolic (sugar cane), lactic (milk), citric (oranges and lemons), malic (apples and pears) and tartaric acids (grapes).
The main function of a glycolic acid is that it is an exfoliator. Instead of using a rough exfoliant such as a scrub, we can use a natural acid to reveal smoother and brighter skin. Glycolic acid works to remove the outer layer of dead skin cells and can also help with hyperpigmentation issues.
I have two products that contain glycolic acid. One is Nip + Fab Glycolic Fix Pads which contain 2.8% of glycolic acid-a very minimal amount of glycolic acid which shouldn't upset the skin but instead provide it with a gentle exfoliation.
Generally products that contain less than 10% of glycolic acid are quite safe and should work for most people. It is when you are considering a more serious glycolic fix that you should consult a dermatologist, as in the case of getting a glycolic acid peel which can contain very high levels of the acid.
The pads also contain hyaluronic acid + soothing blue daisy that helps to reveal brighter and smoother looking skin. I like using them as a toner after washing my face. They are available from Boots for £12.99.
Another product that I have is GlycoWash from Beauty Lab. It is recommended to use this wash only 2/3 times per week as it contains 5% glycolic acid. The first time I used it I felt a light tingle on my skin but after that I didn't feel anything because most likely my skin got used to it. I like this product because it is suitable for acne-prone skin and works to unclog pores and prevent future breakouts with triggered release technology that works longer and deeper to remove impurities. I use it every other day in the evening-making it a three times a week habit. The 100mL bottle retails at £32.00.
***
The 90 Day Hair Challenge: A Quest for Fuller, Thicker Hair
First of all, let me start out by saying I haven't ever used any hair products to help me 'thicken' my hair. Sadly I wasn't blessed with thick luscious locks but instead have very fine, almost baby-like hair and tend to stare in jealousy at Pantene Pro V hair commercials. However, now I've finally had a chance to fight against genetics for those thick locks! Enter the Viviscal 90-Day Challenge…
I was lucky enough to win one of 30 spots to try the Viviscal 90 Days Challenge with Good Housekeeping Magazine. I was invited to Michaeljohn salon (www.michaeljohn.co.uk/locations/knightsbridge) in Knightsbridge for a wash, treatment and blow dry using Viviscal products.
I have to be honest. Usually when it comes to a blow dry I tend to get slightly nervous. Because I have such fine hair and a tender head, I hate it when I feel like a hairdresser is being rough with my hair-which is almost always-at least in my mind. When I leave a hairdressers I always feel like I have lost half of my hair which usually results in a tear or two. In summary-going to the hairdressers for me is almost the same as going to the dentist. I don't like it. Although it never stops me from going anyways! I am usually always fearless in the name of beauty…almost anyways.
In regards to my skin, I am usually more than happy to try a million products but with my hair I feel very protective. However, with a product like Viviscal that is actually a full hair programme with supplements, hair serum, etc. I feel like it is definitely worth a shot.
Recently there have been a number of thickening products to hit the hair shelves and I have jumped on the bandwagon, using L'Oreal Fibrology to thicken up my hair. I have also found that using dry shampoo and washing my hair every two days has been an ABSOLUTE lifesaver for my hair. I used to wash my hair everyday religiously which dried it out and turned it into a frizzy mess. Dry shampoo has been an absolute godsend for my hair and I really feel this has made my hair so much healthier. Don't wash your hair everyday unless you absolutely have to! Remember…less really is more!
Viviscal products have been developed with 20 years of research behind it…and scientific results are always appreciated in the beauty world. Hair growth is influenced by a wide range of factors including diet, overstyling, heat treatments, hair extensions (I have a horror story from these that I may reveal at a later date!), hormones, stress, genetics, colouring, etc.
Again…stress…it's a killer. Hair growth can be affected by a stressful life experience including bereavement, shock, moving house and getting married!
The Viviscal 90-Day Challenge involves taking supplements twice a day, which contain the marine protein complex AminoMar C – exclusive to Viviscal. I will also be using the Viviscal Gentle Shampoo and Moisturising Conditioner which are naturally derived and also paraben-free.
I was also given a type of hair powder which binds to the hair and gives the illusion of fuller hair. This can be applied to the scalp on thin areas.  I have been using it by my temples, where I find that most people's hair thins out. The fibers are made with keratin and have electrostatic coating which binds it to the hair shaft, building hair density and greater coverage.
Watch this space on my quest for fuller, thicker hair! I will revisit this in 67 days…
***
Refresh Your Beauty Masterclass with Evening Standard Magazine
I was lucky enough to nab tickets through the Evening Standard Magazine to the Refresh Your Beauty Masterclass, held at the Soho Hotel last week. With drinks in hand, guests had an opportunity to browse various areas where you could get make-up tips, have a Harley Street skin scan or have your brows done. However, the main point of the night was a presentation held in association with Juvéderm® which offered tips and trends on non-surgical treatments to help maintain your look.
. 
The presentation went into the scientific factors behind ageing and the common causes of it, including smoking, sun exposure, genetics, diet and a big one; stress! Stress has a very strong impact on the way we look and it's very important to take steps to minimise it. Stress can do all sorts of damage so I cannot 'stress' enough how vital it is to really take care of yourself in that regard. Meditation, yoga, deep breathing; it all helps!
On ageing, the main thing that happens is that your face begins to sag; this is due to the loss of fat pads underneath the skin- essentially the support structure- and then everything starts to collapse. The sad news is that your face loses fat, begins to sag and wrinkles form. As we get older we also tend to look more masculine due to this reason, losing the soft look of youth.
Alice Hart-Davis, spoke of dermal fillers which are actually doses of hyaluronic acid. This is a naturally occuring sugar that our bodies produce and is one that attracts moisture and keeps the skin plump. We lose this as we age so dermal fillers are simply replacing what we lose naturally over time.
Cosmetic practitioners, Dr Jonquille Chantrey and Dr Tracy Mountford also mentioned that most people want to use fillers because they want to look less tired. The usual age of clients start from 35+.
At the end of the presentation there was a chance to have a Q&A. One audience member asked if collagen supplements did anything for the skin. The doctors responded that there has been no scientific evidence that they actually boost collagen but there has been scientific evidence that certain skin supplements do work. As with everything, they need time to work and most people probably won't start to see any difference until 3 or 4 months down the line from when they started taking the supplements.
After the talk, I went to get a complimentary skin scan from Lesley Reynolds of Harley Street Skincare (www.harleystreetskincare.co.uk). Lesley regularly writes for Best magazine and The Daily Express – and the team at Harley Street Skin Clinic focus on the whole body rather than just individual parts, even perhaps doing a blood test to see how hormones affect different people's skin.
I still get occasional spots from stress and my genetics also play a role in that so I have a few acne scars/red spots that won't go away. I am really lucky to have almost no wrinkles for my age but I am still concerned with my acne scars (although they are very mild). Lesley recommended a CO2 laser treatment (x3) for the acne scars and IPL for broken capillaries. It was really useful to finally have someone tell me exactly what I would need to treat those issues. I will definitely be adding a CO2 laser to my wishlist!
***
Paul & Joe Beaute with Make-Up Tutorial by Craig Ryan-French
It was lovely to attend the Paul & Joe Beaute Event this week in Knightsbridge with a make-up tutorial given by global artist, Craig-Ryan French. When I think of Paul & Joe, the first thing I think about is their lovely, feminine packaging which is something that really appeals to women. These are truly products that you want to hold and admire for their elegant and beautiful look. The product names are also fun and whimsical, with titles like Chocolate Mint Gelato and Strawberry Syrup. The names sound good enough to make you have a sudden craving for ice cream and lollipops-give me a second, I hear the ice cream van!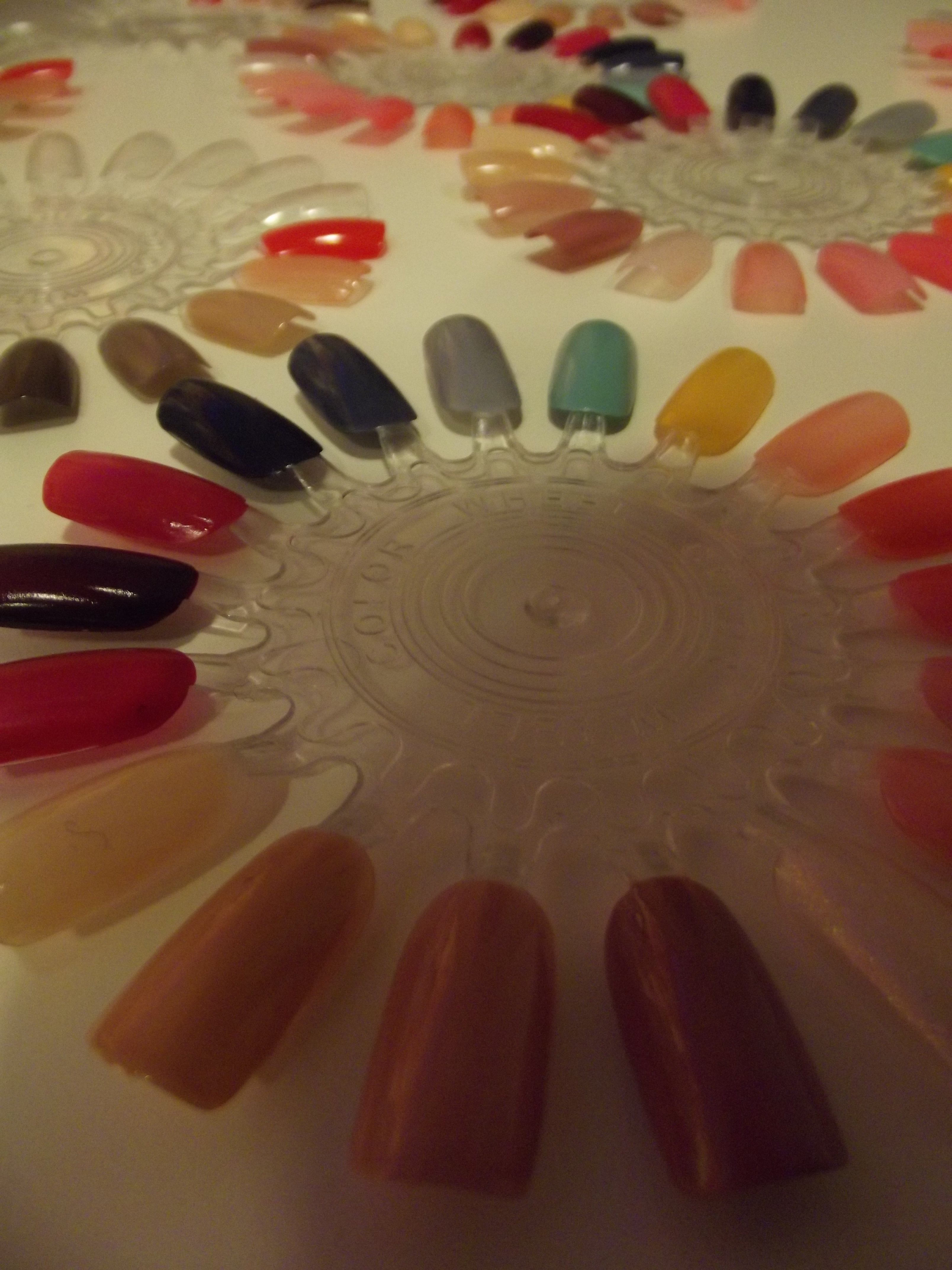 Paul & Joe have a range of cosmetics, from 25 colours of nail polishes to pearl shades of eye shadow palettes to silky foundation to glossy lip colours. Craig-Ryan French, who is the global artist for Paul & Joe, was also there to give us a make-up tutorial. Craig is a make-up artist in the film industry in Hollywood and does a lot of special effects make-up so he knows a lot of tricks to say the least!
Some of the tips that Craig offered that I thought were really good were:
1. For a special event where you have to wear an up-do and be in the center of attention – make sure to brush some foundation on your ears as the ears are the first to show anxiety or embarrassment by getting red.
2. Use a brush instead of a sponge when applying foundation because a sponge will drink up the product.
3. Use thicker foundation on thicker parts of the skin and thinner foundation on the thinner parts of the skin.
4. The quickest way to ruin make-up is to apply too much powder. Use powder on places that are in the shadows naturally.
5. Eye-liner should enhance the lashes, not take away from them. 
6. Beware of travelling mascara or travelling make-up. Use blotting papers during the day to absorb excess oil and slippery make-up. 
I've put a few products on my wishlist from the event so the next time I am in Harrods, I will certainly be stopping by the counter. One product I liked is the eye-gloss duo, which is very portable and good for touching up eye-shadow or giving your current eye-shadow a little sparkle.
The second item that I loved from Paul & Joe was the portable face colour brush-again another portable product. As someone who is often going out every night, portability is important to me. And one can never go wrong with a good brush.
A product to take away was an eye colour trio with a lovely palette. Again, the beautiful packaging comes into play here. This is definitely something I would want to carry around in my bag. The colours were also colours that I would actually wear as I usually tend to go for a more subtle look (but love some shimmer)!
Another product I liked was the coral-coloured, glossy lip colour. I don't have any lip glosses in coral currently and the orange creme colour was a nice change.
I love all things nails and change my nail colour often. I think having nice, well-groomed and painted nails can make you feel more put together. When my nails start to chip, get jagged edges and look shabby, I feel like something is out of place. The Paul & Joe nail polishes come in a beautiful bottle that almost looks like an elegant perfume. One colour on my wishlist for summer? Saffron Yellow!
Paul & Joe also use animal themes in some of their packaging. I think you can almost never go wrong with animal packaging and they are spot on with theirs. Who wouldn't want this adorable cat notebook to take notes in?
A big thank you to the girls at the Dowal Walker Agency for organising a lovely event and Paul & Joe for hosting!
http://www.paul-joe-beaute.com/en/#/products/
***
Nip + Fab Beauty Bloggers Event
I was delighted to be invited to the Nip + Fab bloggers event held this week at the Rodial headquarters on Kings Road in London. Nip + Fab was founded by Maria Hatzistefanis (founder of Rodial) and the brand is what you might call the 'little sister' to Rodial. Nip + Fab offers a wide variety of targeted treatments for the face and body at great price points. Although I had tried Nip + Fab's Dry Leg Fix previously, I was eager to learn more about the brand.
The first product that caught my eye at the event (besides the fab cupcakes!) was the Viper Venom Body Serum and for several good reasons. First of all – a serum for the body? Fantastic.
The whole point of serums is to deliver a higher dose of potent and active ingredients to your skin. I see serums as the real skin saviours and moisturisers as more of a supportive system/accompaniment to a great serum, as well as a barrier to environmental elements. Both are necessary in your skincare routine. Much like a great wine is a nice accompaniment to a fabulous meal, so is a moisturiser to a serum and the key is that they must work in harmony.
So the fact that Nip + Fab has made a serum for the body is 'Fab' news because our body will age, just like our face. To be able to deliver more potent ingredients to the skin on our bodies, i.e. with serum, is a great step forward in skincare.
Luckily, with the Viper Venom Body Serum also comes a face serum. I was given a Viper Venom Wrinkle Fix* (£19.95) which promises to 'freeze, blur + smooth your wrinkles'. The active ingredients in the product are LIFTONIN® + SYN-AKE® to smooth and visibly reduce fine lines and wrinkles. The price point is great for a serum and I believe the technology from Rodial's premium Glamoxy snake serum line has inspired the Viper Venom range from Nip + Fab. That's the great thing about a premium brand starting a brand with more affordable price points. Generally the technology and research that went into the premium brand trickles down into the brand with a more affordable price point. As a consequence, everyone wins.
Second of all the Viper Venom Body Serum attracted me because it is going along with the snake venom trend that we have started seeing more and more of in Western skin care. Having spent a lot of time in Asia, I am very familiar with the snake venom trend as it is very popular there. While you probably think of snake venom as harmful, it actually can produce anti-ageing benefits when applied topically to the skin.
The third reason the Viper Venom caught my eye? The packaging. Most people don't realise how much packaging plays a role in their purchasing habits. The bright green and black of the product stood out to me and definitely played upon the 'venomous' look.
Another great trend hitting skincare? Bee venom and honey products. Nip + Fab has become a part of this trend by releasing their Bee Sting Fix range. Targeted to mature skin, it aims to plump and firm skin, as well as offer some tightening effects. This collection comes in a body range and face range.
I was able to try the Bee Sting Fix Lifting Mask*. This can either be left on for 10 minutes upon application of a thick layer of the gel mask or spread thinly and left on overnight. I chose to leave it on overnight for a more intensive treatment.
Nip + Fab also offers a Body Slim Fix*. This is a product I generally wouldn't go out and buy purposely so was happy to have the chance to try it. I liked the fact that it acts as both a body moisturiser and toning gel-a multi-tasking product! The gel sinks in easily and leaves a pleasant smell. After a week of using it on targeted areas I can actually see a small different in those areas. This is definitely a product I would keep using. Let's hope this gets me out of going to the gym!
The evening was a great success and I want to say a big thank you to the PR team behind the event as well as Maria for creating two great brands!
***
 Out With The Oudh and In With The New!
I love fragrance. Fragrance is something to me that is very personal. It is personal to everyone. What one person may like, another may not. Perfumes can also bring a sense of nostalgia…summers at the beach with the scent of tropical sunscreen and salty water in the air or winters in front of the fireplace drinking mulled wine, smelling that warm cinnamon, nutmeg and cardamom spice along with the wafting scent of burning wood.
Fragrances can also remind us of people which can be particularly powerful with children. Mothers smelling of a particular perfume giving their child a morning kiss before sending them off to school is a scent memory that stays with children well into their adult years. Fathers who used a strong aftershave toner, Grandmothers who smelled like roses and Grandfathers who wore musk – the power of smell cannot be understated.
Smell is also important in telling us whether we are attracted to one another. Human pheromones are a popular topic in research. They are odourless chemicals detected by an organ in the nose. Some scientists believe they could be the key to choosing a suitable lover. Smelling good is important!
Fragrance also changes when put on different people…it's adaptable. Everyone has a unique body chemistry and no two are the same. When the perfume molecules react with the warm pulse points through our heart beat, it also causes a reaction with our skin and hormones which causes the perfume to give off a particular smell. That's why it's always important to test fragrances out on yourself first before buying because what smells great on someone else might not smell exactly the same on you.
While you can wear the same fragrance all day long, I think that different perfumes have different purposes. I don't like wearing heavier fragrances like oudh in the summer days-they feel too heavy and rich. I prefer to switch to something more reflective of the season. So out with the oudh and in with the new!
A few of my favourite daytime summer fragrances:
BOSS JOUR Pour Femme is inspired by the first light of day and is a beautiful blend of white florals (honeysuckle, freesia, orris and amber) and vibrant citrus (lime and grapefruit). The packaging is very simple but reflective of the inspiration behind the fragrance.
This Venetian Violet Flower Water by Crabtree & Evelyn is absolutely beautiful with its romantic bottle and I never see any fragrances focused on violet alone. The bottle gives a sense of elegance to the recipient and the packaging is gorgeous.
In the historic, floating city of Venice, violet decorates the bridges reaching over the canals and resides in paintings and poetry as a symbol of purity and modesty.
The Flower Water is a light fragrance and the scent does wear off after a short period of time. This fragrance is perfect for a refreshing spritz throughout the day and would be good to keep as a decorative piece nearby so it is within easy reach to refresh!
Si by Georgio Armani first caught my attention at the CEW Awards in London, which are the 'Oscars' of the beauty industry. It has a strong essence of blackcurrent which I thought was absolutely delicious. In fact, this fragrance really makes me crave blackcurrant juice! This is a chic, sultry fragrance that is both intense and soft at the same time. This is one of those rare fragrances that will take you through the day and into the night. Finally!
***
Less is More
I have spent a lot of time testing out products and sometimes this hasn't always been good for my skin. At one point I got so excited by all the new products that I had acquired that I was trying out a different one everyday. What this led to was spotty, irritated skin. When I went to a facialist at Josh Wood Atelier in Notting Hill to sort out my skin, she simply told me to stop. Stop using so many products! It had never actually occurred to me that my multitude of beloved skincare products could be actually making my skin…God forbid…worse.
She recommended going back to basics and using a simplified skincare routine, for example, cleansing with a balm or a pH balanced cleanser. I had previously been double and sometimes triple-cleansing my skin, which sometimes breaks out in spots. This was the beginning of the problem as I was stripping my skin of its natural oils and disrupting the pH balance.
The next step was to stop using so many products-especially a new one everyday. I had been abusing my skin and hadn't even realised it. I gave away my scrubs and hid my foaming cleansers. I then switched to Liz Earle Cleanse and Polish Hot Cloth Cleanser which I found was really gentle on my skin.
Another gentle step I use in my skincare routine involves DHC which is a great make-up remover. I generally use this to remove all the make-up and grime from my face before cleansing with the Liz Earle Cleanse and Polish Hot Cloth Cleanser. I discovered DHC several years ago in Japan and have loved the brand ever since. Although the packaging is very simple and it's easy to pass this by just because it might not catch your eye, it really does work and is amazingly gentle on the skin.
The result? Skin that no longer feels stripped or tight. Less truly is more.
 ***
 The War of the Roses
They say our hands are the first thing to show our age. You only have to look at all the lengths Madonna goes to to hide her veiny, aged hands that show her true age to know that hands are important. She makes up for it with her youthful looks, body and style but I still bet she wishes she had taken better care of her hands.
I love hand cream and always have one in my handbag. Recently I have loved everything with rose in it, there is something very elegant and classic about the rose and it has seen a recent revival in all things skincare. Rose, may I say, is certainly having a moment.
Recently I have tested three rose hand creams, Neom Complete Bliss Organic Moroccan Blush Rose, Crabtree & Evelyn Rosewater Hand Therapy and Balance Me Rose Otto Hand Cream.
Neom is made in England and has a unique scent, Moroccan Rose modernised with a hint of Lime and Black Pepper. It also contains Acai Extract and Argan Oil to nourish dry hands. This hand cream sank in easily on my hands and left a faint scent. I would recommend this for a nice daytime hand cream.
This Crabtree & Evelyn Rosewater Hand Therapy looks cute in its vintage metal tube and as you can see, mine has already been used. It's a perfect size to carry in your hand bag and the packaging is sweetly nostalgic. This is also a lightweight cream great for daytime and with a truly rosy scent, it's the closest to the true scent of rose you can get.
It is formulated with a nourishing blend of macadamia nut oil, hydrating hyaluronic acid, conditioning myrrh, ceramides to help improve skin's barrier function to reduce moisture loss, antioxidant-rich vitamin C and E, rejuvenating algae extract and revitalising bladderwrack extract.
This made in the UK hand cream is great for night-time use and the large size of it will last a long time on your night stand. I found it to be very rich, with thick velvety consistency. The cream is blended with kukui nut and camellia oils, shea butter and Arctic cloudberry. It also claims to keep the visible signs of ageing at bay.
With all of these hand creams around, I hope I won't be the one trying to cover up my veiny old hands someday!
***
Facial Yoga and More at the Anti-Ageing Show
Over the weekend I was able to attend The Anti-Ageing Health and Beauty Show which played host to speakers giving health and lifestyle advice, exhibitors and beauty experts doing live demonstrations of the latest eye, dental and skin treatments. To tell you the truth, as a early thirties female, I felt a little bit young at the show as most of the advice was geared for women seeking laser treatments, fillers, Botox and plastic surgery.
Although I baulked at the live demonstration of Botox injections, I did enjoy the Facial Yoga demo given by Danielle Collins. Danielle claims that by doing Facial Yoga, we can give ourselves a natural facelift and actually by doing the exercises, I could actually start to feel the burn…in my face! I felt like I could identify with this more as it was a technique that was about prevention rather than fixing the damage that had already been done (ie Botox and fillers).
A few Facial Yoga moves that Danielle taught:
1. The Smile Smoother (good for cheek lines and sagging)
Step 1: Hide the teeth with the lips to make an 'O' shape with the mouth.
Step 2: Smile widely while keeping the teeth hidden and repeat six times.
Step 3: Next, hold the smile shape while placing one index finger on the chin. Then start to move the jaw up and down as the head tilts gently back. Relax and repeat twice more.
2. Smooth The Brow
Step 1: Place both hands on the forehead facing inwards and spread all of the fingers out between the eyebrows and hairline.
Step 2: Gently sweep the fingers outwards across the forehead, applying light pressure to tighten the skin.
Step 3: Relax and repeat 10 times.
3. The Flirty Eyes (for drooping eye brows and bags under the eyes)
Step 1: Place an index finger under each eye, pointing towards the nose.
Step 2: Hide the teeth and tease the top lip and bottom lip away from each other at the the mouth.
Step 3: Flutter the upper eyelids while gazing at the ceiling for 30 seconds.
Danielle's Facial Yoga moves are also covered at http://www.marieclaire.co.uk/blogs/544896/5-anti-ageing-facial-exercises-you-can-try-at-home.html