These days when it comes to ageing, it's the brighter skin that looks younger. If you have dull skin, age spots, dark spots and the lot compared to someone who has bright clear skin but has a few wrinkles it seems that according to a few articles I have read in magazines, it's the dull and spotted-skinned person who looks older. So having brighter and clearer skin can make us look considerably younger.
I have a few old acne scars on my face that drive me crazy and I've also found as I've gotten older that I'm getting age spots or rather sun spots. That's why you need to wear sunscreen people! These things can haunt you in your later years and I'm regretting now all those carefree years in the sun when no one told me to wear sunscreen. The best way to prevent dark spots and sun damage is to wear sunscreen, of course.
So now I'm stuck with a few pigmented areas which aren't too bad but again, I'm a perfectionist so they drive me crazy. Therefore I recently went on a bit of a mission to try and get rid of the dark spots and the pigmented areas. Here's what happened.
First up I switched my cleanser to the Sunday Riley Ceramic Slip Clay Cleanser which is a foaming, clay-based cleanser that feels all lovely and slippery on the face – just like it says on the bottle. The key ingredients are French Clay which tighten pores, remove purities and then Vitamin C which helps reduce the appearance of discolouration and Black Pepper which improves circulation.
I really like this cleanser a lot. It's effective at removing all the gunk from your face without being too drying – it feels gentle but strong which is just what you need from a cleanser. Gone are the days of scrubbing and rewashing. This is a great cleanser.
Next up and to target the dark spots I started using Sunday Riley Good Genes Treatment. This is a brightening multi-tasking radiance treatment and mask. Now, this is a lactic acid treatment which is to note as it may not suit all skin types so you need to make sure your skin can handle lactic acid before using this. I think with this one I jumped in a bit too keenly and used it every morning and every night which I think was a bit too much for my skin so once I pared it back to using it as a treatment rather than a morning/night serum all was well! So test it out and see what works best for you with this.
So what does it do? Well, what doesn't it do? It plumps lines, exfoliates to reveal brighter skin and it also contains licorice which ta-dah (!) reduces hyper-pigmentation! Which is what I'm after, essentially. This product has to be used long term to see the results. Over time it helps with hyperpigmentation and scars.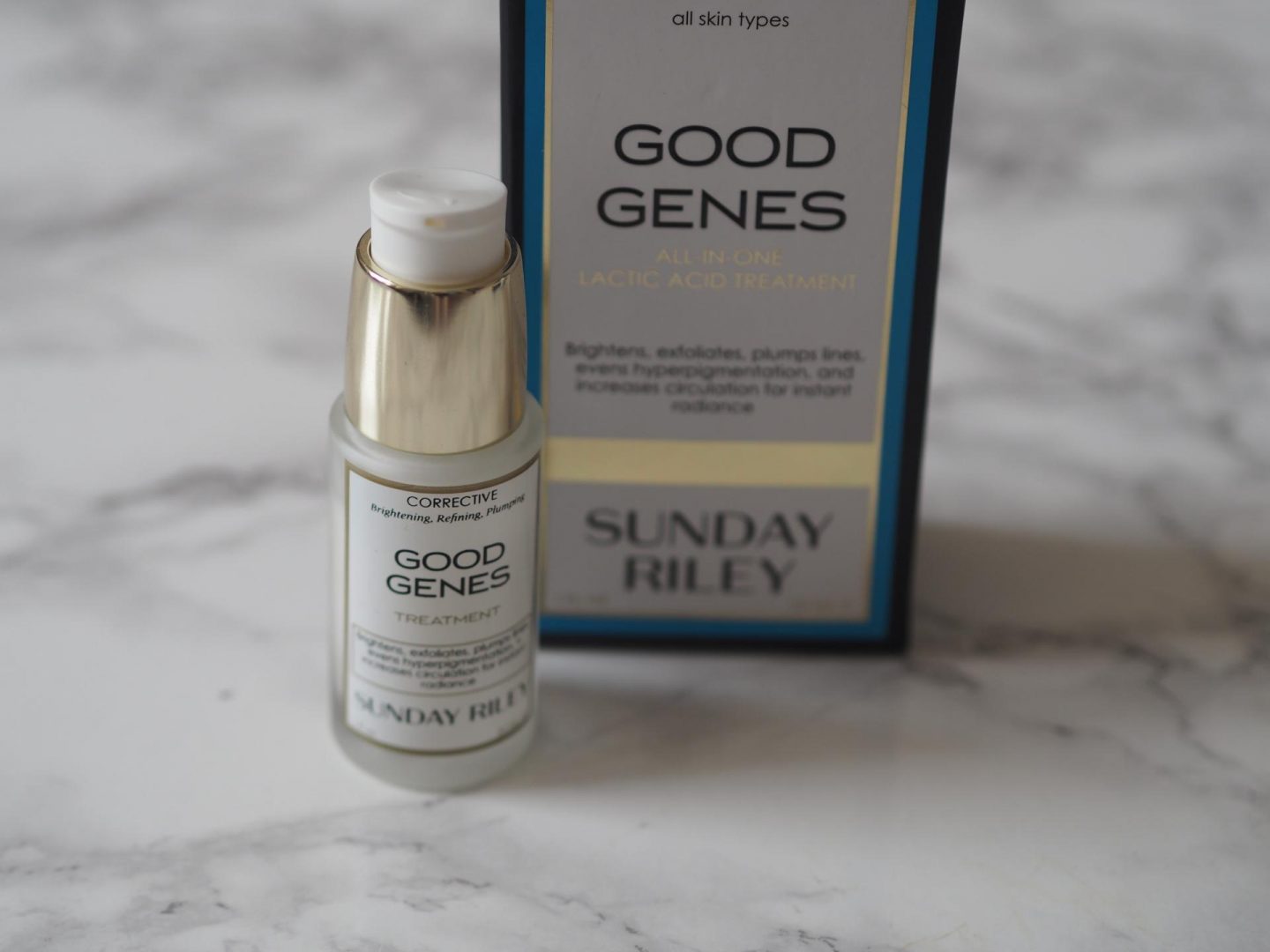 So once I found my treatment I needed a serum so I turned to Radical Skincare Multi-Brightening Serum which has a combo of anti-oxidants and soothing ingredients for protection and repair. So how does it target dark spots? Well it has a unique Trylacel technology which uses ingredients such as algae extract and vitamin C to fade dark spots, fight pigmentation and improve skin radiance. This, which I didn't know is actually meant to be used after the Radical Advanced Peptide Antioxidant Serum and before your moisturiser. I actually used this alone but I think I should have followed the instructions as it made my face break out a bit so the key lesson here is use as directed! Everyone's skin is different and mine reacts differently to someone else's so I am going to use this again with the Advanced Peptide Antioxidant Serum so I can see the true results.
The next serum I was interested in trying to tackle the dark spots and the hyperpigmentation was the Lierac Premium Regenerating Serum. This serum is lovely and actually targets all signs of skin ageing – including pigmentation so this is really more of an all-in-one. It contains 10% pure hyaluronic acid to help stimulate natural DNA repair for cell regeneration. So this serum again is all about repair on damaged DNA – it reactivates collagen, elastin and hyaluronic acid which all help to make skin look smoother and brighter. And essentially younger!
Another fabulous product from Lierac to target dull skin is the Premium Elixir Sumptuous Oil. This actually works on several signs of ageing including wrinkles, volume loss, blemishes and dullness. This is an oil but it's not greasy at all so if haven't used an oil yet because you don't like the 'oiliness' of an oil then this is a good one to go for. It literally melts into the skin and really softens the skin as well. I thought my skin tone definitely improved with this oil and I felt it really nurtured my skin and gave it what it needed.
What do you use for dark spots or hyperpigmentation? Any skincare heroes out there?
Don't forget to follow me on Instagram/Twitter/SC for all my latest adventures and updates!
Shop the post here: