Men are hard to buy for – that much I know to be true because year after year I find myself racking my brain about what to get for them. I mean what do they really like? Sports, watches, good liquor, cologne – I suppose things like that! I've tried to think about what I would get for the men in my life and curate this Christmas Gift Guide For Him as I would in real life – these are all items I would actually want to gift them!
Philips Wet/Dry Shaver: Series 7000
This Philips Wet/Dry Shaver Series 7000 is so convenient for a man because you can use it wet or dry. This makes it an ideal gift for a guy-on-the-go. The blades are specially designed to protect the skin and if your man is just using a razor then he will wonder why he didn't get this shaver a long time ago. The reason being is that it goes places no razor can go. It does wonders on long, short and flat-lying hairs. It's easy to use and the DynamicFlex heads move in five directions to follow the curve of the face. I also like Philips products because their voltage is compatible worldwide so you can take this on travels (of course you need the right adaptor). This is not only a present for him but also for you because his face will be so silky soft you won't have to worry about razor burn. Ever again.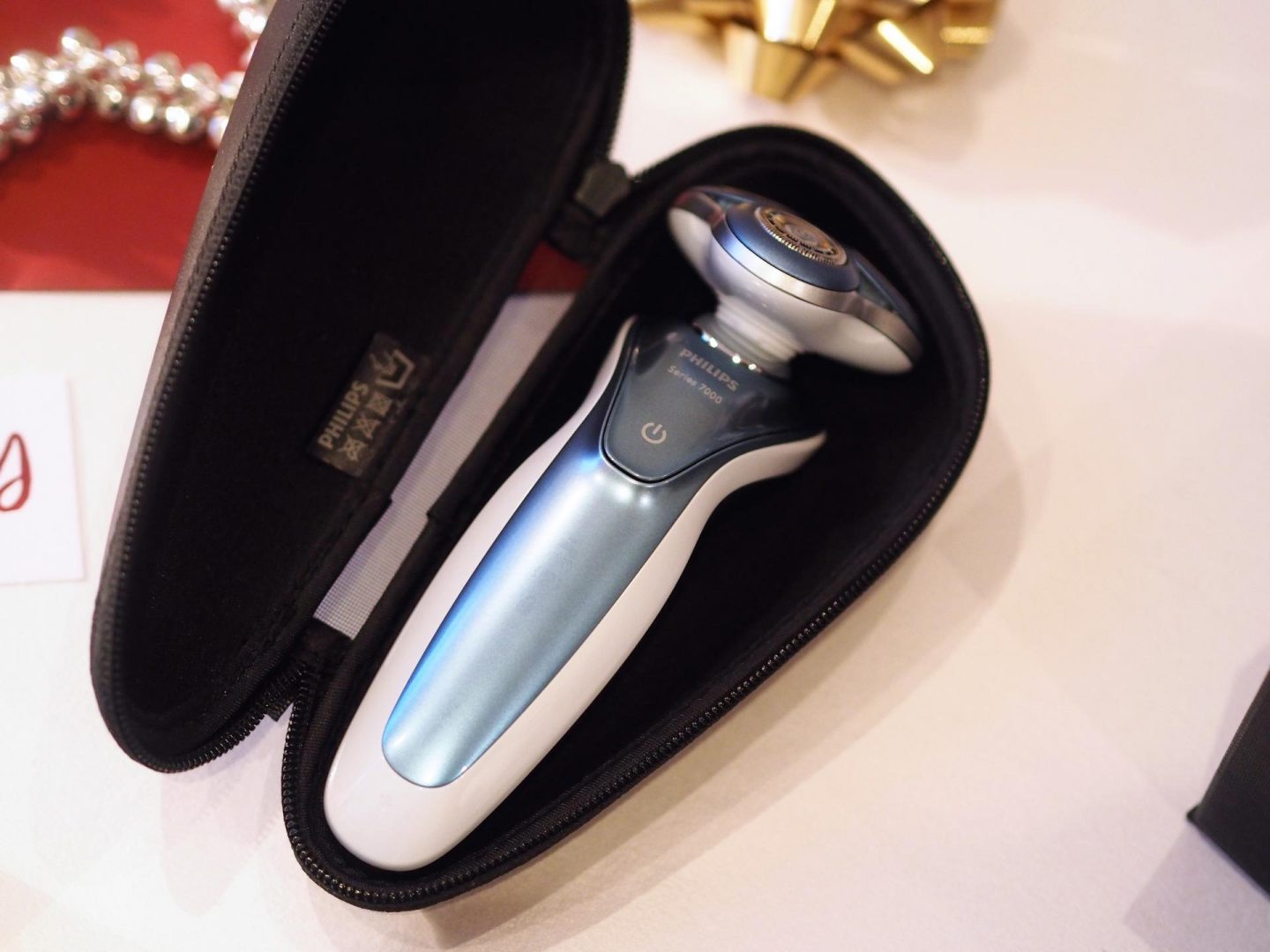 Dartington Small Curve Black Clock
Men for some reason like clocks and watches. This is a known fact, I believe. So if he has a watch already why not get him a super smooth and slick-looking clock that can go on a desk or a shelf? The Dartington Small Curve Black Clock is really stylish and attractive – it's such a great gift for the home and for him, too. Dartington have a wide range of amazing clocks and homeware pieces but I really fancied this Small Curve Black Clock – so cool and stylish – it's minimal and functional. A great gift for a man who has his own office or man-cave.
HoMedics Handheld Shiatsu Massager
Have you ever been annoyed with the noise of 'can you just rub my back?' To quiet those pleas get him his own massager for those back aches and pains. Men tend to suffer from lower back pain and this handheld Shiatsu Massager from HoMedics is the perfect device because you can pretty much reach any point of pain with it. I have tried and tested it for myself several times (it's an amazing face massager as well – trust me). I credit it with saving me during London Fashion Week as I sat in my room at night, kneading out all the pain. There are three interchangeable heads that come with this device so you can pick the one you want for your massaging need. A FANTASTIC gift (and you can use it for yourself too).
I don't know about you but the manly men in my life drank bourbon. Dad, uncles, grandfather – they were all macho and loved a bit of bourbon. I was thinking of them when I was compiling this gift guide and I know they would love this Jim Beam Double Oak Bourbon. It's pretty much right down their alley. This is a new one from Jim Beam – the flavour is smooth but intense. The bourbon is first matured in new charred American white oak barrels – as with all Jim Beam Kentucky Straight Bourbon – before being transferred into a second freshly charred oak barrel for a further period of ageing. The twice-barreled process allows the liquid to have greater contact with the wood, drawing out exceptional and perfectly balanced depths. So if there is a manly dude in your life be it Dad, Grandfather or Uncle this is the perfect serve for Christmas.
John Varvatos Dark Rebel Rider Cologne
You just cannot go wrong with a cologne as a gift idea for him for Christmas. This John Varvatos Dark Rebel Rider looks manly as well – there is a man with a leather jacket on the front for goodness sake! You can't get much manlier than that. The fragrace is inspired byt eh world of motorcycle racing (hence the packaging) and the iconic black leather jacket. I love a cologne with notes of leather and this one has it – it's punchy and dark, sexy and cool at the same time. The fragrance blends leather, ambery and dark woody notes – very sexy. A good gift for a significant other.
Who wouldn't want this mug for Christmas? It's so hard to find gifts for guys these days and this mug would pretty much brighten up Mondays for a whole year. Guys like tea/coffee too at the office and I'm pretty sure any man would get a chuckle out of this one. Feel free to steal it for yourself too if gifting to your other half (I would).
Superdry Black Edition Cologne
For a sporty, macho man I've included the Superdry Black Edition Cologne. Superdry the brand will appeal to the sporty man but this is actually a more sophisticated scent, perfect for an evening date. It's got a strong and spicy fragrance that is a great crowd-pleaser scent for men. It starts out with notes of lavender, jasmine, thyme, coriander and nutmeg (which are all interesting scents to put into this cologne and what gives it the spicy scent) and then rounds out with juicy lime notes and rich ripe fruits and is finally completed with a base of sandalwood, balsam, incense and leather – which give it a super sexy edge.
What are you getting your man, dad or brother this year for Christmas?
Don't forget to follow me on Instagram/Twitter @beautyrocksblog