I have a confession to make. I LOVE delivery. I am a busy, busy girl and often out every night of the week at events all over London so when it gets to the weekend I want to stay in! And staying in means ordering in. I spend a lot of time on apps, ordering food and not only do I want something quick and easy but I also want something healthy that also doesn't cost a fortune. When I was invited to an intimate gathering at Dead Dolls House to experience a festive dinner with EatFirst (co-hosted by blogger babe Ashanti from Adorn Girl), I was really excited because this meant another option for me for delivery on the weekends – woohoo!
So what is EatFirst? Well it is an online-only restaurant that delivers fresh, chef-made meals across selected postcodes in Zones 1-4 throughout London. I'm trying to be healthier lately but still want to order food online that is fresh and healthy. So I took EatFirst and Ashanti up on their offer to experience the new EatFirst festive menu (and who could resist that?). The table settings looked amazing upon arrival and the atmosphere felt even more festive with an eggnog in my hand.
Little did I know that this was going to be a 12-course meal! Talk about seasonal indulgence! I actually cannot wait until the festive menu launches on EatFirst because I will probably be the first to order off of it. Let's go through some of the highlights…
Okay so first up I tried a truffle mushroom soup with walnut crumble and Parmesan scone. I've never thought to combine mushroom and walnut but it works! Very well actually. I love mushrooms as well so if you like a creamy, warming soup this is your man.
Now I absolutely LOVE turkey and miss my American Thanksgivings so I was thrilled to see that turkey was indeed on the menu. My favourite main was the Roast Flock & Herd Bronze Turkey with goose fat potatoes and winter vegetables. You just can't go wrong with roasted potatoes, especially when they are covered in the good stuff. The turkey was also rich and delicious – tender and juicy too.
Next up was the Roasted Duck with truffle gnocchi, carrot, fennel, and beurre blanc. I have to admit that I'm usually veggie but I do like a roast duck sometimes (blame it on the travels through China). There is something about a rich, dark meat of a duck and when you have that with plum sauce it's like a match made in heaven. This match made in heaven however came with the truffle gnocchi – OMG. I love gnocchi because of the chewy texture. My first time trying it was in Little Italy in NYC and since then I've always loved it.
And then there was the icing on the cake and it came in the form of truffle mac n' cheese made with three kinds of cheese – the ultimate comfort food. I haven't had mac n' cheese for so long and this was amazing – I will be ordering this from the EatFirst app soon!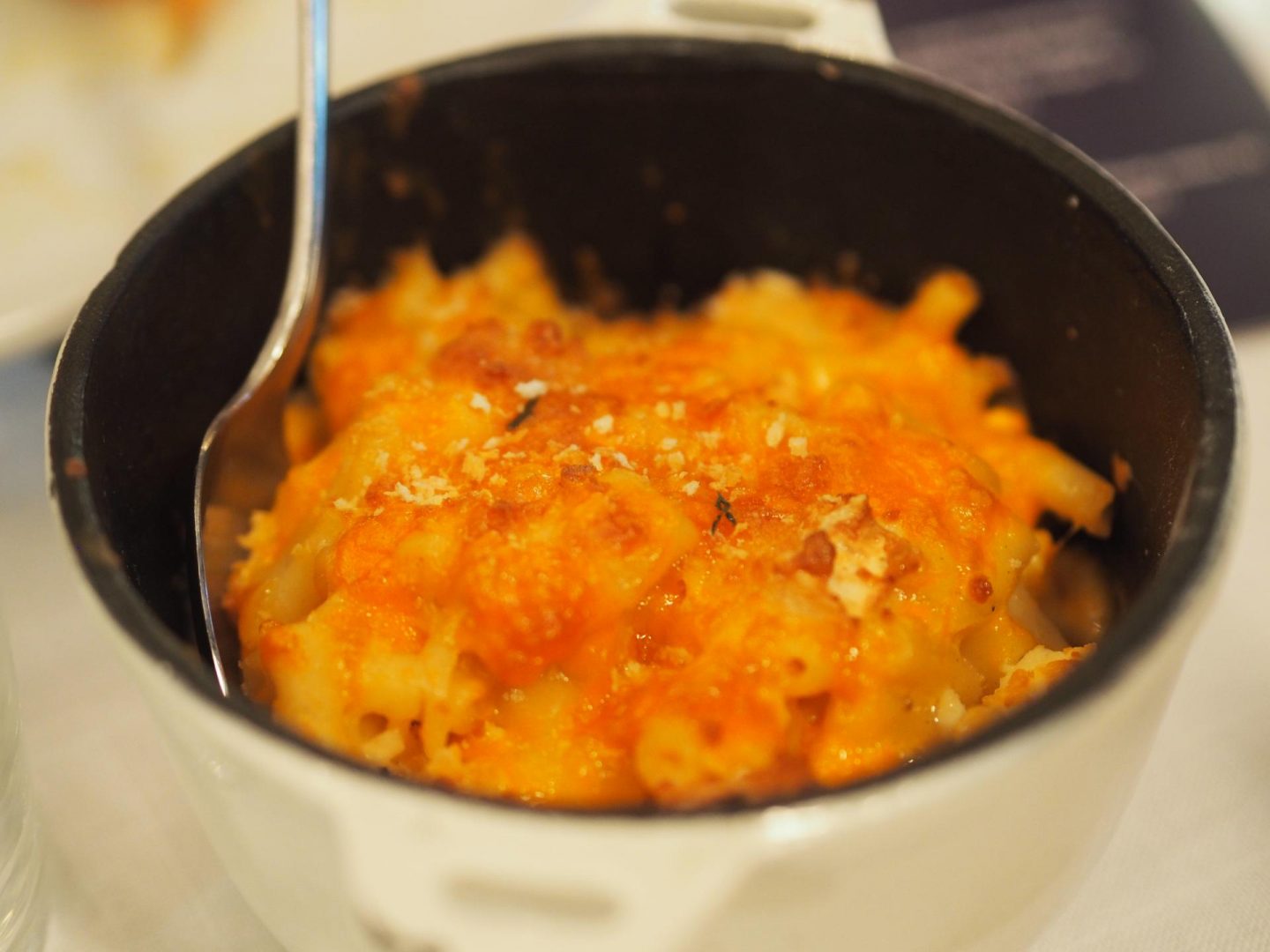 As I said before I love mushrooms and the Portobello Mushrooms filled with spinach, goats cheese and herbed crumbs was delicious and makes a perfect option for a vegetarian. I love goats cheese as well and it matches with spinach perfectly.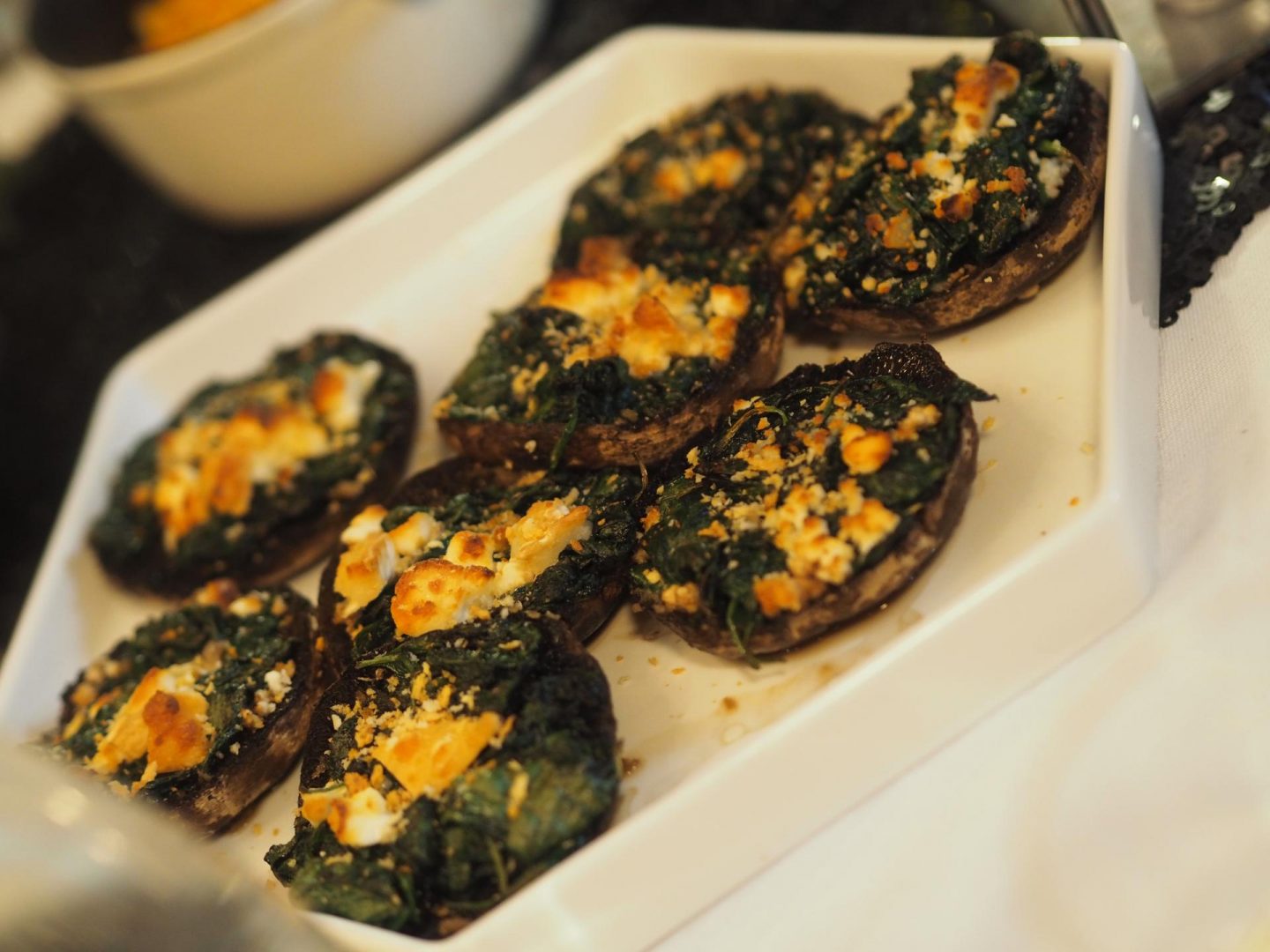 And last but not least was the Apple Pie with salted caramel, Cointeau drunken raisins and Ivy House cream. Wow – so good. I love apple pie (I'm American so it's a requirement) and this was a goodie – trust me. I also miss pumpkin pie but was absolutely thrilled that this was on the menu as well (I had to take a piece home).
All the food on the EatFirst menu on the app is prepared by a team of top chefs, headed up by Ben Hodges (previously at Roka and The Ivy).
EatFirst has also recently launched a brunch menu which I had to test out myself (of course)! All I had to do was download the EatFirst app and then choose what I wanted from the menu. You can choose 45-minute delivery slots which are available throughout the day and voila your food arrives!
Most of the EatFirst food comes prepared but you have to heat it up (it comes chilled). However every dish comes with an instruction card which is quite handy so you don't make any mistakes. This makes an ideal delivery if you are having guests around for lunch or dinner but really don't want to cook (which is how I always feel)! The food arrives ready to just be heated up and then served – it's really easy.
Besides festive food my favourite meal of the day is brunch. I love it and could eat brunch for dinner, lunch, breakfast – 24/7. The brunch menu just launched on EatFirst so my first order of the day was a coffee from Sandows. I love that you can order drinks off the EatFirst brunch menu and I am a coffee addict so had to have the Sandows Cold Brew Coffee – delicious on it's own as well. I added a bit of almond milk and it was ace.
Ummm, Bloody Marys? Who was the genius that thought of that? You just can't have a proper brunch without a Bloody Mary and The Pickle House makes a mean mixer, also available on the menu.
And because I'm a bit of a health nut I had to order a C-Clearly Juice which was simply delicious with an added kick of ginger. The juices are pretty reasonable as well for cold-pressed prices – around £2 so not bad!
As I said before the food is delivered chilled for a reason – so it doesn't arrive lukewarm. There is nothing tricky about heating it up as well – it's all in the instruction cards!
So what are my favourites in regards to food from the brunch menu?
Well this one's a no-brainer but eggs and avocado on toast make a pretty good combo. The EatFirst Crushed Avocado on Sourdough is really nice and you can eat this one chilled so no heating up required. Two soft boiled free range eggs are served alongside a pot of fresh crushed avocado and sliced of lightly grilled sourdough. It also comes with a side of tangy tomato chilli chutney.
The British charcuterie board from award-winning meat suppliers, Cannon & Cannon is also a delicious choice. If you like ham and chorizo on delicious crusty, seeded bread then you are in for a treat. The board comes with slices of cold smoked mutton, cured collar and culatello – all hand made by British small goods producers. My favourite part of this board however was the scotch egg which I loved and the pickles which were pickled heritage beetroots. A crowd pleaser, this one.
Probably my favourite part of the brunch and least expected for some reason was the Almond Croissant. This literally took me back to the cafes in Paris – it tasted like it came fresh from a bakery. And guess what? It had. EatFirst bakes these every morning and they are so, so so, good. They have a sweet almond filling as well which I can't resist.
A delicious little side dish for brunch is the Teriyaki Salmon with Sesame Egg which is a free range egg that is soft boiled, peeled and rubbed with traditional miso. It comes with flakes of fresh salmon teriyaki, daikon, spinach, a spoonful of wasabi tobiko and a Japanese citrus dressing. Yum!
What's your favourite brunch food?
Don't forget to follow me on Instagram/Twitter @beautyrocksblog for all my latest updates!