Colour-treated hair, much like fine hair has to be treated carefully and gently to prevent further damage and also colour-fade. No one wants to spend a lot of money getting a top-notch colour for it to fade over a few weeks. So my recommendation is to always use hair products that are specifically formulated for colour-treated hair. Here are some great products for colour-treated hair!
Sachajuan Overnight Hair Repair
This is my total ride-or-die hair product. It's PERFECT for fine hair, colour-treated hair and all hair types for that matter. It doesn't weigh down and it's like a lightweight lotion that you just apply on damp hair or even on the ends of dry hair if you feel like your ends have become straw-like. Getting your hair professionally coloured can dry out the ends so it's important to use a gentle product that will help get the moisture back into your hair. The Sachajuan Overnight Hair Repair is something that I can say that I would buy time and time again – it's full of sea algae and mineral extracts. You can also use it as an overnight mask. A fabulous product for fine-haired folks.
EverPro Beauty Back 2 Blonde – Dark Blonde
Not a fan of the ombre look? If you are worried about roots growing out a few weeks after you have had your hair coloured then this is THE product for you. It's easy and could not be simpler – when roots grow out and you want a great root concealer then look no further than the EverPRO Beauty Back 2 Blonde (there are other colours too). All you have to do is spray it onto roots when needed. The formula contains mineral pigments that stick to hair and the self-adjusting colour technology even blends with hair colour to create a natural finish. Now how about that?
I'm a big fan of dry shampoo but on the other side I am quite picky about what I use. And when I've just gotten a salon-fresh colour I don't want to overwash my hair so really rely on using dry hair shampoos in-between cleansing to keep colour fresh. There are only a few brands out there that I really like so I tend to be on the skeptical side when I try out a new brand of dry hair shampoo for the first time. But…I am happy to say that the Evo Water Killer Dry Shampoo has made the cut! This is a great dry shampoo because it still contains a bit of powder but not too much. I don't like dry hair shampoos that come out clear because on my hair they don't do a damn thing! But this one has a bit of powder to tame that oil so don't worry if you have oily roots – simply spray this on, rub it in, brush and away you go!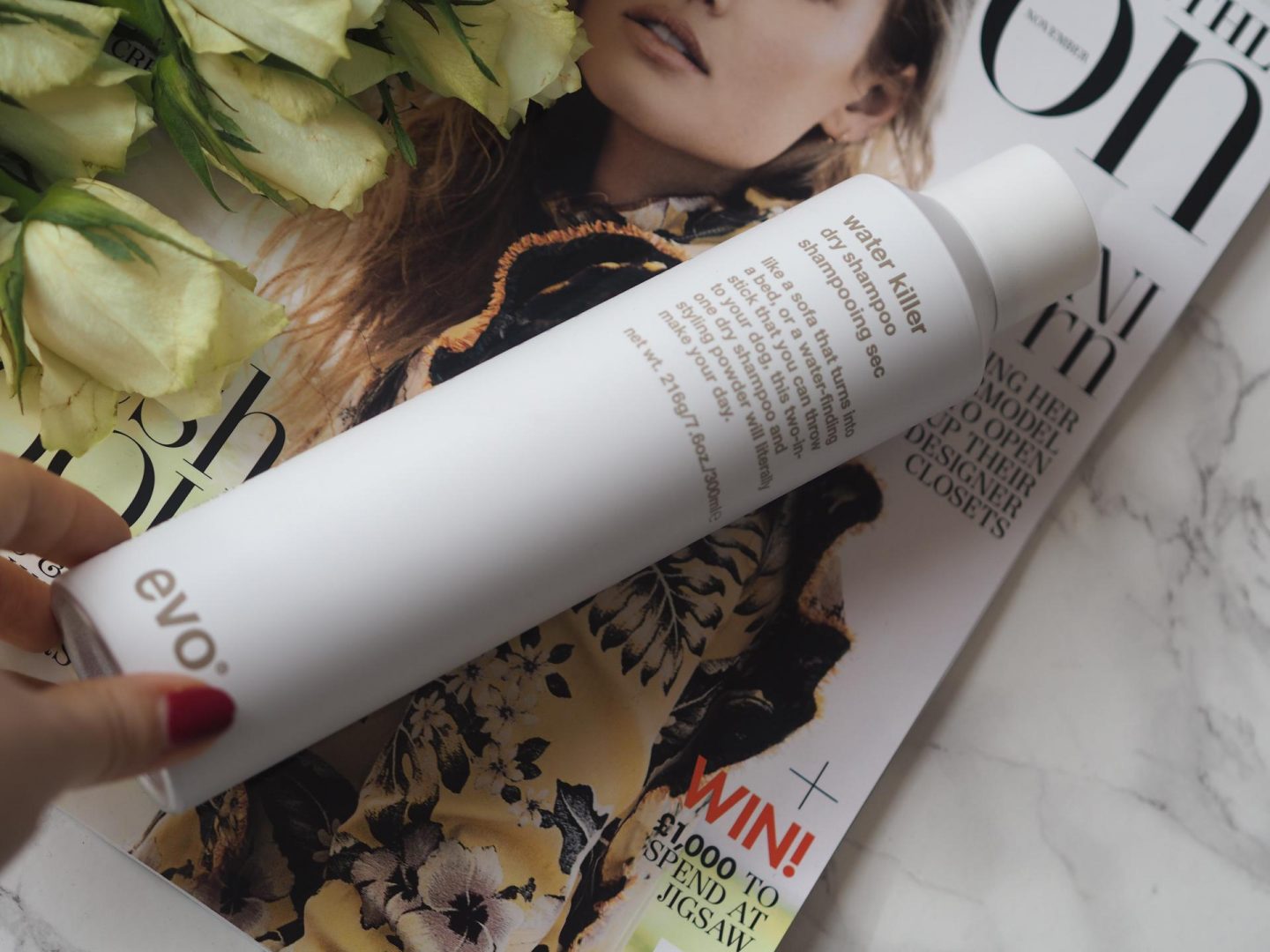 Macadamia Natural Oil Deep Repair Mask
As I've mentioned before I like to take a little extra time on the weekends to pamper myself and partake in the little things like shaving my legs, putting on a mask, exfoliating, etc. One thing I always love to do is to treat my hair to an intensive hair mask and if you have the extra time on the weekend why not? Colour-treated hair needs some extra care as well because it has been exposed to chemicals which weaken the hair shaft.
The Macadamia Natural Oil Deep Repair Masque was sent to me a couple of weeks ago and it piqued my interest as I've been seeing macadamia oil in quite a few of my products recently. This is an intensive hair treatment and one that I would recommend if you live in a city with hard water, like London. Hard water really dries out the skin and does a number on colour-treated hair too so it's important to replace lost moisture with a nourishing mask. This hair mask not only contains macadamia oil but also argan oil, along with tea tree oil, chamomile oil, aloe and algae extracts. So how to use? Simply apply to towel-dried hair and leave on for 5 to 10 minutes and then rinse out. You can use this up to twice a week for the best results.
Sister & Co Skin Food Raw Coconut Drink for Hair
This is a real treat for damaged or dry hair, especially in the winter. It's completely safe for colour-treated hair and is perfectly suited to it actually, since it works to restore any damage. The formula feels and smells amazing containing a blend of cold-pressed plant oils and pure essential oils including argan oil, macadamia oil, rosemary and mandarin. As soon as I got this product I applied it all over my hair that very day and left it in overnight to do its best work. It's also great as a pre-shampoo treatment. You can apply it onto dry hair and work it into the scalp and the ends and then shampoo out after 20 minutes. I left mine on as an overnight treatment and then washed out the very next morning. My hair felt super soft – damage control indeed!
eSalon Heart Lock It Color Safe Shampoo and eSalon Love Unconditionally Color Safe Conditioner
eSalon is a website where you submit a selfie of your hair colour and then get bespoke hair colour made for you by professionals. I've trialed the service myself HERE previously and was super impressed. It's easy, professional and saves a lot of money when compared to a visit to the salon! So it makes sense that the folks at eSalon would know a thing or two about how to take care of colour-treated hair. Their Love Unconditionally Color Safe Shampoo and Conditioner are both perfectly suited to colour-treated hair and works to help prevent fade whilst gently cleansing and conditioning. It's really important that you do use products specifically for colour-treated hair and these are good ones to use!
Umberto Giannini Pouf! Magic Care Dazzling Shampoo and Conditioner
If you get your hair coloured and also get a fresh cut as most people do (all at the same time) then there is a specific range that is meant for choppy, layered and cropped hair styles with the Umberto Giannini Pouf! Magic Care Dazzling Shampoo and Conditioner. It's even been formulated with skincare-inspired ingredients to help hydrate and add a high shine. And if you have also had your hair recently colour-treated then a shine is just what you want!
Umberto Giannini Thickening Shampoo and Conditioner
Repeated colouring can thin hair over time as it does damage it if you don't take care of it properly. The Umberto Giannini Thickening Shampoo and Conditioner is specifically to build up the density of hair and make it thicker and fuller. The secret ingredient? Arginine which is clinically proven to help reduce hair loss and improve volume. This duo will help strengthen hair over time so for repeat colour offenders this might be a good one to invest in! And I say invest but really all of the Umberto Giannini ranges are super reasonable in price.
I hope you enjoyed my great products for colour-treated hair feature! Don't forget to follow me on Instagram @beautyrocksblog for all my latest adventures.
Shop the Post Here:
Sachajuan Overnight Hair Repair
Umberto Giannini Pouf! Magic Care Dazzling Shampoo and Conditioner
eSalon Heart Lock It Color Safe Shampoo and eSalon Love Unconditionally Color Safe Conditioner
Sister & Co Skin Food Raw Coconut Drink for Hair
Macadamia Natural Oil Deep Repair Mask
EverPro Beauty Back 2 Blonde – Dark Blonde