Who doesn't love a beauty gift for Christmas? I'm talking sparkling palettes, glittery eyeshadows, lipstick sets – you know, the best of the best! Beauty brands go all out for Christmas and you can often find all your favourite things in one gorgeous gift set. Here are my picks for the best Christmas gift sets for beauty this year. Warning: buying impulses ahead!
Marc Jacobs Snake Charmer Lip Lacquer Set
You know who I'm talking about – the woman who just knows what she wants. You know she likes luxury and that's that. Nothing else will do. In that case, I would highly suggest having a look at the Snake Charmer Lip Lacquer Set from Marc Jacobs beauty. I've spoken time and time again about MJ beauty – I LOVE it. The quality is so so good and this mint-scented lip gloss collection means you can have more colours in smaller sizes which suits me just fine because I'm all about variety. And in this set there are colours everyone would like so it makes a fabulous gift.
I love Christmas gift sets when it comes to luxury lipsticks because that means I can have more of them in smaller sizes. I love smaller sized lipstick because I tend to go from lipstick to lipstick so never really use a full container anyways. This Stila Star-Studded set is FAB and contains 8 lipsticks in both matte and shimmer finishes. Stila are one of my favourite brands when it comes to lipsticks and their shades/pigments do not disappoint. This is one product I'll be keeping for myself this year thank you very much.
Palettes are such a good gift to give at Christmas – honestly there is no one in this world who doesn't love a palette! And the Tarte palettes are particularly beautiful – showstoppers, really. What a great gift for a woman of all ages with this Blush Bliss Palette. It contains 4 new blushes that last ages – 12 hours in fact. The blushes contain Tarte's famous Amazonian clay and these colours are truly beautiful – with mattes and shimmery hues to remind you of your favourite sunset in your favourite place.
Inc.redible Cosmetics Read My Lips Party Collection
Oh my eyes lit up when I saw this because there are metallic lip colours (as well as matte, gloss and glazed) within this collection and it's available exclusively on QVC which is another great place to shop for Christmas presents. I always look out for their TSV (Today's Special Value) because you can get such good sets for such a low price! This is a new brand from the Nail's INC founder and I have to say I was quite impressed with the shades in this set, particularly the metallic one (Foiling Around) which is perfect for the holiday season. It also comes with a clear gloss with sparkling glitter so you can add some shine to any holiday look.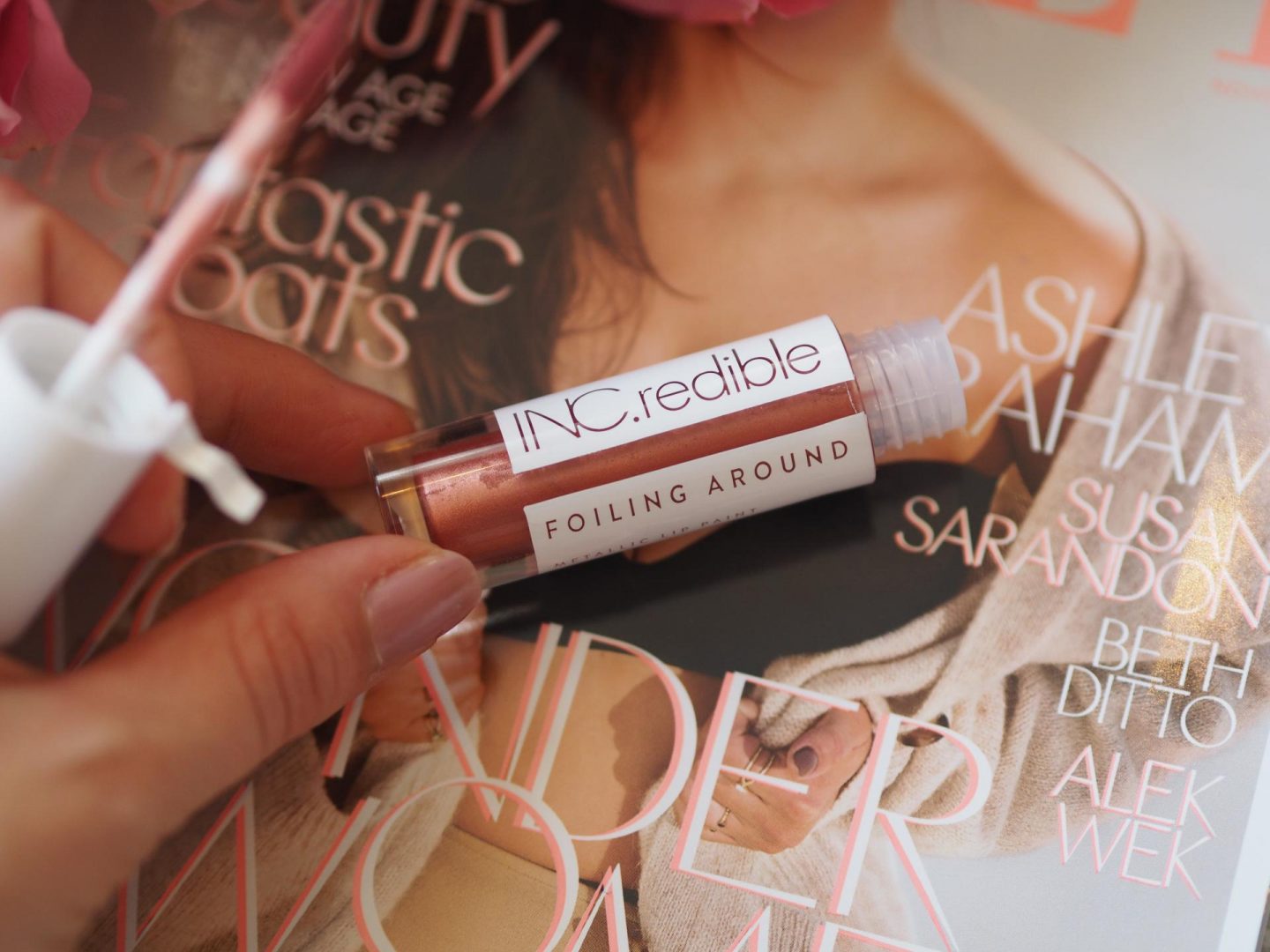 Tarte 5 Piece Pout Pleasures Lippie Lingerie Lip Collection
For a natural brand, Tarte really delivers. It's a wonder that not all brands are natural when you look at the performance of Tarte make-up. This five-piece lip set from Tarte does not disappoint and for a friend, sister or girl who loves green beauty then this is THE ONE. The finish of these lipsticks is matte but they are not drying at all and the hues from pink nude to deep rosy pink are absolutely stunning. Available exclusively at QVC.
Tarte Artful Accessories Brush Set
OMG I am a brush addict! I love make-up brushes in all shapes and sizes and these are just about the prettiest ones I ever did see! This is a Limited Edition brush set from Tarte which contains 5 make-up brushes with the softest brushes and the most covetable designs. The holder, the brushes, everything is so perfectly giftable you can't even make it up. It contains a blush brush, powder brush, highlighter brush, eyeshadow buffing brush and an eyeshadow blending brush. A must-have gift for Christmas.
Are there any new Christmas gift sets for beauty that you like the best? Don't forget to follow me on Instagram @beautyrocksblog for all my latest updates – I post everyday there!
Shop the post here!
Tarte Artful Accessories Brush Set
Tarte 5 Piece Pout Pleasures Lippie Lingerie Lip Collection
Inc.redible Cosmetics Read My Lips Party Collection