January is a hard month. It's cold, dark and grey and the joyful festivities of Christmas are over. Enter in Dry January, Veganary and a whole host of other pressures to start the new year. It's often the time of year when everyone seems to come down with a cold or the flu and all in all, it just feels a little bit depressing. I've pulled together some winter beauty favourites to ease the january blues – products that will make you feel good without having to put out too much effort.
ESPA Ginger & Pink Pepper Candle
You can't go wrong with a candle in the dead of winter because who wants to be outside in January? It's better to cosy up inside with a book, a warm blanket and a candle that makes your home feel cosy and warm. I love the ESPA Ginger and Pink Pepper Candle because it's infused with essential oils that give off a warm and uplifting vibe. The ginger and pink pepper are perfect for creating that cosy feeling inside as well with their warming notes.
ESPA Ginger & Pink Pepper Reed Diffuser
If you prefer a diffuser over a candle, then the ESPA Ginger and Pink Pepper Reed Diffuser will give you those same cosy vibes with a scent that lingers on. This diffuser has a lovely warming blend of Sweet Orange, Clove, Cinnamon and Ginger – perfect notes to ease the chill of winter!
Perricone MD No Mascara Mascara
After all the glamorous events around Christmas and New Year's, I just want to keep it minimal for January. I want minimal-effort make-up and since I'm doing dry January as well, then there won't be any big nights out for me! I'm loving the Perricone MD No Mascara Mascara for a natural everyday lash look. The brush really grabs onto the lashes and lifts them up! I also love that the formula contains Neuropeptides and Biotin so not only is this a mascara but also a conditioning treatment clinically proven to lengthen and thicken lashes.
Perricone MD No Lipstick Lipstick
Again, I like to keep it low key and natural for January and this also means that I tend to go for a more natural lip look as well. The Perricone MD No Lipstick Lipstick is such a pretty rosy shade that gives a natural flush to the lips. The formula is super nourishing as well so great for the colder winter months with neuropeptides to help regenerate skin. It also contains SPF 15 so perfect for outdoor wear. Après ski anyone?
Perricone MD Total Skin & Body
Because of the weather in January it's easy to feel down and depressed and it's especially important that with the lack of sunshine in this month to look after your body. The Perricone MD Total Skin & Body is a 30-day programme with 3 types of daily supplements that covers all your skin and body needs. Each day you start with a Multi Complex Supplement which contains 16 different nutrients to help fight fatigue, support the immune system and boost antioxidants. The second supplement is an Omega 3 supplement with wild Alaskan salmon oil – great for the heart and the skin! Lastly there is a Derma Complex to support skin and hair health with Biotin, Co-Enzyme Q10 and Grape Seed Extract.
Ellis Faas Creamy Eyes (E105 and E117)
As I said, I love minimal effort in January. The Ellis Faas Creamy Eyes eyeshadows are beautiful, richly pigmented shadows. Simply apply over lids with the eyeshadow stick and blend in with your finger. The pigment is buildable, so you can make it as sheer or not sheer as you want. The formula also nourishes lids with para cress extract and coffee extract to support collagen production.

In the winter I absolutely love oils for both the face and for the body. There is something quite soothing about an oil and they are always a joy to put on because they usually smell amazing. I am LOVING the Kate Somerville Dilo Oil for winter. It's a completely 100% natural formula of the amazing Dilo Oil which is rich in natural lipids and absorbs quickly into the skin because it works with the skin's own lipid layer. If your skin feels dry and tight and dull this is a great oil to use, simply because it will help get the glow back into your skin. It also helps to even the skin-tone out and reduce the appearance of fine lines and wrinkles. Hallelujah to that!
Omorovicza Moor Cream Cleanser
When it's the dead of winter, we need to choose cleansers that are gentle and kind to the skin. The Omorovicza Moor Cream Cleanser is a dreamy creamy cleanser that gently cleanses the skin without stripping it dry. The formula contains mineral-rich Hungarian Moor Mud which also helps draw out impurities in the skin and detoxify. A great cleanser for the post-holiday season.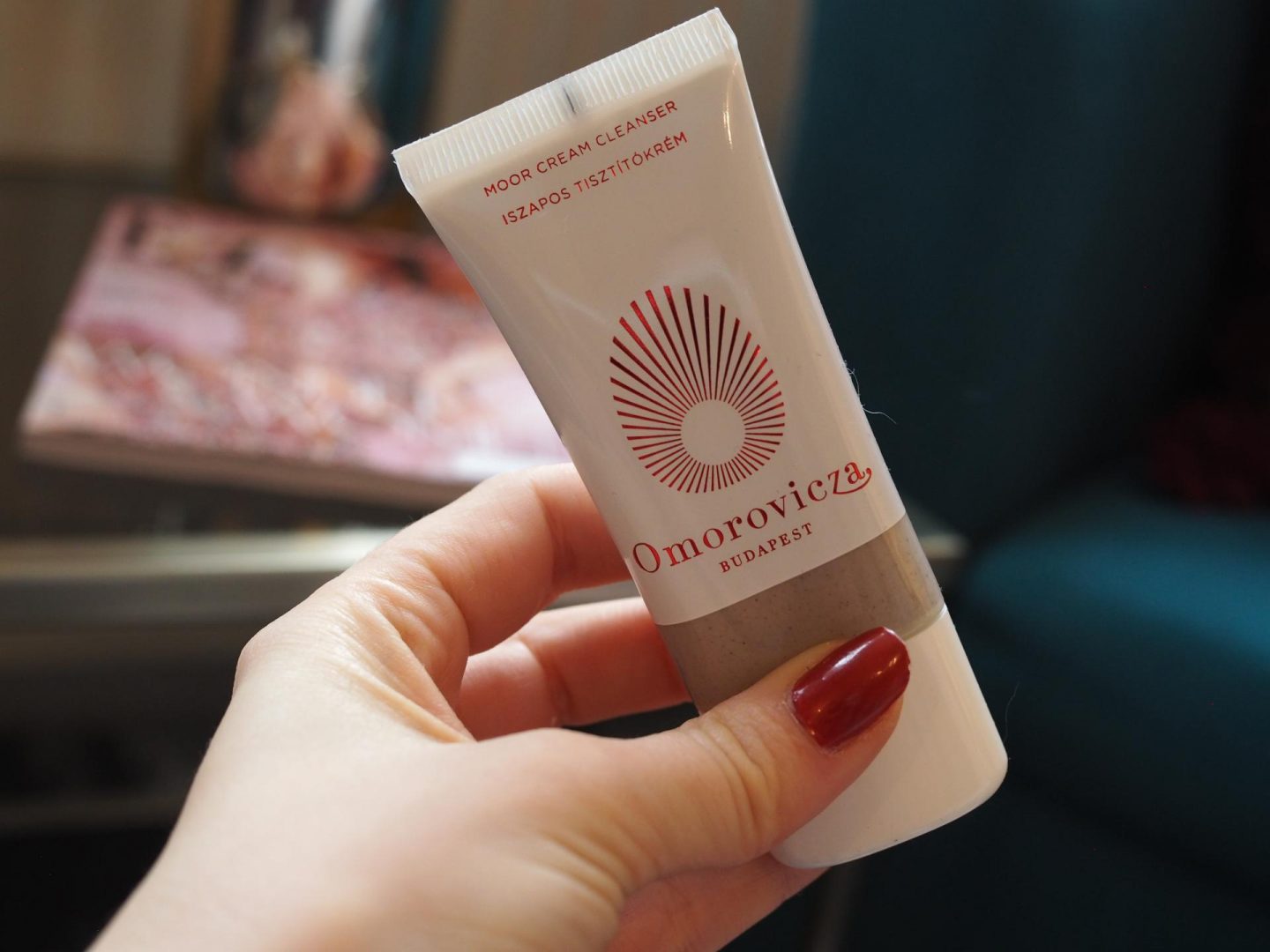 Kate Somerville Liquid ExfoliKate
Winter unfortunately can create some pretty dull-looking skin. There's no sun, no fun (okay not really but still) and the indoor heating can really dry the skin out. It's important to remember that if you want glowing skin, you have to exfoliate. And by exfoliating, I don't mean actually scrubbing your skin until it's red and raw. You can use AHA fruit acids to gently pull those dead skin cells away and the Kate Somerville Liquid ExfoliKate is one of my new favourites to do this. It's a spray so it's super easy to use (no cotton pads required) and you use it at night so it's a great overnight treatment to help the complexion get its glow back. It contains Glycolic, Lactic and Malic acids as well as natural enzymes from pumpkin, papaya and pineapple to help get rid of old dead skin cells.
Neek All the Lovers Matte Lipstick
In the winter, we need a really nourishing lip product and not all lipsticks can deliver that. The Neek All the Lovers Matte Lipstick is a 100% natural formula that DOES deliver the moisture with Shea Butter, Jojoba Oil and antioxidant Vitamin E. I love the rosy pink shade as well – perfect for a minimal every day look.
Gone are the days of the summer air dry in January so a blow dry is a must, as it's not good to go to bed with wet hair. However, it's very important to use a heat protect spray. I'm loving the KeraStraight Heat Protect – it not only heat protects but also delivers a boost of hydration to hair, which can get drier in the winter.
Aveeno Skin Relief Nourishing Lotion
If you have dry and itchy skin in the winter (which is probably the case due to indoor heating and outdoor cold) then the Aveeno Skin Relief Nourishing Lotion is fabulous. It does what it says on the tin, simple as that. I've been using Aveeno for years and the Skin Relief Nourishing Lotion contains shea butter and an oat complex that soothes and nourishes dry skin in an instant!
Kate Somerville UncompliKated SPF 50
I wear SPF, even in the dead of winter and you should too! I get regular peels so it's important for me to protect my skin from UV rays, even on cloudy days. The Kate Somerville UncompliKated SPF 50 is a fabulous spray on SPF 50 that will leave you with no excuses not to wear SPF. It's that easy to use. It also helps set make-up and it provides a matte finish so it's the perfect last step in your morning routine. Simply spray a fine mist over your face, once your make-up is completed. SO easy to use and a fabulous product for any season.
Kate Somerville Peptide K8 Power Cream
As you can tell in this post I'm loving the Kate Somerville products and I couldn't NOT include the Kate Somerville Peptide K8 Power Cream. This is the perfect cream to use for winter because quite frankly it's plumping and hydrating for the skin. Winter is the time our skin deflates a bit and this skin cream is chockfull of peptides which provide an intense hydration. The cream has gone through clinical trials and it's been show to improve the look of fine lines and wrinkles, have a smoothing effect on the skin and another one – decrease skin redness! I remember right before Christmas my skin was quite red and irritated – I genuinely think this was from one too many nights out during December and my skin wasn't thanking me for it. Combined with the cold weather well, let's just say I really needed this cream back in December. But I am thankful for it in January, too.
If I'm doing some drugstore beauty shopping, I always buy dry shampoo. And if I'm in Boots or Superdrug you can better your bottom dollar that I'm going to pick up a bottle of Batiste. Now thankfully for us fine-haired beauties, Batiste have come out with a Dry Shampoo Volume which really does add some life to the hair. With the winter weather (I've had rain dampen both my spirits and my hair this month) the last thing I need is limp hair to add to my list of woes. So not only does this absorb oil in between hair washes, but also gives hair the boost and volume it needs in the hardest months of the year. Save water, use dry shampoo.
Shangpree Ginseng Berry Eye Mask
I was really excited to receive this product from Lookfantastic this month because first of all, I love Korean beauty but had never heard of this brand (which is from Korea). Also, I LOVE eye masks that come in one container because this reduces a lot of wasteful packaging if they are each individually packaged so I like that you can get all of your eye masks in one pot. The eye masks contain ginseng berry which energises, peony which brightens and antioxidants which help nourish the skin and fight free radicals. All in all, a very refreshing eye mask that will leave a tired eye area feeling smoothed and more energized.
Konjac Sponge Company Green Tea Pore Refiner
I love cleansing with a Konjac sponge! I feel like this is the easiest way to get a gentle exfoliation every day. I also like how sweet the Konjac Sponge Company Green Tea Pore Refiner is because it's shaped like a rabbit. The sponge is made from konnyaku fibres which is a plant native to Asia and it's also got natural volcanic water from Jeju Island (South Korea). I love this sponge and would highly recommend getting one for daily cleansing!
Omorovicza Nourishing Hand Treatment
OMG in the winter my hands shrivel up and look so much older than they really are! Hands suffer the worst in the winter, always exposed to the hold and working so hard for us. So to treat them nicely I'm using the Omorovicza Nourishing Hand Treatment which has the added benefit of Vitamin C to repair and protect hands, as well as fade any pesky dark spots. A lovely hand treatment to keep 'on hand'.
Shangpree Marine Jewel Illuminating Mask 30ml
Girl, I love a sheet mask and especially in the winter. The Shangpree (the latest K-beauty brand to hit the block) has a Marine Jewel Illuminating Mask which contains sea water, S-Marine jewele and green sea fingers to help plump and smooth the skin. Extremely refreshing and soothing, a great one to apply after a day out in the cold.
Have you tried any of these cold-weather wonders? Hope you enjoyed my winter beauty favourites post to ease the January blues. What are you doing to make January a little bit easier? Don't forget to catch up on my previous beauty posts – my most recent one here.
*Post contains gifted PR samples and affiliate links however all opinions are my own.
Don't forget to follow me on Instagram @beautyrocksblog for all my latest posts.