Dr. Organic, oh how I love thee..shall I count the ways?
Well, let's start with the fact that the brand offers organic products at a fantastic price point. Also, the products are really good quality. I have been a Dr. Organic fan for awhile and love their Organic Moroccan Argan Oil (have covered in a previous post), Organic Rose Otto Oil, Dead Sea Mineral Mud Mask and Eye Rollerball.
So needless to say I was ecstatic to hear that they were launching a NEW Organic Snail Gel Range.
Snails you ask?
Yes, actually.
Snails secret an ingredient called Helix Aspersa Muller, which regenerates its own shell and skin when damaged. The brand has harnessed this ingredient's power and blended it with a number of bio-active, natural and organic extracts which promises to leave skin smoother and with a more youthful glow.
With celebrity fans such as Britney Spears (!), Ashley Roberts, Kimberly Wyatt, it's time to sit up and listen. Snails may be considered gross or disgusting but they do have this special power to regenerate their shell and for that they should be given some credit. I am also happy to say that this ingredient is harvested without any harm to the snail. Even though they might not be my favourite creature in the world I would still hate to see them come to any harm – which in this case they do not.
The miracle ingredient was originally discovered by Chilean snail farmers, who noticed that their hands were softer and smoother and that cuts healed quickly.
The products in this range smell lovely, with a very citrus scent of lemongrass. The key compenents of the range include glycolic acid (known for exfoliation), allantoin (stimulant for skin regeneration), collagen and elastin (structural proteins that bond the skin tissue), proteins and vitamins and natural antibiotics. So all the big players come together in this collection.
Snail products have been around a long time in Asia and I first discovered them on the shelves of a pharmacy in Japan. However I've never been brave enough or smart enough to try them. Until now.
I used Dr. Organic's Moisture Mask from the range which comes in a small packet for £1.99 and probably has about three uses in it. Great for traveling, I would certainly take this on the plane. My skin felt soft and smooth after using it and with the scent of lemongrass wafting through the air, who could complain?
Here are some products from the range I am excited about.
Snail Gel Eye Serum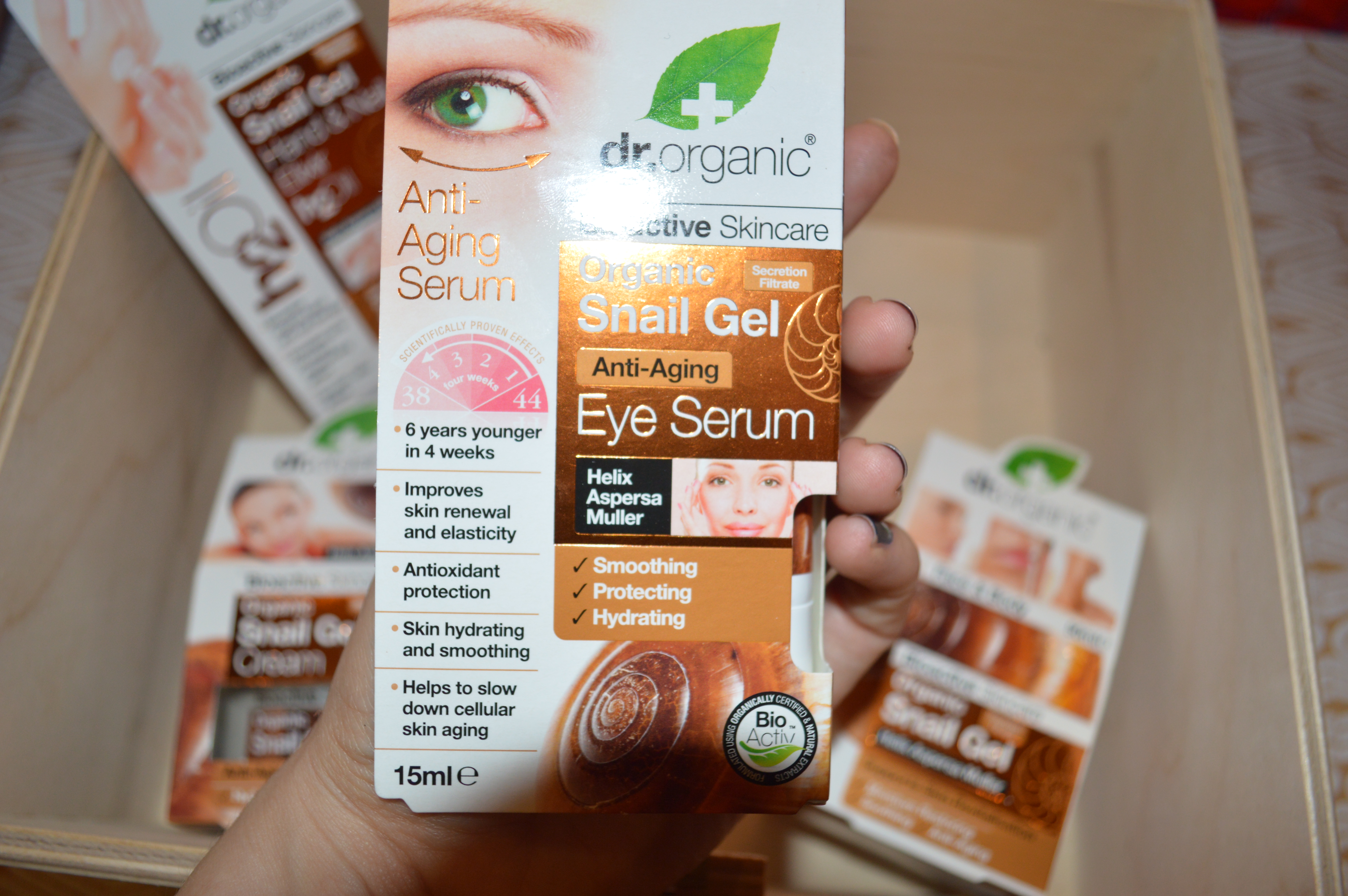 This helps to improve the skin's elasticity and renewal process and is clinically proven to reduce wrinkle depth, rejuvinating skin by six years in four weeks! That is an amazing claim and one I am planning to follow up with ASAP.
Snake Gel Facial Serum
The Facial Serum again has amazing benefits. With this, the active ingredient is clinically proven to improve skin hydration by 32% after four weeks.
And not a single product in this range is over £19.99 which makes it a great payday splurge but doesn't leave you feeling guilty.You can find the range at a Holland & Barrett near you. HollandandBarrett
Don't forget to follow me on Instagram @beautyrocksblog for all my travel adventures!