It's true that you really have to step things up when you want to combat ageing. That includes good nutrition and lifestyle choices, including adding in supplements where needed. I am going to explain everything that is in my current roster of anti-ageing care – and believe me – using all of them together has made a big difference!
I love supplements that support skin health so was extremely excited to learn about Fountain and their Hyaluronic Molecule Supplement.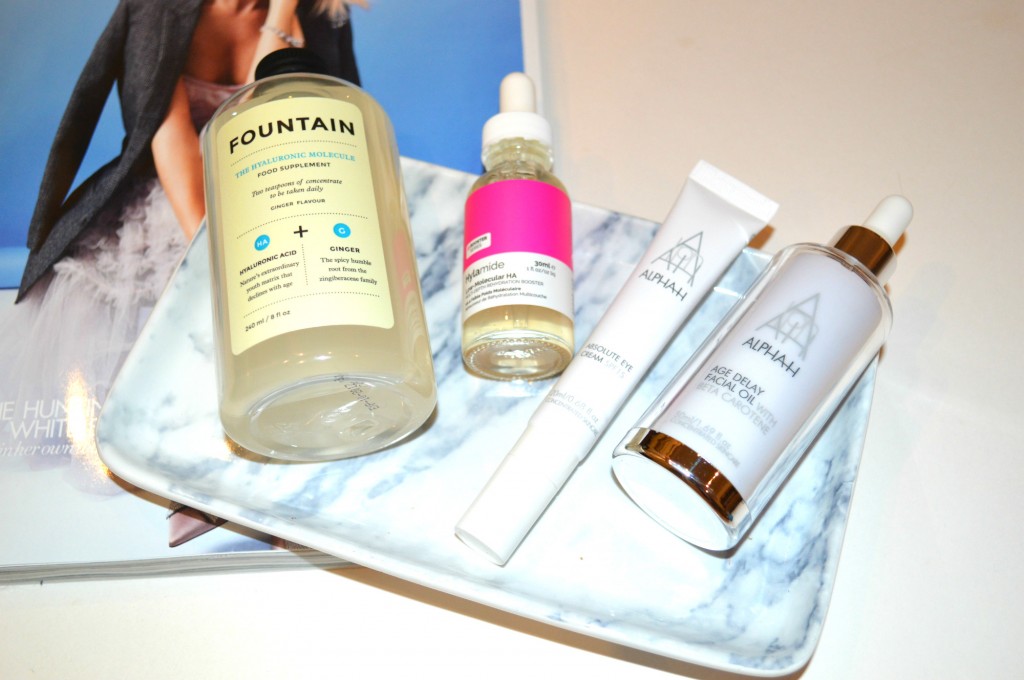 Mention the word 'hyaluronic' and I get excited – so imagine the thrill of knowing there is a supplement form of it! Yes, Fountain makes this. So what is hyaluronic acid and why do you need it? Well, it's a molecule that attracts water and keeps your skin plump and joints lubricated. It declines with age so it's good to supplement this with your anti-ageing skincare routine. The formula is surprisingly tasty, because it has ginger added to it and the texture is a bit like syrup. Taking it is like rehydrating your skin from the inside!
Good anti-ageing care should always start with cleansing. In order for you to maintain your skin's natural acid mantle and not strip it of essential oils, I am loving Skin Dluxe Dream Skin Cleansing Melt.
As you can see below, I am already well into the pot. It's a balm and melts onto your skin when you apply it and leaves it feeling extremely soft.
The heat from your skin allows it to melt in and that's when you can really massage the product in, increasing circulation and treating your skin very nicely at the same time.
For cleansing I have also turned to the Sensio Deep Pore Cleanser. This is a vibrating cleansing device that you can use to massage all over your skin and really get a deep clean. Combining it with a balm is heavenly as this really makes you feel like you are getting a great massage. Simply charge it up to full capacity and go – it stays charged for quite some time!
The Deep Pore Cleanser is also waterproof so you can use it in the bath or shower. It fits in the palm of your hand, making it easy for travel as well. I love this little cleansing device – it's cute and feels good! The silicone bristles on the back of the unit are for a deeper cleanse (see below image) and the ones on the front (see above) are for a lighter cleanse. Each silicone bristle can penetrate into the pores for a deeper clean to remove impurities, clean out clogged pores, help remove any residual make-up and enable your skin care products to be absorbed more easily. Win!
So when you are done cleansing do you move straight on to serum? Not when you are talking about an ultimate anti-ageing routine! Sometimes you need a treatment in between your normal skincare routine. The Alpha H Liquid Gold is a cult classic and one that has been raved about so much that I simply had to get my hands on it. It contains glycolic acid (a star that I talk about here) which is the key to brighter and healthier skin. The best way to describe what this product does is that 'the alpha hydroxy acids melt the 'glue' that binds dulling dead cells to the skin's surface, revealing the 'new' cells underneath.' So this is your new exfoliating hero!
But wait, there's more. It also lowers the skin's pH balance (from 5.5 to 3) which stimulates cellular activity and the skin's renewal process.
I tried this and it felt a little tingly on my skin (completely normal and expected) but after a few times using it my skin does look clearer! This is a treatment to be used at night and it is recommended not to follow this with a moisturiser as this will raise the skin's pH levels back up again so the best thing to do when using this product is to use it on its own and only at night. No moisturiser after or anything – just let it do its work.
The Liquid Gold helps to boost elastin and collagen and with the glycolic acid reaching down down down into the depths of the skin, it helps to clear out pores so it's great for preventing spots. For the Liquid Gold you can use it every other night, depending on skin sensitivity. Simply apply it with a cotton ball all over face, neck and chest area.
When you wake up the next morning you can go back to moisturiser, serum and the whole works! But how about a skin booster? The Elizabeth Arden Superstart Skin Renewal Booster is a brand spanking new product from Elizabeth Arden that is all about focusing on the surface of the skin.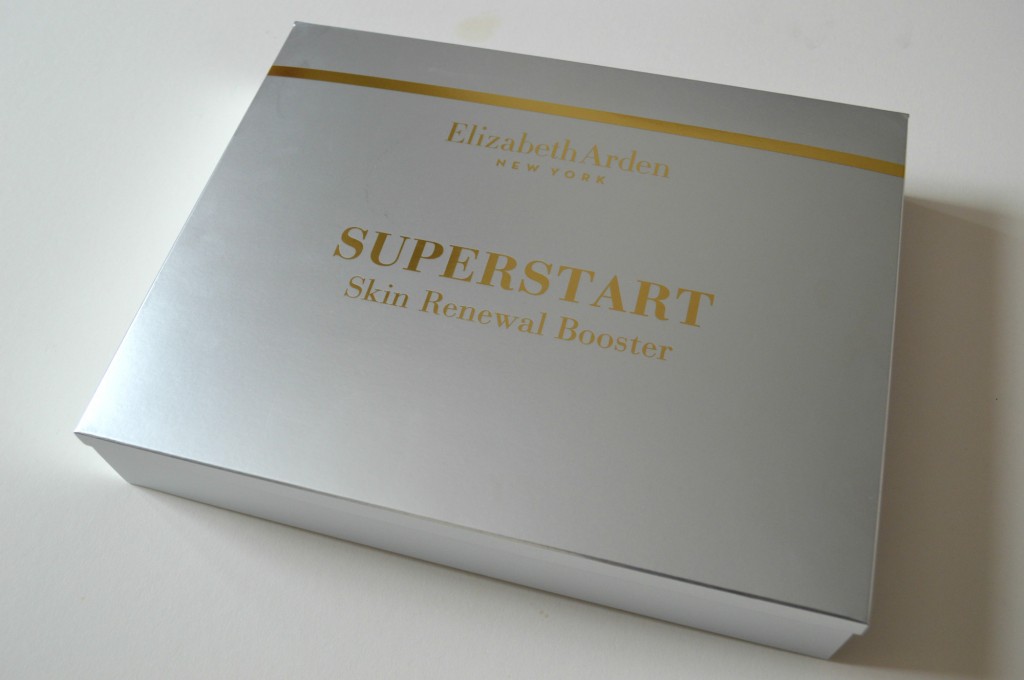 We are always taking about products that reach into the deeper depths which is certainly important but this Superstart Skin Renewal Booster focuses on the surface, which is also important as this is what everyone sees! In an anti-ageing routine, you need to build up your skin's barrier defences – an army to defend against all the environmental aggressors.
This also boosts the effectiveness of other skincare products so should be used as a pre-step to serum. The Superstart Skin Booster contains a probiotics complex which helps the skin repair and renew itself. Sea Fennel and Flaxseed extracts act as the guards for the skin's barrier, upping the defences. Glasswort extract helps to prevent moisture loss.
The Skin Booster doesn't have to be used as a pre-serum, it can also be used as an actual serum however since I am talking about the ULTIMATE anti-ageing routine, I am currently using this as a pre-serum treatment, ie booster. The formula as you can see below is a light, refreshing gel. It sinks in very easily and my skin really drinks this up!
Use it day and night before your serum application and this will ensure you are getting the most out of all of your products to really 'boost' your skincare routine!
Okay so let's talk about serum. At the moment, I am using Hylamide Low-Molecular HA Multi-Depth Rehydration Booster. Now this is going to target the deeper layers of the skin and plump up your whole face by rehydrating it with a nice influx of hylaronic acid. The fact that this is a low-molecular HA means that it sinks into the bottom layers of skin so it can target rehydration from within – from lower to middle skin rehydration. It encourages HA production, replumps skin and also improves skin elasticity. This is the perfect daytime serum. It's not sticky and is oil-free so won't cause spots!
What about a serum for the night? Or even better, a facial oil? I change my serums for the day and night because skin has different requirements for day (protection, anti-oxidants to fight free radicals) and night (repair, restore). So for the night when I am not using Alpha H Liquid Gold treatment, I turn to Alpha H again (really loving their products)! This time it is the Age Delay Facial Oil with Beta Carotene.
This is an incredibly rich oil packed full of plant oils that are rich in essential fatty acids. Fatty acids are great for the skin, they replenish, restore and rehydrate. Some people who are acne-prone might be nervous to use oils but oils are great for every kind of skin – they help to balance skin – even oily skin (which is often out of balance).
The oil feels like a dream on skin – it's silky and rich and feels very nourishing.
So what about the eyes? My eye area is the first one that is showing signs of ageing so I am doing everything I can to try to prevent any lines from forming. Again, I am loving Alpha H – the Absolute Eye Cream to be exact. The interesting thing about this eye cream that you most likely won't find elsewhere is that it contains SPF 15. I can't stress how important it is to protect skin from UVA/UVB rays, even on cloudy days. This is the best way to delay ageing – wear SPF! So it makes total sense to need to also use this around the eyes. Just don't get it too close to the tear duct as it may sting a little going in.
The Absolute Eye Cream has really hydrated my eye area and targeted fine lines – I've been using it now for about 3 weeks. It is slightly tinted due to the addition of pine extract so it acts as an eye primer as well.
I really love it so far! My fine lines seem more hydrated and plumped so I am happy to say that I am pleased with the product. The skin around my eyes now feels protected from the sun as well.
Okay so now with our anti-ageing routine, we need a day cream to top it all off! I am LOVING the Guinot Paris Hydra Finish Face Cream. It contains SPF 15 to help protect against harmful rays and the best part is that it comes out a pale lilac colour. The reason this is so amazing is that the lilac colour really brightens up dull skin and this acts as a colour-corrector – so completely makes primer irrelevant. So I like to think of it as a face cream/colour-correcting primer in one. It also sits brilliantly on the skin, doesn't clump up my make-up like some other face creams with SPF do. I really can't rave about this face cream enough!
When it says 'complexion enhancer' on the tube, it is really telling the truth. Because of the tinted lilac colour – this really works to brighten skin. If I was having a really good skin day, I would be happy to use this with a bit of concealer and be done!
So what about weekends? On weekends I focus on treatments. My skin sometimes breaks out due to stress, hormones, environmental factors and so on so I am also loving the Guinot Hydra Sensitive Face Mask. This is a lovely thick formula that you can spread on your face, leave on for 10 minutes and then wipe off. It's soothing, especially for sensitive skin and I like to use it when my skin is feeling particularly feisty.
I use it before bed and usually leave it on for about 30 minutes. I can't see why this can't be used as an overnight treatment although I haven't tried that.
It's great for soothing redness and treating skin that is feeling particularly sensitive.
While we are onto treatments I also love to do a treatment on my eye area. Skyn Iceland does an amazing Hydro Cool Firming Eye Gel treatment that really hydrates and soothes puffy, tired eyes.
It feels like a dream and there is really nothing better than sitting down with a magazine on the weekend and putting these two cooling pads under your eyes. I would recommend using this at night so you can really take advantage of the benefits. Just pop them on for ten minutes and you will instantly see a reduction in puffiness and fine lines. It's a quick fix!
Another treatment from Skyn Iceland is the Nordic Skin Peel. This is to be used after cleansing 3-5 days a week (or everyday if you don't have sensitive skin). The pads contain lactic acid and fruit enzymes that gently exfoliate, getting rid of a build-up of any conjestion or dull skin.
The pads are meant to help skin that suffers from stress and could be looking dull or broken out. The pads can be great for acne-prone skin because they contain antibacterials which clears up any nasties that can cause spots. These sting slightly which is totally normal and can replace any toner that you are using.
So there you have it! There is a lot that goes into taking care and maintaining good skin, especially in your 30s when you need some extra help. I love to have an army of skincare problem solvers that help me to fight the daily ageing battle!
Don't forget to follow me on Instagram @beautyrocksblog