Have you ever wanted to escape? I mean really escape? Turn off the mobile phone and actually read a book? There is a perfect little village out there, right on the marina in Göcek, Turkey that is waiting for you – where the air hangs heavy with the scent of jasmine and the water is a cerulean blue.
Turkey is an absolutely beautiful country with a range of landscapes and scenery to blow your mind. This is a slice of it! If you like beach holidays but also like a bit of easygoing sightseeing then D-Resort Göcek is the place for you. And you'll get some Vitamin Sea while you are at it – how can you go wrong?
Where to Stay
If you are travelling to Göcek then THE place to stay is the beautiful D-Resort Göcek. This is a beautiful boutique hotel that feels luxurious but is still a part of the surrounding community. It's positioning makes it very easy to explore the village around it – think antique shops, boutiques (selling pottery and hammam towels – a win!), sweet shops (with Turkish Delight) and a fruit and veg market. All very quaint and idyllic, that's for sure.
This is the perfect place to go if you want to relax but also do a bit of sightseeing at the same time. The locals are friendly and also will amazingly not pressure you to buy souvenirs, etc. which is a real relief if you are just not mentally prepared for that. There is nothing worse than if you are trying to relax while on holiday and feel pressured by locals to buy souvenirs and are literally chased down the street to buy something. I always feel really guilty in those situations and end up with too many things! But don't worry, you won't experience that in Göcek.
The rooms are light and airy, very reflective of their surroundings. You can immediately feel this when you enter the room, it's almost like a weight is lifted off your shoulders.
D-Resort Göcek has really thought of everything and everything is thoughtfully placed out for you to use – from a comb to a nail file. The towel of choice are the amazing hammam towels. They are incredibly useful at wicking away water and drying skin – they are soft and their absorbance rate is fantastic. Forget about big bulky towels – these are the ones that you need! Stock up on them at the shops in Göcek too!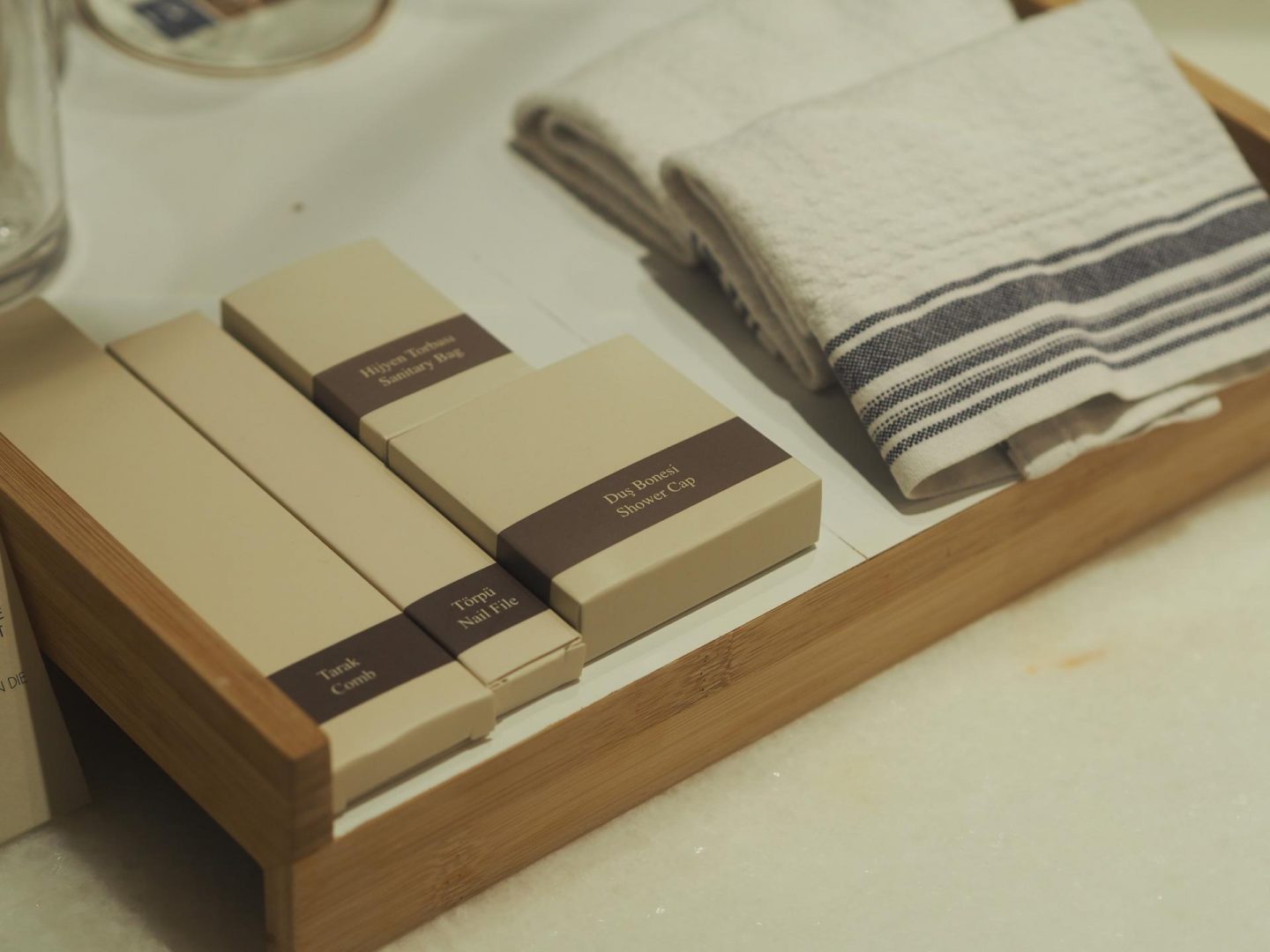 As I said before the hotel has thought of everything – you don't even need to pack shampoo or conditioner as the hotel has taken care of this. Sometimes it's the little things when you stay at hotels – it's the small details that make a good hotel a great one. This is one of those that has thought of everything that you could ever want.
What To Do
Swim
If you are staying at D-Resort Göcek there are plenty of things to do. One thing is to swim! Make like a mermaid and enjoy the cool blue pools which stretch along the gardens of beautiful bougainvilleas. You won't regret it. And swimming pools mean no sand everywhere and perfect poolside selfies (you know what I mean).
Spa
Another thing you can do is enjoy the amazing D-Spa. I'm a bit of a beauty addict so love this option! Massage did you say? Yes, D-Spa has treatments using the award-winning spa range ESPA and offer Balinese massages (highly recommended) or you can hop in a traditional Turkish Hammam. Not only are there massages and hammams but you can also enjoy the vitality pool (good for circulation to bare that bikini bod), 2 abachi wood saunas (to get your glow back), a steam room (to clean the pores) and a fitness centre (for those who actually work out on a holiday I applaud you!). There is even a Zen Garden. What more could any spa junkie ask for?
Explore the Marina
Who doesn't love walking along a peaceful marina? Here you will see an array of super-yachts and boats that have sailed in from all over the world. This spot is a sailing mecca due to the ideal wind and the fact that the area is surrounded by mountains and a stunning archipelago of beautiful islands. One could get lost in those islands for weeks. I wouldn't say no.
 The water looks like swimming pool and is such a beautiful colour that you could literally sit and stare at for hours.
Get on a Yacht
This activity is the best one. There is no better way to explore the scattered islands of the Aegean Sea unless you take this option! D-Resort Göcek offers yacht tours where you can hire a yacht for the day and they will take you around to all the little islands. What an amazing day to spend out on the sea, with the wind in your hair and feeling like you don't have a care in the world. There is nothing like a feeling of being on a boat – there is a sense of freedom that is hard to get elsewhere.
The yachts themselves are amazing and beautiful. This option would be highly recommended for a group or even for a couple on their honeymoon.
Where To Eat
When I am looking for a place to eat I think of somewhere that has amazing food (#1), a fabulous atmosphere (#2) and one that just might be Instagram-worthy. The Breeze restaurant ticks all those boxes. This restaurant sits along D-Resort Göcek's private beach and the way it is positioned it almost feels like you are suspended above the water (well, you are).
The restaurant serves a wide range of Turkish specialities and Aegean Cuisine, which is similar to Greek food. It's famous for serving the freshest local seafood, fish, fruits and vegetables so you know that what you are getting is of the best quality. And they also specialise in Turkish desserts (yum)!
Where To Drink (And Eat):
You won't want to miss the Q Lounge for the most amazing views and delicious, ice cold cocktails. It feels like a tree house that overlooks the beach below so you can drink and dine in the trees by the stars. The restaurant is made from entirely natural materials and blends in with its surroundings so it becomes embedded within it. It's a really unique concept that combines nature with design and where you have a building that is in tune to its surroundings.
The restaurant is Zen-inspired and you will be feeling very Zen-like indeed once you see the views and have a delicious drink. The food here is also amazing with a Japanese fusion theme – sushi, calamari, sashimi served tapas style for sharing.
I don't think anyone would ever regret staying here – it's a truly lovely area and full of activities to do but still keep it at a relaxed pace.
To find out more about the beautiful D-Resort Göcek see here
Don't forget to follow me on Instagram @beautyrocksblog for all my adventures!