Teens are one of those tricky groups that are hard to buy for at Christmas – some are picky, some want it all. It's hard to please a teenager these days but I've got a few Christmas gift ideas for teen girls (hey I remember being a teen!) that I hope will please.
There is a reason why I've included heat protection spray in this gift guide. Where there's heat protection, there is a hair tool around. And this Lee Stafford Chopstick Styler is a pretty special one as well. It makes the tiniest of curls and is UH-MAZING. Great for a teenager (or yourself, come on!) who is always looking in magazines and likes to try out new hairstyles. Don't let them get a perm, let them get a chopstick styler! This is not your typical curler – you can make ringlets out of this styler for a really amazing look.
Using heat protection spray is a bit like wearing sunscreen. I feel like I never got told as a teen to wear sunscreen or heat protectant on my hair and seeing as teens use so many heating tools on their hair these days I felt it was important to include heat protectant. It may seem to them like a random gift to include but trust me, when their hair isn't fried and dried later they will thank you. Hopefully (you know how teenagers are). This REF Heat Protection Spray perfectly protects your hair and doesn't feel heavy on the hair either.
Superdry Super Luxe Mohair Beanie
Everyone likes a beanie for Christmas because they look cute and they also keep your head warm. This Superdry Super Luxe Mohair Beanie is also soft to the touch and won't make your forehead feel scratchy like some other materials do. The bobble top is also so on trend at the moment so you really can't go wrong here with this one. It's seasonal and cute and perfect for a teen girl.
Teens these days are part of the digital revolution and they often have electronic accessories better than their parents. To carry them they need something bright and colourful but that will also protect their gear. Superdry has some nice tech cases this year for Christmas for both guys and girls but I quite like this bright pink one for carrying an iPad.
Cinema Light Boxes seem like room necessities these days whether you are a teenager or an adult. This one from The Discovery Store (a unique website devoted to quirky gifts!) is a good sized one and comes with customisable letters (85 of them to be exact) as well as 6 blank tiles (for emoji design of course). The amazing thing about this lightbox is that it is wireless as well so there are no bulky cords to mess with. That will please the digitalised teen these days because almost everything comes wireless – let's be serious. This is also a cute way for a teen to come into their own and leave personalised messages in their room.
And for the teens who have lots of pens and need something to hold them in (so it's handy for when they need to do homework) there is the Pineapple Pen Pot. This is a super cute little holder that would also be a great accessory for a desk. Pineapples are really trendy accessories these days and the pen pot brightens up any corner, especially a desk (where you have to do homework).
Flutter Lip Balm & Make-Up Sponge
Flutter (the brand from Superdrug) makes the cutest little products. For the dog lovers there is the Flutter Lip Balm on which the packaging shows an adorable puppy. The lip balm also tastes of sweet strawberry and has an added SPF 15 (it's never too early to think about that). Flutter also makes a reasonably priced version of the Beauty Blender with its make-up sponge which is bright pink for the girly girl and is perfect for blending make-up.
Tanya Burr 12 Day Advent Calendar
What teenage girl doesn't love Tanya Burr? The superblogger has come out with a pretty fantastic 12 Day Advent Calendar (available at Superdrug) that has everything a girl could want. I was really very impressed with the products that came in this advent calendar from luxe-looking lip glosses to glittery nail polishes – all perfectly in tune with the festive season. I'm talking luxe gold glitter (reminded me of Smith & Cult – the luxe nail brand) and glossy lip colours in classic red. There are 12 beauty products in this calendar and any teenage girl would be thrilled to open this. The calendar also has glitter pot eyeshadows with really good pigment and a mini make-up mirror as well. You will win big points for this one from a teenage girl. Trust me!
Instil the importance of the environment in a teen from a young age and encourage them to use travel mugs if they are on the go instead of throw- away cups. It's probably very easy to do this if the mug in question is from Zoella's lifestyle range. This mug is so cute and perfect for a hot chocolate!
Superdrug Googly Eyes Flat Pouch
Superdrug has some really cute cosmetic cases this season in all shapes and sizes. And I am a firm believer that you can never have too many cosmetic cases. This Googly Eyes Flat Pouch is perfect for the girly girl teen who is starting to experiment with make-up and needs a little pouch to keep her essentials in.
This cosmetic bag could also double up as a really cool pencil case. It's shimmery gold and is long enough to fit brushes in as well as a few lipsticks. And if you are giving your teen girl the Tanya Burr Calendar then she will also need a sparkly bag to keep all her new goodies in!
Zoella Journal – Once Upon A Time
And also on the list from another well-loved superblogger is Zoella. Zoella has come out with quite an amazing stationary and lifestyle range this fall and they make the perfect gift for a teen. This Once Upon A Time journal is a great gift for a teen to use to take notes or even just to jot down their thoughts. Teenagers go through a mood rollercoaster so a beautiful journal is a nice item to have on hand when you want to write something down to get it off your chest. It also wins double points because it looks good on Instagram.
Zoella Organiser – She Designed A Life She Loved
Again the Zoella range of stationary is really nice and this organiser comes chock full of notes and essential Monday to Sunday tabs so you can keep track of what you are doing. So for a teenager that you need to keep reminding to do their homework, this organiser could be a lifesaver (for you and for them).
Boux Avenue Bear Jumper Ankle Sock
And just like Christmas sweaters are so popular so are Christmas socks! Again, I've hunted around Boux Avenue and picked up these Bear Jumper Ankle Socks – they are so cute with the pom pom ears and red jumper design. Who needs a Christmas sweater with these?
I love Boux Avenue for bras and sleepwear but did you know they have some pretty cute accessories too? So Instagrammable is this Boux Avenue Penguin Eye Mask that I had to pick one up. The fabric is made of soft fleece so it's comfortable to wear on the face. And for the nights those kids stay up too late, this will help them get some quality sleep time.
Schwarzkopf Live Pastel Shades – Icy Blue for Blondes
Teenagers like to dye their hair and some of them might want to change their hair to pink or blue – like what they see on Instagram. Good thing that Schwarzkopf has a TEMPORARY Pastel Spray – this one is meant for blondes and is the cool shade of icy blue. You can experiment with applying it all over or just on the ends for an ombré style. It will wash out!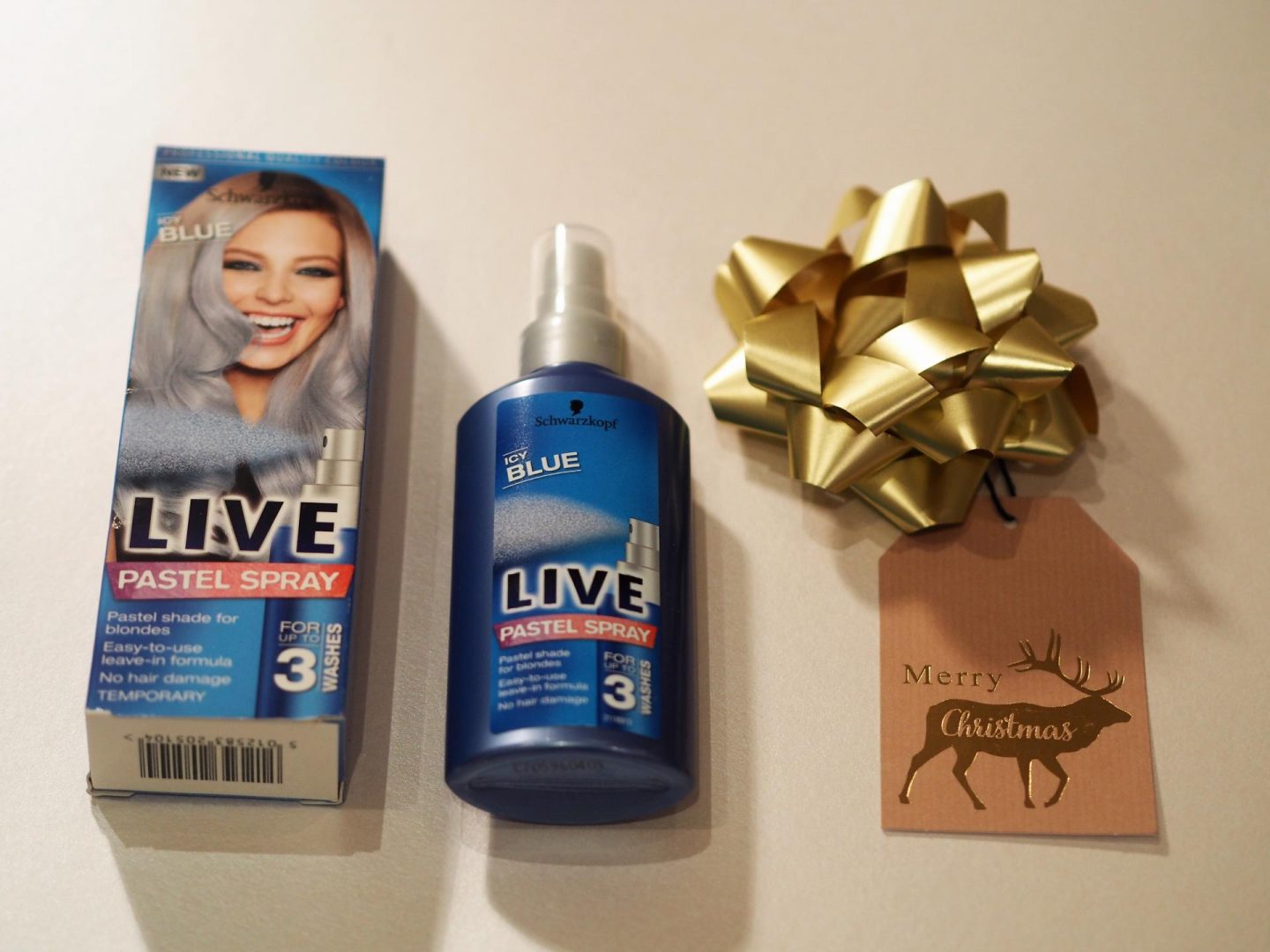 If you have any other gift guide items to suggest please do!
Don't forget to follow me on Instagram/Twitter @beautyrocksblog for all my latest adventures!