I am a big fan of comfort and especially of the thinking that you should be comfortable at home. Yes, I am that person who (upon walking in the door) immediately has to change into a pair of the softest, snuggle-worthy PJs that exist. I love loungewear and I'm a bit of a homebody and a big fan of that Hygge life. Give me a warm throw, a good book, a cup of tea and some cosy PJs and I am a happy, content camper!
So on the theme of snuggly pyjamas I've just done a bit of a pre-Christmas haul with Avon (whose beauty products I've been using for years actually). Avon has a lot of really lovely lifestyle products and actually I remember getting the catalogues at home when I was younger and feeling really excited. As Avon branched more and more into lifestyle I was more and more interested – suddenly there were clothes and jewellery and even handbags! And guess what? Now there are PJs!
Like shoes, one can never really have enough PJs or loungewear right? I've picked out my favourites from Avon's Christmas collection this year so let's start with my favourite pair first which are the Polar Bear Snuggle PJs. First of all these really do make you feel like a polar bear! These are honestly the softest and warmest PJs I've ever owned. I get cold really easily and am the person that is always to blame for high electricity bills when it comes to heating. Air conditioning I can live without but heating? NEVER! The Polar Bear Snuggle PJs are super cosy and made of a really soft fluffy material that feel like fleece but way, way softer. When I first started wearing these I actually for the first time ever in my life felt warm at night. I stopped using the heater and my heating bill went down (I'm serious here)! They are super warm so are great for someone who gets cold easily.
And to get in the true Christmas spirit and season I chose the Classic Fair Isle PJs – these are perfect to wear for the Christmas season! These PJs are made from 100% cotton and feature a long-sleeved pyjama top with full-length patterned bottoms.
And because I get cold easily I chose the Fair Isle Matching Funnel Neck Poncho which is literally amazing because you can just slip it on or drape it over whatever you are wearing. But seeing as it does match the Fair Isle PJs I just had to have it. And it's also made of cosy fleece so feels soft and comforting to wear. It's like having a blanket draped around you perfectly. I think this set would also make an amazing Christmas gift as well because the PJs have such a festive design.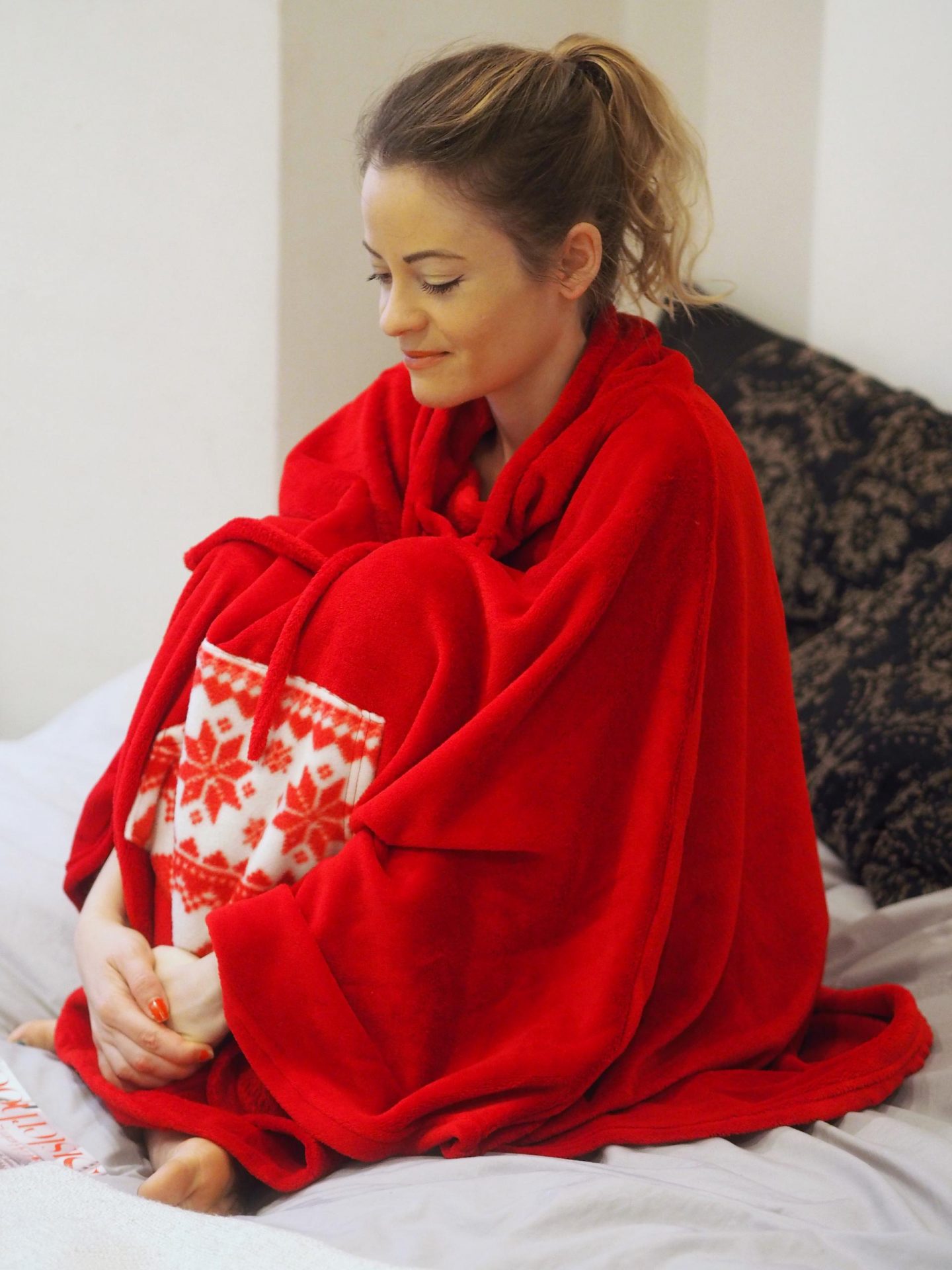 Speaking of snuggly, I also picked out the Super Cosy Leopard Print PJs which are also super warm. What I like about these is the leopard-print design – of course. These PJs also have a similar warmth-factor as the Polar Bear Snuggle PJs but look a bit more fashionable with the leopard-print. The top is a long-sleeved funnel neck made of super soft fleece. I like that the top has pockets for cold hands to warm up. Just another little cosy feature on these PJs.
Next up I moved away from snuggly and went for more luxe with the Noela Button Front PJs. These are super silky, gorgeous PJs that are perfect for when you want to go for the luxe look in the evening. I love the way these silk-like PJs feel on the skin and I love the colour of them as well. These would be perfect for Christmas morning when you are opening presents because we all know that there can be quite a bit of picture taking on Christmas morning – and if you are like me you will want to make sure that you look good while doing it! Great for weekends away as well if you want to feel a bit more feminine and pretty.
So I think you can guess from this post what kind of PJs I usually go for but what kind of pyjama style do you go for? Cosy or luxe?
*This post was in collaboration with Avon but all views are my own and I picked the PJs I liked!