I love recreating a 'spa at home' – especially in this cold, wintery weather. When it's cold outside all I want to do is snuggle up in the warm and pamper myself with gorgeous bath and body oils, lotions and potions. I've recently discovered a brand from Bath, England called the Natural Spa Factory that has a lot of products that are both indulgent and natural. I really like using natural bath/body products that use essential oils as I don't like artificially-scented products. So I'm all about the indulgent oils and lotions/potions that are natural and contain a whole host of amazing essences. So let's draw a bath and discuss shall we?
So first, I start with a long, hot bath and with it I pour in the Natural Spa Factory Liquid Gold Bathing Nectar. This is a lovely shimmery gold bath soak that adds a bit of glamour to a regular old bath experience. And I'm a big advocate of the bathing experience and that it should always be extraordinary. Because when else do you get time to yourself? This actually does turn the water a shimmery gold colour so would be perfect for pre-party prep as it leaves your skin smooth and glowing. The soak is infused with Grape Leaf extract and AHAs that help exfoliate skin while you are bathing. The scent is also gorgeous!
Once I get out of the bath and towel off I love to use a dry body oil. Why dry? Because it sinks in quickly, gives me all the benefits of an actual oil and doesn't leave my clothes greasy. I really love oils a lot and dry body oils are great for nourishing dry skin. The Natural Spa Factory Gold Dry Body Oil is amazing – it's not only dry but it's also gold and shimmery! This is fabulous to dab on neck and shoulders if you are wearing a dress and again, perfect for pre-party prep so you can make sure your skin is glowing. Great to highlight the legs as well. The oil contains 3 natural oils; jojoba, apricot kernel and sweet almond – all of which are great for the skin and really nourishing. The scent is of amber and what's also great about this is that you can use it on the face, body or hair so it works as both an oil and a really good highlighter!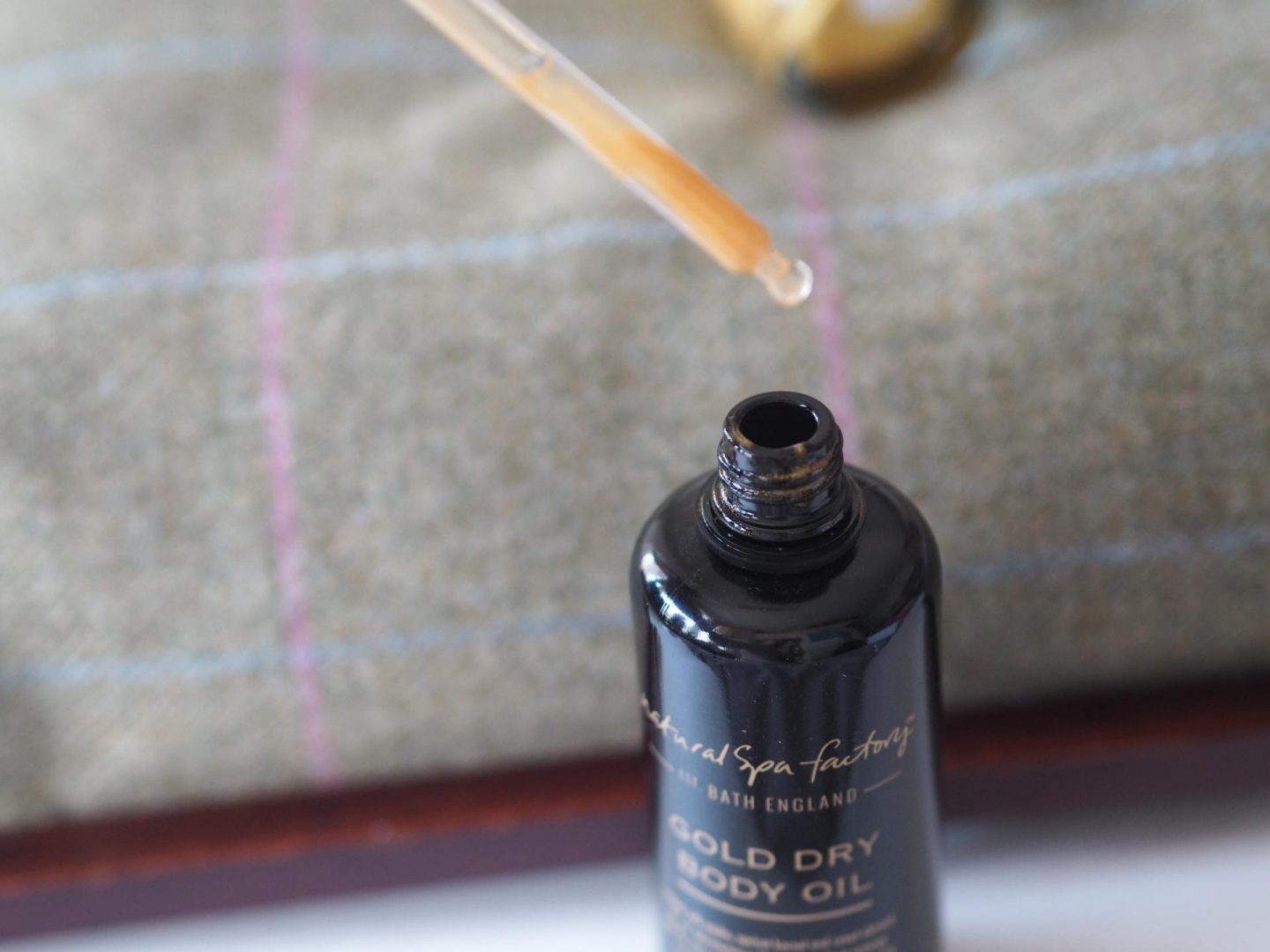 And last but not least the last thing I like to do for a 'spa at home' ritual is to apply moisturiser very generously to my face. The Natural Spa Factory 23-Carat Gold Moisturiser is a lovely moisturiser – it's not greasy at all and sinks in quickly so you can either leave it or apply make-up after if you are doing a pre-party prep. The moisturiser is an anti-ageing one that helps to increase the elasticity of the skin which decreases as we get older. So basically we need all the help we can get from a certain age point onwards! The cream contains 23-Carat Gold and vitamin-rich Caviar Extract, as well as Hyaluronic Acid for super hydration benefits. My skin gets dry and tight in the winter so this helps to really combat that uncomfortable feeling!
Don't forget to follow me on Twitter/Insta @beautyrocksblog for all my latest adventures!
Shop the post here: