It's such a dreary month in January so I have tried to gather a few precious treats to make myself feel better! When you feel tired and run-down, Christmas is over, it's back to work…sometimes you just need to treat yourself. I've been under quite a bit of stress lately in my personal life which I won't delve into so I've taken this post quite seriously when I say I've picked items – special things that either make me feel beautiful or treated. Indeed, these items make me feel special when sometimes I'm feeling down. So enough of the sad talk and let me show you what will lift you right up…here are some of my January favourites to cure the January blues!
First up there is the Aromatherapy Associates Inner Strength Body Oil. Now I am a huge fan of a body oils for being the perfect winter skin fixer and Aromatherapy Associates makes some of the best. This one is all about Inner Strength – it's a body oil that supports you with aromatherapy during tough or challenging times. It's comforting and feels amazing on the skin. I like to warm this in my hands and gently rub into the skin after showering – it's a great product for dry skin. Trust me, you will want to hide this and not share with anyone else. I also enjoy inhaling the scent in – it contains a gorgeous blend of rose, clary sage, frankincense and cardamom essential oils. The oil also sinks in quickly like a dry oil – it's not greasy at all and is so smooth and slippery it feels like silk. A real treat for yourself if you are feeling down or stressed and highly, highly recommended. I'm using this one sparingly and a little goes a long way.
Part of feeling good has to do with taking care of yourself and for me that is really getting into the ritual of getting ready for bed. I like to relax and unwind with a bath or shower and I tend to love to use a scrub to make my skin feel really smooth. Scrubs to me feel like real treats – as long as they are made with the right ingredients. I've discovered a scrub that I really love called Ruby Red Smoothing Body Scrub which is a gorgeous scrub made from Dead Sea Salt, Red Mandarin and Cedarwood. I love the woody scent of this scrub and when I use this scrub I don't really need to moisturise after I get out of the bath or shower because the oils in the scrub are already so moisturising. This is a natural scrub with organic plant oils that feel so lovely and luscious on the skin this can only be described as a real winter skincare treat.
When your hair feels great, this helps to lift your spirits. My hair needs more volume so I have just discovered a beautiful brand called Goldwell who make a range called Kerasilk. I am absolutely in love with the Goldwell Kerasilk Repower Beautifying Hair Perfume. Yes, I said hair perfume! If a fragrance can uplift you then a hair fragrance can certainly do the same. I love to spritz this in on the day after I wash my hair, when the fragrance from the shampoo has faded out. This smells the way hair should – beachy and breezy and it reminds me of summer days by the sea. Hair perfume seems like a luxury and it is – it's one of those special things that you don't see everywhere and this one is really very nice. Summer in bottle with delicate freesia lily notes embedded in light citrus – think of a wild seashore and you will know what I'm talking about.
Goldwell also makes lovely shampoos and conditioners. I have the Kerasilk Repower set (which comes with my oh so lovely hair perfume) and the Repower formula is all about getting strength back into the hair. For hair that's fine you need to treat it with care. What also makes me feel better is voluminous hair! I've got the Goldwell Kerasilk Repower Volumising Shampoo as well as the Kerasilk Repower Volume Blow Out Spray. The shampoo contains Keratin and Elastin to help strengthen fine and limp hair and I love the Blow Out Spray because I'm really very precious about my hair and I like to prevent it from getting damaged. Always use a heat spray!

With beautiful hair you need a beautiful brush. And I'm talking not only about a brush that looks good but one that feels good too. I never thought about purchasing a brush that is so beautiful that you want to keep it on your nightstand forever (like back in the old days) but this Balmain Paris Hair Couture Spa Brush is just the one. It is simply beautiful and it feels heavy and special in your hands. Not only that but it feels amazing. The brush is handmade and all white with black boar bristles that really stimulate the scalp. I don't have any brushes like this at all and this is a great brush for really taking the time to brush your hair with. Remember that old wives' tale of brush your hair a hundred strokes a day for shiny hair? Well this is the kind of brush you would use for that particular task. It's a nightstand brush and it feels amazing. The bristles are stiff and tough but it really stimulates and refreshes the scalp in just the right way. The perfect addition to a nighttime ritual. I never knew a brush could make you feel this special! This one is available from John Bell & Croyden on Wigmore Street along with the whole Balmain hair care range – DREAMY!
Another thing that makes me feel good is when my skin looks good and I've recently discovered the Time Bomb InstaWow Sparkling Facial Mask. I like this mask because it's effortless – it's quick and easy and it's over in 5 minutes. What you have to do is simply apply the gel over your cleansed face and the mask starts to instantly foam and bubble – it tickles a bit but what it is doing is purging skin of dirt and grime. I've noticed London living sometimes leaves my pores a bit clogged so this helps to brighten and purge them. Citrus extracts in the formula also help to brighten skin too. This is a great, no-fuss mask you can use anytime to lift your spirits. In five minutes!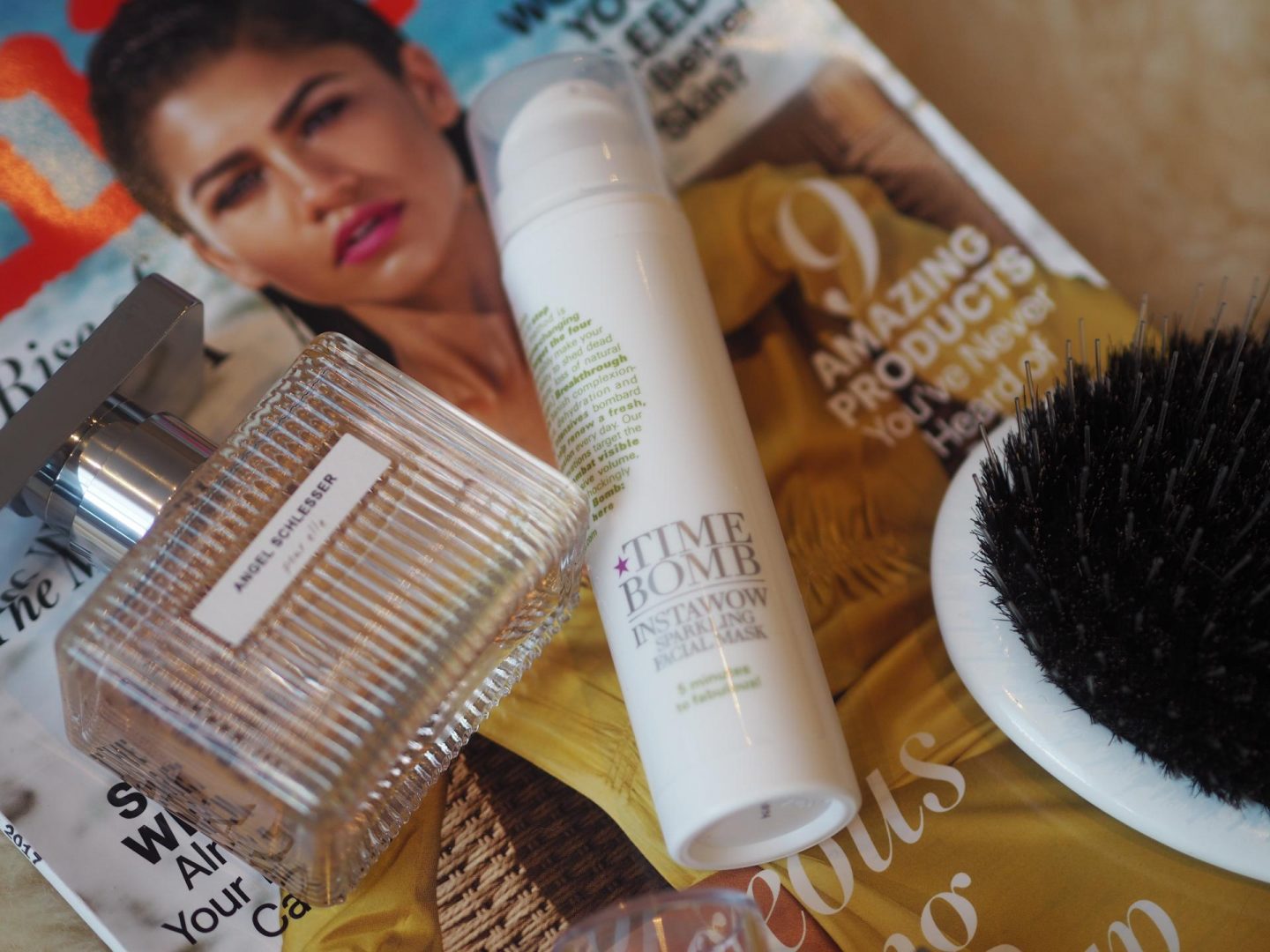 There is something about lipstick that is transformational. The power of lipstick cannot be understated. It's probably my most coveted make-up item and I really think it's better to splurge when it comes to lipstick. There are certain products I think you can get away with buying budget but I am a firm believer in lipstick. Cheaper lipsticks feather, dry the lips and crumble. When you find the right one you will just know. Sisley Paris has some beautiful and very special lipstick range for Spring 2017 called the Phyto-Lip Twist. These have the power of a lipstick but are the texture of a tinted balm – sort of like a balm/lipstick/gloss all in one! They are a great alternative to a regular lipstick – a bit lighter for spring and also keep your lips really moisturised. The Phyto-Lip Twists contain plant-based actives so not only make your lips look good, the formula is actually good for your lips. I love the packaging on these lipsticks as well – they are so pretty! One for the handbag for sure. Because of the ease of application and the pretty packaging these are definitely on my 'special list'.
Along with the Phyto-Lip Twists I've also got the Phyto-Eye Twists which have very much the same concept from Sisley Paris for Spring 2017. These make applying eyeshadow super easy and quick as well. They are an eyeshadow, pencil and eyeliner all in one – now that's what I'm talking about! I've got two perfect shades below that will create a great smokey eye with the lighter shade as the base and the darker brown colour to line the eyes and fill in the crease of the eye to define. I like that I can carry these in my handbag to perk up my eyes at any time – an instant confidence booster. Also we have to think about lashes. Mascara is another thing I can't live without and has to be put on my 'things that make me feel good' list. Sisley again has a brilliant one called So Intense that actually works to lengthen and thicken your natural eyelashes in two weeks. Longer lashes? Yes, yes yes.
Fragrance is another mood-booster. I love fragrances – I have so many to suit different moods and feelings. For January I am loving something more feminine and uplifting. I tend to go for more woody scents but I've found in the January blues month I've been going for lighter and much more floral fragrances. One of those such fragrances that makes me smile just from looking at the oh-so-pretty bottle is Signorina in Fiore by Salvatore Ferragamo. This is a new product for 2017 and just in time as well! This is floral and fruity – everything you need for a dark, dull month. It hints of brighter days, sunlight and ripe pears and pomegranates. I feel brighter and lighter when I wear this – everything from the pink bottle to the scent influences this feeling. This fragrance will not only lift your spirits for the winter but will take you right on into spring and summer too!
How do you perk up in the winter to lift your spirits?
Don't forget to follow me on Instagram/Twitter @beautyrocksblog!