I like shiny new things – is that so bad? And actually January and February has seen quite a few new beauty launches landing on my desk. Some are newly launched and some are newly discovered – by me! From glimmering make-up to soothing bodycare, here are some of my February favourites.
MAKEUP
Let's start with the shiny objects! First up is the newest launch from Stila – this is what is coming for SS17 and it's GORGEOUS! The new collection is called Glitter Underground – inspired by 70s disco. This is a dazzling collection of all things molten metals – really pretty for both day and night looks.
You can see what I mean below with the Heaven's Hue Highlighter – I've got the shade Kitten. This is a beautiful light and bouncy-to-the-touch highlighter that blends into the skin beautifully. Simply dab your finger into it and dot across the cheekbones for a lovely glowing look. You can also use this as an eyeshadow if you want to go really glowy!
My favourite item from the new launch has to be the Magnificent Metals Glitter & Glow Liquid Eyeshadows. These are pure fairy dust if you ask me – gorgeous and glimmering. These are long-wearing eyeshadows that you simply have to apply with a wand and they truly stay put for hours. The colour payoff is worth the investment into these and is very smooth on the eyes. I've got the shade Gold Goddess below.
As I get older I appreciate colour corrector even more. Skin tends to get more and more uneven with age and also living in a big city doesn't help as pollution does contribute to uneven skin tone. Stila has a One Step Correct Corrector that is brilliant that I am adding to this list as noteworthy. It's basically a primer, colour-corrector, brightener and anti-aging skincare serum all in one! And seriously, any product that multi-tasks like that is good in my book. The corrector has three tones:
Green tone instantly neutralizes redness and conceals blemishes
Lavender tone counteracts sallow undertones for a vibrant, energized look
Peach tone brightens, illuminates and helps diminish the appearance of sun spots
In other words, how can you go wrong?
LIPSTICK
New in the world of lipstick is Avon's new True Colour Supreme Nourishing Lipstick collection which is another gorgeous collection of swirly shades that promise 8 hours of colour as well as the ability to quench lips with a jojoba oil infused formula. The lipsticks also contain SPF15 for added protection. Many people forget about their lips when it comes to sun protection but it's so important!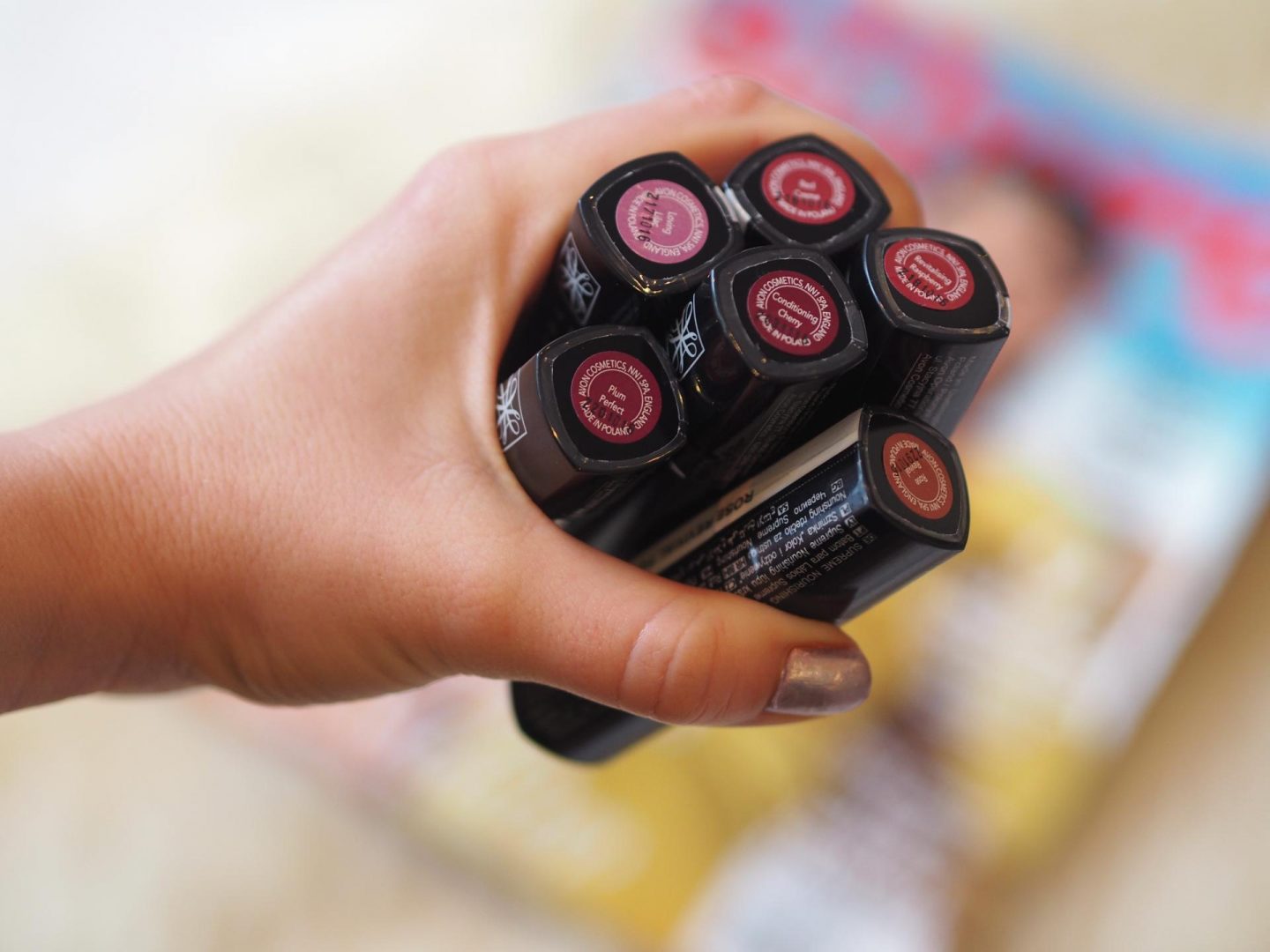 I've got six beautiful shades and all of these lipsticks are truly beautiful – with swirls of colour blended throughout the lipsticks. These are both pleasing to look at and pleasing to use!
You can see what I mean by the swirls of colour throughout the lipsticks (below). I love the rose gold of the packaging as well – these are the perfect dressing table lipsticks!
My favourite shade has to be the Plum colour – it's a lovely berry shade and I think it would work well with a variety of skin tones. It makes me feel pretty when I use it and the lipstick also feels moisturising and not drying like some shades.
FRAGRANCE
A fragrance that I think is perfect for spring is the new Angel Schlesser Pour Elle Eau de Toilette. This fragrance smells so pretty and feminine – it truly embodies all things spring! This has just come out in January to brighten the winter blues and it really is all things bright and fresh. The fragrance is a floral fruity green with citrus notes of bergamot, mandarin and grapefruit, with additional red berries and woody nuances. The heart notes then start to come out with tones of jasmine, orange blossom, peony and pear. Then the base notes round out the fragrance and become a bit more intense with patchouli, vetiver, dark chocolate, vanilla and tonka bean. This fragrance reminds me of all things pretty and fresh – like a clean cupboard in spring or flowers on a desk. I love the simplicity of the bottle as well – perfectly placed on a white dresser!
SKINCARE
All hail to the powerful eye cream! Clarins has launched a real cracker of an eye cream to follow their launch of their Multi-Active range last year. I really loved that range so much (I covered it HERE) and so had to try the new Multi-Active Eye Cream. One of the reasons I love it so much is because of its unique applicator tip – it doubles as a massage tool and takes away having to use your fingers to apply the cream. The tip is nice and cool and feels amazing as you massage the cream in. The Multi-Active Eye Cream helps to correct the first signs of ageing which is great as I'm starting to get those pesky fine lines and need some extra help. Honestly I loved the Multi-Active range so much (and also got rave reviews from my partner) and I'm already loving the eye cream too.
I'm really into gentle cleansers these days and I love this 100% Natural Cleansing Milk from Cinere that I picked up from John Bell & Croyden (in-store). This is a oil-in-water emulsion which is my favourite type of cleanser because it effectively lifts oil, dirt and make-up without stripping the skin. The texture of this cleanser is a real dream as well – ideal to use both morning and night! I also like that the size of the cleanser is quite big so will last a long time.
I also love face masks – especially mud masks or sheet masks. Formula 10.0.6 is a new brand that I've discovered this month – I've got their Best Face Forward Daily Foaming Cleanser, Pores Be Pure Skin Clarifying Mud Mask and One Smooth Operator Pore Clearing Face Scrub. Again I will touch on pollution here as living in London I am exposed to it everyday. I'm really conscious that I really need to focus on cleansing my skin but not only that – it's also about supplementing your cleansing routine with regular mud masks to draw out dirt and also scrubs to exfoliate dead skin cells. Formula 10.0.6 has all of these things which you can see below. My favourite of all of them has to be the Pores Be Pure Mud Mask for giving your skin a good, clean vacuum!
And you know I love to talk about Korean beauty and I did actually show how to use these new Wish Formula C200 Bubble Peeling Pads (available from Buttermilk Skincare) on my Instagram Stories (@beautyrocksblog). These are really cool and are the latest beauty trend from South Korea. They really help with exfoliating the dead skin cells off and also brightening your skin. These are exfoliating pads and each pack contains one pad. You simply massage the pad in circular motions on damp skin for around 3 min. The pads contain natural AHA ingredients and natural extracts to effectively remove skin impurities, dead skin cells and sebum. And guess what else is cool about these pads? They have 200mg of pure Vitamin C and Fermented Botanical Extracts that you then pat into the skin once you've exfoliated with the other side of the pad. This is a super easy way to exfoliate and also get glowing within 5 minutes! Highly recommended.
BODYCARE
A very cool range I've just had a sneak preview of before the official launch is Daughter of the Soil (available from John Bell & Croyden in March) which is a feel-good range in that a portion of the proceeds from the products go to equipping women in Africa with the skills they need to start a business or sell produce. The products are feel-good too in that they feel amazing on the skin. I love their Shea Body Butter with White Mulberries – an opulent body cream and this one smells incredibly of white mulberries (which to be honest I didn't know what that smelled like but now I'm hooked)! A great product to soothe dry winter skin.

HAIRCARE
When it comes to haircare I love Sachajuan. I've been using their products for awhile now and have talked about them previously HERE so was really excited when they told me that they've launched some new products! These products are perfect for these early months of the year when everyone is in DETOX MODE. Basically these new products (which I am going to tell you about I promise) work to cleanse and replenish locks.
First up is the Sachajuan Overnight Hair Repair – this is a brilliant leave-in product that you can put on hair overnight so it works while you sleep. ZZZZZZZ. It's a gel-based formula (love) and you can just apply it to the lengths of the hair to work overnight and in the morning you actually don't need to rinse this out if you don't want. So if you are planning to not wash your hair the next morning maybe just dab a bit on the ends every night for moisture. It works on building elasticity back up so you and your hair can be bouncier than ever!
Next up is a product that will really detox your hair and scalp by working on targeting product build-up and pollutants/chemicals. The Sachajuan Scalp Shampoo is a really thorough scalp cleansing shampoo that also helps to balance the moisture levels of your scalp. The skin on the top of your head is really important for healthy hair and growth so take care of it!
Well that's all folks! I hope you enjoyed this post and please comment if you have any questions. Don't forget to follow me on Instagram for more beauty/fashion posts @beautyrocksblog.
Shop the post here:

*This post contains PR samples but as always, all opinions are my own and I only call in products that I want to use and try. If I'm not interested, I say no. I never feature products I do not like.