Mention Charlotte Tilbury's name and you instantly think of make-up. And not just run-of-the-mill make-up but UH-MAZING make-up – think high performance, great pigment, runway-ready. However something that I have discovered is that actually Charlotte Tilbury makes a hell of a lot of skincare products! I've heard things like 'Goddess Skin Clay Mask' thrown around before however and thought 'goddess skin – really must try that' but it wasn't until about 3 weeks ago that I actually was able to finally try it. And not only that particular product but a whole host of other Charlotte Tilbury products including her brand NEW Instant Magic Facial Dry Sheet Mask! So if you are thinking about delving into the brand a little bit more…look no further. My Charlotte Tilbury Makeup haul awaits…
Glow in a bottle? Sign me up. The Charlotte Tilbury Wonder Glow is all about that exact thing – da gloooww. This is a handy little illuminator and can be applied before using foundation, alone or even mixed in with foundation. It also acts as a primer so it blurs at the same time. I think this is best used with a medium coverage foundation like the YSL Touch Eclat Le Teint (mentioned HERE) so the glow really shines through. You can also apply this on top of make-up – perhaps best on the top of the cheekbones or eyelids. This is a great product to take on holiday with you if you like to wear minimal make-up but still want glowy skin. It also has skincare qualities too with hyaluronic acid and a bionymph peptide complex.
Charlotte Tilbury Super Model Body
Oh to have a Supermodel body…what a dream! I do have to give it to Charlotte and her team for creating such quirky eye-catching names for their products – I mean who could resist a product named like this! So this works best I think if you are off on holiday or live in a warmer climate because you will want to be wearing a summer dress or a shorts and an off-the-shoulder top when you wear this. It contains light-reflective particles and a warm tint that helps to 'beautify' the body. It's perfect for the summer when you bare a little more skin and also want your body to have just as much of a glow as your face. I can see this working even better with a tan…thank goodness it's nearly the end of the cold season.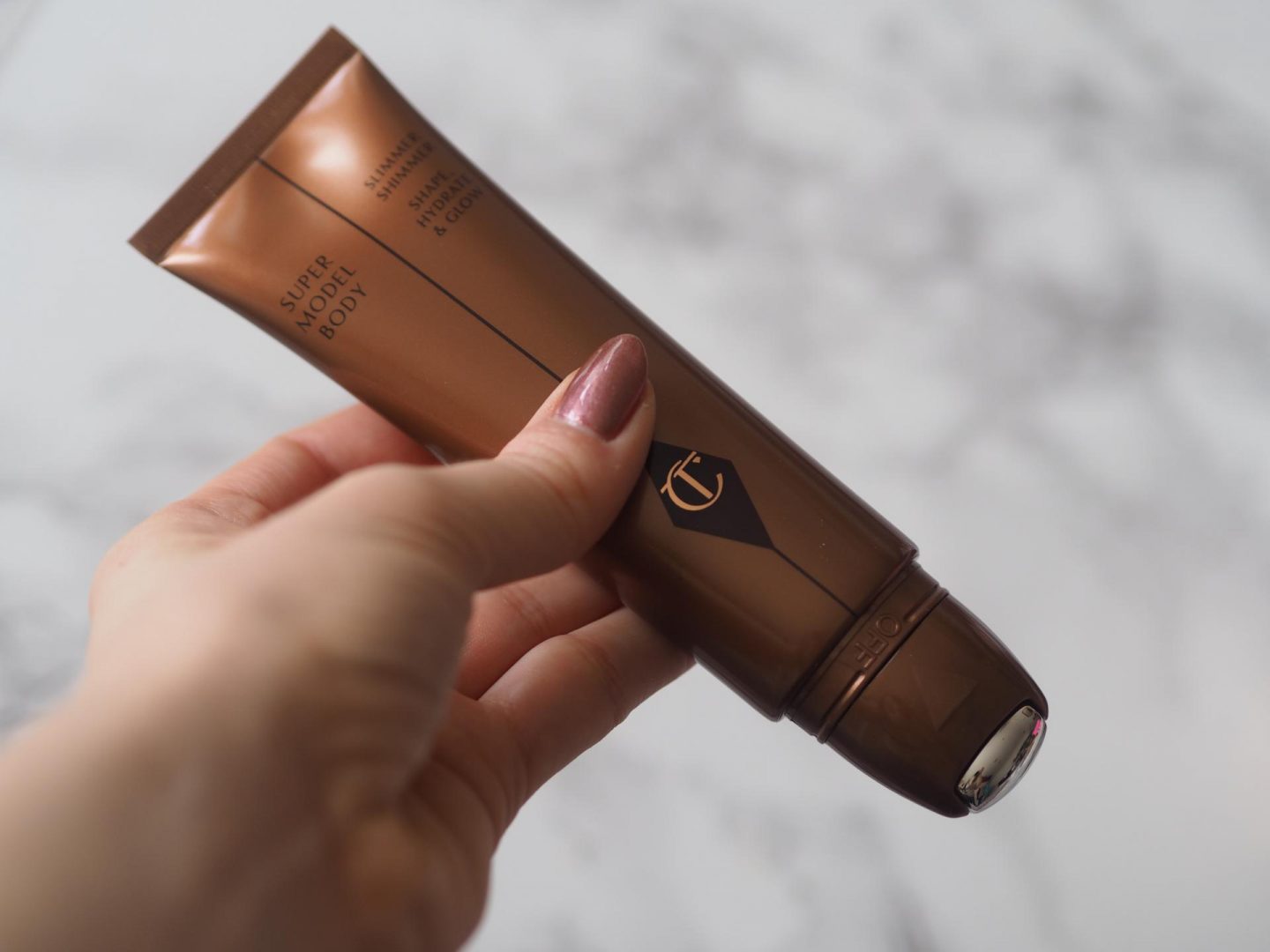 Charlotte Tilbury Charlotte's Magic Cream
Okay so I really do like Charlotte's Magic Cream and I think it's because of the texture. It's rich and creamy and thick and smells amazing – kind of like jasmine. The actual jar reminds me of something that would sit on Marilyn Monroe's vanity table – it has a very 1950s glamourous Hollywood vibe about it. A little of this goes a long way and what this is is a mix of patented anti-age ingredients, hyaluronic acid boosters plus floral extract. The BioNymph Peptide Complex that Charlotte likes to use also helps to constantly fight the signs of ageing. This is a really luxe skin cream that is quite pricey but if you like your lotions and potions this is a nice one to have. It's probably best for skin that is dehydrated and needs a bit of a plumping booster.
Charlotte Tilbury Magic Eye Rescue
I've been going on and on about looking after your eye area and it really is important. Eyes show the first signs of ageing so look after the area! I really love Charlotte's Magic Cream so Magic Eye Rescue had to be the next on the list. This eye cream is also smoothing and lifting – just what we need on those baggy-eyed mornings. So what makes this magic? Well a cocktail of cell-energising winter daphne stem cell extract, rice and soy peptides, saccharide isomerate and free radical-fighting vitamins A, C and E, alongside a proprietary 'botanical eye contour complex'. Whew, that was a mouthful. The texture of this cream is really rich and I did find it had a smoothing effect and is almost like a moisturiser and primer all in one. So here's to less fine lines around the eyes!
Charlotte Tilbury Magic Night Cream
Again with the Magic Night Cream, I feel transported back to 1950s glamourous Hollywood. The actual cream as well reminds me of something that a 1950s Hollywood starlet would actually use. It's pink and more like a balm (think Elizabeth Arden 8 Hour Cream and you will know what I mean) consistency that may not be for everyone. It's quite a heavy cream and again more like a thick balm that you apply to the skin overnight. The cream contains eight youth-boosting ingredients that helps plump and smooth skin. I found this one to be a little too heavy for my skin and I preferred the Magic Day Cream consistency which is a bit of a dream. But the Magic Night Cream is certainly luxurious and moisturising as well – you could definitely apply this to rough patches or dry patches of the skin as a protectant as well.
Charlotte Tilbury Multi-Miracle Cream
Ever wanted a cream that just plain does it all? The Charlotte Tilbury Multi-Miracle Glow Oil Based Cleanser is literally that. It can be used as a cleansing balm, a regenerating overnight mask or a quick fix remedy for rough spots like elbows and heels. The constitency is really lovely (cream to oil) and I actually really like this as a cleansing balm the most. I love using it in the morning when my skin doesn't necessarily need a deep clean but needs a cleanse all the same. The cream has that 'Charlotte scent' with flower extracts and also contains Sea Buckthorn Seed Oil and Cranberry Seed Oil. I found that it really leaves my skin soft and smooth if you use it in any of the 3 ways mentioned above. And did I mention that it smells amazing?
Charlotte Tilbury Goddess Skin Clay Mask
This is one of my favourites from the whole collection – it really does smooth and mattify the skin nicely so if you suffer from uneven skin or breakouts this is quite nice. The mask is inspired by a centuries-old Mediterranean beauty formula and contains Spanish clay (to suck out impurities), the BioNymph peptide complex (for anti-ageing) and sweet almond and rosehip for plumping and conditioning. You only need to leave this on for about 15 minutes for it to do its work and then voila, you are ready to go! This is a fabulous mask for weekends when you have a bit more time to indulge or before a big night out. I like to use this as my 'Sunday Night Mask' to prep for the week. Also my skin has been breaking out lately so this helps to even things out a bit. Really like this mask a lot!
Charlotte Tilbury Scent of A Dream
I have to say that I am obsessed with this fragrance – it really is dreamy. Super feminine and again, not out of place on a 1950s Hollywood vanity table – Scent of a Dream hits all the right spots. Now here is where things get interesting – for this fragrance, Charlotte worked with neuroscientists and French perfumer Francois Robert to create a fragrance that is 'enriched with hypnotic, psycho-active magic molecules; spellbinding, erotic floral extracts and a mood-enhancing joy aura of citrus.' This is probably the most exciting description for a fragrance that I have ever read. Seriously this is the fragrance for when you want to heat things up. The scent changes on the skin and it really does last ages – I could still smell it on my wrists for hours later. It contains pheromone notes of hedione, Iso E super, ambroxan, patchouli and peach which are all activated by body heat and 'stimulate desire for up to nine hours'. This is a super feminine but sexy fragrance with some seriously powerful notes that might just help you attract that person that you've been wanting to attract. Hey no promises guaranteed but it's certainly worth a shot in my eyes.
Charlotte Tilbury Hot Lips in Kim KW
I love the name of this lipstick, named after the ever-so-famous Kim Kardashian-West. It really is (when I look at it closely) the perfect shade for Kim – that beige pink shade that she rocks so well. This is such an on-trend colour as well and great for an everyday, pared-down but still glam AF look. The lipstick is enriched with some very interesting ingredients including orchid extracts, a secret antioxidant from the 'Lipstick Tree' and a blend of special waxes and light diffusing pigments. The pigment in the lipstick is quite nice too!
Charlotte Tilbury Eyeshadow Luxury Palette – The Dolce Vita
I love a mini eyeshadow palette because I find them really useful for travel. This quad eyeshadow palette from Charlotte Tilbury is really gorgeous – the shadows themselves have a lot of pigment in them and you can use them by themselves or alone to create a look. I also like that on the CT website it shows how these eyeshadows look on a range of skin tones so you can see how you might potentially look if you match your skin tone with the right model. The palette is meant to offer a 'desk to disco' solution and it's quite easy to create an intense eye make-up look with this in a heartbeat!
Charlotte Tilbury The Feline Flick – Quick Line Shodo Pen
I love the classic cat eye flick on the eye. I've been using it for awhile and it's the one look I think that suits EVERYONE. However a perfect flick may seem easy to achieve but it's not – there's always bumps along the way. I LOVE this Quick Line Shodo Pen because it is easy to use and stays put. The pen is meant to be as easy to use as a felt-tip pen and the design is based on the Japanese Shodo Pen that is used in calligraphy that creates these long elegant lines. I like that you get a lot of control with this pen so it's easier to create the cat-eye flick of your dreams.
Charlotte Tilbury Full Fat Lashes
I've actually been using the Charlotte Tilbury Full Fat Lashes Mascara (love this name) for awhile. The benefit of this mascara is that it creates very fluttery eyelashes. This product is a 5-in-1 mascara that works on curl, separation, volume, length and drama. I think what it does best if full fat flutter!
Charlotte Tilbury Instant Magic Facial Dry Sheet
This is kind of a genius creation. So if you have tried a regular sheet mask you will know that they usually come soaked in serum and you apply the wet sheet mask to your face. You often have to lie down or sit still so the mask doesn't fall off your face and also it's usually sopping wet. Well this new mask from Charlotte Tilbury, called the Instant Magic Facial Dry Sheet, is a dry sheet mask – the first of its kind.
To use it you just have take it out of the package, hook it around your ears so it doesn't fall off and then massage your face over the top of the mask for a minute to activate it and then pretty much go about your day for 15 minutes while it works. I did exactly as instructed and left the mask on for 15 minutes. The mask aims to reduce wrinkles, smooth, brighten, lift and hydrate exactly where your skin needs it with targeted actives that drip feed into your skin over the next 8 hours after you take off the mask. And please excuse the 'Jason' look below but this is what the mask looks like – but who ever said the road to beauty was easy?
You can use the same mask up to 3 times so you just need to put it back in its resealable pouch and then store it until the next time. It's quite a convenient quick fix and when I took the mask off 15 minutes later my skin did look smoother and more even-toned. This is a really great mask to use on-the-go with no mess whatsoever. You just need to make sure to apply it to cleansed skin – that's all. The mask contains actives, peptides, oils and butters that smooth and even out the skin. Probably that was what I noticed the most – was the smoothing factor. I also like that you can reuse each mask up to 3 times (4x in a pack). This product is available to buy at John Lewis – you can get free delivery if you order the pack of 6!
I hope you enjoyed my Charlotte Tilbury make-up and beauty haul! Don't forget to follow me on Instagram @beautyrocksblog for all my latest adventures in beautyland.
Shop the post here: