I know I'm certainly a girl on the go so this month's Glossybox theme really resonated with me! I am most definitely always on the run, always trying to catch up and always trying to look my best while doing it (although not always successful). If you have a look in my bag you will see a whole hell of a lot of make-up and beauty products stashed away for touch ups while running around town. This is the whole theme of this month's Glossybox Girl On The Go Beauty Box – products which are perfect for the woman on-the-go. Also on the subject of beauty boxes I have a very VERY exciting surprise to announce next week about a project that I've been working on lately and can't wait to tell you about. But first let's see what's inside the Girl On The Go box!
My favourite product in the box is the Rodial Glamolash Mascara. I love mascaras and there are a lot out there to choose from! This formula is long-wear but keeps the lashes soft. You know when you wear a mascara and your lashes feel super stiff, like cardboard? Well this mascara doesn't do that if and if you like soft fluttery lashes then this one's for you. The convenient travel size makes it easy to stash in the bag as well.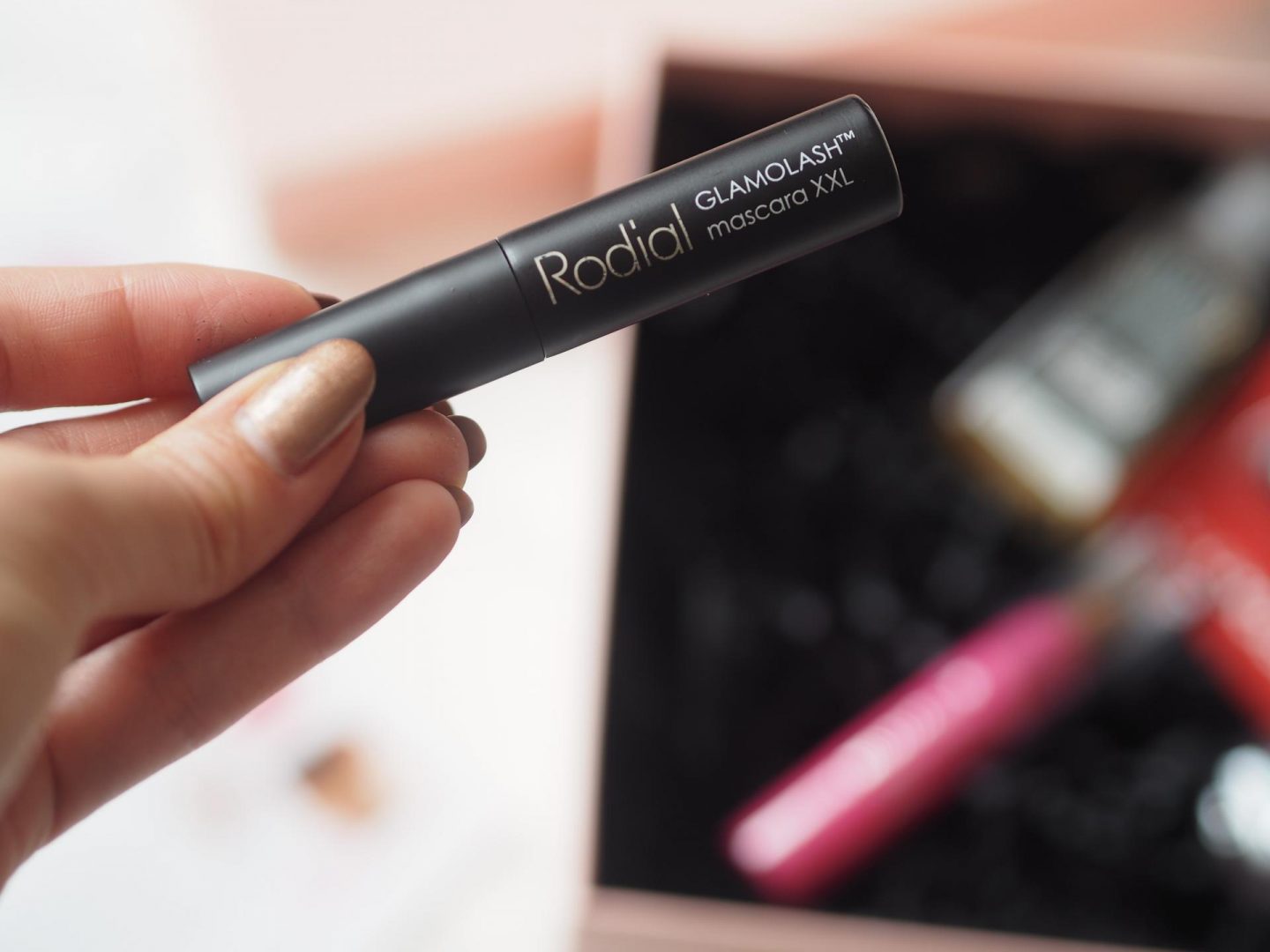 My hair is super fine so this Elgon Deliwash Cleansing Conditioner just might be perfect for me. It's a 2-in-1 product that combines the cleansing action of a shampoo with the hydration of a conditioner. So yes 2-in-1 is back! I remember using a Pantene Pro-V 2-in-1 shampoo/conditioner back in the day and loved it. So glad this one has arrived and is particularly great for fine hair.
Need to make like Kim K-West and contour on-the-go? Well Glossybox have included the The Model Co Contour Stick which makes it pretty foolproof to contour. You may even be able to do this on the bus with this product – it's so easy to use. The formula glides on quite easily and then you just need to blend it in.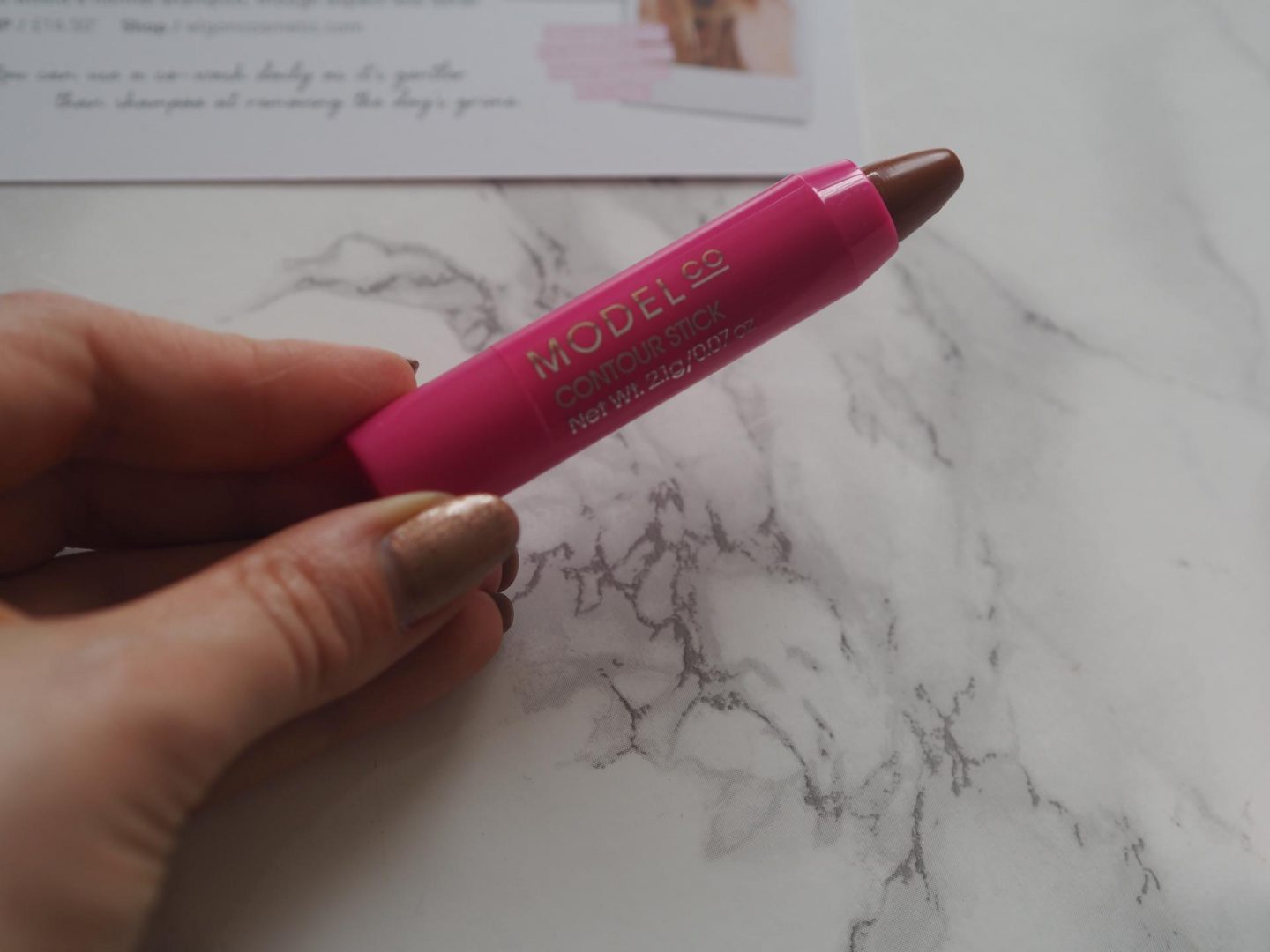 Okay I'm a little bit obsessed with make-up brushes and I don't think I've yet seen a 2-in-1 make-up brush until this Sport FX Double Time Brush Buffer + Powder Duo appeared in my hand. This is bloody brilliant! Like the 2-in-1 shampoo/conditioner – this brush does two things with one product. It works with creams, liquids and powders with the buffer end of the brush designed to blend in foundations and BB creams, while the tapered end is perfect for applying powders. Add this one to your gym kit.
And last but not least one thing I ALWAYS carry around in my bag is an antibacterial gel. This Merci Handy Love & Hand Cleansing Gel in Black Vanilla is a fab little product to stash in the handbag. A real handbag hero, if you will. You just can't go around these days without antibacterial gel. I shudder to think of the germs on the tube when you touch anything or hold onto the handrails. Yuck. So trust me when I say I'm a huge fan of the antibacterial gel!
Hope you enjoyed this month's Glossybox unboxing and don't forget to tune in next week to my exciting news! Make sure you are following me on Instagram @beautyrocksblog for the big reveal!
To find out more about Glossybox and to subscribe see HERE.