As you may know I am a Lookfantastic Beauty Ambassador and part of the lovely group called #TheBeautySet. However, I've been ordering from Lookfantastic long before I ever became an ambassador and using products from the site – they stock SO MANY brands! Literally the buyers for the site are super savvy – you can find all the big names on the site to niche brands. I'm going to be doing monthly hauls from the site and testing and trying all sorts of products – some that I've always loved and others that are completely new to me! So I hope you enjoy reading my Lookfantastic beauty haul as much as I enjoy talking about it! Here are some of my favourites this month…
Bath & Body
Sometimes you just need to take a moment. And trust me when I say that moment gets better with the Mio Liquid Yoga Spray. I have THREE of these! One on my desk, one in my bag and one by my bedside. It smells heavenly and of all the space sprays and pillow mists I've tried – this one is the best. You can use it as a space spray for when you feel frazzled or spray it onto pulse points while travelling to calm or mist it across your pillow before going to bed. Honestly, this is what it says it is – liquid yoga for the mind. It calms and destresses with essential oils such as lemon, cypress, lavender, chamomile and mandarin among others. It's calming and uplifting at the same time. If you are someone who sometimes needs to take a moment this is highly recommended.
Mio Skin Tight Tightening Body Serum
It's nearly summer which means you will have to have a lot more skin on show, especially if you are planning any trips to anywhere warmer. I love the Mio Skin Tight Body Serum – again this is all about tightening those slightly wobbly bits and don't worry – we all have them. You can use this anywhere and yes, that means your boobs too! This serum repairs elasticity of the skin so you can use it on the areas of concern just after the shower on still slightly damp skin. Once it sinks in follow with your favourite moisturiser (the Mio A Cream is preferred).
I've been slathering this on nightly for the last week and I absolutely love it. It's a rich cream but sinks in quickly so I don't feel like its greasy at all. It basically just gives skin what it needs to be supple and firm in the form of essential fatty acids. This would be a great product to take on a beach holiday if you plan on baring a lot of flesh because it does make skin feel softer and firmer. It even contains Hyaluronic Acid to maintain plump skin so if you do have slack skin or have been travelling a lot this is a goodie!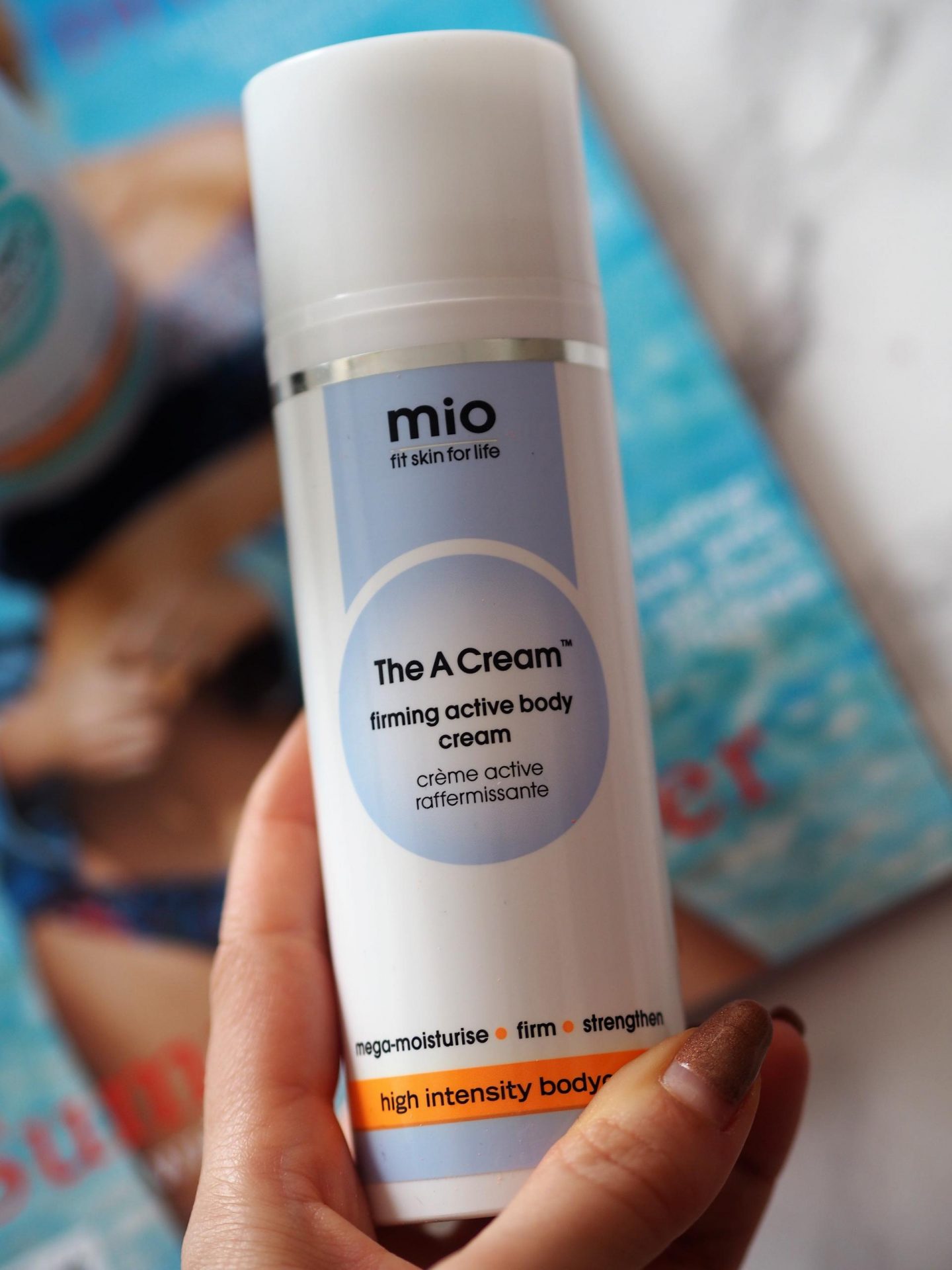 Mio Liquid Yoga Restorative Bath Soak
Oh a bath…what a dream. I love a bath and will choose them over a shower any day. There is something about a good soak that is so restorative and calming – it's the perfect end to a frazzled day. And you know about my love for Mio Liquid Yoga so imagine my joy when I discovered that Liquid Yoga came in a bath form? YAS! I get quite tired and achy muscles often so I love bath soaks that are aimed at relaxing and soothing the body. This one certainly does and it smells amazing – again, think liquid yoga in a bottle. This soak has the essential oils to soothe your mind and spirit and mineral salts to soothe your muscles. I can think of nothing better. In fact, I'll be right back. Just going to run a bath.
I tend to get really dry lips and need a good balm to use at night before going to bed. I also like to carry balms with me on the plane when I travel because the plane air does to my skin what I imagine spending a week in the desert would to the body. Fellow passengers are often interested in my plane rituals and ask me what I'm using. A good one for the plane is the Mama Mio Superstar in a Jar – this is a multi-purpose balm that you can use to hydrate lips, knees, ankles (mine are always dry) and elbows. All those parts that need a little extra help from us more precisely. This is a balm to oil texture so it feels heavenly and you can really massage it in. Another tip? You can also use this for dry cuticles! With Baobab Oil, Beeswax, Almond, Camellia Seed and Olive Oils you can be sure you are getting a true hit of moisture.
Hair
Wella Professionals Fusion Shampoo
As soon as I got this shampoo I put it in the shower and started using it that very day because I saw the word SILK. Who doesn't want silky hair? This shampoo targets damaged hair and has 'Silksteel Fusion' technology which combines silk amino acids and micronized lipids to repair hair but also protect against breakage. My hair tends to fall out and shed quite easily so anything that can help prevent that gets extra points from me. And I'm here to report that my hair has been feeling quite silky indeed.
Wella Professionals Fusion Conditioner
To partner with the Wella Fusion Shampoo there is the Fusion Conditioner. This is inspired by resilient spider silk which is one of the strongest fibres in nature. My hair definitely feels silky from using this and incredibly soft.
Wella Professional Intense Repair Mask
And when you feel like you just need a little bit of extra love for the hair then the Wella Professional Intense Repair Mask will do the trick. You know when you have been heat styling your hair a little bit too much or you've been on a holiday in the sun and your hair feels fried? Well that's probably the time you will want to break out this little bad boy. Or use it once a week to maintain strands – your hair will thank you!
I'm a big fan of tousled beach waves that look effortless. So this Redken No Blow Dry Airy Cream is right down my alley because I'm all about the no-product look! This is also specially formulated for us fine-haired or thin-haired girls (yay!) and it smooths while at the same time adding body and volume. And probably the best thing this cream does is cut back on drying time. Simply apply it to damp locks and it will optimise your drying time which means more time for more important things!
Nioxin Instant Fullness Dry Cleanser
As I said I have fine hair so anything that can add in some extra body or volume is just 'fine' by me. I've been wanting to try something from Nioxin for awhile now and it has finally come in the form of the Nioxin Instant Fullness Dry Cleanser which is a dry shampoo. I have to have dry shampoos and this one feels like a dry shampoo plus hairspray in that it does give instant body. It contains fusion fibril technology that actually makes hair fuller. I sprayed it around my hairline which can look a little sparse and was pleasantly pleased.
Make-up & Tools
Vincent Longo La Bella Luce Highlighter Flora
Well I do believe this is just about the prettiest highlighter I've ever seen! And it's the perfect season for a light dusting of highlighter don't you think? A sweep across the cheeks with minimal make-up does a lot to lift the face and this one from Vincent Longo is a multi-tonal highlighter infused with luminescent pearls – think glow girl. I think highlighter, when used correctly can give you a lovely naked skin kind of glow. Remember you don't want to be able to see it from space! The secret is to enhance your actual skin with a natural glow.
Vincent Longo Pressed Powder Light #2
There is something about powder that just sets the final tone right? I've recently changed up my powder routine and now just use it on my t-zone for a more natural look. This pressed powder from Vincent Longo is perfectly matte so if you are worried about any shine this powder will zap it straight away. I lightly press this on a shiny forehead, sides of nose and chin and that's about it! The powder is also sheer so it doesn't give a caky look.
Vincent Longo Crème Gel Eyeliner in Felis Brown
Oh I love a crème gel eyeliner! You literally just need a brush but it makes it so much easier to do a cat flick. This one by Vincent Longo is waterproof and smudge-proof so you can ensure those feline eyes stay put the whole day. Another tip? It also doubles as an eyeshadow – simply dab a bit onto the eyelid and blend in – easy peasy.
Brushworks Combination Tweezer Set
These literally arrived just as I had lost my Tweezerman so I was ECSTATIC to see them! This is a brilliant set with four Tweezers – all with a different angled tip from slanted, straight or pointed. So it really depends on what kind of tweezers you like but since there are four different types in this set you will find the one you want! I personally like the slanted tips for pulling stubborn hairs but the preferred tweezer tip question is like asking people if they prefer coffee or tea. The style completely depends on the person (or the hair)!
This brush is all about the highlighting and contouring – it's a double-ended brush that you can use to apply either (or both) cream and powder products. I love a double-ended brush – they are great for on-the-go if you don't want to carry too much and this will go perfectly with the Vincent Longo highlighter that I spoke about earlier!
Skincare
Antonia Burrell Mask Supreme 7-In-1
I was so excited to see this mask as it looks so well…promising! I mean 7-in-1 – does it get much better? But yes indeed, this mask certainly works on 7 different actions including hydrate, smoothen, purify, repair, clarify, illuminate, protect and perfect. The great thing about this mask is that it's 100% natural. I've been wanting to try Antonia Burrell's range for a long time so I'm glad that I finally got the chance. This mask goes on quite comfortably – much like a cream and it's nice because you can't even tell you are wearing a mask. And you can choose to leave this on for 10 minutes or for longer and even overnight! I find this mask super exciting because it contains a potent micro-algae that has been showing to slow ageing by 64% and even the skin tone by 42%! This is serious people! It also contains an organic blend of Amazonian Bio-Actives that reduces blemishes by 72%. Seriously where has this mask been my whole life? So another exciting thing about this mask is that it has Oleosome technology which means the actives are time released into the skin, ensuring a constant stream of goodness. And again you can just leave this on as it doesn't even look like you are wearing a mask so it won't leave any residue on a pillow. I'm very very excited to have this as a new weapon in my skincare routine and aiming to use it 3 times a week.
Jurlique Herbal Recovery Antioxidant Gel Mask
I'm a big fan of this Aussie brand from Adelaide and I'm also a big fan of masks in general so this Herbal Recovery Antioxidant Gel Mask is right down my alley. I had not tried a mask from Jurlique previously so this one was a refreshing one to try. It infuses the skin with antioxidants while also working to effectively exfoliate and sweep away dead skin cells. I've found this is so important to do and have been moving away from scrubs and more towards fruit acids, lactic acid and glycolic acid to do the job. And it has been working wonders! My skin felt refreshed after using this and brighter too. Simply leave on for ten minutes and then rinse away.
Jurlique Rose Moisture Plus Moisturising Lotion
I love the Jurlique Rose skincare products so was looking forward to trying the Moisture Plus Moisturising Lotion which I had never tried before. This is a nice lightweight cream that hydrates brilliantly and is perfect for the spring season because the scent alone is uplifting. The cream contains vitamins, green tea extracts and soy proteins which fight against the environmental damage to the skin so this is great for urban skin exposed to pollutants daily. City life = stress! So anything you can do to combat it is fine by me.
What are your favourite beauty products for spring? I hope you enjoyed this beauty haul! Don't forget to follow me on Instagram @beautyrocksblog for all my latest adventures!
Shop the post here: