When the seasons change over so should your skincare. Skin needs a lot of moisture in the summer just like in any other season but we need lighter formulas that sink in quickly and don't feel heavy. We also need to protect our skin from the sun – this is the most important thing of all! Here are a few of my favourite summer skin products with the aim to help you get that glow!
Dermalogica Intensive Moisture Balance
Sometimes my skin needs a good long thirsty drink. If your skin is like mine and feels dehydrated (remember oily skin can also be dehydrated) then I LOVE this Dermalogica Intensive Moisture Balance. In fact, I've been a fan of the brand for a very long time for their science-led formulas that really do work. This cream you can use day or night and delivers moisture via a liposomal delivery system (fancy huh?) and is packed full of antioxidants to prevent against free radical damage. So not only does it rehydrate it also protects. Great for city skin too.
Kiehl's Pure Vitality Skin Renewing Cream
I'm always interested in any skincare ingredient from Asia and the Kiehl's Pure Vitality Skin Renewing Cream uses Red Ginseng Root in it as a key ingredient. Ginseng has been used in Korea for hundreds of years as a vital ingredient in cooking (known for its ability to relieve fatigue and promote circulation and vitality). It's also taken as a supplement to increase energy and to improve health overall and recently it's been popping up in skincare as well – known to have the same energising effect on the skin. This cream is actually 99.6% naturally derived which is amazing so for all the green beauty buyers out there listen up! The Pure Vitality Skin Renewing Cream also has Manuka Honey from New Zealand which has been shown to be good for skin as well – ever seen those YouTube videos of Manuka Honey mask applications? This cream is great for tired-looking skin and will definitely help you get that perky glow back!
Cloud 9 Skin Solutions Good Night Deep Nourishing Sleep Mask
I'm a big sleeper – I just love it. I am one of those people that simply cannot get by with 6 hours of sleep or less a night. I need 8 and ideally 9-10! Sleep is where our bodies and skin restore and repair themselves. It's a tough world out there and sleep is so so important. It's also important for ageing so the more you sleep, the younger you may look! Cloud 9 Skin Solutions has just launched a Good Night Nourishing Sleep Mask that is an overnight mask to be applied when you are in dreamland. It works on dry skin and also on lessening the appearance of fine lines and wrinkles with a blend of actives, antioxidants and botanical oils. It's nourishing and smoothing and feels like a dream – really.
You can just apply this over clean dry skin on its own so it's also great if you are feeling particularly lazy with your skincare routine and want to skip the 5 steps (or 10 if you are Korean) of your bedtime skincare routine. Just apply it and go to sleep! My skin felt smoother in the morning after using this so it's a good time saver and also works well if your skin looks particularly tired. The aim is to have your skin looking so good for summer you don't even need to wear make-up – the summer skin dream!
Filorga UV Bronze Mist – Anti-Ageing Sun Mist
Now I was really excited to see this product arrive on my doorstep because it is the season to be tan! I've literally just started the self-tan again because I just feel so much better using it. Now this is one for the face and it not only enhances a natural tan but it also is a spray-on sunscreen. I love a mist because it's so easy to use and this one is brilliant. It's also anti-ageing with hyaluronic acid and micro-encapsulated glacier water to tone and hydrate (ahhh refreshing) and with SPF 50 you know you will be protected in the sun. I am prone to pigmentation now so I need to be careful in the sun. This product will definitely help!
L'Oreal Hydra Genius Aloe Water
Another product inspired by Asian skincare comes the newest product from L'Oreal – the Hydra Genius Aloe Water. Asian skincare tends to be more watery in texture and Asian women don't like heavy, rich creams – they prefer lighter, watery creams and essences that sink into skin quickly. This one is like a drink for the skin with aloe water and hyaluronic acid. It's good if your skin needs moisture and it's perfect for summer skin. My skin tends to be oily but very dehydrated and can tend to get a 'sunken' kind of look. Sort of like a dilapidated house when I get tired! The texture is very much inspired by the watery texture of Asian skincare and it really sinks in this way so it's great for the warmer weather.
I'm all about the kind of glow that comes from inside. For what you put inside your body definitely reflects outwardly. A new kind of supplement is now out there and it's all about getting your body back to an alkaline state. It's true that if your body is acidic then it's easier for disease to grow and take hold so it's important to eat alkaline foods and avoid foods that are too acidic. Dietox (did you read about my juice cleanse HERE?) have just launched a Dietox water which is another way to detox but without having to go through the whole juicing process which can be quite an intensive undertaking.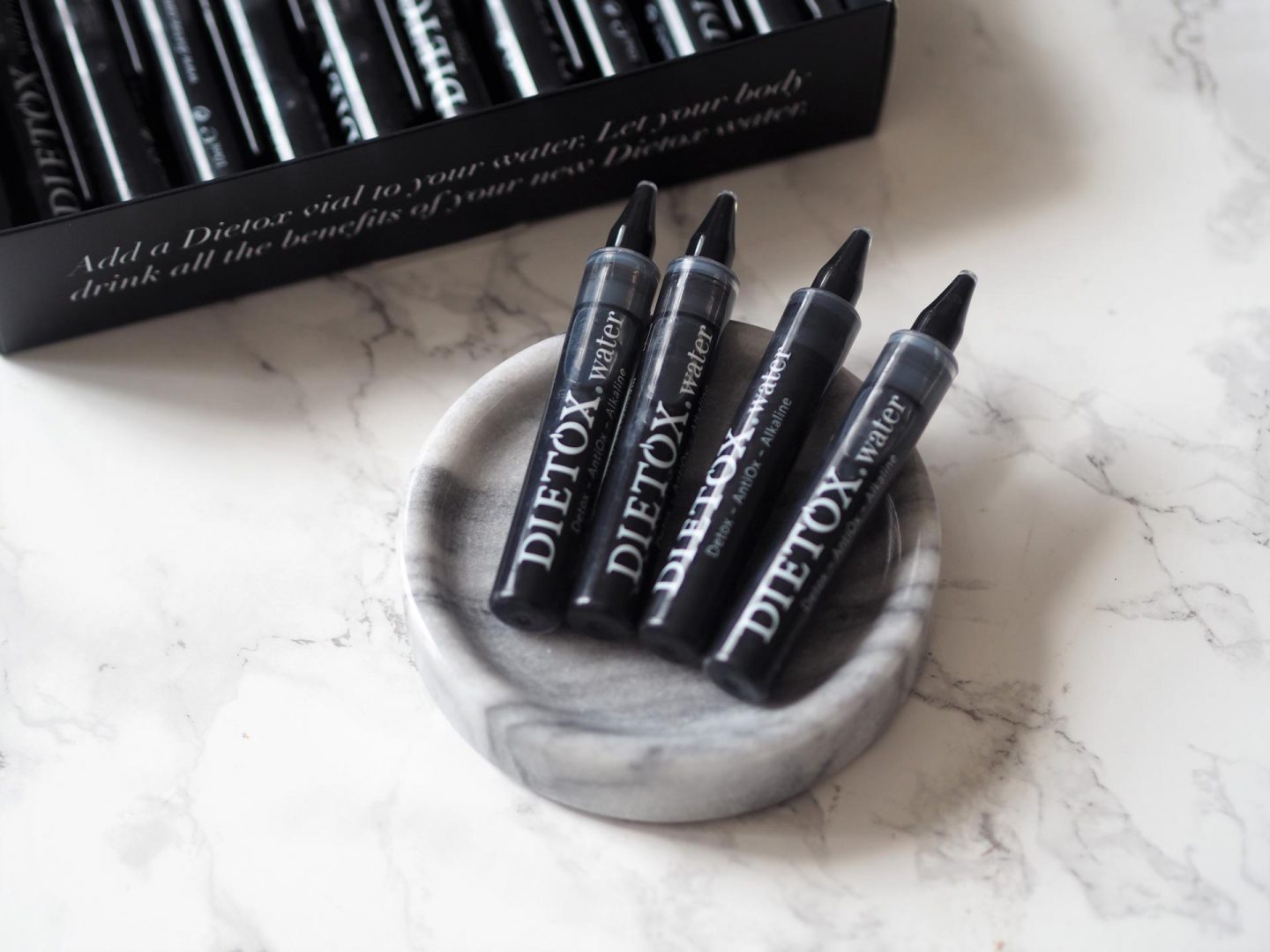 The Dietox water concept is really easy – all you have to do is add a vial to 500ml of water and it turns it black which is kind of fun. The solution contains plant extracts, vitamins, green tea and active carbon so it's really detoxing and also alkalising. The solution is not flavoured at all and it just tastes like water with a bit of a vitamin after-taste. The water is also rich in Potassium, Magnesium, Zinc and Vitamins B1 and B6 which is good for increasing energy. This is a very easy thing to inject into your daily life to improve your health and make your body more alkaline!
Almora Botanica Pick-Me-Up Shower Gel
A brand that has recently launched that I really like is Almora Botanica. This brand uses the ancient science of Ayurveda to make their products but with a modern twist. The ingredients are thoughtfully sourced from all over the world and the best of the best. The Almora Botanica Pick-Me-Up Shower Gel went straight into my shower this week due to the pick-me-up scent of carrot, rosemary and basil. Rosemary is a big ingredient right now in all things from gin to skincare and it's great for summer. The scent is apparently good for the brain and helps to focus. The rosemary and basil help to tone and energise and the scent is really lovely – it really does perk me up!
OMG seriously these are amazing! You know how when you apply your favourite clay mask that your nails and hands get covered in it? Well with the Eco Tools Facial Mask Mates it comes with a brush so you can literally apply your mask with a paint brush which is just so much more fun. This makes putting on a mask that much more fun and without the mess all over your hands as well. And also removing the mask got easier as well with the sponges – they remove everything plus exfoliate at the same time. A must-have if you are a serial masker like me.
Almora Botanica Fresh-Faced Renewing Face Scrub
I was really excited to try this product from Almora Botanica because I absolutely love an exfoliating scrub. In the summer less is more so I like a fresh-faced look. This one is a brightening one so it helps to refresh and smooth whilst lifting away those pesky dead skin cells. It contains almond oil (which I absolutely love) and Kashmiri Walnut to help polish and smooth the skin. My skin definitely felt smoother after this and it's a great product to add into your skincare routine. It also feels like a real treat on the skin.
What are your best tips for summer skin and for getting that glow back?
Don't forget to follow me on Instagram for all my latest adventures @beautyrocksblog and if you didn't know I've also got my own beauty box. My next box is SEOUL SISTER and is all about Korean beauty – you can sign up HERE! Each box is worth $65 and only costs $25 so you just can't lose!
Shop the post: