I feel like as a society we are finally clued up to making sure we wear sunscreen and protect our skin from the harsh rays of the sun. It's taken a few generations to do this however. Teens these days know the importance of sun protection much more than they did when I was a teen. I regularly baked in the sun without any care or thought of the damage I was inflicting on my skin. Or hair!
So now that we are finally clued up on the damage to the skin from the sun we need to get caught up in the fact that the sun also is equally damaging to hair. Your hair needs UV protection too! However UV protection for hair works different than SPF (which is only referred to when talking about the skin). There is no SPF protection in haircare – only UV protection as SPF refers to the skin and the reddening of the skin in the sun. It's also important if you colour your hair that you really have to look after it in the summer so your colour doesn't fade. And we all know that colouring your hair is NOT CHEAP!
And not only the UV rays can damage your hair but other common summer aggressors such as heat and chlorinated water hurt it. And yes, I'm sad to say it but salt water as well is another aggressor. And how many people out there actually use summer hair protective products? Well it turns out only about 75% – so we need to catch up!
A brand that I've always been a fan of (hello Elasticizer which was much loved by Audrey Hepburn) is Philip Kingsley and luckily they have just launched a Summer Solutions haircare range just for the summer. The brand has been around for awhile (60 years to be exact) so knows a thing or two about hair. Loved by celebrities around the world, the products focus on the health of the hair as well as appearance. These are just the kind of products I like because they do two things at once. I like my products to work hard for me!
So what's my hair type? Well, I've got fine hair that's also wavy. I tend to get oily roots and dry ends from dry air and hard water and the situation gets worse in the summer so I absolutely love the Elasticizer Coconut Breeze (a new scent!) as an overnight hair mask. You can also use this as a pre-shampoo treatment and leave on hair for 20 minutes before washing (better to put a towel on the hair because the heat helps the product sink in). The Coconut Breeze scent is inspired by a California coast and it really does take me there (I used to live in Malibu after all) and it works to give hair a good old drink with castor oil (good for hair growth), olive oil and glycerin as well as hydrolyzed elastin which improves hair strength. Recommended if your hair is feeling parched and great for maintenance too.
What if you are out and about on a sunny day? Do you still need to protect your hair? Why yes you do! For everyday protection there is the Philip Kingsley Sun Shield which is a mist that you can spray into dry hair which will protect against UV rays every day. I like to keep mine by the door so that I don't forget to spritz on my way out into the sun. It also helps protect against damage caused by salt water and chlorine so if you are going swimming you can also use this. But for everyday city life in the summer – this is brilliant to just spritz and go.
My favourite product in the range however is the Instant Beach. I love a salt spray usually for texturising and for creating the perfect beach waves for everyday but actually that salt spray is probably not the best for your hair because it's quite drying. So the Instant Beach does exactly what a salt spray does – WITHOUT THE SALT! I love this spray – I've got naturally wavy hair so this is perfect for that tousled beach look. It also conditions the hair with elastin and meadowfoam oil so won't dry the hair out like other styling products.
So how can you protect hair if you want to go for a dip in the pool? Well wear a swim cap obviously! But not the kind of swim cap you are thinking (which will totally cramp your style anyways let's be serious) but the Philip Kingsley Swimcap. Now this was originally launched in 1984 for the US Olympic synchronized swimming team and now it's baaaaack in the limelight with summer around the corner. This is a cream formula that you just apply to hair before you get in the sea or in a pool. It guards against chlorine, salt water and UV damage while hydrating your hair. And if you are a regular swimmer it will help to protect against blonde hair going green (not a nice look).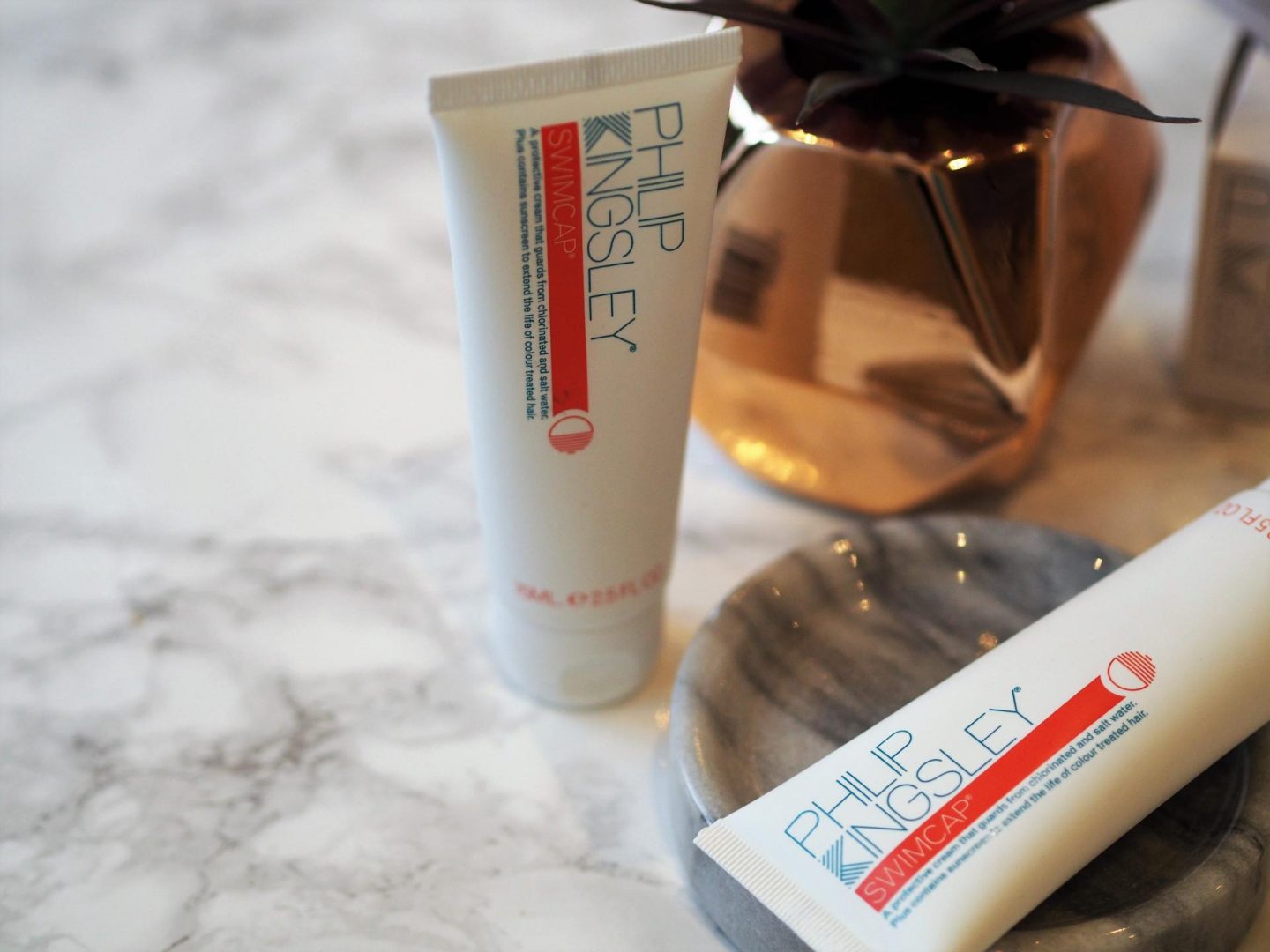 Okay so what do you do if you have been out in the sun and your scalp gets a little too much sun? We've all been there and it hurts! The scalp is one of those places that we miss out on protecting in the sun so if you do find that you get a scalp burn then the Philip Kingsley After-Sun Scalp Mask is brilliant at calming the scalp down and it's also great for sensitive skin. The product uses chamomile and aloe water (both known for their calming qualities) to soothe the scalp. I could have really done with this one summer when I got second degree burns from spending too much time on the beach in Chile with not much sun protection. My scalp was literally fried and it did not feel nice. Wishing I had had this product in my arsenal at that time! Will definitely be packing it for my summer travels.
And if you are using lots of product on the hair it's important to wash your hair regularly (probably you already do this though)! If you have fine hair like me and are looking for shampoos and conditioners that can help give body and volume to the hair then I've also recently tried both the Philip Kingsley Body Building Shampoo and also the Philip Kingsley Moisture Balancing Conditioner.
I love the Body Building Shampoo because of the consistency – it comes out like a lightweight gel and it's specifically meant for fine, limp or flyaway hair types. This lathers up amazingly in the shower and a little goes a long way. My hair felt light and bouncy after using this – it's fabulous for fine hair.
The Philip Kingsley Moisture Balancing Conditioner is also great for summer because it's a lightweight conditioner – it works on both natural and colour-treated hair and is great for wavy haired girls too! My hair felt lightweight, silky and smooth after using this. Great for summer because it doesn't weigh your hair down.
So I hope from this post that you will be inspired to protect your hair this summer with my summer hair care tips – trust me, it will thank you by the end of the summer!
The Philip Kingsley Summer Solutions launched in April 2017 and is available at HERE!
*This post was kindly sponsored by Philip Kingsley but as always, my opinions are my own and I've been using this brand for a long time!