The days get darker and you lose that glow. It happens to the best of us. However, if you aren't jet-setting off to Dubai or Thailand this winter here's the best luxe products to get your glow back. Trust me, you'll have people asking what you are doing to get that glow!
You Glow Girl: Luxe Products To Get Your Glow Back
Winter is coming. Meaning dull and dehydrated skin. However there is such a thing as a glow in a compact and it comes in the form of the By Terry Compact Expert Hybrid Setting Veil which is a highlighting powder with a touch of colour that gives the skin a bit of colour and glow. I like to think of this product as a highlighter, blusher and bronzer all in one. The compact is made up of two colours and to apply you simply need to swirl a brush over both and then apply to the places on the skin where light would hit naturally – tops of cheekbones, the tip of the nose, above the eyebrows, along the brow bone. This is a beautifully pigmented powder and looks natural on the skin as well.
The more glow the better I say. In the winter months it's easy to lose that dewy glow of summer so for me, I need all the help I can get. Age also plays a role with skin getting slacker, more pigmented and lose volume. I am a growing fan of Sensai, a brand which I've always loved since I lived in Japan for four years. It's luxe and the products are amazing but I say I'm a growing fan as every product I try gets better and better. The Glowing Base is one of them – it's a pearlescent primer from Sensai that you apply before foundation that gives your skin that radiant glow of summer. It also corrects uneven tone so perfect to use under foundation for an added radiance boost.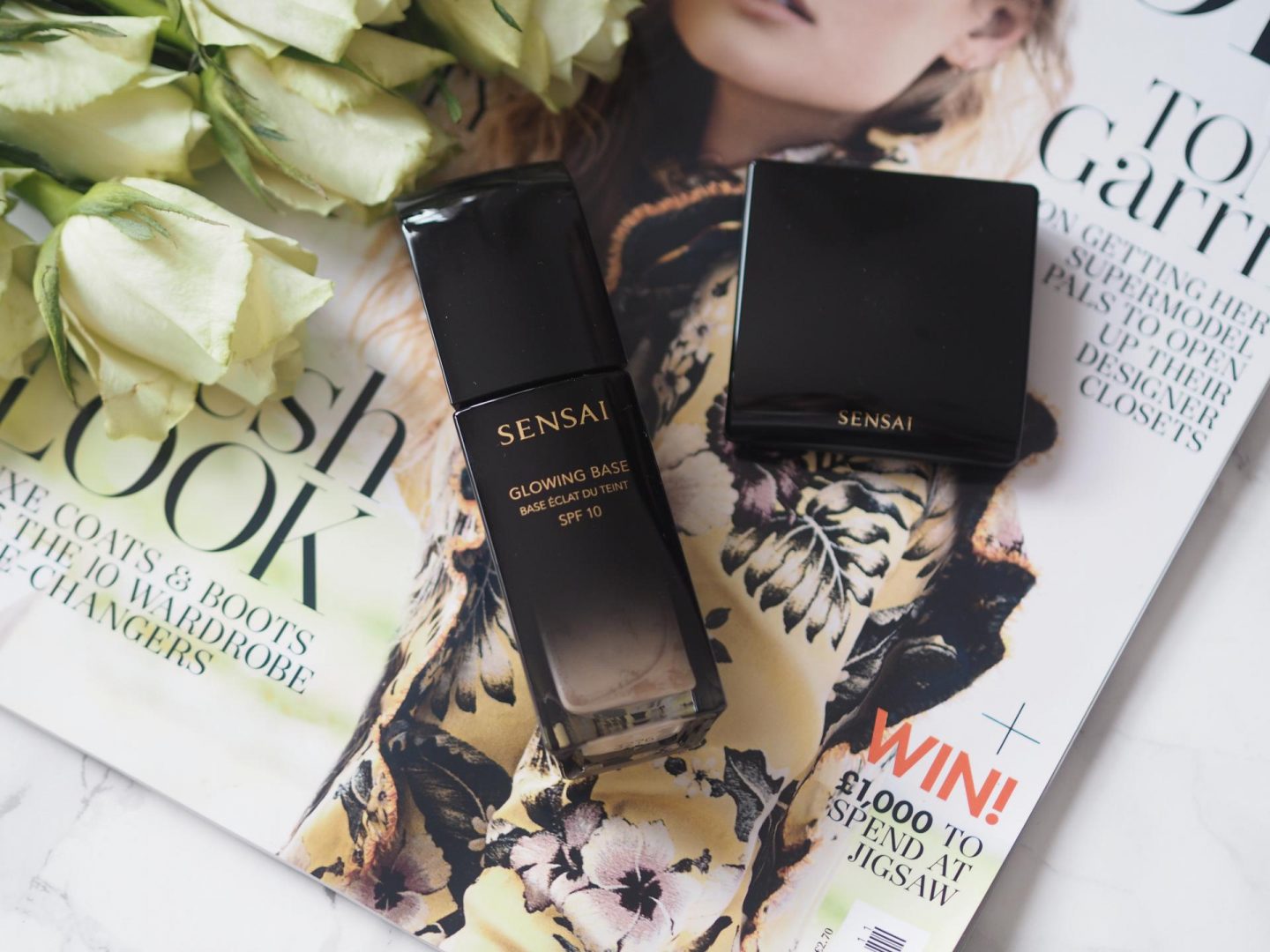 Again, another winner from Japanese luxe brand Sensai. This is an illuminator which you can use under your foundation for a natural glow or over your foundation as a highlighter. Whichever you choose you will be pleased by the result. This gives a lovely natural 'lit from within' kind of glow that is certainly worth paying for.
I'm always looking for a good concealer I can use to hide my undereye circles and I have been disappointed in the past by concealers that settle into lines and get cakey. Well I am happy to say that the Cosmetic A La Carte Secret Light Concealer + Eyelid Primer was really good at using on both undereye circles and on spots (woohoo!). I also love using this as an eyelid primer because I tend to be one of those people whose eyeshadows always crease. I use a lot of moisturiser so my eyelids can be oily and make-up can slide off quite easily. I found that using this product as a primer really helped to keep my eyeshadow in place all day!
You really can't go wrong with By Terry products and the By Terry Stylo-Expert Click Stick is no different. It blends in like a dream and the shape of the applicator makes it particularly easy to hone in on the dark circles so if you have quite a few late nights that need to be hidden then this is a great product. You can also of course use it to cover spots but I like it for dark-circles the best!
Products Featured – Shop The Post Here
By Terry Compact Expert Hybrid Setting Veil (Colour 5. Amber Light)
Cosmetic A La Carte Secret Light Concealer + Eyelid Primer
By Terry Stylo Expert Click Stick Hybrid Foundation Concealer (colour 1. Rosy Light)
I hope you enjoyed my post on the best luxe products to get your glow back. What do you do to get that glow?
Don't forget to follow me on Instagram @beautyrocksblog for all my latest adventures.