Did you know my first Beauty Rocks beauty box was all about Japanese beauty? I just wanted to say thank you to all of you who have subscribed to my beauty box – it's been so fun! I actually realised I never did an unboxing of my first box, which was called Tokyo Love and is an ode to Japanese beauty. Why? Well, if you hadn't heard, Asian beauty is BIG right now and after living in Japan for four years, I wanted to share my favourite and top-trending Japanese beauty products with YOU!
From cult classic DHC (check out the mascara in the box that is infused with new-age technology that allows the mascara to come off without makeup remover) to the fun, quirky, and hard-to-find Japanese brand Majolica Majorca – I've got them all here. I was really proud of this box because it was my first ever so it's a bit like my firstborn. So let's see what's inside!
Yumeguri Hot Spring Bath Powder
The Japanese are famed for their onsen, in other words, hot springs. The Japanese LOVE hot springs and Japan is full of them from top to bottom. The onsen is one of the Japanese women's best kept secrets – taking in the beautifying waters of the hot spring keeps your skin looking young for longer (trust me, I asked around). And this powder will certainly transform your bath into a Japanese hot spring.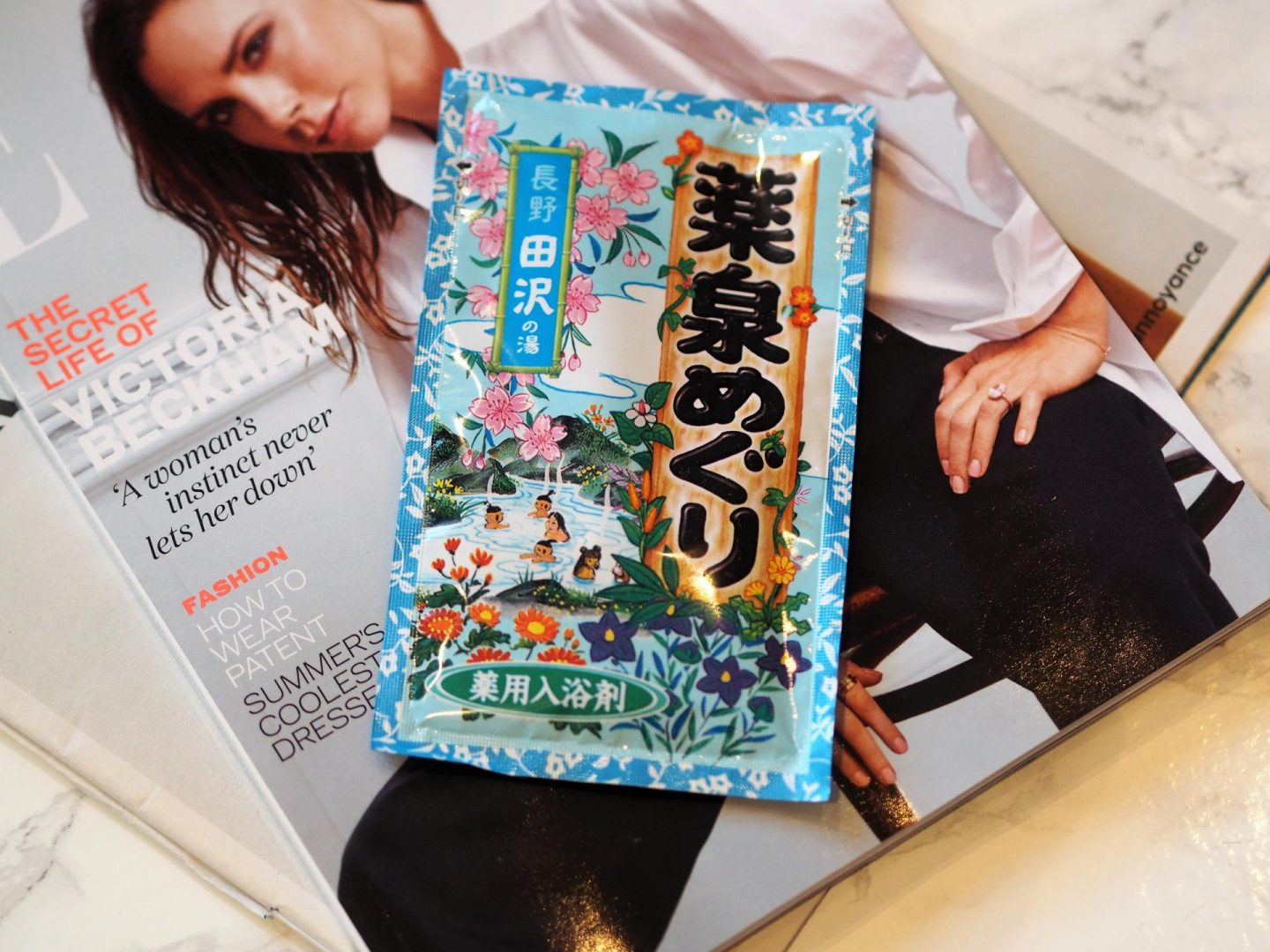 Kokubo – Face Lifting Roller
Another Japanese beauty secret? Shiatsu. Shiatsu is a pressure point massage and it can be done on the body or the face. You won't know just how good this tool feels on the face until you have used it. Then you will wonder how you lived without it so long! Who needs Botox when you can relax your frown lines with shiatsu?
DHC Perfect Pro Liquid Eyeliner
You can't hang out in Tokyo without eyeliner, especially in Harajuku. So I've included a fabulous long-wear eyeliner that will have you partying in Shibuya until the early hours of the morning – or wherever you are! Use it to create the perfect cat eye flick that won't smudge or fade away.
DHC Perfect Pro Double Protection Mascara
This mascara is from the cult-classic best-selling brand in Japan, DHC, who first rose to fame with their Deep Cleansing Oil. This mascara has a water-resistant tube-technology formula that gives serious length. And the tube technology means you can literally slide this mascara right off with warm water and gentle pressure. Genius? I think so. Panda eyes – be gone!
Majolica Majorca Honey Pump Gloss
Meet the super-cool little sister brand of Shiseido from Japan! I had to put this in the box simply because it is EXTREMELY hard to find outside of Asia. Think the Anna Sui of Japan and you pretty much hit the nail on the head. This Honey Pump Gloss will plump and perfect for the perfect pout!
Have you ever tried any Japanese beauty products? If so what did you think?
Don't forget to follow me on Instagram @beautyrockblog for all my latest adventures!