So…how to get filtered skin in real life –the kind you see with a filter on Instagram that looks so flawless? Well it takes some clever products for sure and I always say that you have to take care of your canvas (your skin) first. But there is make-up for flawless skin too and you can semi-fake good skin with some clever make-up. Here are some of my favourite make-up for flawless skin products for that filtered skin kind of look.
FACE
INIKA Certified Organic Pure Primer
Before you go full out, prep the skin with primer. It really does make a difference. I love the INIKA Certified Organic Pure Primer which has hyaluronic acid to smooth and hydrate the skin before applying make-up. The primer has 81% certified organic ingredients so it's good for skin too.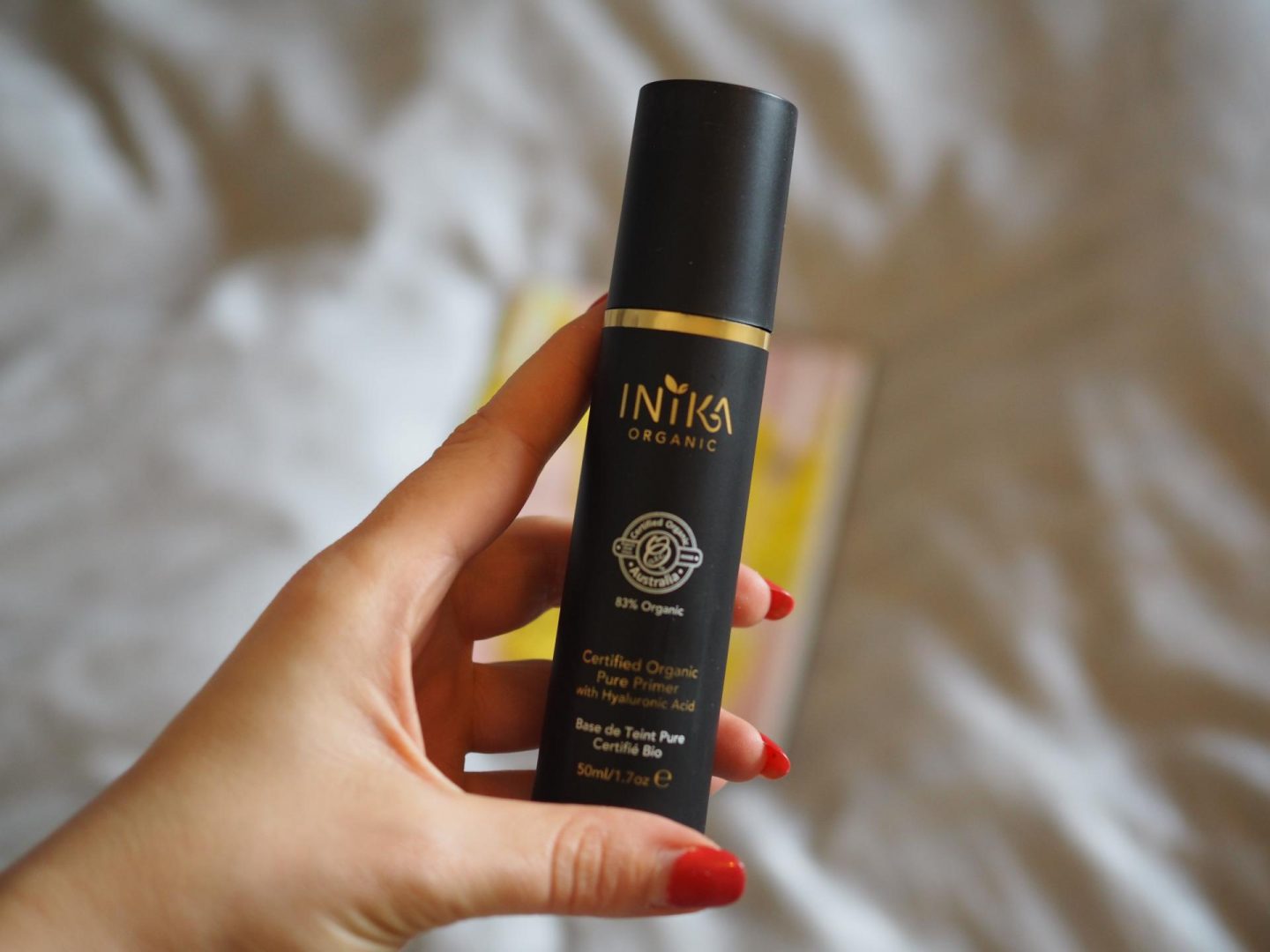 Any make-up artist will tell you that you can't get flawless make-up without a proper brush set. I'm like a magpie when it comes to make-up brushes. The Luxie Complete Face Set comes with 8 brushes so you really have everything covered with this one – the eyes, the lips, the face and the brows. My favourite brushes in the set? The Pro Precision Face Brush (great for blending make-up in hard-to-reach areas) and also Eye Shading Eye Brush to blend in eyeshadow. A great eyeshadow brush can do wonders for an eyeshadow and I would highly recommend trying one out so you can see what a difference it makes.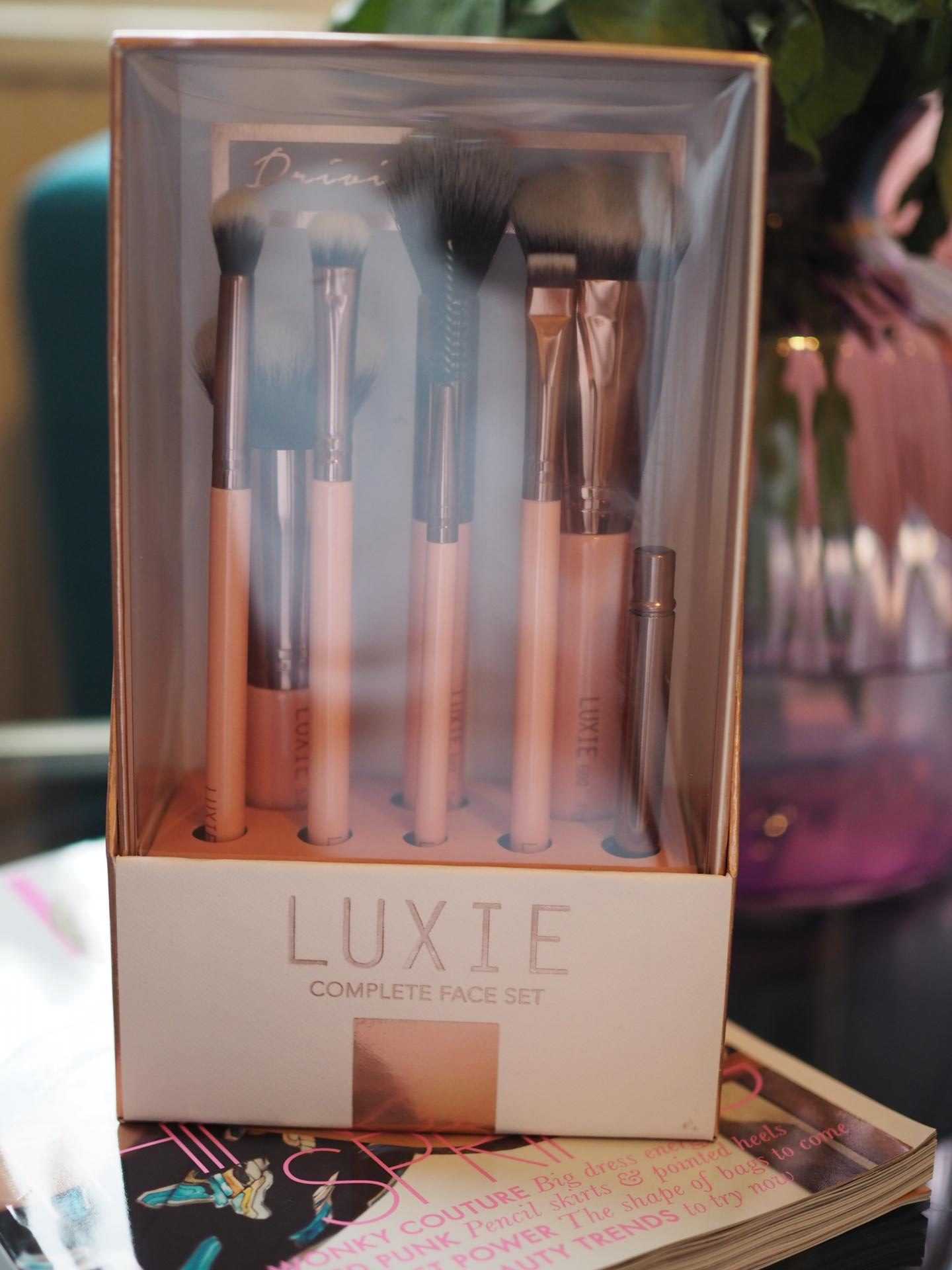 Estee Lauder Double Wear Foundation
There's a reason why this is a best-selling foundation. It STAYS put. So if you are wanting full-coverage and a matte finish then the Estee Lauder Double Wear Foundation is the one for you. It's pretty much guaranteed to give a flawless finish and full-coverage wear. It also has SPF 10 in it for extra protection from the sun but I would recommend a higher SPF in your skincare. In terms of make-up for flawless skin – this is the one!
Stila Lingerie Souffle Skin Perfecting Colour
I'm very picky about my foundations and I absolutely LOVE the new Stila Lingerie Soufflé Skin Perfecting Colour foundation. It's actually a tinted moisturiser which I love even more because I'm not into overly heavy coverage on my skin. It's whipped and lightweight and it literally melts onto the skin, covering imperfections but not overdoing it – so the end result still looks like your own skin. I love the packaging too – it's the perfect shelfie or vanity table addition.
You should know by now I'm a fan of the fresh-faced and rosy, just-pinched cheeks kind of look. I prefer cream blushes over powders because they keep the skin dewy and blend better than a powder. My new favourite cream blush is from a gorgeous brand called Kjaer Weis who use the most beautiful, covetable packaging with a view to simply order refills when you run out of your product. The products come in beautiful compacts that you would never throw away which is more environmentally-friendly in the long run. The products are completely natural and organic too – the blusher uses castor seed, beeswax and jojoba seed oils to make a beautiful creamy formula that blends perfectly on the skin. So if you are looking for great organic make-up which is both luxurious and amazing quality then Kjaer Weis is a perfect splurge.
Fenty Beauty Pro Filt'r Setting Powder (Butter)
I'm getting back into my powders lately as there was a time when I wasn't using them at all but sometimes too dewy can look borderline oily so here I'm back to the powders again! When it comes to make-up for flawless skin, I love a loose powder so I can be really targeted with the application and how much I'm actually applying to my face. The new Fenty Beauty Pro Filt'r Setting Powder (my colour match is Butter) is a dream to use because it's so silky and fine so it doesn't leave a cakey look which I really don't like. I'm all about the glow and I find this tends to just mask 'overshine' instead of the dewy look. There are also 8 shades of powder to choose from to suit all skin tones.
Juice Beauty Phyto Pigments Flawless Finishing Powder
Again if you are really looking for that flawless finish then a powder will have to be your final step in your application for the face. The Juice Beauty powder which is specifically Flawless Finishing Powder is just that – the powder is super fine so it really does give a gorgeous finish to the skin with that filtered effect we all so desire. It also contains glycerine so it won't dry out the skin!
LIPS
Project Lip Matte Plumping Primer
Filtered, flawless skin and plump lips seem to go hand-in-hand these days. Plump lips seem to be a thang at the moment and I do like them naturally plump but not too plump. If you want to achieve plumper-looking lips naturally then the Project Matte Plumping Primer is a good choice. It tingles upon application but that just means it's doing its job. What it does is stimulate the collagen in your skin and also infusing your lips with a moisture boost to plump them naturally. Apply first and then wait for it to do its magic before applying your favourite lip product for fuller-looking lips.
NYX Lingerie Shimmer Gloss in Honeymoon
The NYX Lingerie Shimmer Gloss in Honeymoon is the perfect product to put on after using the Project Lip Matte Plumping Primer. It's got a shimmery, glossy finish so fuller lips can also be faked with this product as the gloss and sheen make your lips look plumper.
Lime Crime Wet Cherry Ultra Shiny Lip Gloss
Another lip product you could use for fuller-looking lips is the Lime Crime Wet Cherry Ultra Shiny Lip Gloss. There's something about a gloss that really makes lips appear fuller and plumper so if you do want fuller-looking lips to go along with that filtered and flawless skin effect, a gloss is a great pick. This one also tastes like cherry so it's a yes from me.
EYES
Diego Dalla Palma Nel Blu Dipinto di Blu
Well, this is probably the prettiest palette I've ever seen with Sicilian-inspired embroidery on the outside. Blue is in for the eyes at the moment so the Diego Dalla Palma Nel Blu Dipinto di Blu palette is the perfect palette to use to keep on trend. The palette contains four eyeshadows to create your blue-toned look and you can use the shadows alone or together to create the look. I always think a dramatic eye goes hand-in-hand with that filtered, flawless skin look from Instagram and these colours are stunning! The shadows are powder to cream meaning they blend beautifully – you won't be disappointed.
Diego Dalla Palma Nuda Eyeshadow Palette
I love watching Instagram make-up tutorials and I'm always wowed by how much a dramatic eye look can change your entire face. The Diego Dalla Palma Nuda Eyeshadow Palette has some incredible shades that are inspired by the earth's colours. There are a variety of matte and metallic finishes and I love a shimmery finish to draw attention to the eye. Here is where you could really create a dramatic eye to go along with that filtered skin look. There are 12 shadows in this palette and I would say this one is more for your everyday look.
For a dramatic eye you need LASHINGS of mascara and one I like right now is the INIKA Long Lash Vegan Mascara in Black. The formula is super silky so the brush just glides through lashes like air. The formula contains Vitamin E, Magnolia Bark Extract and Sun Flower Oil to help condition at the same time. I love a multi-tasking product so this is another yes from me.
Diego Dalla Palma Stay on Me Eye Liner
You can't skip the liner if you want a dramatic eye look and the Diego Dalla Palma Stay on Me Eye Liner is water-resistant meaning it lasts through all the drama of the day. It's super creamy so easy to blend if you are doing a smokey eye or just want a slick of liner on the edge of the eye.
BROWS
HD Brows Brow Definer in Smoke
HD Brows have some incredible brow products and I use several of them already. A recent one I've gotten ahold of is the Brow Definer in Smoke. You can use this pencil to create an illusion of brow hair or to just fill in gaps. I never leave home without my eyebrows, flawless face or not so this is definitely one to add to your make-up kit.
What are your favourite make-up for flawless skin go-to products?
Want to read more? Read all about the best eyeshadow palettes for 2019 – one of my most popular blog posts ever!
Don't forget to follow me on Instagram @beautyrocksblog for all my latest adventures.
*post contains affiliate links/press samples (all opinions my own as always)