What if I told you that you didn't have to travel that far outside of London to reach beautiful, sandy beaches, eat fresh seafood and spend idyllic nights on a harbour. That you could go paddle boarding, rent a beach hut for the day and swim in the sea all weekend. Sounds blissful right? Well if you are looking for the best beach holidays in the UK, a quick seaside getaway from London or things to do in Bournemouth then you have reached the right place!
I love a good beach getaway like everyone else and I love spending time outside. Living in the concrete jungle of London you can really lose touch with nature. I think it's so important to book mini trips outside the city to get you off the concrete and onto the grass or sand.
I recently visited Bournemouth, Poole and Christchurch on a whistle-stop tour recently and I can't tell you how lovely all of these places were – each of them ticking different boxes for me. I was also surprised to hear when coming back to London just how many people had NOT been to any of those places. I think when you live in London it's easy to catch a 2-hour flight to Spain so people tend to fly off to Ibiza or Mallorca in the summer but actually you can simply hop on a train from Waterloo to Bournemouth for the weekend, with a lot less stress (think no immigration queues or bumpy flights).
My fellow blogger and friend Mona and I decided to do just that last weekend. Fortunately, the British weather was on our side and looking particularly glorious so we headed out of London on a direct train from Waterloo to Christchurch where we were booked into the Christchurch Harbour Hotel & Spa for two nights. The hotel is only about a 10-minute taxi ride from Christchurch station (I used United Taxis who were super prompt and reliable) so it's easy to find from the station.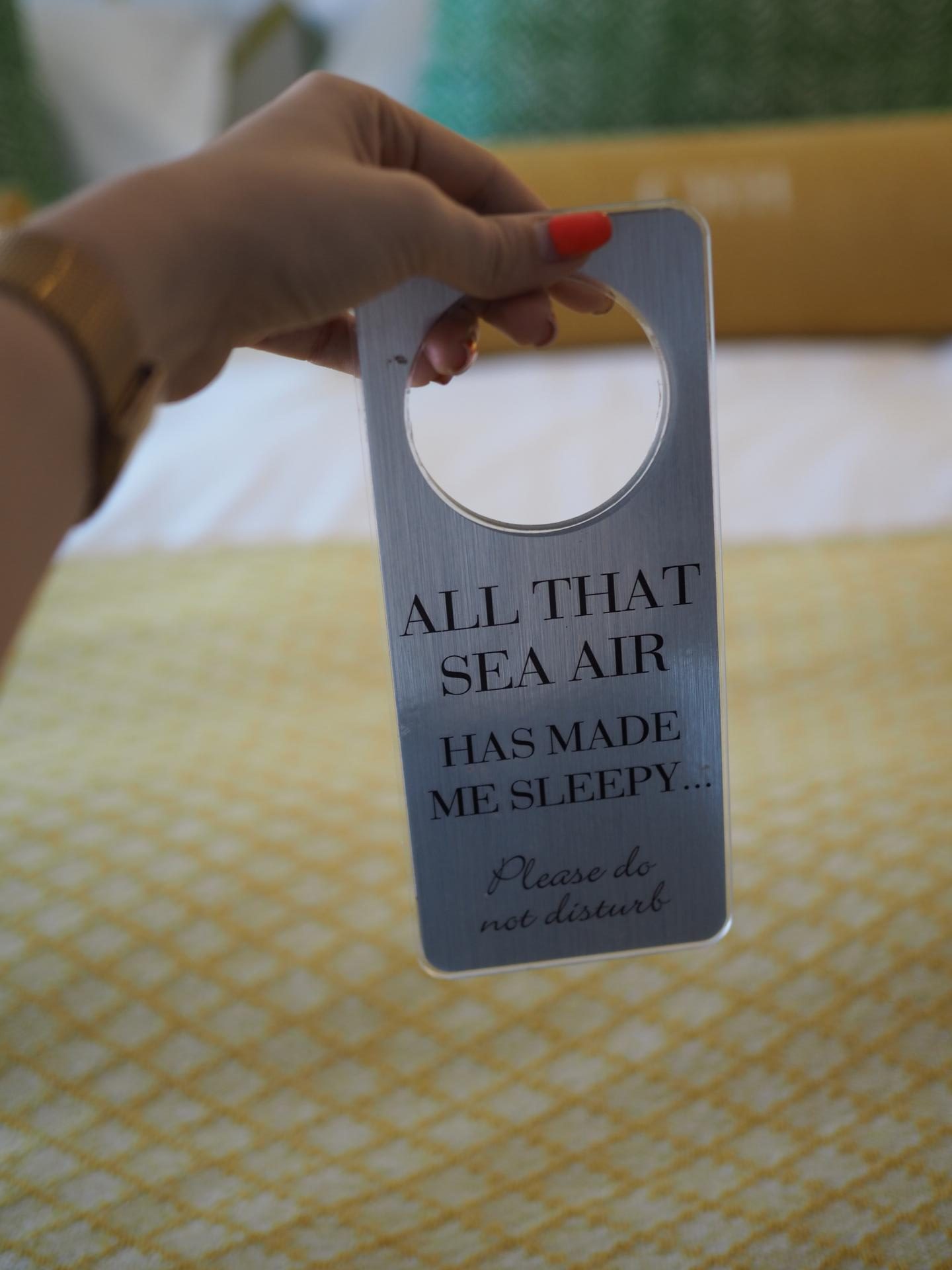 When we arrived at the hotel, I instantly felt a feeling of ease and if you are looking for peace then this is where you will find it. The hotel overlooks the Christchurch Harbour which is dotted with paddle-boarders, kayaks and swans bobbing in the water. The hotel is a boutique hotel and also has a spa and lovely facilities such as a heated pool, sauna and steam room. I don't know about you but I now have to stay in hotels with a sauna because I find that's the best way for me to relax after travelling and just in general. I usually arrive at a destination harried and still carrying that London feeling of anxiety but once you get to Christchurch that feeling starts to dissipate when you see the views.
We first checked into our room which had a lovely high bed to sink our tired bodies into and a small 'help yourself' station where there was handmade gin and whisky. I love it when hotels add a little touch of their own and the Christchurch Harbour Hotel & Spa definitely owned this special touch. Not only can you help yourself to the gin but there was also a hamper of locally-produced products waiting for us from Jimmy's Coffee to Conker Gin to soy candles from Purbeck Candles which I thought was a lovely Dorset gesture and one that would certainly make guests feel welcome.
There are two restaurants on site and I would highly recommend getting a nice drink and a few tapas and sitting outside on the Upper Deck restaurant terrace to watch the sun set on the harbour. We miss the sunset in London all the time and to watch the sun setting on the water is something that us city-dwellers find very special and it certainly brings you back down to earth. There's a cheerful vibe at the hotel in the evenings with live music as well so again, it's another reason to take advantage of sitting outside and watching the world go by.
The Upper Deck serves locally-sourced, seasonal ingredients and fresh seafood and I can't tell you how many times I thought of fish and chips on this trip (I was even dreaming about it)! Breakfast on the Upper Deck is also a joy -if it's chilly outside there are lovely throws you can swing across your shoulders and sip your coffee with an alfresco view that's hard to beat.
If you are wanting to explore Christchurch outside the hotel, the town centre and the Christchurch Priory are definitely worth a wander through. The town itself is full of cute boutiques – not a chain in site (at least that I saw) and picturesque little streets.
Another restaurant worth a try in Christchurch is The Boathouse. We had dinner there on our second night and it was delicious and the service exceptional. I had the Fish and Chips which were fantastic (all the seafood is locally-sourced). You can eat alfresco with beautiful views overlooking Christchurch Quay on the River Stour, where ducks bob in the water and elderly men fish – it's that kind of peaceful and right down my alley. Who needs loud music and crowds when you can sit quietly with an aperol spritz and watch ducks bob on the water? London is full of crowds so when you need a peaceful escape from London, go to Christchurch!
Now if you are looking for a bit of fun then I would definitely recommend Bournemouth either for a weekend or a day. We took a day trip from Christchurch to Bournemouth (it's only about 10 minutes by train from each other) to spend a day on Bournemouth Beach. I loved doing a day trip to Bournemouth and then retreating to peaceful Christchurch in the evening because this particular weekend the weather was glorious so the crowds were out in full force on Bournemouth Beach.
If you do go to Bournemouth, I would highly recommend renting Beryl Bikes. To rent a bike you simply need to download the app and you can unlock the bikes via the app once you pay for either an hour a few hours or a day pass (which is £12). We got a day pass so that we would have the bikes for a whole day. From Bournemouth station we were able to bike to the beach easily. The roads are friendly in Bournemouth so it's not anywhere as scary as riding on the roads in Bournemouth as in London!
Once we got to Bournemouth Beach, we picked up the keys to our very own Beach Hut which you can hire for the day. Now this is a BRILLIANT idea if you are with a group because on a hot day it's nice to have somewhere to go and relax in the shade. The beach hut opens out right onto the beach and inside there are three beach lounge chairs, a table and a little gas cooker in case you are organizing a picnic. Lots of people have already asked me about this so to book a beach hut in Bournemouth you simply need to do it online.
Once we settled into our beach hut we changed and headed to Rock Reef Pier Zip on the Bournemouth Pier which is the world's first pier to shore zip line. Now Mona is scared of heights so this was quite an interesting experience and I want to say that if you are scared of heights it's totally manageable (we even saw kids doing it). It's so much fun and it's quite reasonable at £20 per person. Mona was so glad she did it as well so if its something that scares you (in a good way) then you should definitely do it! You simply zip line from the pier to the shore and zoom right on over the water which is honestly so much fun. So, for everyone from beginners to adrenaline junkies I would recommend it.
After all that activity we were hungry. One place I absolutely recommend stopping by for a bite to eat in Bournemouth is Urban Garden, a gorgeous restaurant set in Bournemouth Gardens and just a short walk from Bournemouth Pier. The best way I can describe it is a restaurant in a garden with tree-top terraces and one that has incredible food and drinks.
If you are looking for vegan options in Bournemouth there are plenty to choose from on the Urban Garden menu. So not only is the atmosphere amazing but the food is also divine, all locally-sourced where possible. We had kale smoothies, iced coffees and the plant powered nachos to start which had black been hummus, vegan cheese, salsa and guacamole. We also got to sample 'pulled oats' which is a vegan version of pulled pork (but the 'pork' is oats) which was also really delicious. I ordered the pan-seared catch of the day which was sea bass on a caper, lemon and parsley crushed potato cake with sautéed kale and mussel velouté – divine! Mona had the risotto with crayfish, Atlantic prawn, chili, lime and coconut – also sent from heaven.
After lunch the best way to spend your day in Bournemouth is well, at the beach. The beach is lovely as well, with soft sand and blue water that you can actually swim in (it's cold but not so cold you can't swim in it). I was highly impressed.
Now, if you are looking for somewhere between Bournemouth and Christchurch in terms of atmosphere you should definitely head to Poole. Again, we took a day trip to Poole from Christchurch and took a taxi directly to Poole Quay (it's about 30/45 minutes by taxi) to catch a boat ride around Poole Harbour with Rev's Water Taxi. Now I had NO idea how beautiful Poole Harbour is and if you get a chance I would highly recommend booking a water taxi with Rev around the harbour. He also knows EVERYTHING so is a great resource for local knowledge.
You can either catch a boat with other people or get him to take you out with a private group for a couple of hours. We were lucky enough not to have anyone else on the tour so we were able to get a private trip around the harbour which was so lovely. There are some serious South of France vibes in Poole Harbour due to superyachts sitting in the harbour. And by superyachts, I mean superyachts worth millions. The largest one we saw was worth £30 million and cost £30K just to fill up the petrol tank.
There's a big manufacturing plant that builds these superyachts in Poole, hence why there are so many and why many of them are bobbing in the harbour waiting to be picked up by whoever ordered them custom-made.
There's also Brownsea Island which we went by and other smaller islands in the harbour. I love being on the water so for me this was the highlight of the whole trip, just being on the water and feeling the wind in my hair. There are even seals in the harbour although we sadly missed them due to time but there's always next time!
All the fresh sea air always makes me hungry so for lunch we headed to Banana Wharf which is just on the Poole Quay overlooking the harbour. So, if you want nice views head there and order the mussels – they are fresh! I would also recommend the fried calamari to start – it's something that I can never resist. I loved eating so much seafood in Dorset and I would urge you to do the same. When in Rome after all…
So, if you are looking for a quick getaway from London head to Bournemouth, Poole or Christchurch. I recommend staying in picturesque Christchurch, having a bit of adventure in Bournemouth and enjoying all the views in Poole!
Don't forget to follow me on Instagram @beautyrocksblog to see all my pictures from my trip or watch all my videos underneath my British Coast Instagram highlight reel on my profile.
*This trip was a press trip sponsored by the Bournemouth, Christchurch & Poole Tourism Board who took us to the best places and showed us the best things in the area (in my opinion). All views are my own as always and would never recommend something I personally didn't enjoy or think others wouldn't enjoy.