A smart watch says a lot. And I'm not talking about a digital watch that tracks your steps and tells you when someone tweets you, I'm talking about a classic, luxury watch. Let me tell you, I tried out a smart digital watch for one day and I couldn't handle it – all the notifications really stressed me out. I've got too many notifications as it is from my phone so why would I want my watch to be able to do anything other than look beautiful and tell the time? And if you are in the mood to shop for luxury watches, let me tell you why you should be shopping for pre-owned luxury watches instead.
First of all let's be honest – people do look at your watch because it tells them what kind of person you are. The same goes for handbags and also shoes. You can't help but look and as much as we don't like to admit, sometimes we do judge a book (more like accessories) by the cover. As Coco Chanel said, "Dress shabbily and they remember the dress; dress impeccably and they remember the woman."
I've always taken this quote on board and pick very wisely and thoughtfully when it comes to accessories like watches, handbags and shoes. I want pieces that are going to stand the test of time and be around through fashion fad, after fashion fad. And one thing's for sure, a classic watch never goes out of style. The only problem with shopping for luxury goods is that you might be limited by budget.
For years I've been looking for a Rolex and I've wanted to buy a luxury watch and in particular a Rolex because as we all know, Rolex watches are expensive. Pre-owned luxury watches can be in great condition as well, if you buy them from a reputable retailer. And the key point about a Rolex watch that's the most important is that they also never go out of style. And I swear the moment I start thinking about something I want, it actually appears in my life.
To this exact point, two weeks ago I made a visit to The Royal Exchange in London. If you haven't been there I would suggest going because it's gorgeous and if you are in the market for some luxury shopping, it's definitely worth stopping for a coffee and a browse. There are so many luxury boutiques to discover there and if you are looking for pre-owned luxury watches then a great place to visit in The Royal Exchange is Watchfinder & Co. It's the UK's largest pre-owned watch specialist, stocking over 70 brands. I tried on five different incredible watches, for a different persona that I think each of us women have the ability to possess. Here are my favourites and why…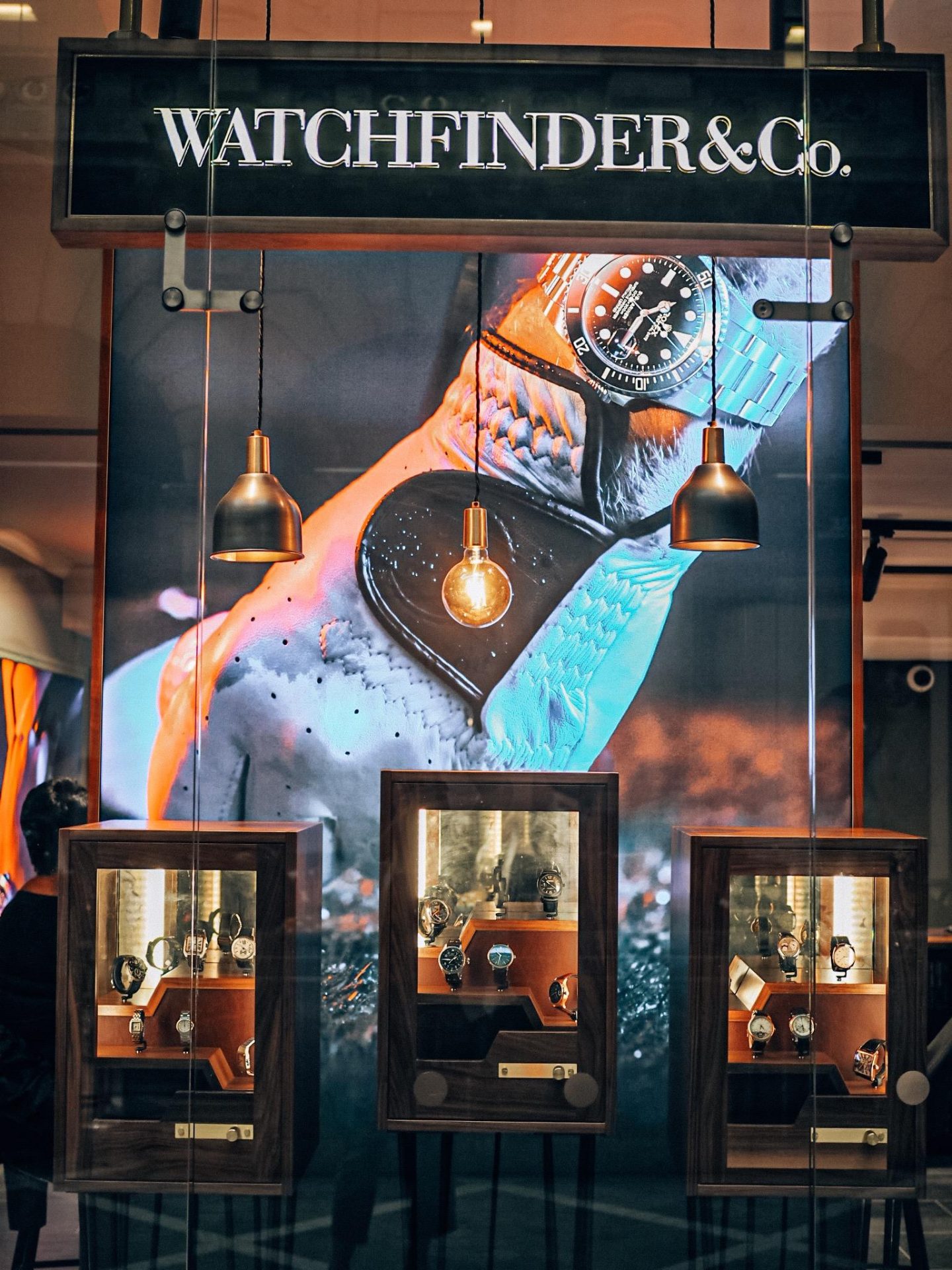 For the Girl's Girl
Rolex Lady Oyster Perpetual £2,950
I love this watch simply because no matter what you wear, it's going to go with it. The Rolex Lady Oyster Perpetual is a girl's girl watch – you can wear it to the office and straight out after work to the party. The watch uses Oystersteel which is developed by the brand and is used in the aerospace industry so you know that this kind of metal is not going to be subject to corrosion over time. It's going to last and last you until (no pun intended), the end of time. No wonder Rolex watches get passed down in families, generation after generation. All Rolex watches are also tested to the extremes before they are ever allowed to be sold. They are simply built to last and never go out of style.
For the Glam Queen
Cartier Santos £2,250
When you think of Cartier you think of luxury fashion at its finest. A Cartier watch is something to be treasured. It's the ultimate fashionista piece – very luxurious wrist candy, to say the least. It's one of those luxury accessories as sought after as the Chanel Boy Bag – it's that classic. The Cartier Santos watch that I tried on is a true testament to time. The watch is actually 19 years old but it's in pristine condition and again, it's something that will never go out of style. If you like the glamourous life then this watch is for you – I'm thinking trips to the South of France and sipping champagne on a yacht kind-of-style. If you have seen Julia Stiles character in Riviera, I think this is a piece she would wear. However, just as you could easily wear this to a black-tie event you could also wear it with jeans and a blazer to up your style game.
For the Go-Getter
Omega Seamaster 120m £1,175
An Omega means business and that's what the Omega Seamaster 120m brings to the table. Can you believe this is water-resistant to up to 120m as well? So, for the outdoor enthusiast and go-getter this watch is really going to bring your A-game. If you are the kind of person who likes an active holiday and who likes to swim, dive, run marathons, climb mountains, etc. rather than sip cocktails by the pool then this watch is the one for you.
For the Guy's Girl
Tag Heuer Aquaracer £1,250
You can keep up with the boys or hey, beat them. The Tag Heuer Aquaracer watch is for a woman who knows how to sit at the boys table and look good while doing it. The watch I've shown here has sold out but I've linked a similar one that costs £1,650. You can find some incredible Tag Heuer watches on the Watchfinder & Co. site for £895 so in terms of looking for a more reasonably-priced luxury watch then this is a great choice. Again, a Tag Heuer is a luxury watch that is built to last but also has a slightly better price point than the others so you can find something for all budgets in this brand's category as well.
For the Boss Babe
Breitling Galatic 30 £3,250
I wanted to include a Breitling women's watch in this feature simply as I haven't seen a woman wearing a Breitling watch, typically because I think of Breitling watches as mostly worn by men. So here to break the Breitling watch stereotype I'm including one in my round-up simply because if I did see a woman wearing a Breitling watch, I would definitely be impressed. For a career woman who is looking to break the glass ceiling, this watch is incredible because it means BUSINESS. The model is only 1 year old and the dial type is stunning with Mother of Pearl and diamonds so it still means business whilst being beautiful at the same time.
If you could choose any of the five pre-owned luxury watches from this list which one would it be and why? I think I'm a Rolex girl through (want to wear it out on the town!) and through but I'm curious to hear from you! If you are looking for pre-owned luxury watches I would definitely recommend checking out their site. I've got my eye on the Rolex!
*This post is in collaboration with Watchfinder & Co. but all opinions, words and ideas are my own, as always.