When speaking personally I know that if I look good and feel good then I perform better. I work for myself (as in I'm self-employed) so showing up to 'the office' everyday dressed and ready to go is my responsibility. What I wear is of course my own choice but I do find that if I get up, get showered and get dressed in something comfortable (but cute), I not only feel better but I perform better. I've put together some of the best work from home outfits to boost your mood and your productivity. I dare you to put it to the test – spend one day in your PJs with unwashed face and hair vs. a day where you get up, get showered and put on some poppin' work from home clothes. Just see what happens!
The first outfit I love is the perfect spring dress and is the Meaghan Ditsy Floral Jersey Dress from Monsoon. The key about work-from-home clothes is that they have to be comfortable so when choosing your work from home outfits check the materials and how much they stretch (better for hot desking from your couch). This dress is made from super-soft jersey and feels so comfy – almost like wearing a very cute nightgown. Except it doesn't look like a nightgown! And that's where your success is found – the perfect melding between comfort and cute. The print is also very spring-like with a ditsy floral design and I like the midi-length as well.
Again, the key to the best work from home outfits is the material. My second material of choice for work-from-home chic is linen or organic cotton. The spring weather is perfect for dresses and you can wear dresses when working from home as long as, I repeat, they are comfortable. The Tina Midi Dress in Linen and Organic Cotton from Monsoon is another great choice. It's super comfy and you BREATHE in this dress. This dress nods to 1940s fashion and it's super lightweight. I can't wait to wear it out and about so it's great straight from WFH to dinner with friends (when we can go out). Just change from slippers into a cute pair of sandals or trainers and you are good to go.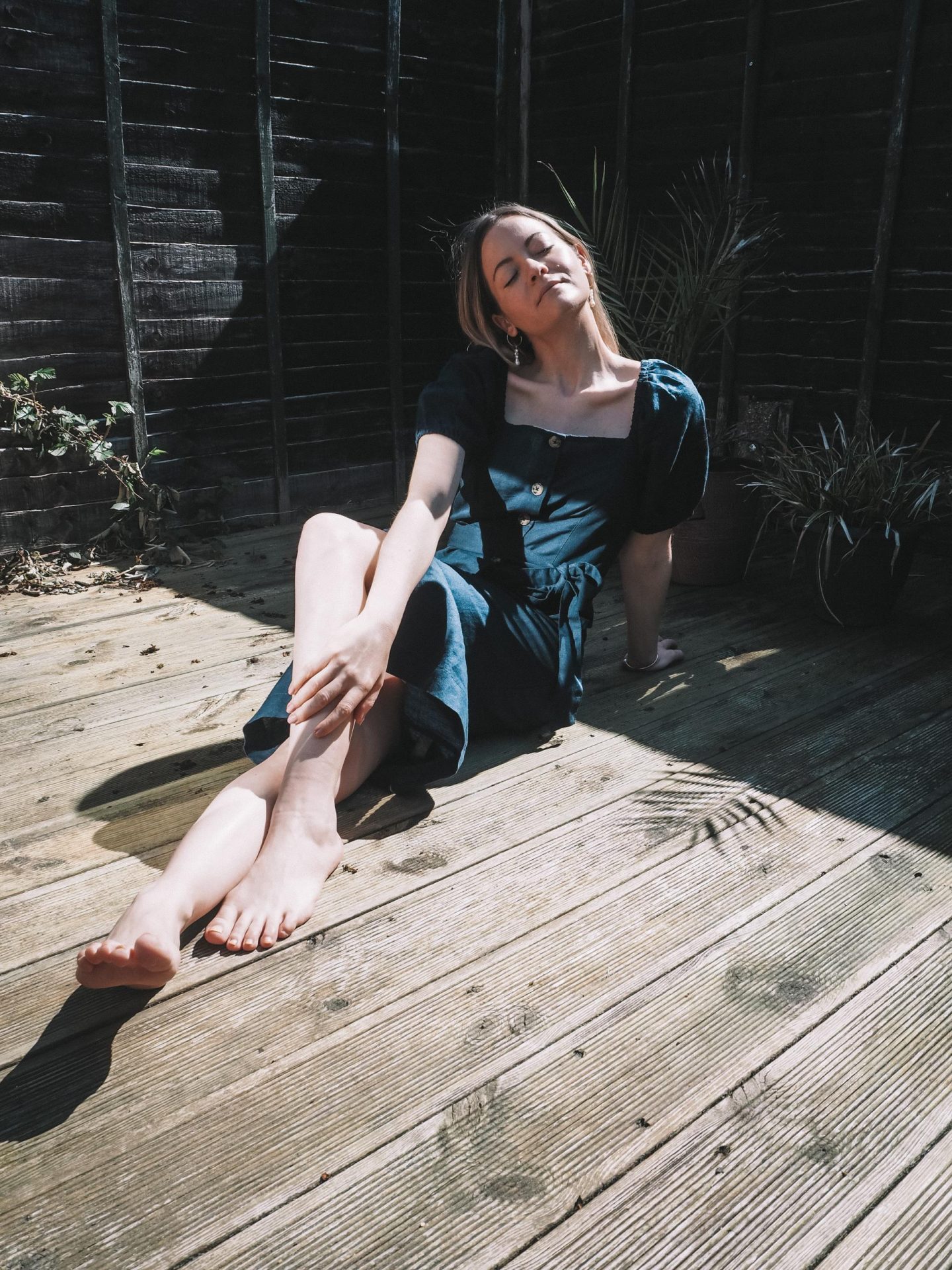 Another thing to note is that it's good to be eco-conscious when choosing work from home outfits. I love the organic cotton from Monsoon because it's grown using methods and materials that are kinder to the environment with no toxic pesticides or synthetic fertilisers. So, for sustainable fabric alternatives, organic cotton is a great choice.
If you don't want to wear a dress while working from home, I've got a different style just for you. LEGGINGS. No, not yoga leggings but leggings that look like trousers and stretch. That's what I'm talking about! The Lilia Tregging from Monsoon fits me SO well and looks great. I love that you can dress a legging up or down so you could go straight from WFH to drinks with friends (when we are allowed to) by adding heels to your legging look or just pair them with trainers for a more casual run to the supermarket. Not all leggings are as flattering as these as well – definitely a thumbs up from me!
When talking about showing your face for Zoom calls we always say party on the top, PJs on the bottom but in this case you can be just as comfy by pairing your Lilia Tregging with the Laney Jersey Blouse with Broderie Trims. Again, I'm thinking of materials when choosing the best work from home outfits so here we are coming back to jersey again. From the naked eye this top looks like it's fully cotton but actually the base is jersey, making it super comfy and perfect for a Zoom call. The material is lightweight and has broderie trim which is super cute. And if you are all about that party on the top, PJs on the bottom life this is the perfect top to do it in.
Let me know what kind of work from home outfits you love the most and don't forget to follow me on Instagram @beautyrocksblog for all my tips for wellbeing, fashion and beauty. And if you want to read about how to make your outfit look expensive make sure to read that post too!
*This post includes gifted PR samples but all opinions are my own as always and am not obligated to post about any such items