My skin goes through many phases in a month – oily, dry, glowing….irritated. The various phases are based on hormones, environment, stress and lifestyle. I've learned over the years to pay attention to my skin and I can usually pinpoint exactly what is going on in my hormonal cycle, or what stress/environmental factors are affecting how my skin looks and feels. Occasionally my skin can be sensitive, which is why I like to have a pick n' mix approach to skincare products. Sometimes I reach for skincare for sensitive skin and other times I go for more actives to really boost my glow. It all really depends on what phase my skin is in at the moment.
My hormonal cycle is one thing I can usually rely on in terms of what to expect from my skin. A few small spots before my period is inevitable as well as a bit of tiredness showing up in my face towards the end of my cycle. However, one thing I can't control is my skin's reaction to environmental factors, as well as stress. Stress can come out of nowhere and although we can learn to control our emotions to some extent, things like our boiler breaking suddenly or perhaps reading a particularly traumatic news article can send us into instant stress mode. Stress certainly impacts my skin in that way and can show up in forms of redness and irritation on the skin – angry, red 'patches of frustration' I like to call them.
Another factor for me when it comes to skin irritation is environment. We recently had a heat wave in London and I was alternating between hot and humid outdoors to cold air-conditioning inside so that also had an effect on my skin. Flying is another environment that my skin doesn't like, due to the dry air conditions on the plane.
For me, this is exactly why I like to have a pick n' mix skincare routine. This is where I have skincare for sensitive skin on hand for when those bouts of irritation spring up, often due to situations that are out of my control such as stress or environment. One such range of products I've been using for those particular situations is from a brand called SOS Serum Skincare. SOS Serum Skincare is particularly formulated for sensitive skin and although my skin isn't sensitive 100% of the time, it can be sensitised due to certain environmental conditions. Also, from time to time I get facial peels to target pigmentation and hence need skincare for sensitive skin for my 'downtime' for when my face feels red and irritated.
I recently had a mandelic acid peel and my skin of course was irritated and stung for 2 days after the peel. Hence the SOS Serum Skincare range was perfect for me during this time because they were the only products I could use that didn't sting my face. I also used the range when my skin recently became irritated due to the recent heat wave (alternating between hot and cold air conditions from outside to inside).
The SOS Serum Skincare products are specifically formulated for people with sensitive skin or those suffering from eczema, psoriasis or diabetes (people who are diabetic often have sensitised, very dry skin). The products are very soothing and healing and you notice this right from the very moment that you apply them to the skin. It's all in the texture!
There are 3 key skincare products in the range to help soothe and calm your skin. The first up is the hero product, the SOS SERUM. This INSTANTLY calmed my skin. I love the gel-like texture of the product and it instantly hydrates and soothes my skin. My skin literally drank this up during the heat wave! If you are looking for skincare for sensitive skin this is a perfect choice. The formula contains Wasabi & Burdock Leaf Extracts as well as a peppermint extract which instantly comforts and cools the skin. You can also use it for minor burns, bites, itchy patches, sun damaged skin, etc. anywhere on the face or body. It's so gentle it's even baby-safe!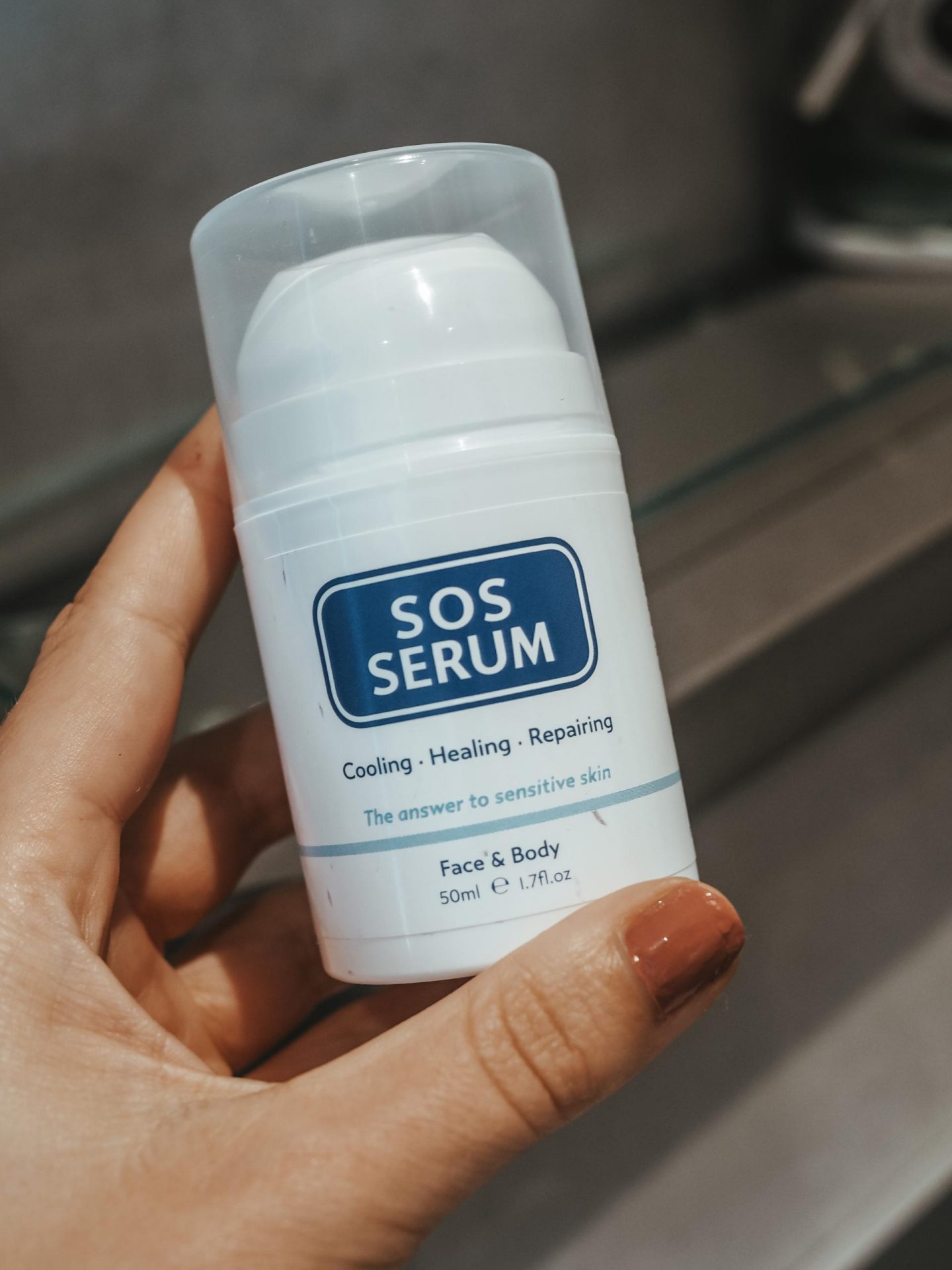 The next product in the range is the SOS H2O Day Cream which is also fantastic as it contains SPF30 in it so you know that your skin will be protected from UVA/UVB rays. Again, I absolutely love the texture of this product – it sinks in like a dream. If you are looking for skincare for sensitive skin, SPF can be a tricky one sometimes as it can sting when it goes on, especially if your skin is already burnt or irritated. But with this there is no stinging or irritation.
The SOS H2O Day Cream also has anti-ageing ingredients including active plant stem cells, White Truffle and Green Grape (stimulates new skin cell production) as well as low molecular weight Hyaluronic Acid which helps to keep skin plump and moisturised. Also, the SPF in this product leaves no white cast on the skin and blends perfectly to sit underneath make-up as well with its smooth texture.
I'm also super picky about sun creams which brings me to the SOS SPF 50 SUN CREAM which is SO good! Again, the formulas of these products are an absolute dream and they blend so well. With SPF you can get so many things wrong in a formula. Sometimes they don't sit well under make-up but this product is fantastic – it blends well into the skin as well as sits perfectly under make-up.
There's no fragrance in this SPF and it's reef-safe as well (which I always look for in SPF). It's SO important that we are looking out for the environment in terms of the products that we put on our skin. The SOS SPF 50 Sun Cream contains active plant stem cells to also help to reduce fine lines and increase skin's firmness with added Vit E to help fight free radicals. This didn't sting my skin and also didn't leave any white cast. I also like how this is a mineral sunscreen which I prefer these days to chemical sunscreens.
The last product in the range is the SOS Protect which is a Broad Spectrum Hand Sanitiser in a very generous 300ml size. The great thing about this hand sanitiser is that it has NO ALCOHOL. The formula is Benzalkonium Chloride-based so if you are looking for an alcohol-free hand sanitiser this is the one! The interesting thing about Benzalkonium Chloride-based hand sanitisers is that they become more effective (without irritation) after repeated use.
Because of our increased use of hand sanitisers these days, my hands get dried out a lot easier and with this hand sanitiser I find it doesn't dry my hands out as much as the alcohol-based ones. The formula kills 99.9% Bacteria and gives you up to 3 hours of anti-bacterial protection.
The SOS Skincare range is Vegan, Cruelty-Free, Without Parabens, SLS, Mineral Oil or Fragrance and is made in the UK. Each of the skincare products is packaged in a recyclable 50ml airless pump (the hand sanitiser is a 300ml) and has an RRP of £15. The products are super affordable for the quality that you get!
You can shop the SOS Serum Skincare products with my code BEAUTY15 which gives you 15% off (with a purchase of 2 or more products).
*This post is in collaboration with SOS Serum Skincare however all opinions and words are my own as always