I always loved skincare since I was a young girl but it was in Japan is where I really started to sit up and take some notice. Whilst living in Osaka for four years, I noticed the care that Japanese women took when it came to skincare and also staying out of the sun. They religiously wore SPF, they shopped for the best Japanese beauty brands with a sharp eye, focusing on skin health and also used products like essences in their skincare routine, which I had not come across before. The majority of Japanese women in normal day-to-day life don't wear a lot of heavy make-up, hence there is a huge focus on the canvas – the skin.
This knowledge about beauty wasn't limited to skincare either. The Japanese women were also all about inside-out beauty, eating soups and foods full of collagen because it was good for the skin. I was constantly being told – eat this, eat that, it's good for your skin. There was an inherent knowledge about the power of not only skincare, but diet and wellness (hot springs, etc.) to help boost your natural beauty. Beauty rituals are hugely important in Japan and they extend to every area of life.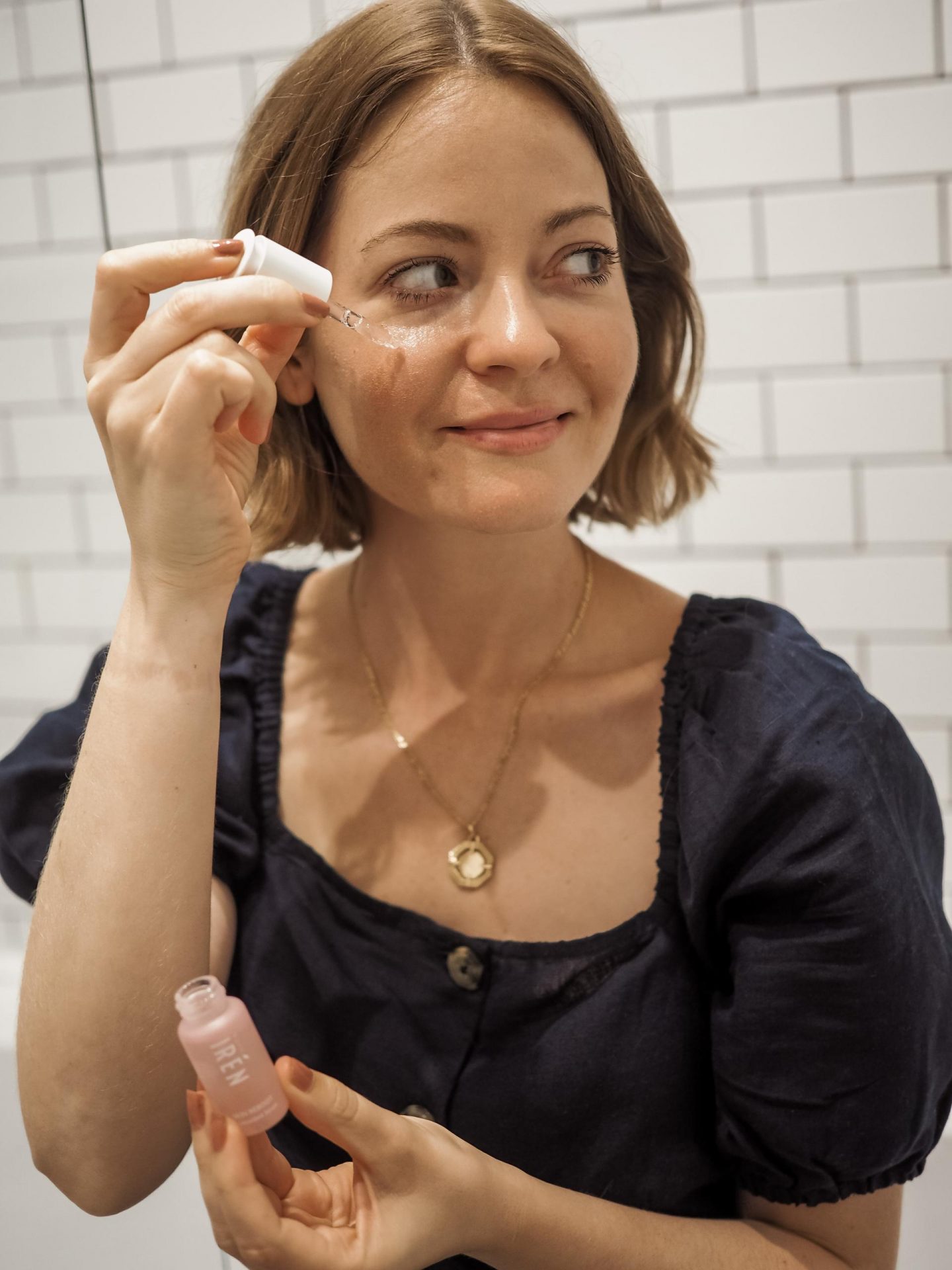 Hence, I've always loved J-Beauty and had a soft spot for it, scooping up all the best Japanese beauty brands along the way. My first purchase in Japan was an SK-II Essence, whose advertisements were all over the place, along with Shiseido – splashed on the subways and trains. Those purchases were expensive for a younger me and I'm happy today that I can find a J-Beauty brand that's a bit fresher, cleaner and harder-working than its previous counterparts in IRÉN. IRÉN Skin was one of the first clean beauty brands in Japan. And when I mean clean, I mean clean!
Over 2000+ ingredients that have either proven to be toxic or potentially harmful to the skin have been blacklisted, and IRÉN Skin classifies these ingredients into the 7 Big No-Nos – formaldehydes/formaldehyde releasers, drying alcohols, phthalates, SLE/SLES, parabens, triclosan, and fragrances.
So, let's dive into the products shall we? I first tested the IRÉN products from two weeks ago, to ensure that I could get the proper experience while using them. And I'm going to start with CLEANSING. Cleansing just might be the most important step of all in your skincare routine. If you don't cleanse well, none of the products that you apply to your skin after will absorb properly so it's really important to nail down your cleansing routine. If you over-cleanse or strip the skin, that's also not good because you will inhibit your skin's barrier function, putting your skin out of balance. All of the best Japanese beauty brands really focus on cleansing – it's so important.
So to start, I've been using the IRÉN Start Afresh Daily Enzyme Powder Wash which is a fantastic gentle cleanser that also helps to exfoliate your skin. Exfoliation is another very important step in your skincare routine and with this cleanser, you can get 2 steps in 1! Powder washes are popular in Japan for this very reason – they save time and they are super gentle to the skin at the same time.
With the IRÉN Start Afresh Daily Enzyme Powder Wash you simply tap some of the powder into your hands, add a bit of water and it actually lathers up quite nicely, better than some of the other powder washes I've tried. The Japanese Rice Bran Enzyme helps to gently exfoliate the skin, the Hyaluronic Acid adds moisture back into the skin and the Kiwi Protease gives you a very gentle enzymatic exfoliation.
I think the real star products of IRÉN however are the Superfruit Booster Customized Serums. They are each specifically formulated to target a particular concern and use a patented Ziplock Encapsulation Technology that release actives into your skin cells over a sustained period of time, giving your skin an all-day boost.
I was lucky enough to try 3 of the boosters but there are 7 of them in total. The boosters I chose are specific to my skincare concerns which are always centered around pigmentation. I will start with the IRÉN Star Light Brightening Serum which is specifically formulated for targeting visible signs of pigmentation – perfect for my skincare concern. What this booster does is suppress overactive melanin production with a formulation of vitamins, antioxidants and brighteners.
So, if you have uneven skin tone, dark spots or acne scars this is the IRÉN superfruit booster for you! The key ingredients in this are Yuzu (a Japanese citrus fruit) that helps to brighten and boost along with our skincare favourite – Niancinamide which is a fantastic ingredient for pigmentation. This also has Alpha-Arbutin which is an agent derived from bearberry, cranberries or blueberries that can improve the appearance of dark spots.
The second booster I chose and love is the IRÉN Glow Getter Renewal Serum. We all want a bit of extra glow on our skin and you can get it if you follow the right skincare routine! This superfruit booster is all about skin renewal, which is exactly how you can get the glow. It's infused with Pumpkin extract, Oat Kernel and Provitamin B5 as well as glycolic acid to help the skin resurface through a blend of exfoliants, enzymes and probiotics. So, if your skin is feeling dull and un-glowy then this booster is for you.
Another thing to note is that all of the boosters can be used together as well to create a customizable serum. So, if you want to target 2 or more skincare concerns, you can. Even perhaps if you want to target pigmentation on a certain area you could use one booster on that area and another booster targeted to a different skincare concern on the other. A bit like multi-masking, but with skincare serums.
The last booster I want to tell you about that I've tried is the IRÉN Skin Reboot Antioxidant Serum. This is a great skincare serum for those living in an urban environment because it's chock-full of antioxidants that help defend against free radicals – i.e. pollution, stress or other environmental factors. If you are under stress, your skin is most likely under stress. The key ingredients in the Skin Reboot Antioxidant Serum are Beetroot extract, Caffeine, Grapefruit, Niacinamide and Astaxanthin.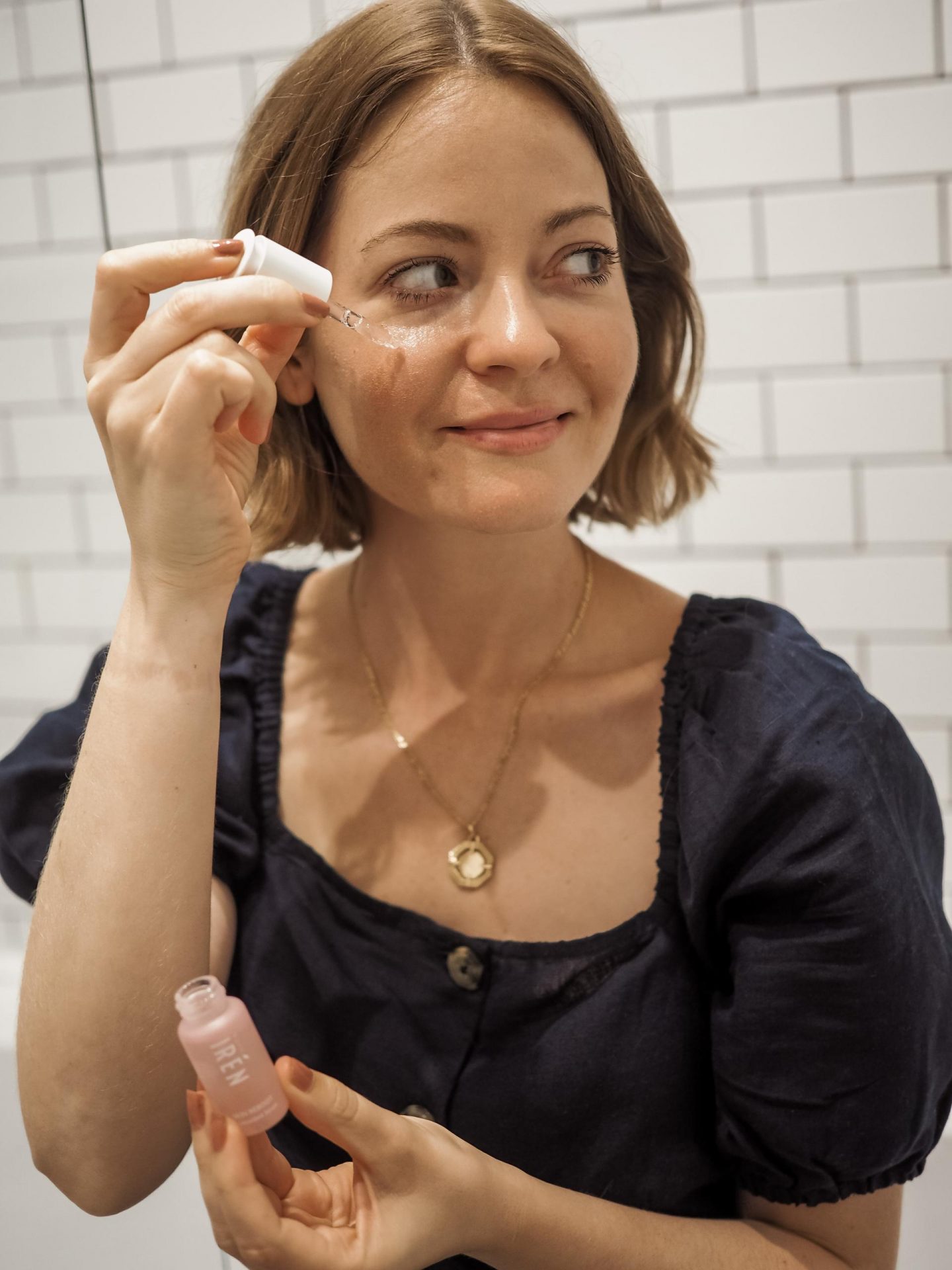 This is also a great serum to protect against blue light because that's another thing that sadly wreaks havoc on the skin!
Overall, I've loved using the IRÉN superfruit boosters because you can layer them or mix/match. I'm a huge fan of layering skincare and it's nice to know that you aren't going to mess anything up if you layer on 2 of the IRÉN superfruit boosters because no matter what, they will work together.
Don't forget to find me on Instagram @beautyrocksblog where I share all my skincare tips and tricks and let me know what are some of the best Japanese beauty brands you have discovered.
*This post is in collaboration with IRÉN but all views and opinions are my own, as always!