When I say what a year, I think you will all know what I mean. We've seen many challenges this year within the travel industry and one thing I've really sorely missed is well…travel. In 2019 I travelled to a new country every single month. Then fast forward to 2020 where I only saw the four walls of my own flat and travelled between my bed, the fridge and then to the couch. What a change indeed. Hence, I'm dreaming of staycations within the UK when it is safe to travel locally again. And where best to travel in 2021? Your own backyard! Hence, I've put together a post about my top 3 favourite hotels in London and London staycation ideas where I plan to revisit later in 2021 when it is safe and allowed to do so.
Dukes has a lovely atmosphere, with a heritage feel – it's situated next to Green Park and a very short walk from Green Park station, in the quiet, well-heeled area of St. James in Mayfair. And in fact, it's very close to Buckingham Palace and I did take a walk there to see it by night – something not everyone does! The hotel itself is a historical building and the St. James area was where King Henry 8th built his palace in the 16th century. Around the corner is a house where Winston Churchill lived for 3 years. The place is full of history.
I would recommend staying at Dukes if you are looking for a London luxury boutique hotel and want to be centrally located. It's a short walk from Buckingham Palace and also within walking distance to Piccadilly Circus, Oxford Street and Regent Street if you want to hit up the shops and restaurants. The hotel also has a charming feel and caters to those who like a bit of quiet or those who want to hit the town as it's so centrally located. For those visiting from outside of the UK it's a really lovely British heritage hotel so it's a nice taste of traditional, but with all the modern amenities.
Last year, I had the experience to visit Rockwell East Aparthotel in London which are indeed that – serviced apartments in London. If you guessed what the meaning of aparthotel is it's exactly what you think – half hotel, half apartment. For people who struggle finding accommodation that's between an Airbnb and a hotel, this option might be a good compromise between both.
I stayed in a Rockwell East studio apartment (there are also one-bedroom and family apartments too) which was spacious, with good lighting and interior design/art by acclaimed Fergus Hare. The kitchens come equipped and fully stocked with crockery, cutlery, glassware, pots, pans, baking trays and even a cookbook so that if you do decide to stay in and cook a meal (perhaps you are staying as a longer-term guest on business in London or travelling with a family) you definitely can.
The location of Rockwell East Aparthotel is also great – it's literally just down the street from Tower of London! Easily accessible by tube, you can get anywhere in the city of London pretty quickly. So, for serviced apartments in London it's hard to find a better location and this one sits next to Aldgate, Aldgate East and Tower Hill Tube Stations. It's also not far to Brick Lane, Spitalfields or Shoreditch so for foodie options or a night out it's a great location.
JW Marriott Grosvenor House London
In 2019 I visited the 5-Star JW Marriott Grosvenor House London on Park Lane. I just so happened to be at Grosvenor House London for their 90th anniversary on Park Lane so it was perfect timing. The heritage of some of the London hotels is incredible and the Grosvenor House in particular is quite amazing with distinguished guests ranging from Obama to Walt Disney. In terms of London staycation ideas, I also wanted to be centrally located and Grosvenor House is just a hop, skip and jump away from Hyde Park, Oxford Street and Buckingham Palace.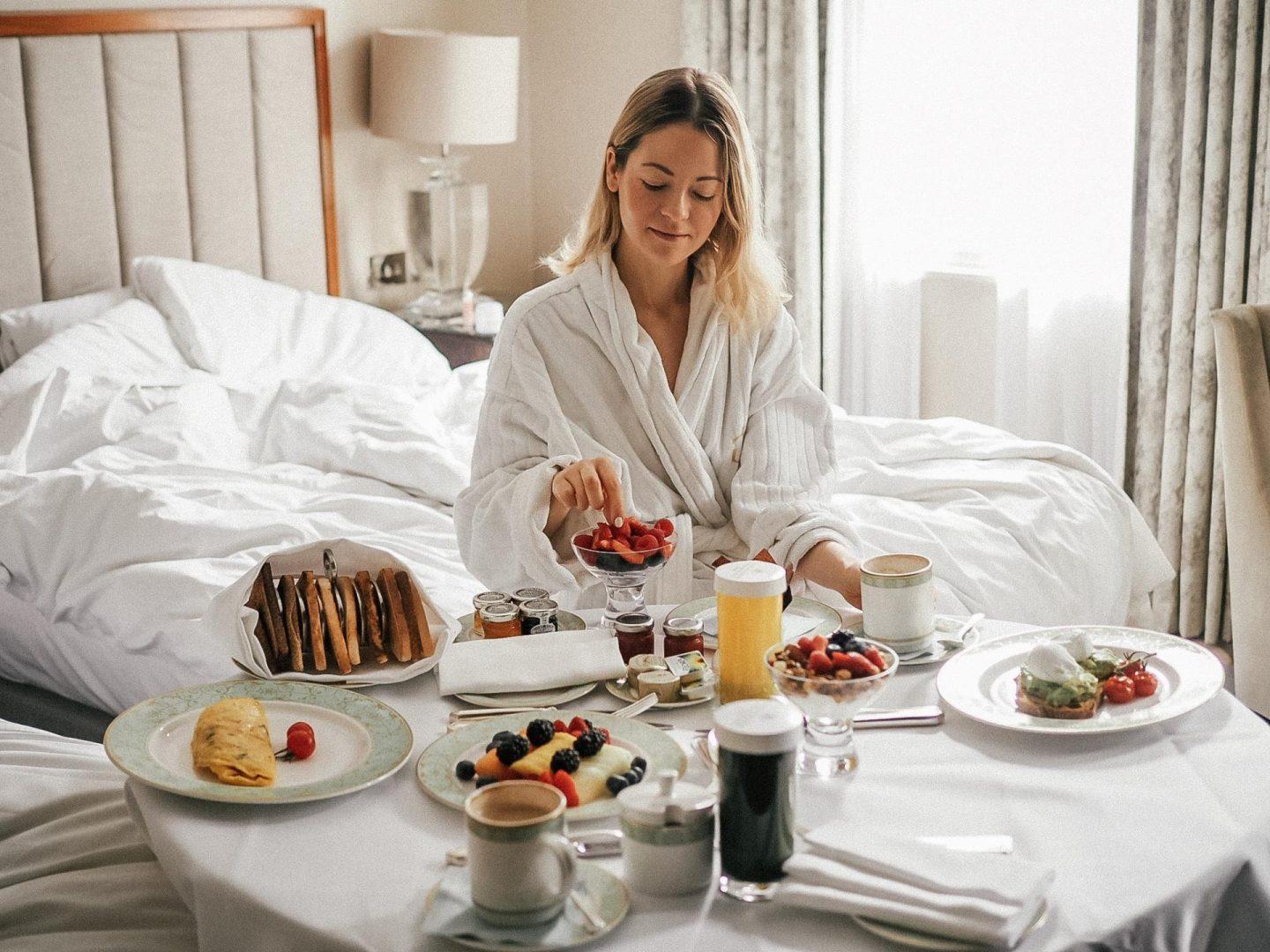 The rooms at the Grosvenor House London are also superb and again the hotel is a great jumping off point for nightlife and shopping in Mayfair. I stayed in a Premium Executive Suite which was beautiful, with the comfiest beds, marble bathrooms and access to the Executive Lounge which serves food and drinks (complimentary wine and sparkling wine) all through the day so if you get hungry or want a drink, you can pop down to the lounge at any time to get something.
What are your London staycation ideas or travel plans for 2021 (fingers crossed)? Here's to hoping we can all travel safely again, whether that's abroad or in our own backyard.
*This post is in collaboration with Hotels.com, but all views are my own and all hotels I have personally visited previously.