Oh South Korea! The land who brought us BB Creams, CC Creams, Sheet Masks, snail skincare products and cushion foundations!
I was lucky enough to get to spend some time there this summer so have delved deep into the world of Korean skincare with much delight. No salespeople have ever seen the same person so many times in such a short period of time – for this I am sure of so thank you Nature Republic staff!
My Korean Beauty Haul

Nature Republic – which is similar to The Body Shop in Korea (with a much bigger focus on skincare and make-up) is one of my favourite shops. I always stock up on Face Sheet Masks while I am there as well as everything else I can't find in either the US or the UK. The Face Sheet masks in Korea are amazing – there are so many varieties from so many different brands. You won't talk to a Korean woman who hasn't used a sheet mask. They are such a part of the beauty routine here that it would be strange not to have them as party of a weekly regime!
On this trip, I picked up (below) a Snail Solution Mask, Rose Mask and Green Tea Mask. Snail solution, if you don't already know is amazing for your skin. It's packed full of collagen and because the snail rebuilds its shell, the slime is full of nutrition and building blocks for repairing damage.
The Rose Face Mask is a dream, simply because it is so hydrating and it smells amazing. This contains rose extract, among others for a truly hydrating experience. The Green Tea Mask is really refreshing and great for toning. For sensitive skin, this is the mask I would recommend because it is water-based and won't clog or irritate the skin.
Face Mask Sheets should be left on for about 20 minutes, although some people actually leave them on for hours. However, there are mixed opinions on this as to whether this might starve the skin of oxygen. Others say that they swear by leaving them on overnight. Who knows? So I follow the instructions and leave the mask on for 20 minutes before bed. The essence (or serum) that is in the mask should not be rinsed off by any means! Leave this on and also pat in the extra serum that is left in the packet as well until your skin has absorbed all of it. This is great for if your skin is feeling particularly thirsty (also fab for long haul flights).
I also picked up some mini antibacterial gels from Nature Republic. I love the Rose version, which smells nice and doesn't dry the hands at all. However, if you do get dry hands for other reasons – how could you ever resist the TonyMoly Apple Hand Cream (below)? This is simply the cutest hand cream I have ever seen in my life. It's apple scented if you haven't guessed that already and comes in apple packaging.
This hand cream is perfect as a desk accessory because it's cute and it smells great. It's light, non-greasy and sinks in quickly. Yay for fruit-shaped hand creams!
Another cool product I picked up in South Korea was the Nature Republic Provence Illuminating Glow. This is a primer that is meant to make your skin glow and illuminate as though lit from within.
It comes out as a shimmery pink but then blends into your skin – this is meant to be used on lighter skin tones due to the pink colour. This really made my skin glow and would be perfect for the new 'strobing' trend that has hit us this summer.
Next up is the thing I want to talk about the most! Cushion foundations. I hadn't tried these previously as the only one currently available in the Western market is the Lancome version. However, South Korea is full of cushion foundations, by many brands. This seems to be the foundation choice for many women as there are so many to choose from. I went with the Nature Republic CC Cushion Foundation and now I can't live without it. The amazing thing about this cushion foundation is that it has an SPF factor of 50! South Korean women really take care of their skin in regards to sun and truly cover up! Because their skin is prone to hyperpigmentation, the entire skincare market has got suncare already factored into it.
Even the face powders (below) have an SPF of 50! That was something I hadn't seen before.
So if you haven't seen a cushion foundation before (below) they are basically a sponge that is soaked in foundation. It comes with a pad that you press into the foundation and then apply directly onto the skin.
The result is light coverage that looks so natural! Seriously this is great for just dabbing over areas of concern and getting a really natural look. People will be complimenting you on your actual skin if you wear this!
So for some fun purchases, I couldn't resist all the quirky things that TonyMoly sells. For one, there is the Mr. Smile Patch – this is a patch that you put on your smile lines to target them for anti-ageing and hydration.
Simply apply them to your smile lines, leave on for 20-30 minutes and then remove but don't rinse off the solution. How cute is this?
My last cool buy from South Korea that I want to highlight is the PeriPeri Lip Stain. Lip Stains are huge in South Korea right now and this one by PeriPeri is really good. It actually looks and feels like a marker pen – something I have never seen in the Western markets. I mean, a marker for your lips? This is too good to be true…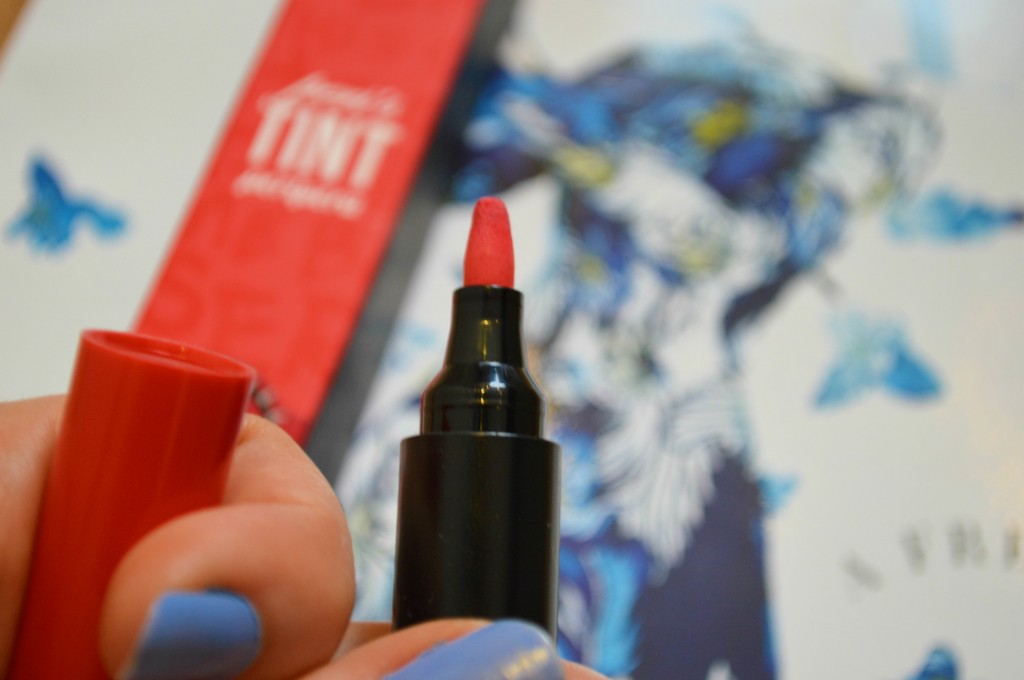 The resulting look is a light stain but the marker application makes it really easy to define your lips so there is no need for liner!
Have you ever tried any Korean skincare products? If so what was your favourite?
Don't forget to follow me on Instagram@beautyrocksblog for all my adventures!