Everyone needs therapy, whether they realise it nor not. Am I talking about seeing a psychologist? No! I'm talking about indulging, relaxing and nourishing your body which in turn makes your mental state more calm. One brand that excels at this is SenSpa. Seeing as September is Organic Month, my thoughts and focus turns to natural and organic products. And while SenSpa products are not organic, they are just about as natural as you can get! From what I have tested out, all of the products are 97% natural and come from the actual SenSpa (which is a beautiful spa in the heart of the New Forest) so these products have the 'spa' and well-being at the very heart of their philosophy.
Which is great news for us because it lets us bring the spa into our own homes. With a lot of bad press on certain ingredients or 'nasties' as they are often called, it's nice to experience a natural brand that makes you look and feel good! The other great thing is that even though a lot of care has gone into these products and they look and feel like they should be at a higher price point, they aren't! The most expensive product in the SenSpa range is the Muscle Therapy Body Oil which is about a tenner. So the quality is good yet doesn't cost the earth (which will also save you some anxiety about your bank account balance).
So let's talk through some of these dreamy products! First up is the Nourishing Shampoo with Argan Oil. This is a great shampoo and I promise I'm not just saying that! It's fantastic for fine hair (like mine), it doesn't feel stripping, still gets rid of all the dirt and oil and doesn't weigh the hair down.
It's accompanied by the SenSpa Nourishing Conditioner which smells amazing (I think this is quite unisex with the cedarwood so the mister will also like it) and again, doesn't weigh the hair down which is good for me as my hair tends to get oily quickly anyways.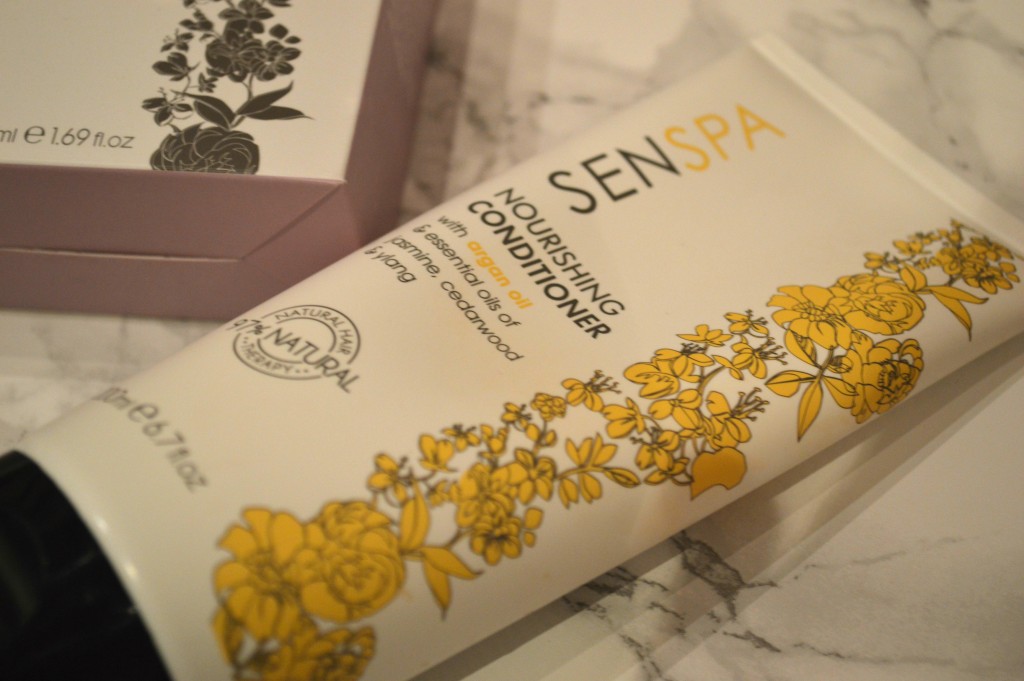 I've got a nifty little travel kit as well which is from the Relaxing range that contains organic lavender, bergamot, patchouli and geranium. Each product is 50ml and will certainly last you over a week away somewhere.
The travel kit contains a Sleep Therapy Bath Soak (hello sweet dreams), Relaxing Body Wash (after a long, hard day), a Relaxing Body Scrub (goodbye flaky skin!) and Relaxing Body Butter (welcome silky skin).
The scent is of course very relaxing, making this range fantastic for use in the evening before bed. Let those worries melt away – life is too short.
My favourite product in this set is the Relaxing Body Scrub. It's not a wimpy scrub and it smells as good as it will feel on your skin. Great for any season!
Next up is some more of the bath and body range – namely the Clear The Mind Body Wash, Muscle Therapy Body Oil, Detox Muscle Soak and Nourishing Hand & Body Lotion.
I love the Clear The Mind Body Wash. I literally took a handful of this and just breathed it in while I was in the shower for a good 60 seconds. I actually had a bit of a headache so thought the aromatherapy properties in the formula would help at clearing my head. And it actually worked! Squeeze a bit in your hand and just inhale – a great headache remedy and refresher in the mind in general due to the Thai basil and essential oils of peppermint, lemon peel and coriander. Great for mornings!
Next is the Detox Muscle Soak. This also smells amazing and contains organic seaweed which is incredibly detoxing. Pour this into the bath and the troubles of the day will soon seem significant (I hope!).
I like a body lotion that can also be used as a hand cream as it's a bit more intensive in regards to moisturisation. The Nourishing Hand & Body Lotion from SenSpa is again has a very unisex scent with cedarwood added to it and it's a multi-tasker – taking care of both the hands and the body. And they do say the hands show the signs of ageing first so don't forget about them!
Another favourite of mine is the Muscle Therapy Body Oil. This tension-busting oil absorbs really well and a little goes a long way. The bottle is only 100ml but honestly just a little of this spread really easily over large areas of the body so you don't need much to make it go a long way. It contains arnica extract which is brilliant at healing bruised skin or sore muscles and rosemary is said to sharpen the memory. Which can never really hurt, can it?
SenSpa products are available to purchase online here.