I love accessories and I think it's worth sourcing really special ones that you can keep using for a long time. A silk scarf is one of those timeless accessories and one that has the power to instantly update an outfit and also add a classy and elegant vibe to an existing look. There are so many ways to wear a silk scarf as well and I am going to show you three ways that I style mine!
My gorgeous satin silk scarf is from K&K LABS who design luxurious silk scarves that feature hand-made drawings and colourful floral prints. I love silk scarves because they never go out of style so they are well worth investing in. They are also perfect for summer and go really well with a light trench coat or duster jacket. And there are so many ways to use them!
Look #1
The most obvious way to wear this beautiful scarf is around the neck. I've chosen to make the scarf the stand out item in this outfit below, pairing it with a midriff top and a high-waisted jeans from Lindex. For me this outfit is a nod to the glamorous 70s.
The scarf is called The Red Garden of Love and is inspired by unconditional love. The colours of the scarf really pop with the red, blue and hint of peach throughout. The scarf features bright flowers on it with hand rolled hemmed edges so there is no obvious seam.
I've kept the other accessories simple and delicate, wearing an Astrid & Miyu chain bracelet and a House of Florrie watch. Both accessories complement the Red Garden of Love silk scarf.
I love the colours in the scarf and they really do pop so it's best to pair this scarf with neutral colours so it takes centre stage!
Look #2 On the handbag
You can also wear this silk scarf tied around a handbag. I've chosen to tie it on my Louis Vuitton Neverfull bag because for me, a silk scarf equals luxury so needs to be matched with an appropriately luxurious handbag. Handbag accessories are becoming really big with tags, badges and pom-poms hanging from them so why not a scarf? You can let this hang loosely or tie it in a bow.
The great thing about the K&K Labs Red Garden of Love Scarf is that with every sale of a scarf, the brand will donate 10% to a chosen charity every year that helps endangered wildlife. As nature and animals feature heavily in their designs it makes sense to me! It's a great initiative as well and by owning one of their exclusive scarves, you can truly know you are helping in some way, shape or form. As an animal lover, this is really important to me and I really appreciate companies and brands that give back!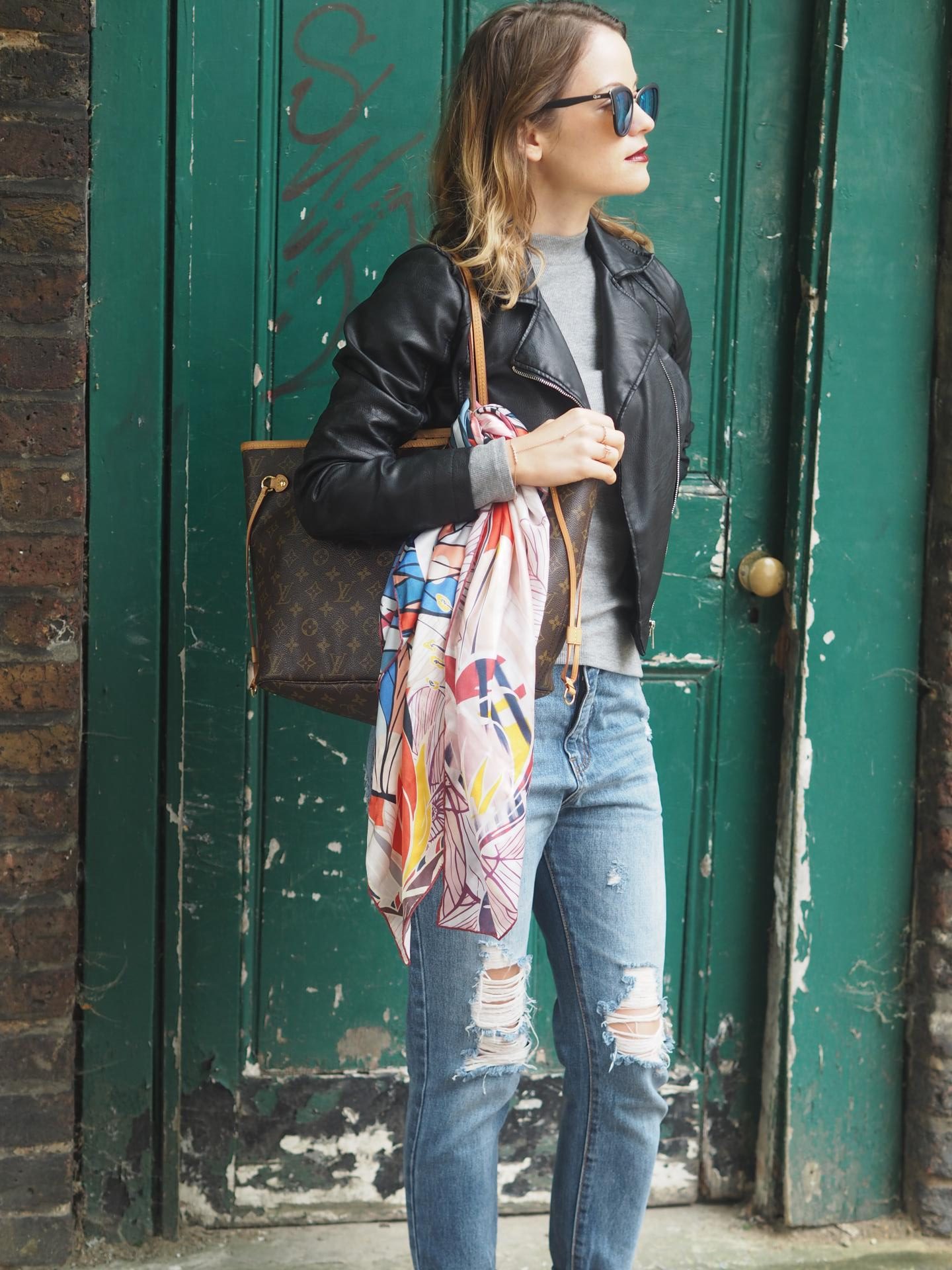 And the great thing about using the scarf to accessorise your handbag is that you can take it off at any time and use it to accessorise yourself! Here I've tried to create a more hip look with my Quay Australia sunglasses and dark berry lips with a leather jacket and ripped jeans.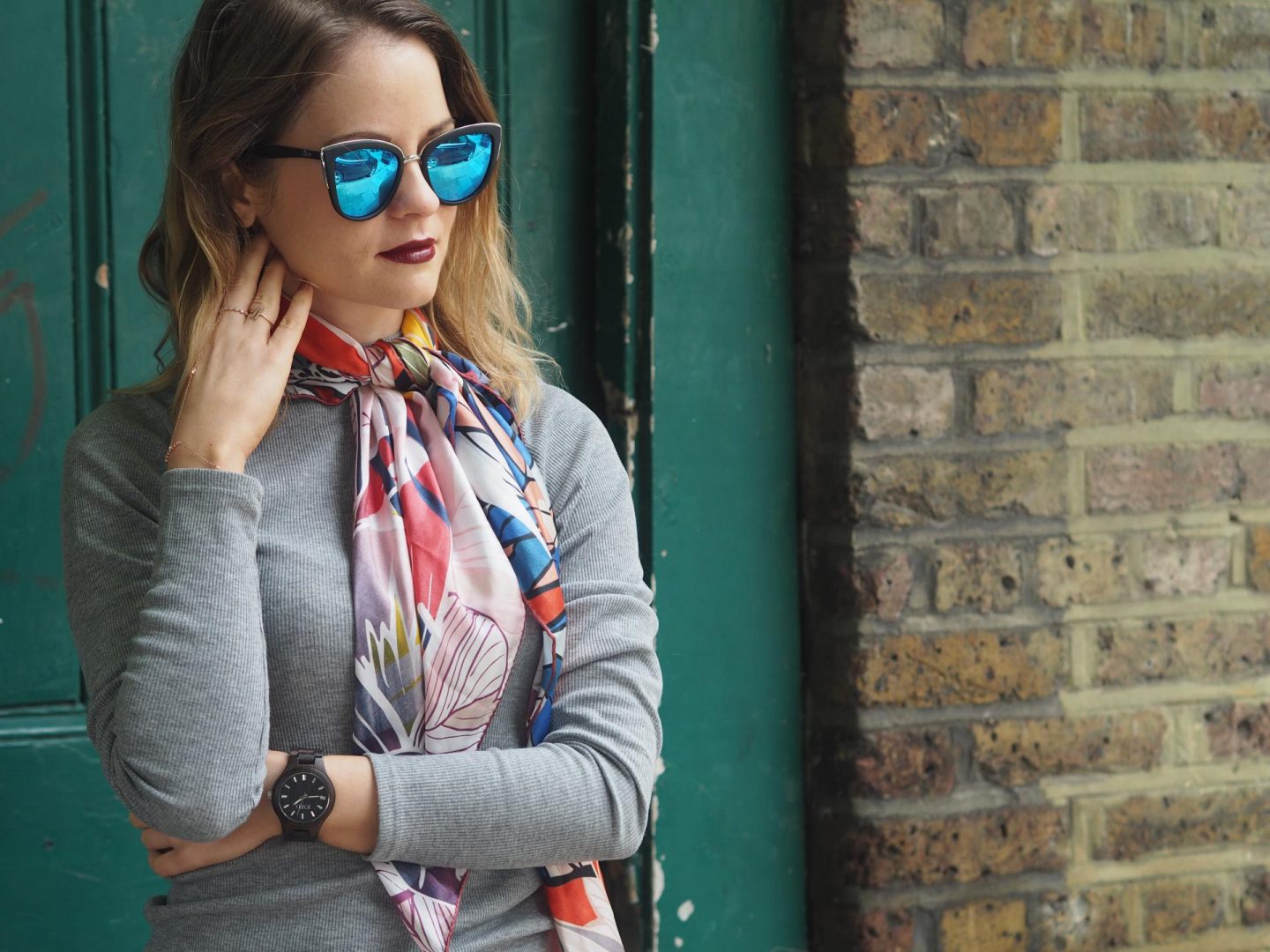 Look # 3 On the head
Last but not least you can certainly wear the scarf tied on your head! I really love this look actually and this style is becoming really popular because it's quite rockabilly and cool. I've recently gotten my hair chopped as well so this works great with short hair styles or with longer hair styles (with hair gathered on the top of the head).
There are so many ways to wear a beautiful silk scarf and if you are looking to invest in one you can shop the one featured in this post (among other styles) here. How do you style yours?
This post was in collaboration with K&K Labs but all views are my own!
Don't forget to follow me on Instagram @beautyrocksblog for all my latest looks:)