If you haven't tried Gosh Copenhagen yet I would suggest you do! I am not even joking or exaggerating when I say it's one of the best high street make-up brands out there. I am consistently impressed time and time again with the quality of their products at the prices at which they are sold at. This week there are some new AW16 launches from the brand at Superdrug and they have just landed! The new collection is inspired by the Nordic/Danish raw beauty of nature and many of the products contain natural ingredients sourced from Denmark. I've tried them all so here are my faves…
What's New from Gosh Copenhagen This Week!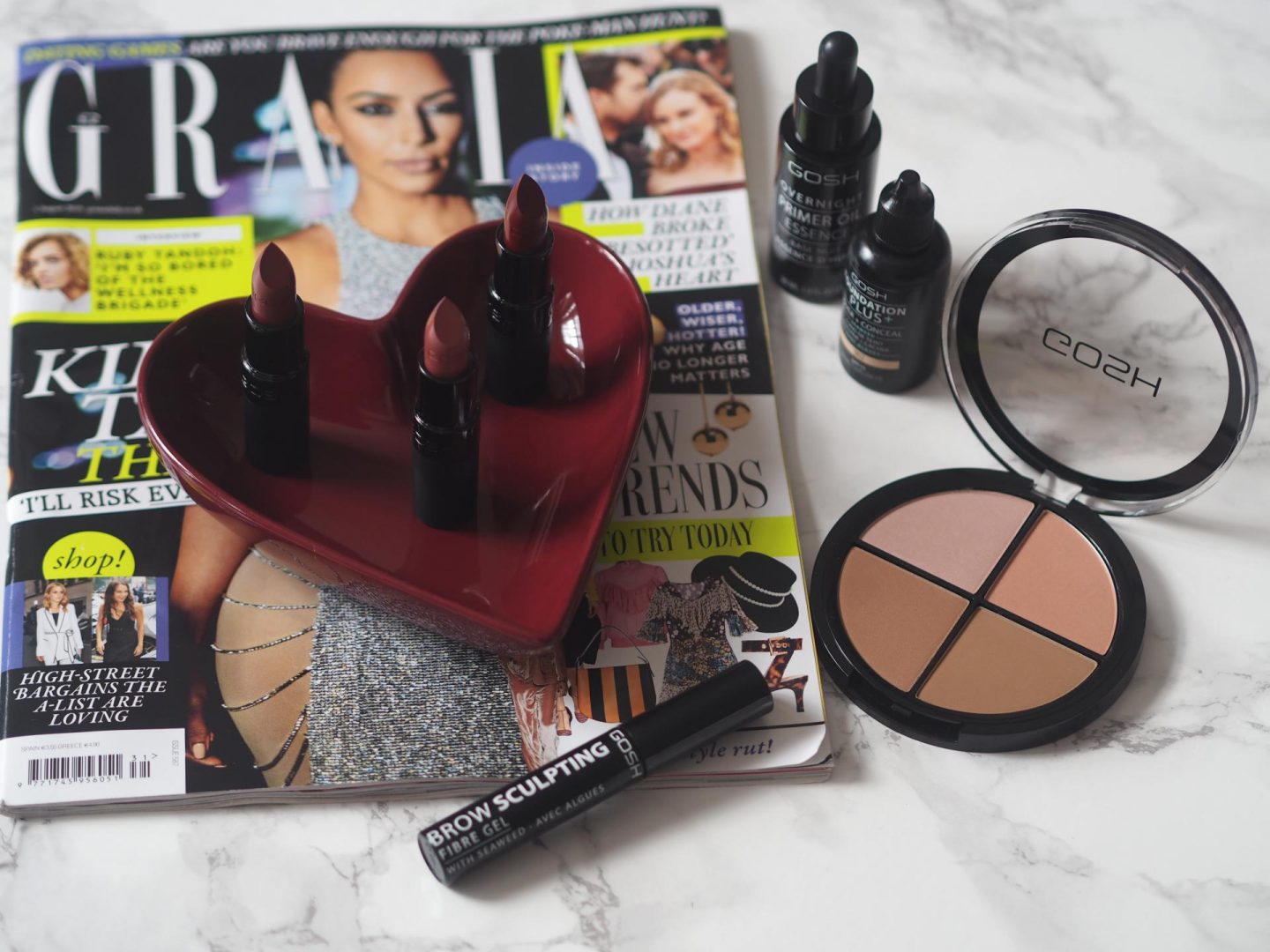 First up – who doesn't like a bit of contouring? The new Gosh Copenhagen Contour & Strobe Kit is da bomb because it's a palette where you can contour and strobe in one go. The palette contains two bronzers, one semi-matte blusher and one highlighter which literally covers all your bases! There are two palette shades – one for light and one for medium. I have the light below which suits my skin tone better.
The colours are right down my alley and I love the blusher – it's just the right tone of pretty pink for me. The colours blend really easily and as long as you have the right brush you can do this in no time at all. For contouring you just need to use the bronzers underneath the cheekbones, on the sides of the nose to make it look slimmer, along the hairline and under the jawline. I like using a fan brush for the highlighter to give it a more natural look.
Next up is brows – word on the street is that brows are big if you didn't already know and this Gosh Brow Sculpting Fibre Gel rivals the Benefit Gimme Brow. The gel contains added fibres to create the look of extra hairs in your brows so this is a really good product for the sparse-browed out there like me! It also contains Nordic Bladderwrack in it which is full of antioxidants so helps to nourish the brows too. Love, love this product and it just brushes through the brows really nicely. The wand is tiny so it makes the application more controlled.
I LOVE the Gosh lipsticks – they are such good quality and there are so many colours and textures. They don't dry out and become crumbly either like some. They've added four new colours to their Velvet Touch Lipstick Matt collection – I've got three of them below. The lipsticks have natural waxes and hyaluronic acid to help moisturise the lips. My new favourite colour is Cinnamon (below front) which is a light brown colour with just a hint of dusty rose. The sharp point means that you can clearly define your lips as well with these.
I also love the Cranberry shade below – it's the perfect dark berry that will take you straight into Autumn!
Two new very exciting additions are the Gosh Overnight Primer Oil Essence and the Gosh Foundation Plus + Cover and Conceal. I first got hooked on Gosh foundations when I tried their Foundation Drops which rivalled Cover FX at a sliver of the price. So needless to say when I saw that a new foundation had launched I was very excited indeed!
The new Gosh Foundation Plus + Cover and Conceal is a foundation and concealer in one which is fantastic! The formula is quite thick like that of a concealer so the coverage is really good. The consistency is quite pigment rich so a little goes a long way here. I've got some pigmentation spots on my cheeks so found this was great for concealing them. The formula also contains hyaluronic acid, liquid sea minerals and seaweed so you know that what you are putting on your face also has good ingredients. The great added benefit is that the foundation contains SPF 15 which is a real blessing in the summer! And the best part is the cost – this is only a tenner.
And last but not least this is the biggie that I am really excited about! Gosh have actually moved into skincare this season with the Overnight Primer Oil Essence. This is a facial oil that you apply before going to bed and helps to prep and prime your skin for the next day. They have done clinical studies with this product and after 7 days, the ingredients significantly strengthen the skin and provide an anti-ageing effect. So what's in it?
Well, it contains antioxidants, fatty acids and nourishing oils including French Lavender Oil, Blackcurrant Seed Oil, Argan Oil and Jojoba Oil. You can use this in conjunction with your regular night cream and you simply drop a few drops in the palm of your hands and spread over your face in the evening, really massaging it in. I absolutely love facial oils and really enjoying using this one. And for a facial oil again this is an amazing price at only £14.49. And you know what that means right? You may just have enough money left over for a lipstick.
Don't forget to follow me on Instagram for all my latest posts @beautyrocksblog!