Blue Tit is a really cool, trendy boutique salon that has the most fantastic decor of any salon I have ever visited. Seriously, who is their interior designer?! And not only does the salon look really cool and totally Instagrammable, but the staff are super cool (and knowledgeable) too. I recently visited the Blue Tit Salon Streatham which is brand, spankin' new and super hip – read on to see what I had done!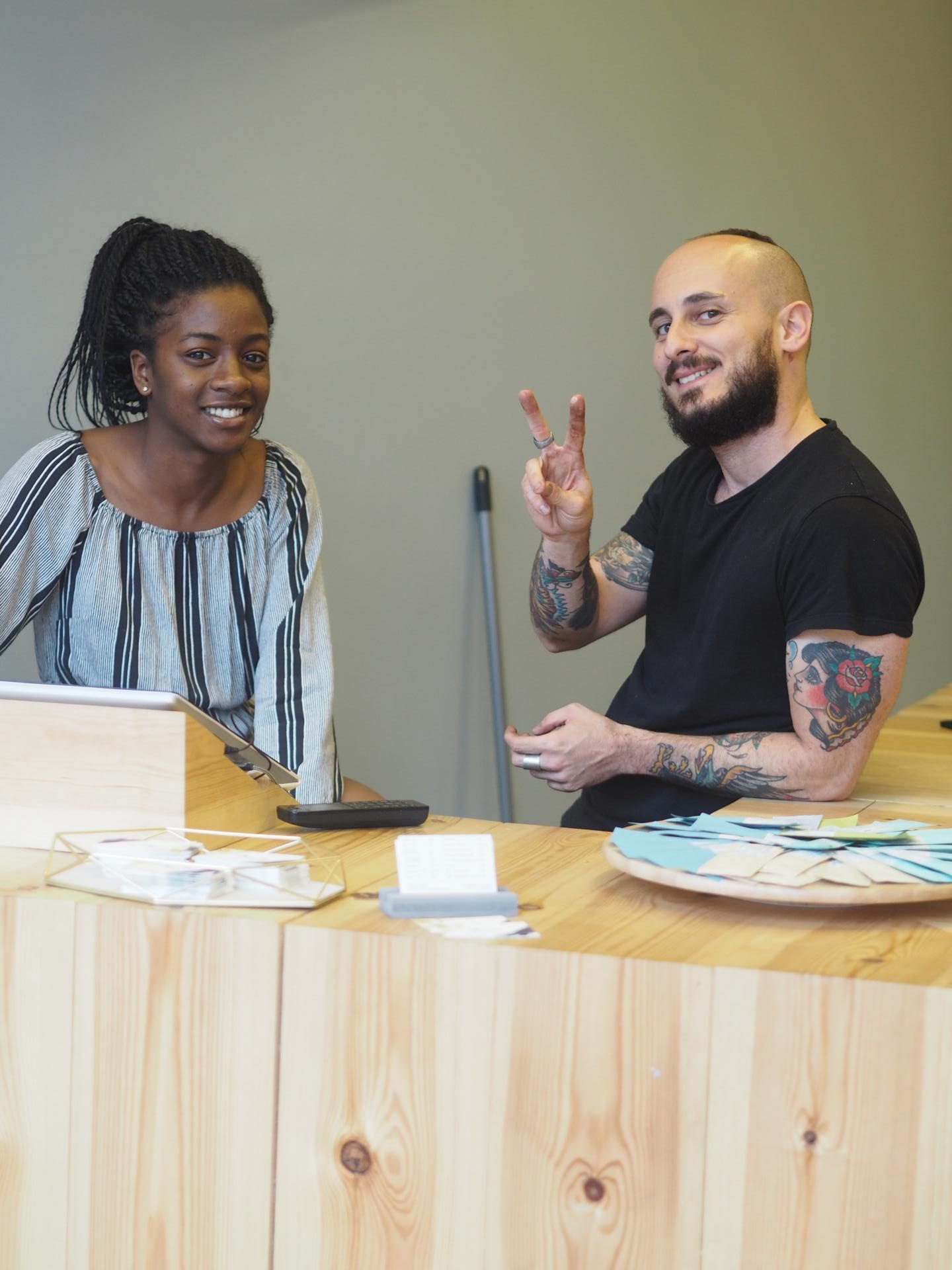 If you have ever visited any of the Blue Tit Salons in London I hope you will find it as cosy and welcoming as the new one that has just recently opened in Streatham. I had the chance to test out 'flamboyage' highlights using Davines products which are some of my all time favourites. The salon only uses Davines products as well, which are natural so they are good for you! I am super precious about my hair and really don't use any unnatural products on it so I felt really comfortable knowing that everything that was going on my strands was natural.
You can also buy Davines products inside the salon as well so it's a great stockist if you are looking for Davines which isn't always easy to find.
And the design. OMG. The interior of the salon is simply gorgeous – it feels so welcoming and so homely that you could actually just sit inside there for hours taking Instagram pictures. As soon as you come in for your appointment, you are welcomed with a drink (I had wine) and you can ask your hairdresser (mine was the AMAZING and lovely Frederico) any questions at all or if they have any recommendations about what kind of colour would look right on you.
The salon caters to both men and women and has an award-winning team of stylists and colourists. Blue Tit actually has their own Hair Academy so you can feel at ease knowing each member of staff has undergone training before treating your hair.
So now let's talk about Flamboyage which is exclusive to Davines salons such as Blue Tit. I had never heard of this before going to Blue Tit but it is a colour service that enhances the natural colour that you already have by blending different tones. I love natural-looking when it comes to my hair so was really pleased that Frederico understood that I didn't want anything done to my hair that didn't look natural. He explained that we would simply 'lift' the colour.
I hadn't coloured my hair for about six months and then chopped most of it off so what Frederico worked with was mainly my natural colour, which is a dark, ashy blonde. I have a natural bayalage look from grown-out highlights but wanted to lighten the top a bit for summer but at the same time keep it as natural-looking as possible.
Therefore using the Flamboyage technique seemed to be the best choice because it is the most natural looking colour service you can get. Frederico mixed the colour and then wrapped up individual strands in adhesive strips as opposed to foils (although he did use some foils as well).
By using an adhesive strip, this allows the hairdresser to use it like a work surface in that random hair sections remain secured to the tape so that they can be coloured in a creative way. This means that you could use these strips for strobing or for creating a halo effect of highlights through the hair. It's a very precise and easy colour service and it's the best way to create really natural highlights. I would highly recommend it if you are going for that kind of look – people may not notice your colour change depending on what you get but you will definitely notice that your colour has been lifted!
You can see the Flamboyage tape below in my hair – it's the see-through one!
So what was the result? Ta-dah! See the below images which I was really very happy with. My highlights looked so natural, fit right in with my hair tones and also will make not obvious when my hair grows out. If you are concerned about regrowth – think about Flamboyage from Blue Tit!
For aftercare post Flamboyage I would recommend the Davines Minu Shampoo and Conditioner. This is especially for colour-treated hair and it smells amazing. I love the conditioner because it is so rich and thick – it feels like a hair mask and makes your hair super silky too.
To book an appointment at Blue Tit Streatham see here.
Don't forget to follow me on Snapchat/Insta/Twitter @beautyrocksblog!