Organic Beauty Week is right around the corner in September and with that I wanted to do a post on some of my favourite natural and organic beauty products that I have been using in the past few weeks. Some are new and some are classics but nevertheless, I like them all. I do like the feeling of using a natural skincare product because most often, they smell and feel amazing. Using them is almost like a ritual in itself because many of the products contain essential oils that not only soothe the skin but also soothe the spirit.
First up I want to talk about a new brand called OM Skincare. I will tell you that I've used up all of the Daily Radiance Moisturiser (below) already and have been using the Invisible Finish Primer on the weekends when I like to wear less make-up. OM has recently launched and is available at Space NK. OM Skincare's philosophy is that the products nurture and protect skin but also encourage mindfulness at the same time.
OM Skincare was created by skincare expert and scientist Dr. Om Prawarisa – combining science and her love of Ancient Wisdom with the transformative properties of nature. The ingredients in the products are responsibly sourced from all over the world and the products are naturally deriven.
The first product that I want to talk about is the OM Daily Radiance Moisturiser. This is a no-fuss deeply hydrating day and night cream that I used to the last drop. This is great for sensitive skin because it contains no fragrance or added ingredients that tend to cause irritation for sensitive skin. It sinks in easily and is a great all around cream.
I also really like the applicator (below) as it is really hygienic and helps to preserve the product. Simply press the top and the desired amount comes out – easy!
I really love the OM Skincare Invisible Finish Primer. The biggest reason I love it is that it contains SPF 40 and it is tinted so it's like wearing a really lightweight foundation. I use this all weekend on my skin to give it a bit of a breather from the other days where I wear full make-up. It's a fabulous and natural alternative to wearing foundation. Simply pat it into skin and it will protect against a number of things such as pollution and damaging UVA and UVB rays.
Okay you may or may not have heard about the new trend with Birch water. I've just started testing out the Madara Time Miracle Ultimate Facelift Day Cream which contains rejuvenating Northern Birch juice. This is an 81% organic day cream and as it says on the tin, it's a Facelift cream so it targets sagging skin. However it is also deeply hydrating which is exactly what I need and it has been proven to reduce wrinkle depth by 26% within 1 hour.
This is a great example of an organic product that is also quite powerful at anti-ageing. It smooths and tightens so is great for both short term and long term use. It contains a proprietary cell repair bio-complex, rejuvenating Northern Birch juice, wrinkle-filling hyaluronic acid and light-reflecting particles to soften imperfections.
Studies with this product have show that this has an immediate tightening effect and within two weeks that the product has increased dermal skin cell regeneration by 25%. That's quite a big difference actually!
I really like this product – I did feel a tightening effect on the skin with it and would recommend it to a friend which is why I put it in this list! It also sunk in easily and didn't irritate my skin which sometimes happens when I switch skincare.
Madara has lots of products in their range which you can see below. One I really want to try is the Madara Cellular Repair Serum!
Another great brand for organic beauty is Trilogy. I've been a fan of this New Zealand brand for ages so it comes as no surprise that I would include them in my top picks. I love this Trilogy CoQ10 Booster Oil – it's fabulous. This is a serum that is good if you want to tackle lack of radiance. We all know that feeling – the dull skin that doesn't have that glow of vitality. So if you are looking to get your glow back, this is the one!
It contains a combination of Glycablend and antioxidant Co-enzyme Q10 to inspire luminous skin, 'recharging' at a cellar level to boost elasticity and collagen production, whilst Tamanu, Macadamia and Black Caraway Seed Oils help unveil a healthy, supple, youthful-looking complexion.
I love French pharmacy brands because a lot of them are naturally deriven. However the products I am about to talk about are not organic but I did want to give them a mention anyways because they are both good for sensitive skin and all of them contain natural ingredients. I love both Avene and La Roche-Posay for their simple yet effective formulas.
One really good day cream that I have grown fond of recently is the Avene Tolerance Cream. This was developed for super sensitive skin and is formulated with pure ingredients and no irritating additives. There is also a high concentration of Avène Thermal Spring Water in Tolerance Extreme making this really hydrating. You know when your skin just feels so irritated, has broken out and just doesn't feel good? Then I would highly recommend this cream. Sometimes I have to take a step out of my skincare routine and just simplify everything because my skin has over-reacted.
Again, if your skin is irritated and feeling fragile and overstimulated like mine does sometimes then the Avene Tolerance Mask is also really good. The reason why I have put it in this list is that it contains only 7 essential ingredients that helps to soothe and calm skin. I love this mask – it's lovely and it really does comfort the skin.
I've added the La Roche-Posay Effaclar Duo [+] Unifiant in this post because this is a mattifying and 100% mineral pigment tint that helps to even out the skin tone and reduce redness. My skin gets irritated quite easily due to changes in routine, environmental aggressors, stress, etc. and I also break out sometimes due to lifestyle related causes. I absolutely love this product because I like to use it on the weekend when I don't want to wear much make-up. The fact that it is a tint allows me go out without wearing make-up but also know that I am helping to reduce blemishes, etc. at the same time.
The formula contains niacinamide, renowned for its anti-inflammatory and soothing care. LHA gently exfoliates skin and provides keratolytic action to speed up the renewal of skin cells, procerad prevents and treats post-inflammatory hyperpigmentaion, and linoleic acid regulates sebum and creates a feeling of freshness.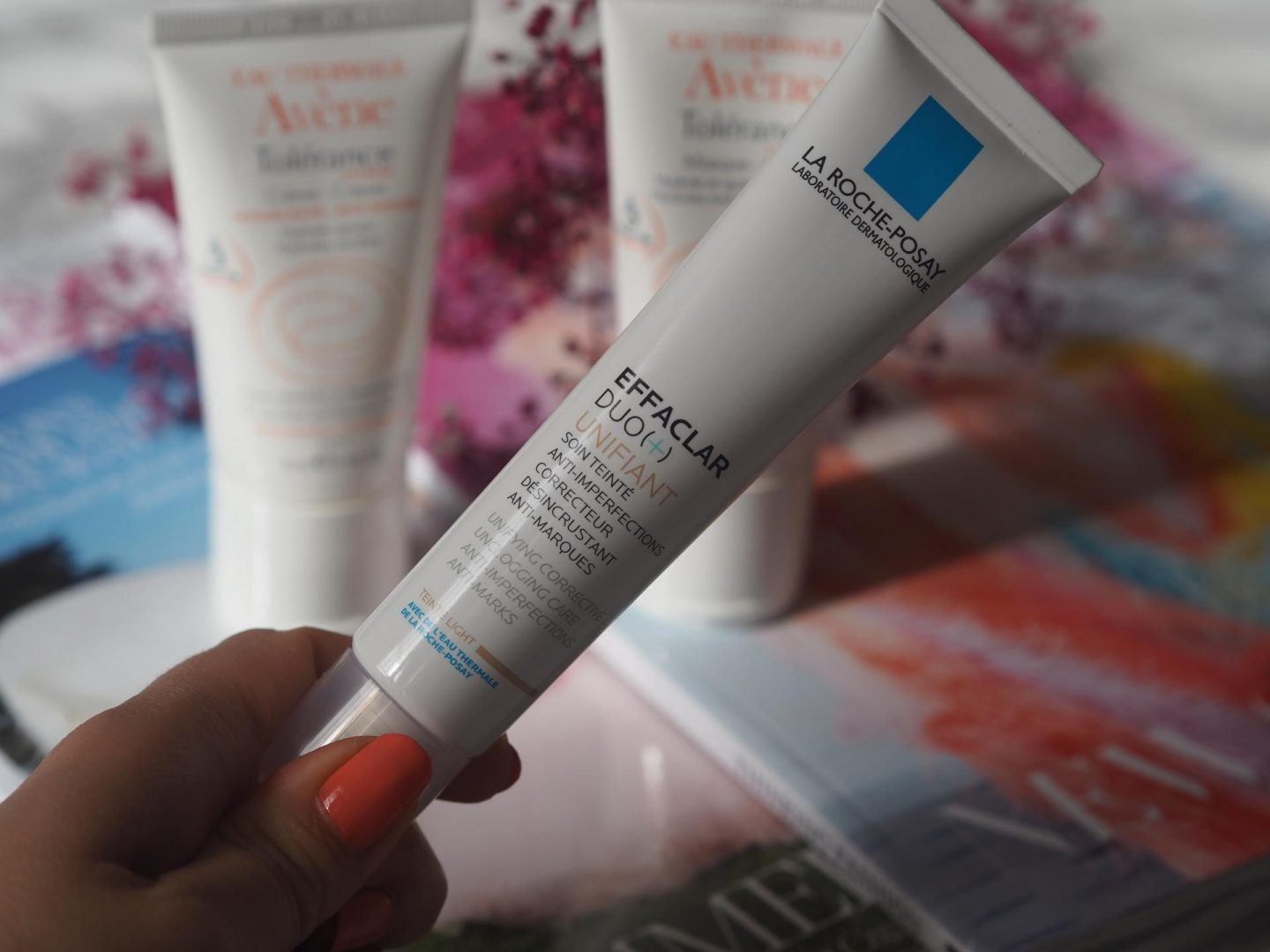 If you are looking for anti-ageing products for the eyes that are also natural then have a look at Ekia. The Ekia Gel Lift Paupières is an eyelid lifting serum that helps to combat sagging eyelids. This is an organic-certified product where 98.8% of the total ingredients from natural origin and 14% of the total ingredients from organic farming.
If you want to start to target your eyelids (and there is no better time than now – prevention is better than the cure!) then I would recommend this product. It is gel-based so feels really cool and refreshing on the skin and it really does make your eye area look less tired (which is what I really need)!
I had been looking for an organic tanning product for so long that I really liked and then I discovered Tan Organic Self Tanning Oil. I swear this is hands-down the BEST tanning product I have ever used. It is amazing! I am definitely not lazy but I am busy and like to choose products that are multi-tasking. This one is the easiest and non-messiest tanning product I've ever used which gives it five stars in my eyes.
You know how sometimes you put on tanning solution but then you definitely have to rinse it off in the morning? This one you don't – so the next time you shower you won't see all the solution coming off in the shower because this is clear and develops on the skin. The tan it leaves also lasts forever. And it's organic!
You don't have to use a tanning mitt or anything with this. I've used a sample bottle of it below to demonstrate but it comes out in a clear oil and you simply need to apply this to clean, dry skin. You can apply this and leave on overnight for the tan to develop. However, I've even put this on in the morning and gone out in the day. It doesn't stain clothes and doesn't leave any streaks or a mess.
And last but not least I love the vegan, cruelty-free and natural make-up brushes by B. at Superdrug. These are really very good! The brushes are developed by make-up artists and made from silky-soft synthetic fibres so they are completely vegan and cruelty free.
I love that each brush also has its function on it, making them goof-proof to use! I use the blend brush every day to buff in my foundation and also love using the fan brush for adding just a glow of highlighter.
I've hope you have enjoyed my round up! Don't forget to follow me on Insta/Snap/Twitter @beautyrocksblog for all my latest updates.
Shop the post here!