Yikes, what happened to January? Seriously, it's been a pretty depressing month but alas, flowers and all things pink are just around the corner with Valentine's Day! Whether you partake in Valentine's Day or not, if you have a partner or not – see as a day to celebrate love – in all shapes, forms and sizes! And if nothing else treat yourself to something nice – even if that's just going to the cinema to see that movie you've been wanting to see. However, if you have a significant other and want to give them a little nudge and a hint, hint for something nice for Valentine's Day then I've got some Valentine's Day gift ideas for her right here!
Now for Valentine's Day I can think of nothing better to give or receive than an utterly beautiful fragrance! And I am so so very lucky to have been able to try the Terry de Gunzburg (of By Terry cosmetics fame) Terryfic Oud Extrême. Just look at it! It conveys opulence and elegance and is truly a sight to behold. This is a very special fragrance as well – not only with the beautiful gold packaging but also in the scent. The bottle is inspired by Terry's passion for oriental art and the fragrance itself has notes of rose, saffron, oud and leather. It's sexy, sensual and perfect for THE ONE on Valentine's Day.
The scent is smoky and dark and only for the brave. Think of an incense-filled room and you will imagine what this might begin to smell like. The oud and leather really jump out at you – this is the leather room in 50 Shades of Grey. The scent will make you feel sexy – which is really what you want on Valentine's Day (night) right? The scent is something like I've never smelled before in other oud fragrances – perhaps it's the addition of saffron, an interesting ingredient to add to fragrance. Also the scent lasts on the skin for hours with this!
This is not a cheap fragrance by any means and will require a significant investment. Again, I think some things are worth spending money on and fragrance is one of them. Test before you buy if you are willing to spend this kind of money for a fragrance to cherish. Harrods has an amazing fragrance hall well worth visiting.
In regards to fragrances I have another favourite to recommend for a Valentine's Day gift in the form of Estée Lauder Modern Muse Nuit Eau De Parfum. This is truly a beautiful scent and made for the night. It's sexy but sweet at the same time – coquettish if you will. If you liked the Modern Muse Day (in the red bottle) then the Modern Muse Nuit is definitely worth having a look at. I love the bottle – it looks quite glamorous with the blue of the fragrance and gold of the bottle. I think in regards to a night-time fragrance this one is a real crowd- pleaser due to the sweetness thrown in. The fun part of this fragrance is that it has a rum accord that you can really smell – it's that sweet but addictive scent. It also throws in rich jasmine, amber and musk into the midst for an added edge.
If you never thought of asking for lipstick for Valentine's Day think again. I am a huge lipstick lover and I truly believe in the transformational power of a lipstick. And no man makes a lipstick quite like Marc Jacobs. Seriously – the pigment and lasting colour are worth the money. The lipsticks pack a punch and totally worth a splurge. I've got two of the Marc Jacobs Le Marc Lip Creme colours below. These are meant to last 10 hours and they really do. Because of the colour payoff you just need one swipe! I also love that these don't dry your lips out – making them even more kissable! Each of the shades is named after a woman who inspired Marc Jacobs which I absolutely love – move over Tom Ford (Lips & Boys)! This is a must-have for Valentine's Day. You can wear it on date night and know that these will last through the date and longer! I've got Kiss Kiss Bang Bang which is the lighter pink shade below and Blow – the darker shade. Glossy lips are also very sexy and have a volumising effect – the Marc Jacobs Enamored Lip Lacquers are super hi-shine and gloss, gloss, glossy. I've got Boom below.
Here's a gift idea for yourself for Valentine's Day. Whether it's just to treat yourself or get ready for date night, having someone come to your home and do your nails for you is such a convenience and a real treat. I was visited this weekend by Beautii which offers nail services in the home as well as make-up services and hair styling. Basically that means that you order a service and a professional comes to give you that service in the comfort of your own home. I had a shellac manicure which I love because it lasts forever. I don't have time to paint my nails every single week and I really can't stand when my nail polish is chipped so I often go for shellac – on my nails it usually lasts for four weeks. With shellac I tackle that awkward new growth by filling in the new nail with another colour – it then looks like an upside-down french mani. Cool and makes it easy to grow out your nails with shellac.
I am super busy so like having services come to me – it's so nice to have a massage at home or nails done at home and the beauty technicians at Beautii are super-professional and do a great job. They also use great products – my mani was done with CND Shellac in Serene Green. It was super-speedy (finished in under an hour) and I didn't have to even leave my couch! This makes a fabulous Valentine's gift for yourself or someone else. Fabulous nails are a treat and having them for four weeks is even better! Highly recommended for busy women who also like to have nice nails.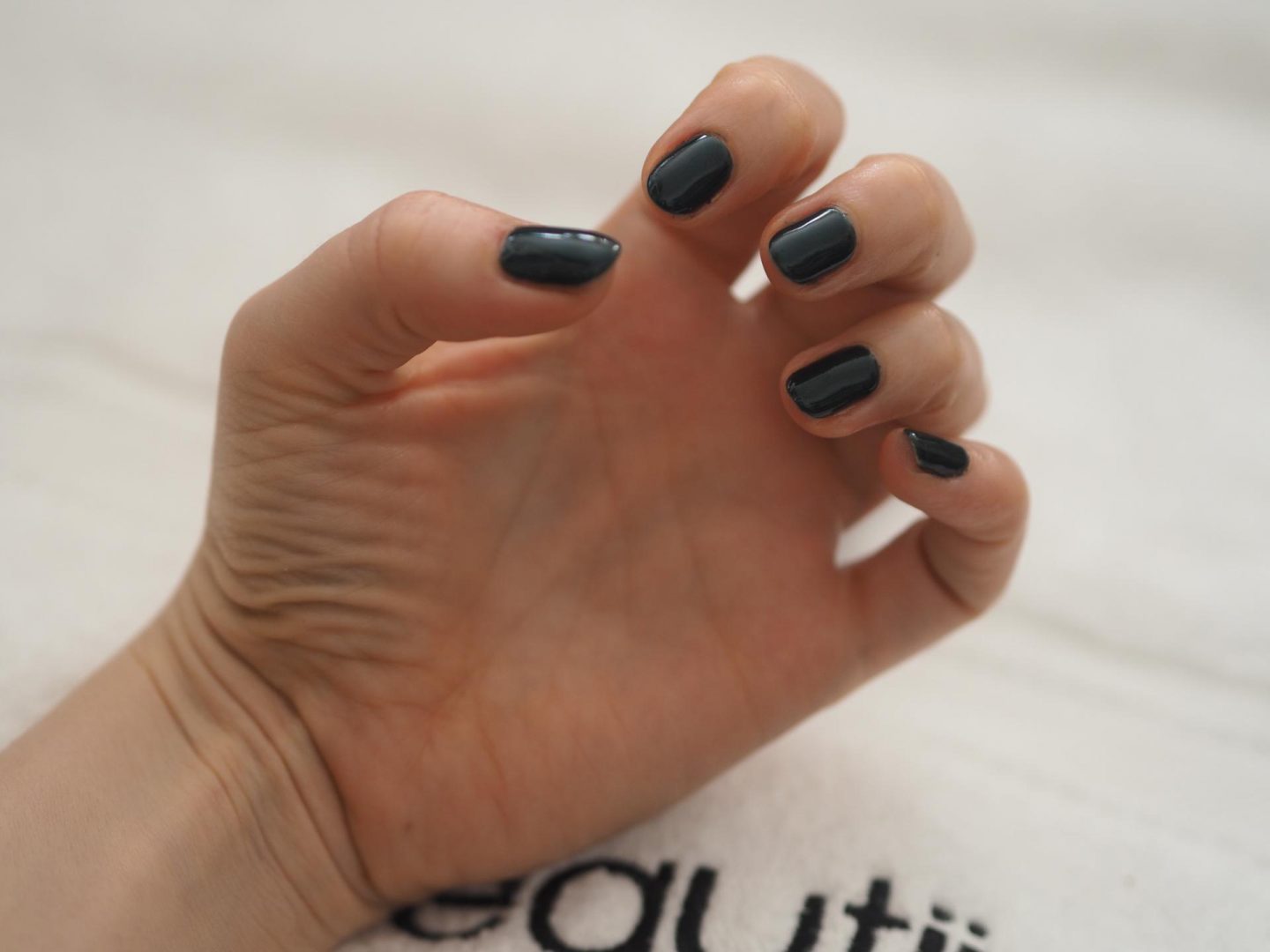 And because it's Valentine's Day I can't help but going back to fragrance – this time in the form of the brand new L'Eau by Jimmy Choo. Now honestly the word when I think of this fragrance is pink – which is really actually quite perfect for Valentine's Day. Pink roses, pink chocolates, pink everything. This is a very fun and free-spirited feminine scent that just makes you feel girly and happy when you smell it. The fragrance has notes of hibiscus flower and bergamot blended with sweet nectarine and floral peony at the heart of the scent. The fruity and floral notes are grounded by base notes of cedarwood and musk. The bottle is beautiful and inspired by Venetian Murano glass – very pretty and feminine for a dresser area.
What's on your Valentine's wishlist this year?
Don't forget to follow me on Instagram/Twitter @beautyrocksblog for all my latest adventures!
Shop the post here: