I think we can now say it's officially spring right? Longer days, more sun and that fresh spring scent in the air. Spring is the promise of warmer days and with winter now behind us it's time to bare the skin. Shoulders come out, the decolletage is revealed after being hidden under chunky sweaters for months and hair is loose and free. I've chosen some of my favourite new products for a spring clean – from skincare to make-up to hair. Read on!
Spring Clean: The Best Products for the Season
First up there is the neck. With spring you start to wear a little less and a bit more skin is revealed. Also you put your hair up more because the weather is warmer. And when the hair goes up guess what is revealed? That's right, the neck. I've been really good to always include my neck in my skincare routine because it's really important. Omorovicza has just launched a Firming Neck Cream which targets the neck of course – the often forgotten part of the body. I really like this cream because I feel like it isn't greasy. You know those creams you apply to your neck and then your hair gets all greasy? Luckily this isn't one of them. It has a triple-action formula that works to plump and hydrate the neck and décolleté area. Turkey neck be gone!
I like to go for the 'fresh skin' look in the spring – using less powder and heavy make-up. But do that the canvas of my skin needs to be looking good. Recently I've struggled with breakouts (I think it's from pollution and stress) and also large pores. So I need to get those under control before I can show off my skin to the world! And I think a good cleanser is key to great skin and so I've been using the Omorovicza Moor Cream Cleanser. This formula is detoxifying which is perfect for my skin because I struggle with pollution overload. It contains Hungarian Moor Mud that is derived from the largest thermal lake in Europe, Lake Hévíz – so it helps to vacuum out the pores. Another interesting thing about this cleanser is that it is quite cooling – it contains Peppermint and Eucalyptus Oils so it's great for hotter weather!
I've recently discovered the power of masks and I have started using them more frequently. They help delivery super-charged ingredients to skin and I use them about 2-3 times a week. One that I LOVE and have recently discovered is the Natura Bisse C+C Vitamin Souffle Mask. If you haven't tried Natura Bisse yet you are in for a real treat. I first discovered the brand from a facial and took away a couple of packettes. Since then I have been wanting to get my hands on more products but they are expensive so it's best to really splurge and savour them. They are really good. The souffle mask is lovely for skin that looks tired and dull in general and it's not terribly expensive either at £34.00. The mask repairs damage caused by free radicals – great again for my pollution-overloaded skin. It also helps target dark spots which I am also prone to. This is a lovely pick-me-up for dull skin and the orange scent will have you ready for a dose of sunshine!
As I said I love using masks to help my skin recover and another one I have recently discovered (and all the way from France too) is Odaites Anti-Aging Radiance Mask. Odaites uses botanicals in all of their products and this mask in particular uses the power of the date to regenerate skin. I hadn't yet seen any products with dates in them as a key ingredient so this was interesting. Dates are rich in polyphenols, a powerful antioxidant and the mask works at brightening, smoothing and firming. The texture is a cream one and it does sink quite nicely into the skin. You just need to apply it twice a week for noticeable results and leave on for 15 minutes each time. My skin felt really smooth after using this mask and it's a really lovely one if you like products with natural ingredients.
To spring clean your skin you need to clean it! So apologies as you are going to hear me talk about cleansers a lot in this post. I am LOVING the new Pixi x Caroline Hirons Double Cleanse – I have been using it every day. It's actually the first cleansing balm (I'm referring to the solid cleansing oil in Part 1) I've ever used that actually comes off when you rinse it off. I've had issues with cleansing balms in the past in that they just simply don't wipe off leaving a film on the skin. I don't mind using them in the morning when I don't have any make-up on but sometimes to use them in the evening it's a mess. Well, Caroline has certainly fixed that problem with her Double Cleanse cleanser.
So step 1 you use the solid cleansing oil (left side below) and massage onto the skin. I am very strangely addicted to the smell of this. It doesn't really have a fragrance but I have a very weird attraction to it! Once you have massaged into the skin, you just rinse it off. It emulsifies and easily comes off, along with your make-up. Step 2 is a cleansing cream to follow up with. Simply massage onto skin to lift the remaining impurities off and then rinse away. My skin felt soft and smooth after using this and not dried out at all. I really, really like this!
As I am really into spring cleaning my skin why wouldn't I look to a brand that does that very thing with Skin Laundry? Again, I need a good canvas to get that skin fresh kind of look so a cleanser is really important as is a toner. The Skin Laundry Extra Deep Cleanser is all about removing impurities from the skin an extra deep cleanse. It also fights breakouts which is what I'm suffering from now! It's oil-free and also doesn't dry out the skin.
Now a toner is something I have had to put into my skincare routine because I usually don't use one. But since the recent breakouts, etc. I have decided to give toners a go. The first one I'm starting with is the Skin Laundry Clarifying Toner. This removes excess oils but also restores the pH balance of the skin so it's actually a really fabulous toner. Simply apply it after cleansing and then move on to your serum. Great for warmer weather as well as skin generally produces more oil during the spring/summer season.
A brand that I discovered recently during a facial that I had at the Nova Aesthetic Clinic in Greenwich (read more HERE) is Dermaquest. I had a fantastic facial and all the products used during the facial were from Dermaquest. I had the beauty therapist list out what products were used during the facial because I was so impressed with my glowing skin after the treatment. So fortunately I've been able to test a few of them out and I think the range is perfect for spring.
First up is the Dermaquest Essential Daily Cleanser. I know I've talked about cleansers a lot in this post but I think they are really important and you need to find one that doesn't dry out the skin. Dermaquest products (the ones I've tried anyways) have a lot of fruit acids in them which help exfoliate the skin. This cleanser is no different with Papaya fruit extract, Pineapple fruit extract and Grapeseed Extract. It's great if you want to gently exfoliate everyday but don't want to use a scrub.
Next up is the Dermaquest Essential B5 Hydrating Serum. This is a great little serum that is all about hydration, another thing I suffer from. My skin is typically very oily but dehydrated. It's literally a drink of water for the skin with a burst of hyaluronic acid. It sinks in easily and also doesn't irritate the skin.
Now comes the product that I really love which is the Dermaquest Mini Pumpkin Mask. This is a brilliant mask that is great for congested, acne-prone skin that looks dull and spotty. It brightens the skin and you literally only have to leave it on for five minutes for it to work. It makes your skin tingle a bit but that's how you know it's working! After using it my pores looked smaller and the skin a bit lighter and brighter. It helps to prevent breakouts as well which is really what I need right now. A perfect skin spring clean product!
If my skin is ever struggling I always tend to go to Clarins. I know their creams work and they really work with my skin. I love the new Hydra-Essentiel range that has just launched. It's perfect for spring because the texture and consistency of the products are not heavy at all and sink in quickly.
First up is the Clarins Hydra-Essentiel Bi-Phase Serum. This is such an interesting serum because it has the consistency of water. Literally blue water. You simply pump out a few squirts of it in the palm of your hand and splash onto the skin. It's a serum but with the consistency of a toner. I absolutely love it – it's so lightweight you don't even know it's there. It also soothes the skin and works on targeting fine lines caused by dehydration.
And you can't have the serum without the matching cream! The Clarins Hydra-Essentiel Silky Cream is a dream and feels very quenching to the skin without being too heavy. I've been using it both day and night to give my skin a bit of a break. Perfect if your skin feels really dehydrated.
Another great new launch for spring is from Perricone MD – a brand I absolutely love. The new range is called H2 Elemental Energy – powered by Hydrogen. This is a really exciting launch as I actually haven't come across this ingredient as a key focus in any other ranges.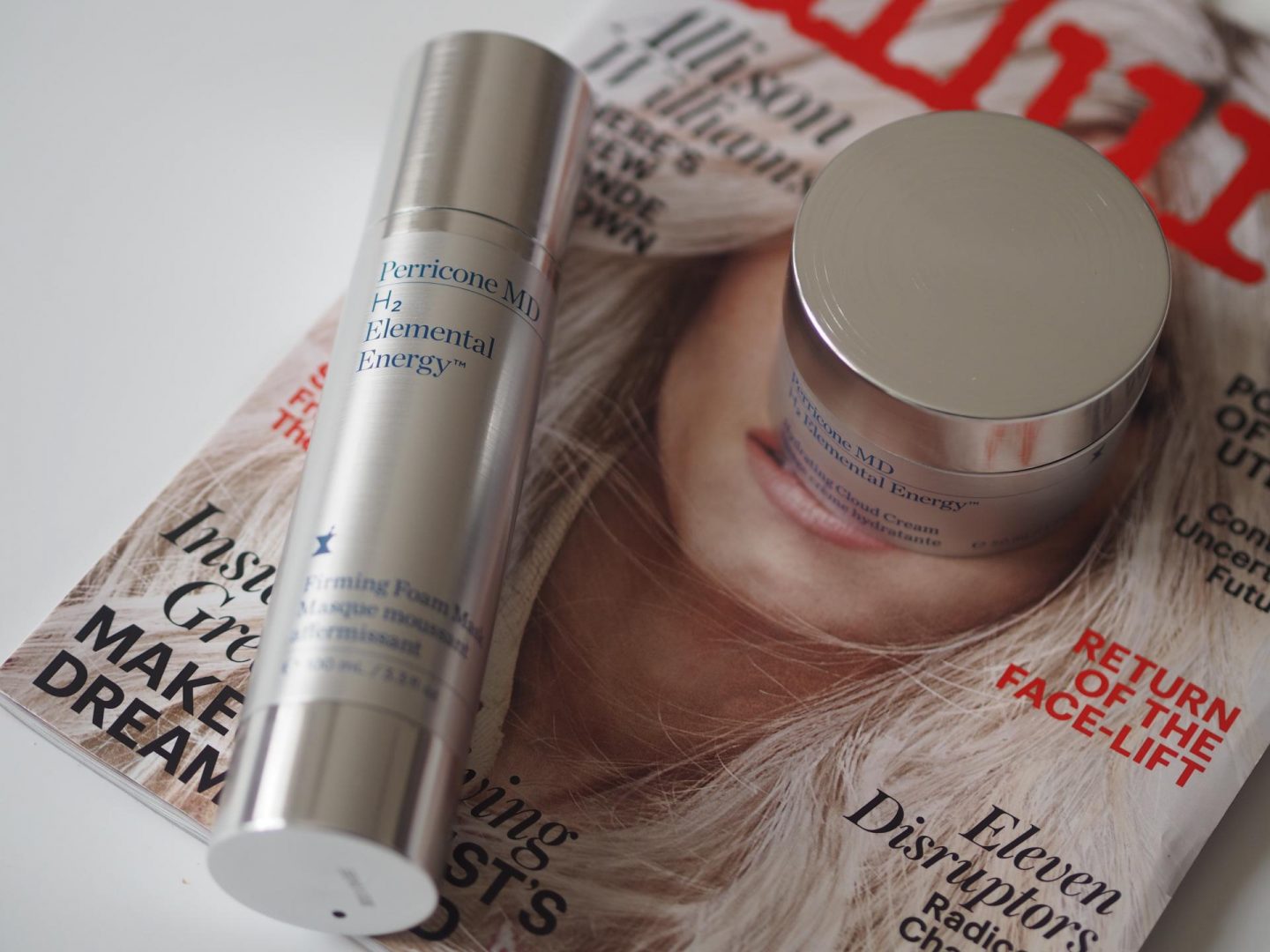 Again I love a good mask when it comes to skincare and this Perricone MD H2 Elemental Energy Firming Foam Mask is one to add to the list (it launches in the UK beginning of April)! It's super lightweight – perfect for spring – and it foams on contact to energise the skin and firm it. This is a great product again for skin that just looks dull from the winter months and needs a bit of a boost and brighten.
I love the name of this next product which is the Perricone MD H2 Elemental Energy Hydrating Cloud Cream. Hydrating and with the consistency of a cloud? Sign me up! This is a gorgeous hydrating and lightweight cream which is perfect for warmer temps. Again it's powered by Hydrogen (the smallest molecule in the universe) which allows the product to sink further into the skin for truly deep hydration.
Let's move on from skincare to make-up that will give you that fresh skin look. Again we have Clarins who have come out with these adorable Skin Illusion Blushers and Bronzers. They just pop open and you can apply them directly the face with the sponge.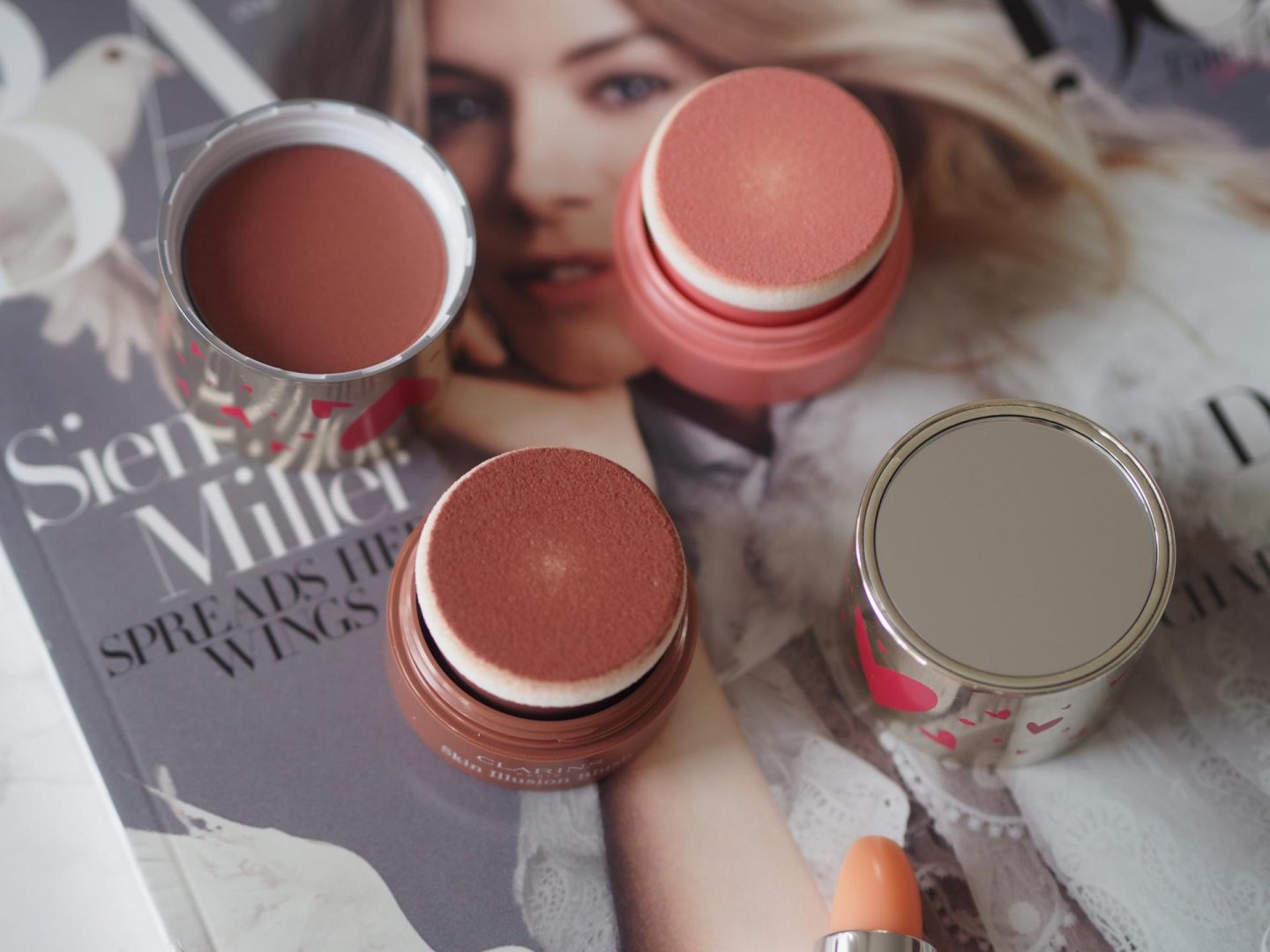 The Clarins Skin Illusion Blush (you can also see the bronzer in the above photo) simply pops out and you just dab it directly onto your cheeks for a pop of colour. This is a great product if you like to have the 'rosy apple' kind of cheek look which is great for spring. Really easy application – no brush required either which makes these the kind of product that also travels very well!
If you want that skin fresh look you also need to know how to blend really well. Beautyblender has come out with an All.About.Face set that pretty much covers any blending need possible. I love their mini sponges which can be applied to different parts of the face with different products. The large one from the left (below) is great to be used with foundation or BB cream and the middle is perfect to apply blush and the tiny sponge on the far right is great for putting on concealer around the eyes (tried and tested!).
Spring is also about letting your hair down – loose and natural waves or up in a ponytail – it doesn't matter the style as long as it looks as fresh as the season! I always get a few natural looking highlights thrown into my hair for the summer to brighten it up. But when you colour your hair you need to protect it. Mane N' Tail have just launched a new Color Protect range that is all about strengthening the hair.
The Mane N' Tail Color Protect Shampoo helps maintain colour but also strengthens hair at the same time. It's especially important to protect colour in the spring/summer from damaging sun rays.
There's also a Mane N' Tail Color Protect Conditioner in the range that helps condition tresses. I really like the Mane N' Tail range – I've been using it since I was a teen! There is also a Hair Strengthener Leave-In Conditioning Spray that is really useful. I use this to freshen up my waves on the no-wash days – it's great and much gentler to the hair than using products.
I hope you enjoyed my 'spring clean' post! Don't forget to follow me on Instagram@beautyrocksblog for all my adventures!