If you read my posts regularly you will know that I'm a huge fan of a beauty box. There is just something about discovering a new brand or product that you hadn't known about before. I think it's the spirit of discovery that I like so much about a beauty box – trying is what beauty is all about! I've found some of my most-loved beauty buys this way – through a beauty box! This month on 17th May the TILI box from QVC launches. We all know that QVC has so much beauty that it's mind-boggling so it makes total sense that they would bring out a beauty box so people can try all the latest brands that they stock. TILI stands for Try It, Love It which is exactly what a beauty box is all about – trying.
So what's in the box? I've got a sneak peek right here!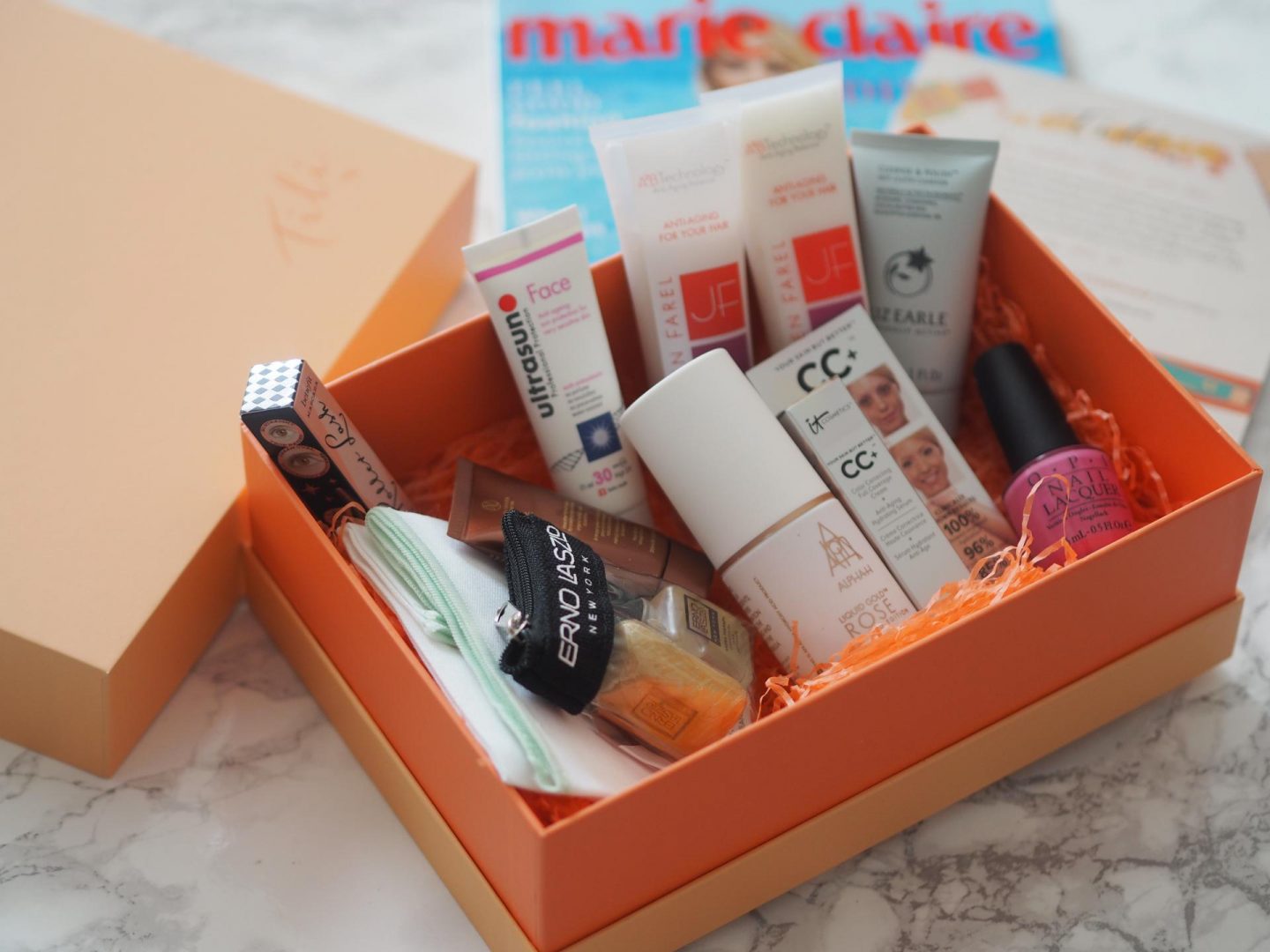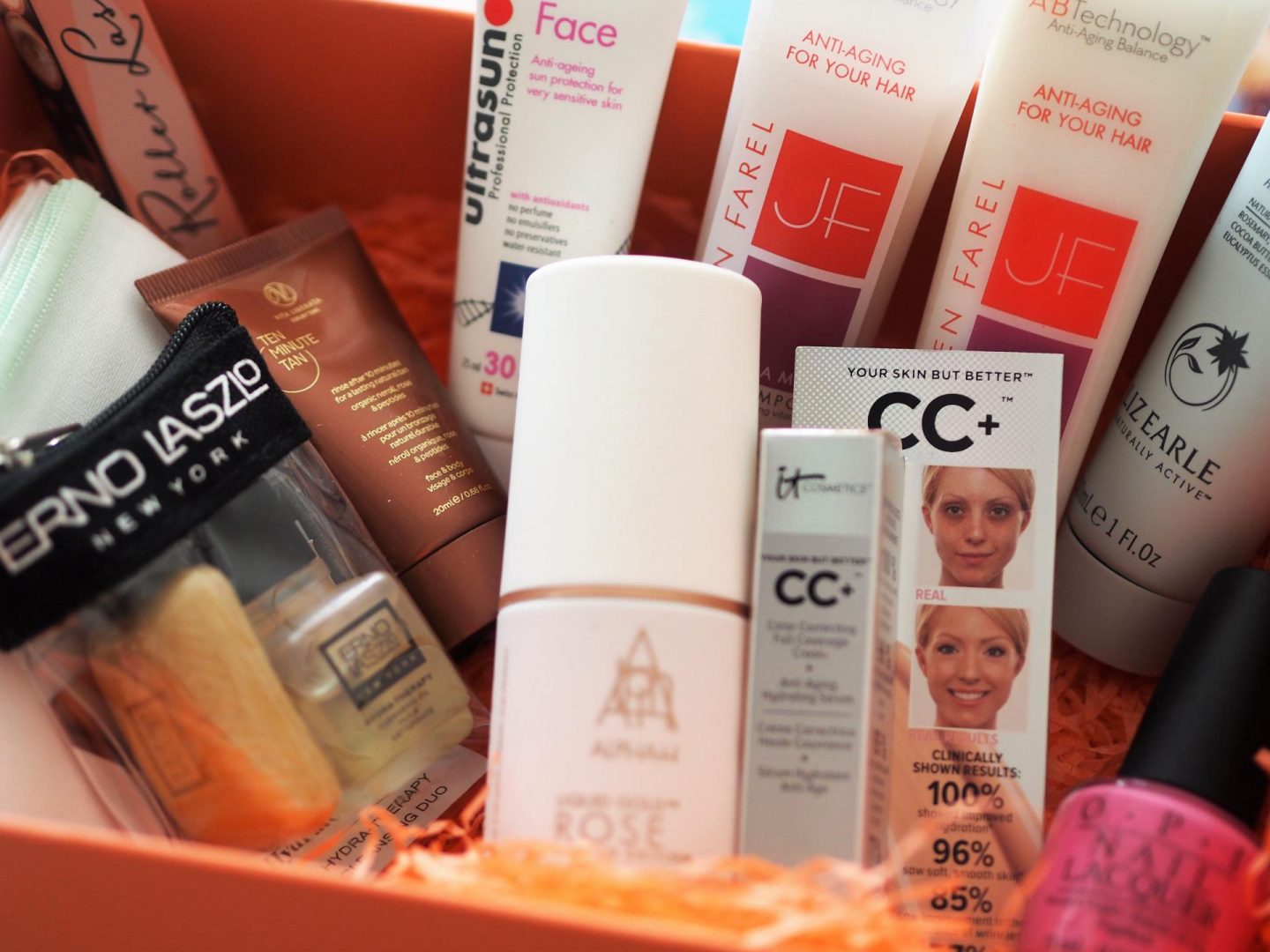 Basically the TILI box is chock-full of some really great products covering hair, face, nails and body. So first up is the Ultrasun Face Cream with SPF 30 (25ml). I cannot stress how important it is to wear SPF! It helps prevent all age-related concerns and it's not that hard to remember to use – just use it! If there was any advice I would give to anyone it would always be to wear your sunscreen. This 25ml one from Ultrasun is the perfect size to tuck into the carry all for a summer weekend away as well and is specifically formulated for the face so it won't make you break out.
We all know about anti-ageing solutions for the face but what about the hair? The hair ages just like the face does so I love this Julian Farel Shampoo and Conditioner (both 50ml) which are both anti-ageing for the hair. Things like colouring your hair and using heat tools on your hair also ages it. What this shampoo and conditioner does is contain anti-ageing ingredients such as hyaluronic acid (Thought this was just for the face? Think again!) and panthenol which inject moisture and softness into the hair. Great for damaged hair or hair that feels weak and prone to breakage. These are also safe for colour-treated hair too.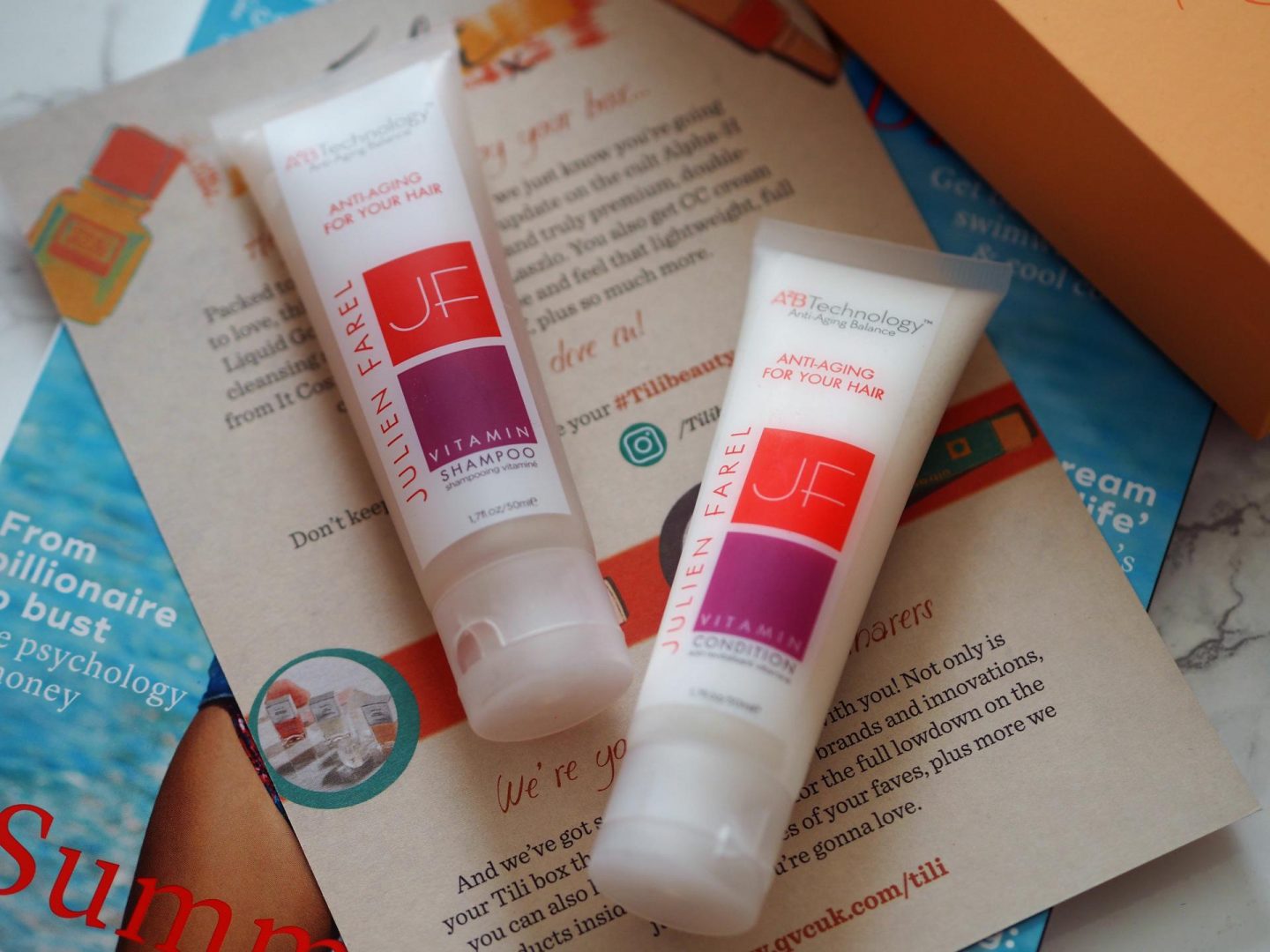 Oh the next product in the TILI beauty box I am obsessed with which is the Alpha H Liquid Rose Gold (50ml). Now this is a full-size product so you are getting your bang for your buck here (remember the TILI box is only £20). This product is a cult-classic and a real hero for anyone suffering from pigmentation or acne. How this works is that it is like an overnight glycolic acid peel – you apply it with a soaked cotton pad to clean skin before going to bed every other night. For the intensive treatment you don't put any other product on your face and leave it to work its magic. It deep cleans pores and helps with pigmentation and acne. Highly recommended to give this one a go!
Summer (although it doesn't often feel like it) is certainly well and truly on its way. And since we can't trust the sun to always come out in the UK this Vita Liberata 10 Minute Tan (20ml) is a real skin-saver. I'm so keen to shed this winter paleness that I couldn't wait to open this up and get this on. And it's great for time-poor people (like me) as you simply need to apply it and leave it on for 10 minutes and then rinse it off. A golden glow then develops within 4/5 hours. Brilliant!
Next up? Liz Earle Cleanse and Polish Hot Cloth Cleanser! Now I haven't met a soul today who has not tried this and didn't love it. In fact, this was the first cream cleanser I ever tried and I blame it for my addiction to cream cleansers ever since. The harsh cleansing days are over folks – I love using this in the morning when I just wake up – it's herbalicious scent is both soothing and energising at the same time. It's super gentle on skin but dissolves all the grime. Simply apply, rub in and then wipe away with the cloth provided (make sure it's wet and hot though). You'll never look back.
I actually squealed like a little girl when I saw this OPI Nail Lacquer in the box (full-size). It's PERFECT for the summer and the colour that I was looking for – it's called Two-Timing the Zones which I love because it reminds me of a jet-set traveller. This is the perfect pedi and/or mani colour for summer and it couldn't have landed at a better time (my nails are screaming HELP!). This is 1 of 8 shades of nail varnish from OPI that you can get so it will be a surprise in regards to what colour you will get!
And no it doesn't end there! Seriously there are so many products in this box – the TILI box is certainly 'meatier' than most other beauty boxes – it is packed FULL. The next product I want to show you is the It Cosmetics CC Cream (4ml). This comes in a tiny little size which is great to keep in the handbag for touch-ups on the go. Let me tell you, I LOVE foundation that doubles as skincare and this one does just that. In fact I'm not sure what this CC Cream doesn't do. CC stands for colour-correcting so it works to hide flaws like pigmentation and acne. It also manages to contain SPF 50 as well as being infused with hydrolyzed collagen, peptides, niacin, hyaluronic acid, antioxidants and vitamins A, B, C and E. Seriously is there anything it can't do?
I have to say I gave another squeal when I saw the Benefit Roller Lash Mascara in the TILI beauty box. I LOVE Roller Lash and am a big fan of Benefit in general. Roller Lash lifts and separates lashes and takes them to great heights – it's more about length and curl here. Honestly, you will be impressed. Will be using this one everyday!
Last but not least comes the cutest double cleansing duo in the form of Erno Lazlo with a mini Face Bar and a mini Cleansing Oil (15ml). I do a double cleanse every single night so this is a brilliant little pack to take with you when you travel and jet-set off on those summer holidays. First you simply need to remove all of your make-up with the Cleansing Oil. Make-up, dirt and grime slide right off with this one! Once you have rinsed your face you move on to step 2 with the Face Bar that gets rid of any remaining impurities. This is such a perfect little pack for the plane as well!
Unlike other beauty boxes TILI is available to purchase for £20 with no subscription or sign up required. So you have nothing to lose and you EVERYTHING featured in this post! Sign up HERE.
*This post was in collaboration with QVC but all product reviews, experiences and opinions are as always, my own.