Some of the most exciting beauty news so far this summer? Well it has to be that MAC is now available on Lookfantastic. I love MAC and have for a long time so as a Lookfantastic beauty ambassador I was so excited to learn that MAC had landed on the site! I was lucky enough to receive some of MAC's most iconic products from Lookfantastic as an ambassador and some of them I had never tried but always wanted to (like Ruby Woo!). So lucky for me, a few of my MAC dreams have already come through. I've got some new products in this post as well that I had never tried before. So this entire post is about discovering new products – even from brands that I've loved for a long time! Read on to see my new beauty discoveries…
MAC Ruby Woo. EVERYONE knows that name. It's the iconic matte red lipstick from MAC that suits every skin tone and is loved by pretty much everyone. I have something to admit – I had never actually tried Ruby Woo before this post so was super excited to see if it would live up to the hype. And guess what? It actually did! I found that it was really long-wearing and super pigmented so it packs a punch. The red really suited me and I got a lot of compliments. And did anyone ever notice that MAC lipstick smells like cocoa?
To follow the iconic Ruby Woo is the MAC Velvet Teddy – the perfect nude. It's totally Kim Kardashian but suits everyone. I was really pleased because it gives you a classy look for understated make up with a touch of glam. Perfect for everyday and again, really long-wearing.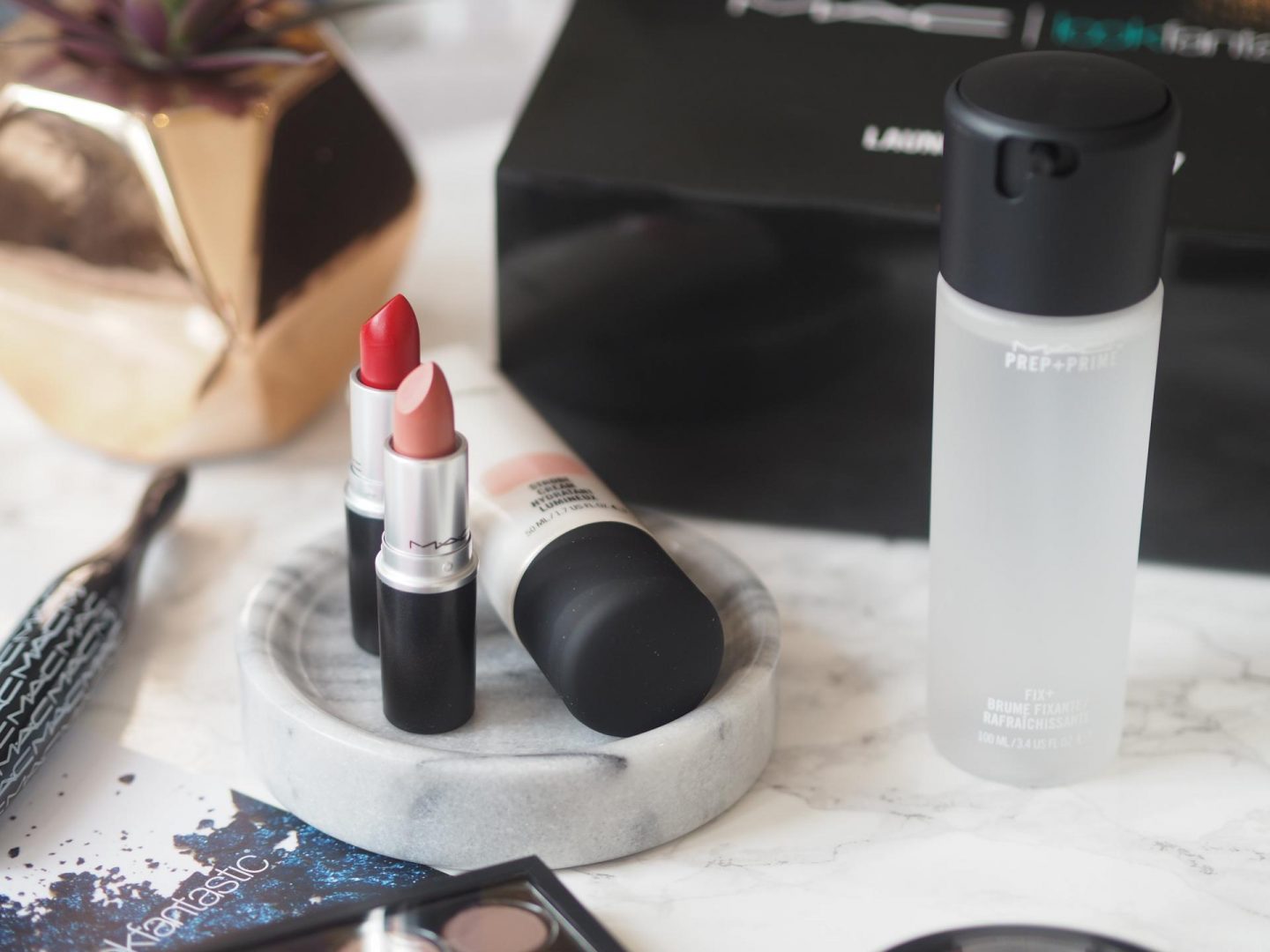 I am obsessed with mists – I keep them in my bag, leave them by my desk and take them travelling. They are just brilliant at reviving skin and keeping it looking dewy and fresh. The MAC Prep + Prime Fix is a mist that you can use to either boost hydration or to set your make-up with a dewy glow. I absolutely love this and it has already taken up prime real estate on my desk. It contains Green Tea, Chamomile and Cucumber to infuse skin with antioxidants and vitamins – fabulous for the warmer weather!
I absolutely love palettes but I very rarely use all the colours in one so was ecstatic to see this mini eyeshadow palette from MAC because I will actually use ALL the colours in this palette. The colours are absolutely lovely – all in shades of dusky nudes, sparkling bronzes and deep pink shades. The colours have different finishes as well – some are matte, some are satin and some are shimmery. And these shadows are team players – they work together beautifully but are also strong on their own. This is a great palette that would fit in the bag and would take you from day to night in a New York minute. These shadows are so versatile you can also use them wet or dry.
MAC Mineralize Skin Finish Highlighter
Like a golden orb, the MAC Mineralize Skin Finish Highlighter gives an otherworldly glow to the skin. This is an absolutely gorgeous highlighter that comes in a baked powder form and turns into velvet on the skin. You can also use this on the body and would go well to highlight a tan. Simply dust across the tops of the shoulders and also lightly on the cheekbones for that soft glow that gives your skin a filtered look.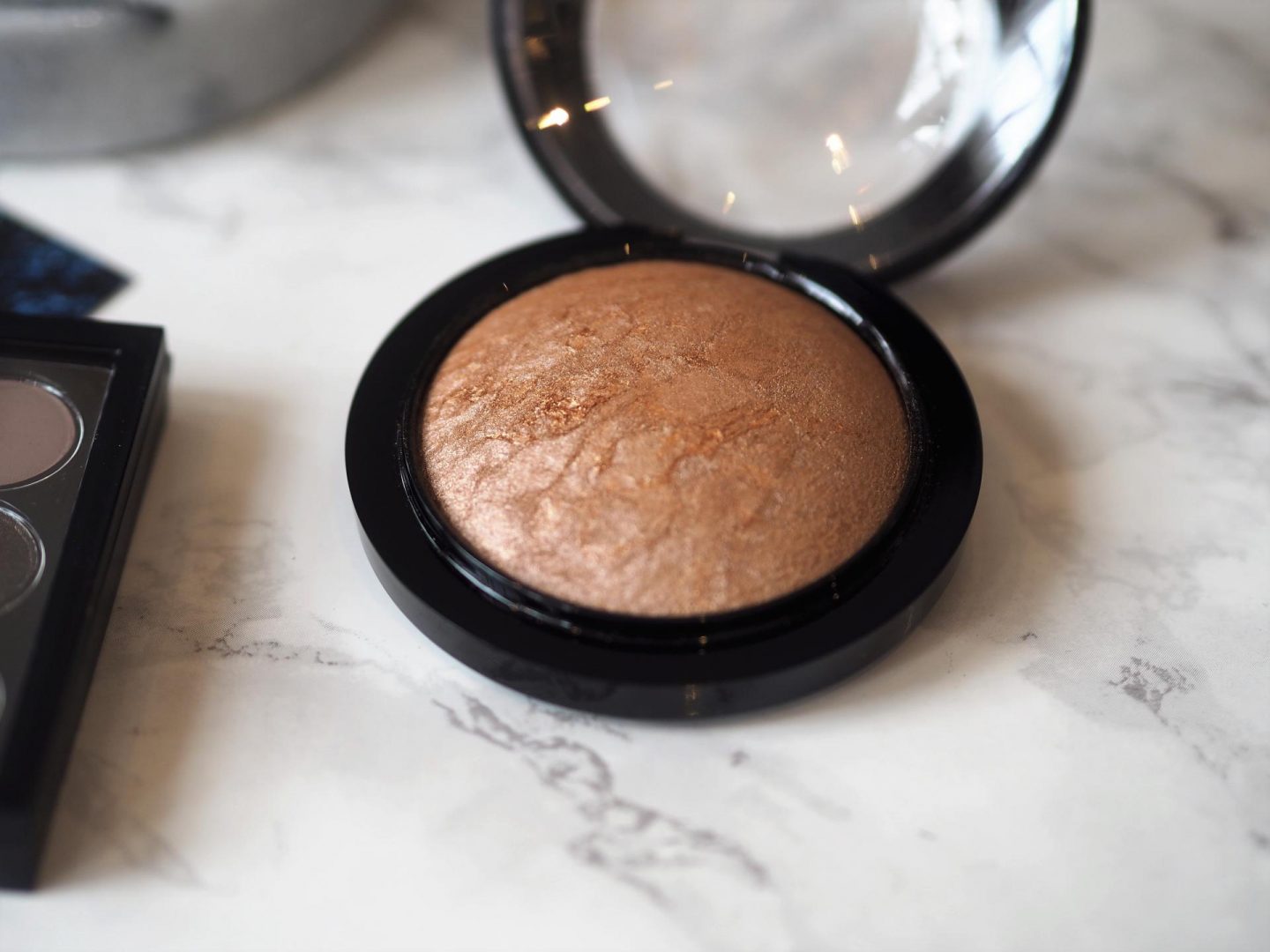 MAC Extra Dimension Lash Mascara
I don't think you can go wrong with any mascara that promises extra oomph. I've always been impressed by MAC mascaras because they do what they say they are going to do! This one has a specially moulded brush that grabs onto lashes and really gifts them a lift up. It's like a lash lift in a bottle pretty much. I also like that the formula is very smooth – it glides through lashes and doesn't clump or smudge. A winner in my book!
MAC created the whole strobing trend and the MAC Strobe Cream is this absolutely beautiful moisturiser that also creates this luminous glow. You can use this as your moisturiser and it acts as a primer as well. So not only does it create an instant glow but it also contains antioxidants that brighten the skin. This is great for a fresh-faced look for skin that naturally glows.
I had never actually tried this brand before this post but I had actually been looking for a self-tanning moisturiser for the face. Now that it's summer, I've been using a lot of self-tan on the body but then realised that my face was still winter white! So therefore I've been wanting to use self-tan on the face but was too nervous to do so. Therefore I was happy to get this Sampar Golden Glow Cream because it's a gradual self-tan moisturiser which means no shocking effects – i.e. from white to super tanned in a day. This actually just gradually warms the skin tone and gives it a healthy glow – I absolutely love it! My skin looks healthier from using it already.
Sampar So Much To Dew Day Cream
I'm always on the lookout for new moisturisers. Honestly I love skincare so so much – I'm borderline obsessed. I also like finding new brands and discovering old favourites. This Sampar So Much To Dew Day Cream (love the name!) is good for dehydrated skin and to keep skin dewy and moist. It's a pretty smart cream as well with a Smart Hydrating Complex that maintains water levels in cells as well as an Urban Advance Complex that provides antioxidant protection – essential if you live in an urban environment.
Antonia Burrell Natural Glow Cleansing Oil
I've become a real fan of Antonia Burrell products recently as I've been introduced to them via Lookfantastic. I like the fact that they are natural and this particular cleansing oil is the world's first 100% pure plant, 100% natural, water-soluble cleansing oil. I absolutely love cleansing oils and this one is fabulous to use in the morning or night because it also removes make-up quite effectively without stripping the skin. The oil transforms into a cleansing milk upon application and in contact with water so it feels lovely on the skin.
Alchimie Forever of Switzerland Kantic + Intensely Nourishing Cream
Again this is a new brand that I've never tried before until now and I really love discovering new skincare brands from around the world. Lookfantastic has so many global brands from everywhere from mainstream to cult so there is always something new that I am discovering from the site. This Alchimie Forever of Switzerland Kantic + Intensely Nourishing Cream is both nourishing and calming to the skin with jojoba oil (the closest oil to skin's natural sebum) and Vitamin E so this is a great skin cream if you need something but your skin has just had enough – i.e. it's irritated and angry.
System Professional Color Save Shampoo
I'm pretty precious about my hair and I like to treat it well and take care of it because it ages just like skin. This System Professional Color Save Shampoo is what it says on the bottle – that is that it is meant for color-treated hair. It cleanses but doesn't strip and it's gentle enough for colour-treated locks. It also has UV protection – yay! If you haven't checked out my post on UV protection for hair make sure you read it HERE.
Wella Professionals Oil Reflections Luminous Smoothing Oil
Even though I have fine hair I still use oils on the ends of my hair to treat dryness and also to prevent split ends. I also sometimes use oils as an overnight hair masque if I am planning to wash it the next morning. This Oil Reflections Luminous Smoothing Oil from Wella Professionals uses Camellia Oil (an expensive and powerful ingredient) and White Tea Extract which works to infuse individual strands with moisture. Sounds like a big long drink for the hair which tends to get dried out in the summer. You can also use it as a pre-shampoo oil or leave-in treatment too!
Oh fine hair here comes Nioxin Thickening Spray to the rescue. If you have fine hair like me and want to fake thicker hair then listen up! This Nioxin Thickening Spray is really, really good at faking thick hair – you simply have to spray it in damp hair after washing, comb through and blow dry. The spray contains polymers that form bonds between gaps in strands to create a fuller-looking appearance. Brilliant product!
Again, Nioxin comes to the rescue for thin hair. This product is a foam that you can apply to damp hair after washing which works the same way as the spray in that polymers bind to the hair and fill in any gaps, making hair look fuller afterwards. Expect voluminous hair!
If you are a fan of Anastasia Beverly Hills brow products I would highly urge you to check out High Definition Brow Crème. You can use it with the Angled Brush I am going to talk about next to apply the crème to the brows to help fill in gaps. This is a crème formula so applies quite easily and glides onto the skin but then dries to a matte finish which looks more natural. I never leave the house without my brows so I'm definitely looking forward to using this to make my brows look even more full this summer. Fuller brows also makes you look younger!
High Definition Fine Angled Brow Brush
So with the High Definition Brow Crème you will want to use the High Definition Fine Angled Brow Brush to apply the colour to the brows. I love that you can really precisely apply the brow crème with this brush – making brows look flawless and defined.
Do you have any new beauty discoveries this month? Please share them with me – I'm always on the lookout! Don't forget to follow me on Instagram @beautyrocksblog.
Shop the post here: