Sometimes London gets crazy – it's a big busy city so when you get the chance to get some fresh country air sometimes you just can't say no! That's what I was thinking when I was invited by The Blogger Programme as part of their #TBPTalent crew to escape the big city and head to the Cotswolds for three days this week. And who could say no to a Cotswolds country break?
I met the rest of the #TBPTalent crew at Paddington station in London on Monday earlier this week to catch our train to Kemble – the nearest town by Marsden Manor. In total there were 7 of us – Emma from Emmasphere, Primrose from Style Petal, Nancy from Nancy Dreamin, Taislany Gomes from Taislany, Derya from Derya Loves and Daniel Marin from DF Marin. And me!
We arrived at Marsden Manor after a hair-raising taxi drive (the taxi drivers in the Cotswolds drive FAST) and I literally couldn't believe what a stunning place it was. The house is one of the properties from Kate & Toms who rent out luxury countryside homes across the UK for groups – the houses are HUGE and Marsden Manor itself has 10 bedrooms that sleeps 20 people.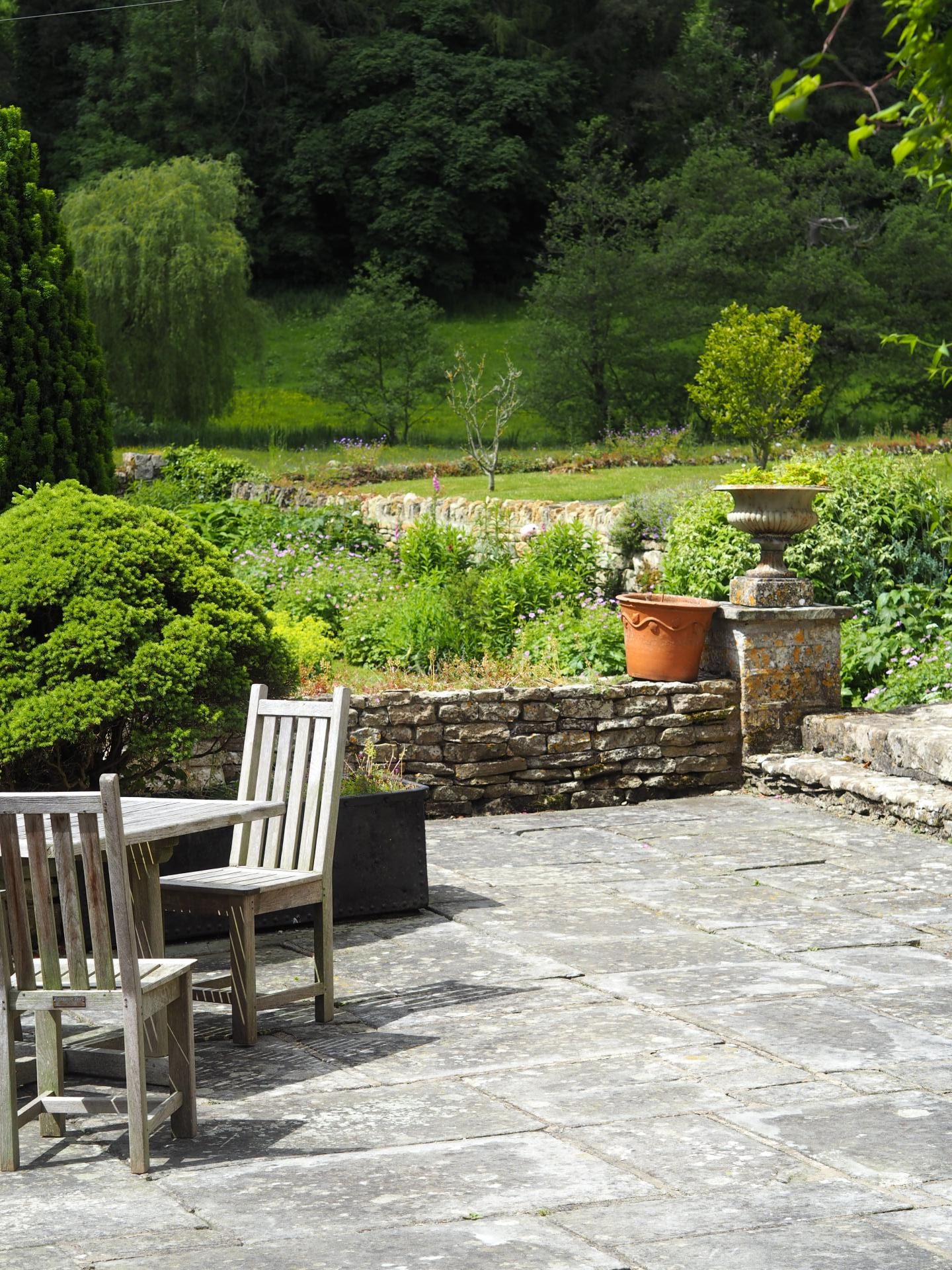 The stone house is stunning – a 16th century beauty set in the rolling hills of the Cotswolds – a real looker if you ask me. Honestly when you step foot in the house you really do feel like a Lord or Lady of the Manor. The house is big enough to get lost in and it is the perfect setting for a weekend away with a huge family or group of friends or for weddings, parties and special events. I love the high-beamed ceilings and that the house has a feeling of history about it but with all the modern touches that you would want. It's a perfect mix of old and new and the grounds around the property are gorgeous. Think rolling hills, manicured lawns, blooming flowers and gardens – whoever is looking after these grounds certainly knows how to groom a lawn.
I had been to the Cotswolds previously on a bus tour but had never been able to stay there for a few days. Just getting out of the city and seeing the green hills, listening to the birds singing and breathing in the fresh air was enough to revive my poor city senses.
Upon arrival we were greeted with a glass of prosecco (and who says no to prosecco??) from the Sporting Wine Company and a display of beautiful confetti bubble balloons from Pom Pom Studio.
We then had a little tour of Marsden Manor as you can see from these photos – seriously the place is HUGE!
The rooms at Marsden Manor are so cosy – literally I could have just moved right in. Comfy couches, throw pillows and beautiful art on the walls. Despite the size of the place, I think a lot of thought has gone into the interior decor and you still feel it's a cosy place and not overwhelming at all despite the size.
And it's hardly ever you arrive somewhere and there is the most beautiful care package waiting for you on your bed! I was so thrilled to find my favourite perfume – the Charlotte Tilbury Scent of A Dream (read my full make-up and skincare edit on Charlotte Tilbury HERE if you haven't already). This is a stunning fragrance and I'm so glad to have received as my other one is nearly empty. Also from Charlotte there was a beautiful lipstick, the Instant Magic Dry Sheet Mask (which I've talked about in my post previously on Charlotte) and a the Unisex Healthy Glow Summer Tint Moisturiser which I have not tried before so perfect for that summer glow!
Honestly it kind of felt like Christmas had arrived – such a generous gift from The Blogger Programme and all brands involved including the new White Glo Activated Charcoal Whitening Toothpaste (which I have been wanting to try and have been using non-stop since I received – my teeth really do look whiter) and a gorgeous Little Secret Lotus Flower bracelet from Thomas Sabo which I haven't taken off since receiving. It's so dainty and so pretty – look out for in some upcoming Insta posts @beautyrocksblog.
Also included in the care package was a new Ice Watch which is actually a great sports watch. I'm planning a beach holiday soon and as this watch is waterproof I will definitely be taking it when I go snorkelling!
And one of my favourite things in the care package (you can tell I'm a real lover of comfort here) were these amazing sheepskin slippers from Soak & Sleep. Honestly these are the dreamiest slippers I own and I have a fair few from all over the world. This is no joke – these are a dream for tired feet! I am now wearing mine as soon as I get home. They also made my stay so much better. I never thought to pack a pair of slippers but I used them all through my Cotswolds break!
I loved that my room looked out onto the beautifully manicured gardens and let the sunlight in. My bathroom was also modern and I love the fixures on the sink and the tiles in the shower – clean and minimal.
I mean how gorgeous were the views from my window?
After our tour and going through all my goodies it was time for dinner which was provided by Hello Fresh and prepared by the lovely ladies from The Blogger Programme. And they read my mind when they chose my favourite cuisine which is MEXICAN! If you follow me on Instagram or IG stories you will see I spend A LOT of time eating Mexican food. I'm from the U.S. and being so close to Mexico we eat A LOT of Mexican food and have also developed our own American spin on Mexican with Tex-Mex and Cali-Mex which are DELICIOUS! Cali Mex is quite fresh – think fish tacos with pico de gallo and healthy burrito bowls while Tex-Mex is a bit more spicy and flavoursome with fajitas and burritos. YUM! Also Hello Fresh were kind enough to offer me a code for my readers for 50% which is Jamie50 – so please do use it!
The girls made fajitas and fresh salad – everything was so healthy and delicious. The best part? Lots of toppers like Tomatillo Salsa, jalapenos and Pico de Gallo. Also thanks to the Sporting Wine Club we NEVER ran out of wine!
After dinner it was off to dreamland! I slept so well in the marshmallow bed (as I like to call it) that in no time at all I was OUT like a light.
The next morning we woke up to beautiful weather and went for a walk in the gorgeous surrounding countryside. This was one of my highlights of the trip – just getting out into nature and because I love animals so much I was thrilled to be able to make friends with the 'neeeiiighbours' – two gorgeous horses living in the field next door. One was even wearing a jacket as well with chicken all over it – super fashionable:)
After the walk it was time to head back to Marsden Manor and get pampered by Blossom And Jasmine with mini-massages and manis. Blossom and Jasmine are a mobile beauty service that come to your house to give you some much-needed pampering. Because life gets so busy I actually use these kinds of mobile beauty services A LOT! I don't always have a lot of time so love having my nails done in my own home and have also had massages in my own home as well. The lovely ladies from Blossom & Jasmine managed to relax my shoulders with a mini massage and give my nails a much needed lift with a pop of coral red colour from one of my favourite nail brands – Morgan Taylor.
After the nails and the manis it was time for a pool party! The sun came out just in time and the Pimm's followed shortly after. Marsden Manor has a lovely heated pool which is great to have because it's one of the modern amenities available – and who could say no to a private pool? Everything comes to you at Marsden Manor – nature, a pool and all the modern amenities you could want.
After the pool party we moved from Pimm's to beer and visited TAP Brewery around the corner to taste the local beers which were really tasty! It was just enough to whet our appetite for dinner…
And let me tell you when dinner arrived I think everyone was impressed. Dinner was provided by Las Tapitas, a Spanish catering company in the Cotswolds that specialises in Spanish cuisine – in particalar from the Catalan region. I am a HUGE fan of Spanish food because it encompasses all of my favourite things – small dishes, olives (I love sour foods that are also salty) and lots of freshness. The entire table was filled with food – enough for a Spanish princess or prince. Everything from Las Tapitas is prepared using fresh, local produce and the best ingredients from Spain. If you do live in the Cotswolds or visiting there – I would highly recommend you checking them out!
Amongst my favourites were the Olive and Pine Nut Tapenade, Stuffed Peppers, Patatas Bravas, Garlic Mushrooms, Meatballs with Cuttlefish and Peas and Spicy Garlic Prawns. Oh and my FAVOURITE was the Chorizo and Mushrooms – YUM! When I use capital letters you know I'm serious!
After a lovely evening of Spanish tapas, good wine and fabulous company it was time to hit the bed. Again I slept amazingly on the oh-so-soft beds and the next morning it was time to get ready and head back to the big city. I absolutely loved my time in the Cotswolds on my Cotswolds country break and can't wait to go back again! I love getting out the city and exploring places here in the UK – the British countryside is just stunning and it's always so green!
If you are a blogger it is well worth checking out The Blogger Programme for blogger opportunities like this one! You can visit their website and sign up HERE.
Don't forget to follow me on Instagram @beautyrocksblog to catch up with all my travel adventures – both here in the UK and abroad!