The first time I went to Malawi 5 years ago we spent all of our time at Lake Malawi which is beautiful but I didn't have a chance to see much of the rest of the country which is why I was so grateful for the opportunity to explore more on this trip. And fortunately, that all changed when I spent some time recently at Mvuu Lodge in Liwonde National Park. We headed to Mvuu on a typical sunny Malawian day from Pumulani on Lake Malawi. Liwonde isn't too far from Pumulani and it's certainly easy to get to by car.
Upon arrival at Liwonde, we loaded our stuff onto boats that would take us across the Shire River (pronounced Shir-ee) to the lodge. The Shire River is a wide river and full of hippos and crocs which you can see quite frequently bobbing to the surface of the river. The river is great for hippo watching (there is a large population) and it's amazing to see them in the water, with only their eyes and little ears peering at you from the water. I did spot a croc swimming by as well!
We took the boat to across the river to the lodge which is beautifully situated within Liwonde National Park. The team at Mvuu is lovely, led by the fabulous Richard who is so warm and knowledgeable about the local wildlife and area. We ate lunch on an open-air patio with only nature spread before us and a family of hippos munching away on grass in the marsh just beyond us. A vervet monkey sat in the tree next to us, very interested in our lunch and I think in the end he did actually manage to get away with a slice of bread. Lucky monkey.
Mvuu is beautiful and it's a true escape from our hectic and always plugged-in lives. It's like someone plucked you out of that crazy world and put you right down in the midst of nature where you can truly rewind and relax. The lodges are stunning and blend in with the environment with dark wood and open-air screens so you can hear the sounds of nature.
My patio looked out over the national park marshland where hippos grazed and a croc sat in the sun, his mouth wide open (they do that to regulate body temperature, apparently). My villa felt plugged into nature and also came complete with an outdoor shower, where through the crack I spied two warthogs called HIM and SHIM (love the names). If you feel frazzled with life then Mvuu is a beautiful excape and one that will get you back in touch with nature. It's not good to be plugged in all the time and I only too well know the effects from this from living my life online. Being back in nature feels natural and you start to feel things that you had almost forgotten such as the way the birds sing, the whisper of the grass in the wind, the way the sunlight glints off the water and the feeling of the breeze on your bare skin.
I loved my villa at Mvuu – as you can see from my photos it's stunning. It's a bit of a walk back to the main lodge and if you want to go back to the main lodge at night you simply need to pound the drum in the room the same number of times that correlates with your villa number (eight times if you are in villa 8) and someone will come to your room.
There are lots of things you can do at Mvuu including taking a sunset cruise before dinner (highly recommended) to spot hippos and elephants grazing beside the Shire River at sunset. And oh the sunset – it's like the sky is lit on fire and not to be missed by any means. In fact if anyone offers you a sunset cruise in Malawi – accept by all means! I spotted a huge number of elephants along the banks of the river and I tell you, sipping a local Kuche Kuche beer while watching the elephants will make you want to throw your phone straight in the river forever more. This is about disconnecting from technology and going back to nature.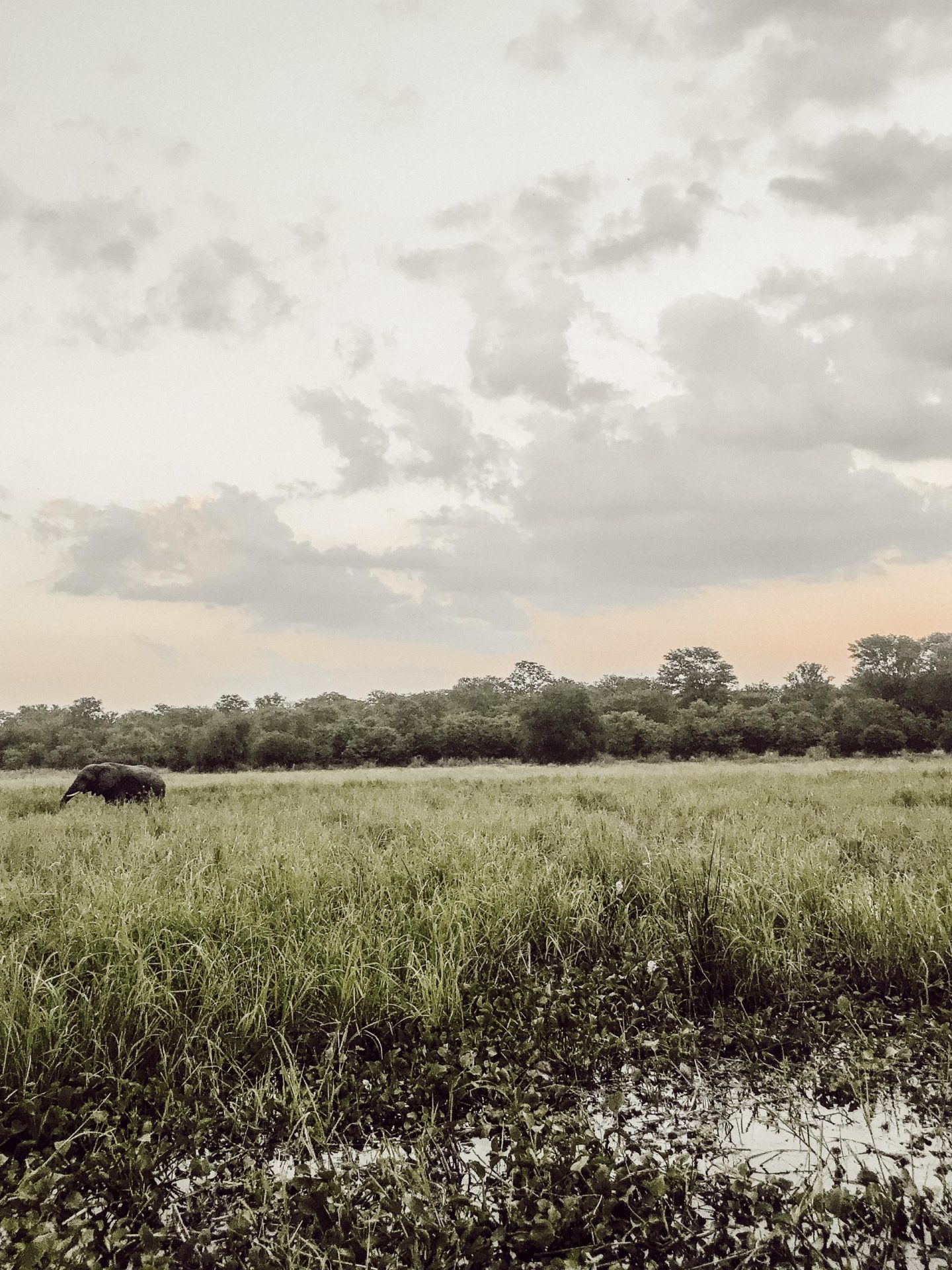 The food at Mvuu is lovely as well and they do cater for vegetarians if you are one. If you want to chill out in the main open-air lodge you can and there is wifi there if you need it. So browse away whilst hippos graze in the distance – the best internet café you can find!
My favourite thing about Mvuu was sitting on my patio at night watching the stars and listening to strange splashes in the water. I admit this was both scary and exhilarating at the same time! Of course nothing can get on your patio because it's raised up but it does send the adrenaline pumping to know what is out there in the dark.
I am a light sleeper and challenged myself to sleep without an eye mask and also without ear plugs while I was at Mvuu so I could truly be in touch with nature. Let me tell you, nature is noisy! But I heard so many amazing sounds through the night I would recommend trying this yourself.
While at Mvuu we also did an early morning game drive to spot wildlife in Liwonde National Park. The sun had just risen and it was beautiful and calm. We managed to spot some Bushback deer and a huge Kudu sitting in the brush. The guide said the Kudu was older and when he stood up we could see that he was limping so had obviously been injured. Fortunately there are not a lot of predatory game in the park yet (although they are going to reintroduce lions into the park) but there are cheetahs although we sadly didn't see any of them. We spotted a lot of baboons, warthogs and deer game as well as lots of birds. The park is beautiful and when we came to the end the staff had surprised us with an outdoor breakfast in the bush. Literally a table outside, set for breakfast in the national park, with the river just beyond. It was probably the best breakfast location of my life and the staff even gave me a little carved hippo with my name on it.
After breakfast we cruised back to the lodge via the river and spotted more elephants, getting so close to one on the banks and making for a great picture opportunity. Watching these animals in the wild is incredible and just reminds you of the sheer power and wonder of Mother Nature.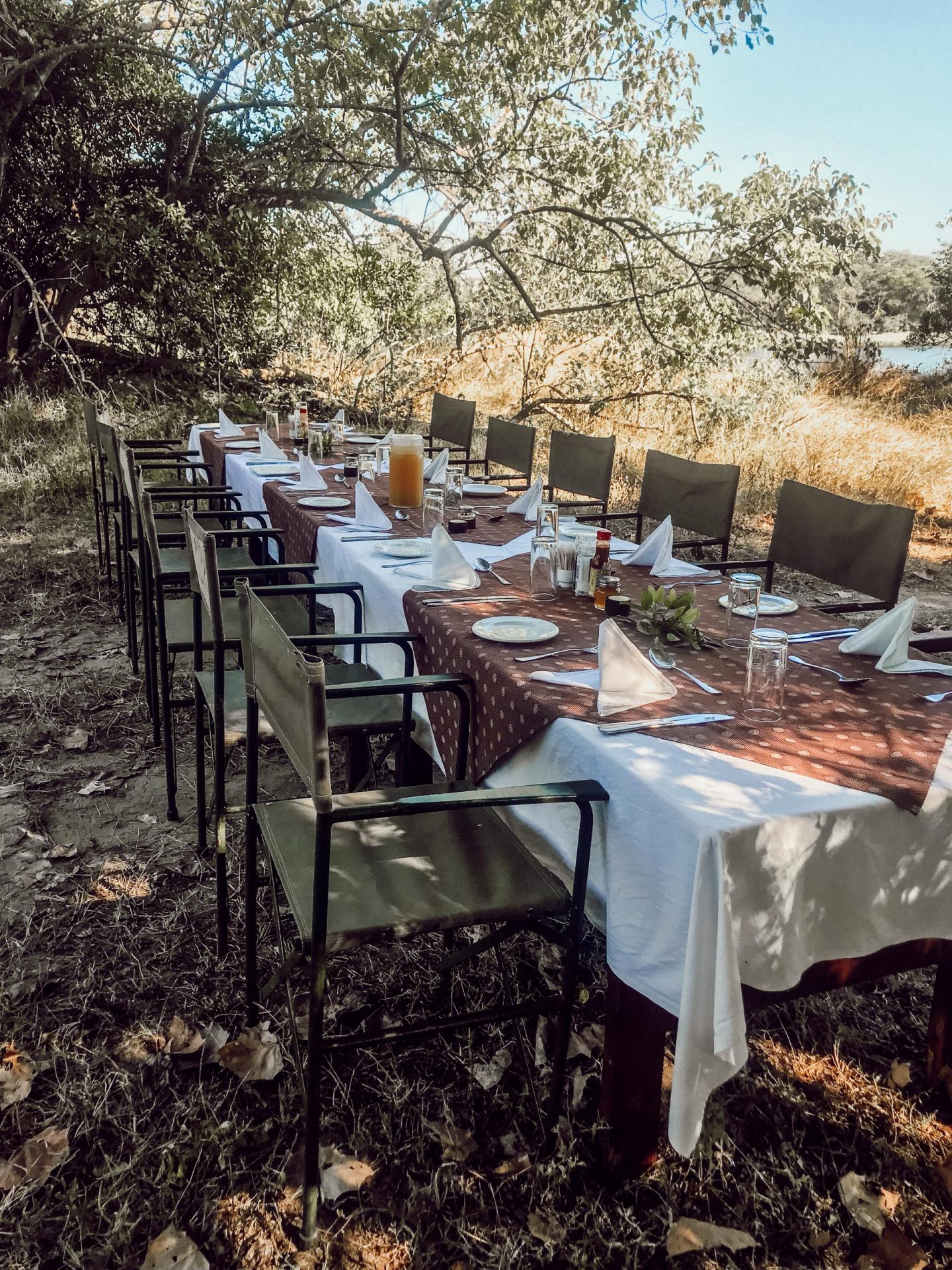 I was really sad to end my stay at Mvuu Lodge and if you are visiting Malawi (which I highly recommend) then you MUST visit Mvuu to reconnect with nature. You won't regret it and I promise you it will be the highlight of your stay in Malawi, just like it was mine.
For more information about Mvuu Lodge see HERE.
Don't forget to follow me on Instagram @beautyrocksblog where you can see lots of images I've posted from my amazing trip to Malawi.