I know that annoying feeling of when you buy an eyeshadow or a lipstick only to find that it wears down to nothing in a matter of an hour during your busy day. Lipsticks fade and eyeshadows wear away, that is a fact of life and whilst I keep it pretty natural on the rest of my face I really like my eye products and lip products to be long-wearing. I've tried a few new ones recently and put them to the test over the weekend. Also, with the right tools (I'm going to show you which ones are good) you can extend the life of your make-up. Here are some of my favourite new long-wearing make-up picks that last for you here. Thank me later😊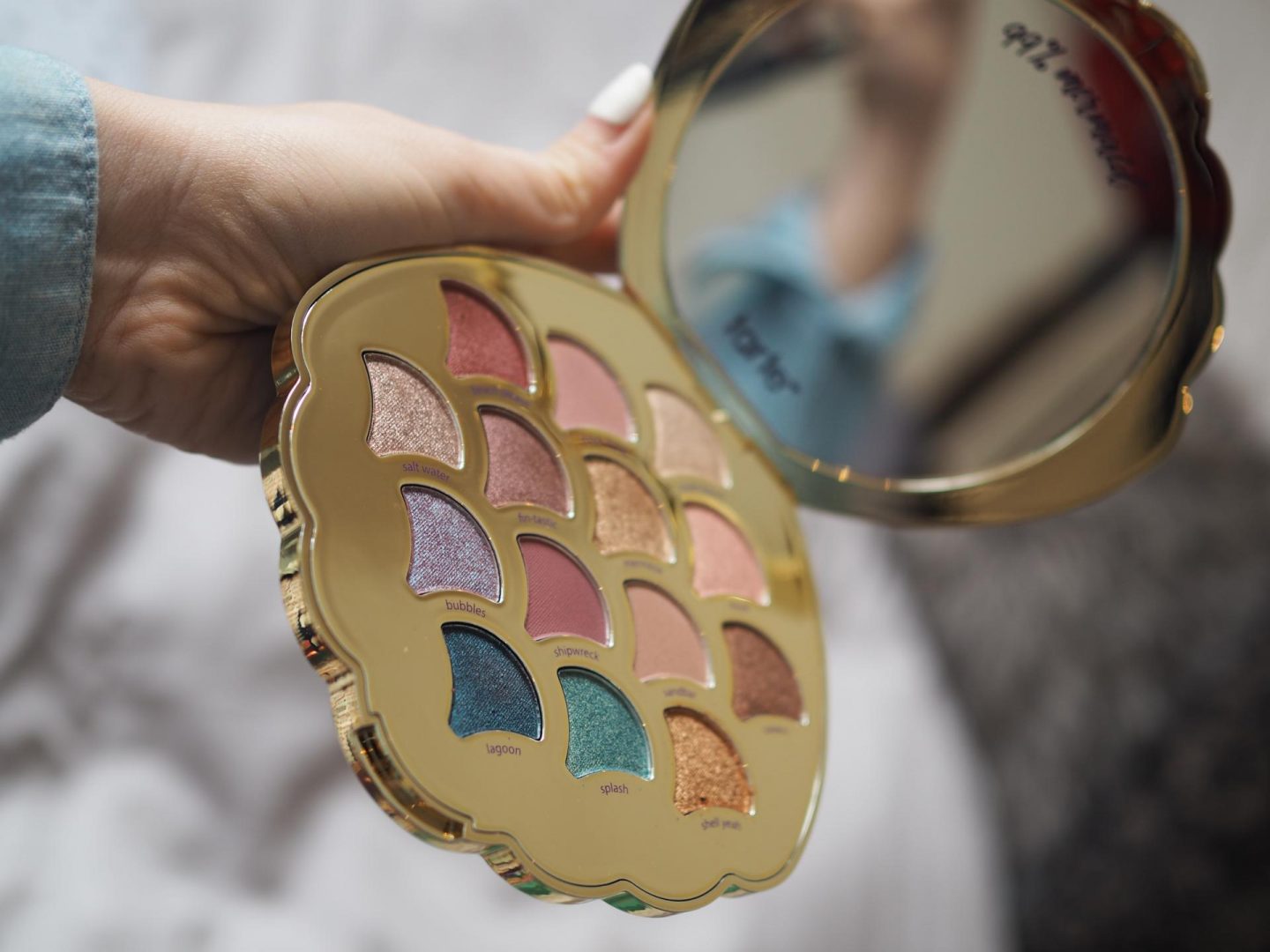 Tarte Be a Mermaid & Make Waves Eyeshadow Palette (exclusive to qvcuk.com)
I LOVE Tarte make-up – it's honestly so good! Tarte is a natural make-up brand as well and they really have proved that natural make-up can be just as fun as their non-natural counterparts as well as have some serious staying power. This Tarte Be A Mermaid & Make Waves Eyeshadow Palette comes in a seashell clutch and is so fabulous I nearly cried when I saw it. The palette has 14 matte and metallic shades and trust me when I say there is something for everyone here. The shades are super pigmented and when blended with the right brush have serious staying power. The formula is a creamy powder and does blend like a dream and sits on the lid very nicely. The key is to blend this in for seamless colour. My favourite shades? The frosé (rose gold luster) and the mermosa (warm gold).
Urban Decay Beached Eyeshadow Palette
I went to an Urban Decay and Lookfantastic event this week and was given the limited-edition Beached Eyeshadow Palette to take home. I love the packaging which screams So Cal vibes and if you want an eyeshadow that lasts then these are fantastic. I mean, Urban Decay do know how to make great eyeshadows and their palettes are worth the money in my opinion. The formula is super velvety and pigmented, the eyeshadow is long-wearing and it lasts throughout the day. There are 8 summery shades to choose from and my favourite shades in the palette are 16th ST. (metallic bronze-gold) and Double Dip (bright metallic teal).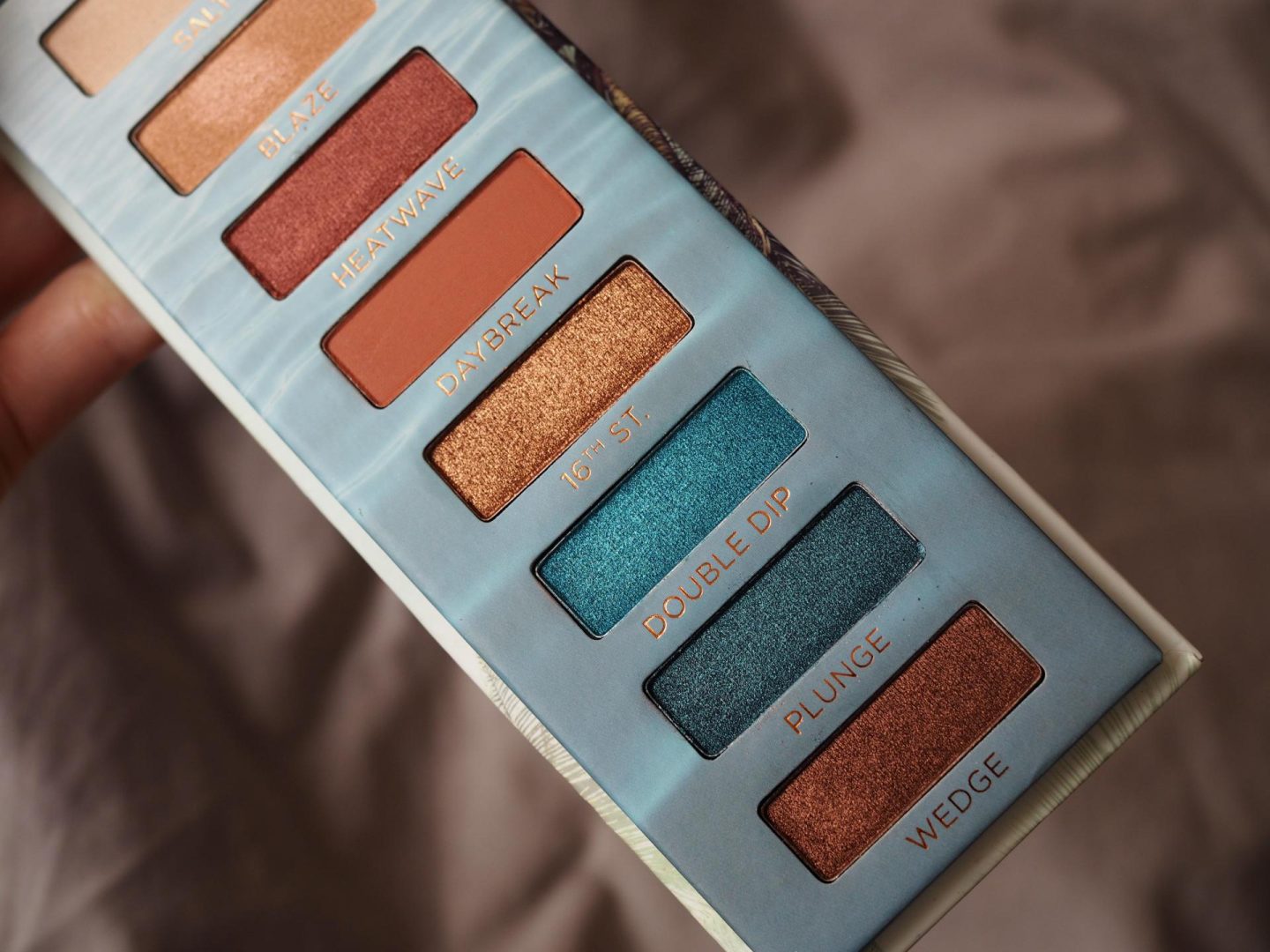 Bourjois Satin Edition 24H Eyeshadow (Colours Oh De Roses!, Or du Commun)
I love a liquid eyeshadow for a quick sweep across the eyes and like to also keep them in my bag for touch-ups on the go. Bourjois have launched a 24H long-lasting liquid eyeshadow range all in metallic shades which are super lovely. The formula is creamy and easy to apply so if you like to do your make-up super quickly then these are really nice to have around to save some time on application. They are also long-lasting as well. I wore mine all day and it did actually last!
IT Cosmetics Superhero Eye Transforming Anti-Aging Super Palette
What about an eyeshadow that not only lasts for ages but is also anti-ageing? Yes super brand IT Cosmetics have done it! I was really intrigued when I saw this one because I could barely believe my eyes (no pun intended) that an eyeshadow could also be anti-ageing but the formula does contain both antioxidants and hydrolysed collagen which of course are beneficial to the skin. Eyelids do age and lose their tautness over time so this palette is great if you want both long-lasting shades and anti-ageing benefits as well. I also like that this comes with three eye foundations that prep and colour-correct the lids to help the eyeshadow's staying power.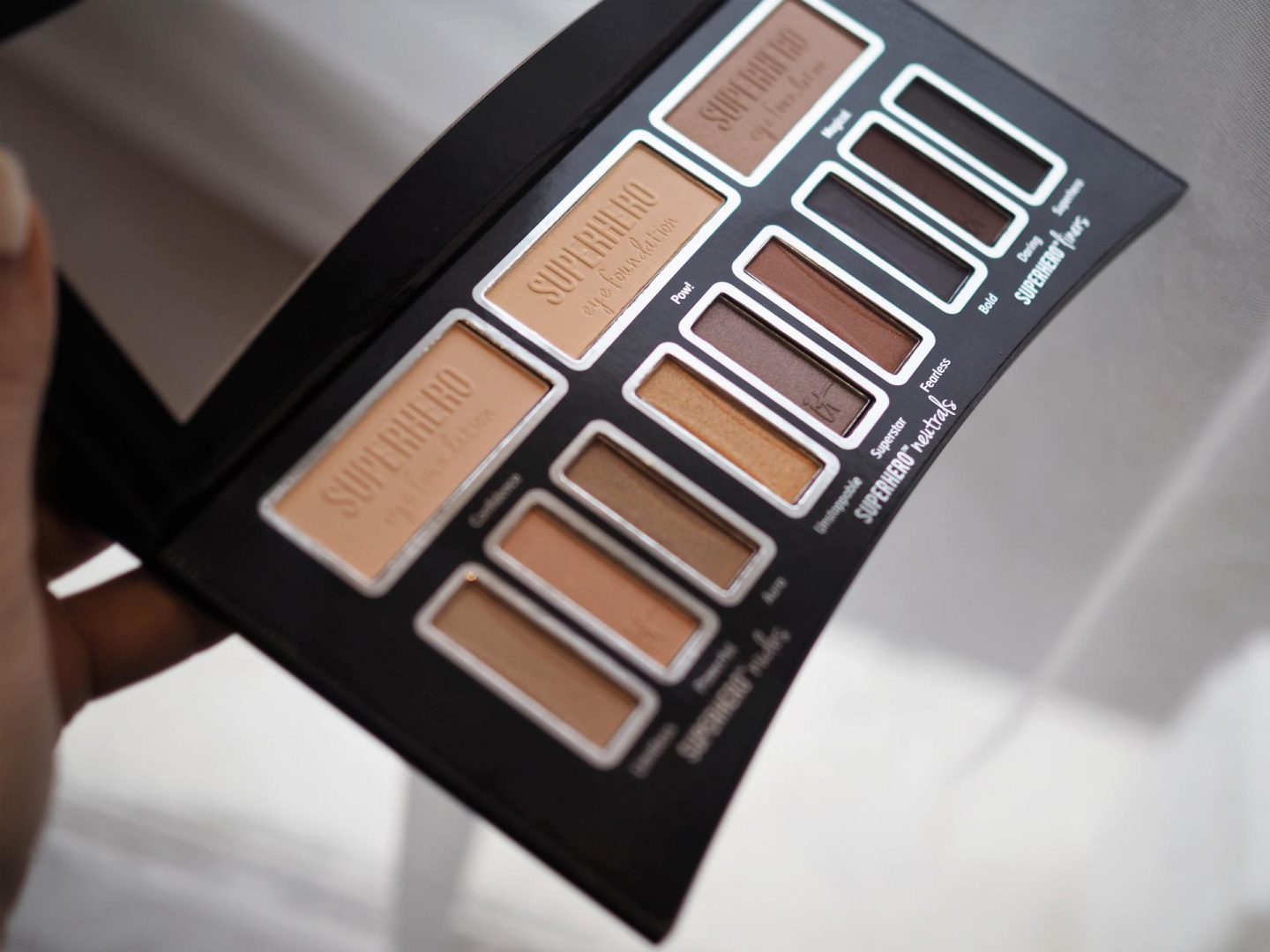 IT Superhero 4-In-1 Eye Transforming Super Shadow + Line Brush
To get a seamless blend of shadow it's really important to have the right tools to do so. The IT Cosmetics' Superhero 4-in-1 Eye-Transforming Super Shadow and Liner Brush basically does it all with one brush. You can apply shadow and liner with this brush due to the dual-end with an eyeshadow brush on one end and an angled eyeliner brush on the other. IT Cosmetics have amazing brushes which I've spoken about before – so soft and so gooood!
Tarte Minutes to Mermaid Brush Set (Exclusive to qvcuk.com)
Tarte's Minutes to Mermaid Brush Set is ADORABLE! It's a vegan and cruelty-free collection of five make-up brushes that have mermaid-inspired designs. I mean we all know make-up is fun but this set makes it even more fun to play with make-up. Also, as I mentioned before having the right tools such as make-up brushes really ensures that your make-up lasts even longer, especially when it comes to eye make-up. This set has everything you need in terms of brushes however including 1 large powder brush, 1 cheek brush, 1 highlighter stippling brush, 1 domed eyeshadow brush and 1 pencil brush.
Tarte Picture Perfect Eyelash Curler (Exclusive to qvcuk.com)
To get the most out of your mascaras you definitely need an eyelash curler. I didn't realise I even needed one until I had one if that makes sense! This Tarte Picture Perfect Eyelash Curler is FAB at giving lashes a lift right at the root where they need it. I love that this curler as well is modelled after a mermaid's fins so its fun to use as well and will jazz up your make-up bag contents. The set also comes with Tarte's Vegan 4-In-1 Mascara which is a lovely mascara that both lengthens and lasts.
BareMinerals Crystalline Glow Highlighter Stick (Shimmering Crystal and Iridescent Quartz)
Let it glow, let it glow, let it glow. The new BareMinerals Crystalline Glow Highlighter Sticks have staying power in a stick and I love them for either highlighting in your usual spots (browbone, tops of cheekbones, tips of nose) or for eyeshadow sticks. The formula is super creamy so really easy to blend once you apply. I am really loving stick formulas these days as well – they just make it so much easier to apply your make-up!
Urban Decay Hi-Fi Shine Ultra Cushion Lipgloss (Beso)
GURL, gloss is back! And I'm so happy as well because I have thinner lips so having a bit of glossy naturally plumps the lips and creates an illusion of a fuller pout. I LOVE the new Urban Decay Hi-Fi Shine Ultra Cushion Lipgloss – the formula is super glossy and I love the colour Beso which is a beautiful dusty rose shade – great for everyday. The gloss lasts as well and you will not be disappointed.
Bourjois Rouge Edition Velvet (Colours Chocopink, Oranginal, Belle Amourose)
I am picky about my lipsticks and when it comes to playing with colour, I'm all about the bold for the lips. The Rouge Velvet Lipstick by Bourjois is exactly that – the formula is slightly waxy and velvety-smooth. It glides on effortlessly and leaves a lovely little stain on the lips, even when it eventually wears away so it looks like you have just-bitten lips if you know what I mean. The formula is soft and not drying at all either and I LOVE the shades – my favourite being Oranginal.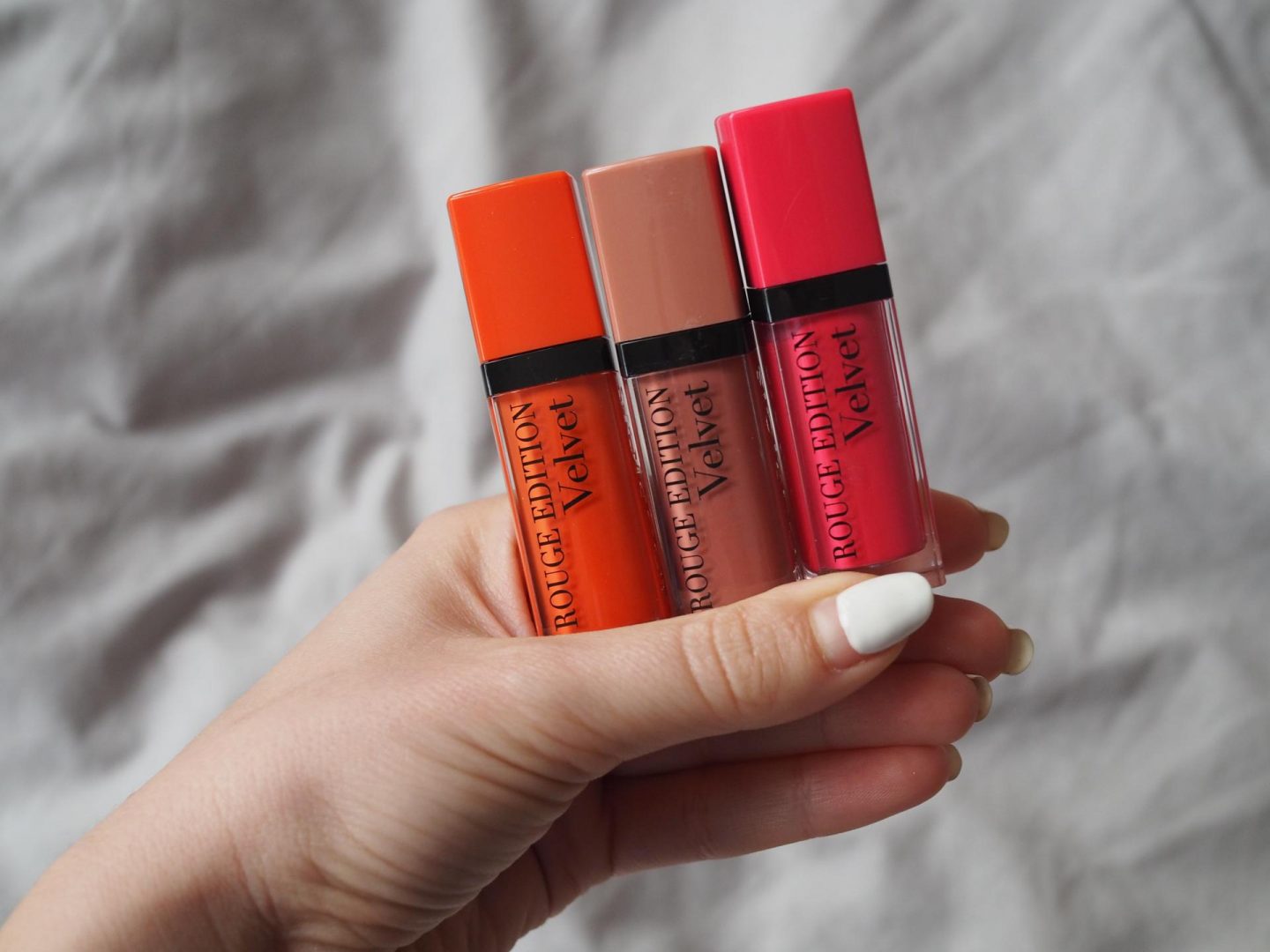 Have you tried any long-wearing make-up that you recommend for lips or eyes? Don't forget to follow me on Instagram @beautyrocksblog for all my latest posts!).
SHOP the post here: