Imagine a private island in the middle of one of the world's largest freshwater lakes and you can imagine paradise can't you? Well, that's exactly what I experienced on Mumbo Island – PARADISE. If you want to actually escape the business of modern life, get back to nature and go on a true digital detox then Mumbo Island in Lake Malawi is definitely worth a trip to. I was super lucky to get to be able to go back to Malawi for the second time and it still remains one of my favourite African countries to date. The lake itself is beautiful and is the life source of the country. If you have visited Lake Malawi or plan to then I would suggest staying on the shores of the lake and also experiencing something different, like Mumbo Island.
I was lucky enough to get to experience both. I visited Lake Malawi years ago and actually wrote a book on my African adventures called Savannahs & Sunsets: An African Adventure which is an entry-level travel diary on 10 countries in Africa. I spent over 3 months travelling around 10 countries, camping and moving overland by truck. It was certainly an adventure! Africa is a magical place and there is nowhere on earth like it. There is something raw and beautiful about the continent and Malawi is one of those places that you can very easily and safely travel to.
My second time in Malawi therefore started out with a trip to Mumbo Island. It's quite a distance from Lilongwe, about 4 hours by minibus but once we arrived at Cape Maclear the sun was out and the lake was glistening before us. You can get to Mumbo Island through the Kayak Africa at Cape Maclear and from there it's only a 45 minute ride to Mumbo Island. The journey there is pleasant and the lake is beautiful with clear, warm blue water.
Now as I said, Mumbo Island is a true digital detox – there is no Wifi on the island which can be absolute bliss for some or for others a nightmare. But if you are there to enjoy and reconnect with nature I say you can live without wifi for a couple of days right? And reconnect with nature you will. The island looks like a tropical paradise and the water on the beaches of the island looks like you are in the Caribbean – its so clean and clear. I chose to sit on a rock and look out on the lake while others went kayaking and snorkeling. In terms of other activities, you can also go hiking on one of the many trails through miombo woodland, ancient fig and baobab trees.
In regards of accommodation you can either stay in the honeymoon lodges, which overlook the lake and come with outdoor showers or you can sleep in huge tents that sleep two (kind of like glamping). They are tents but they are comfortable with beds and there are nice shower and toilet facilities as well. The staff bring hot tea and biscuits for you first thing in the morning and leave them outside of the tents/rooms so you can greet the day peacefully.
Mumbo Island is all about barefoot luxury – the whole island only sleeps 14 guests so it never feels overcrowded and there is always peace and quiet. In terms of food we had some amazing meals at the restaurant on the island which of course serves breakfast, lunch and dinner. The food is all sourced locally and sustainably at the restaurant.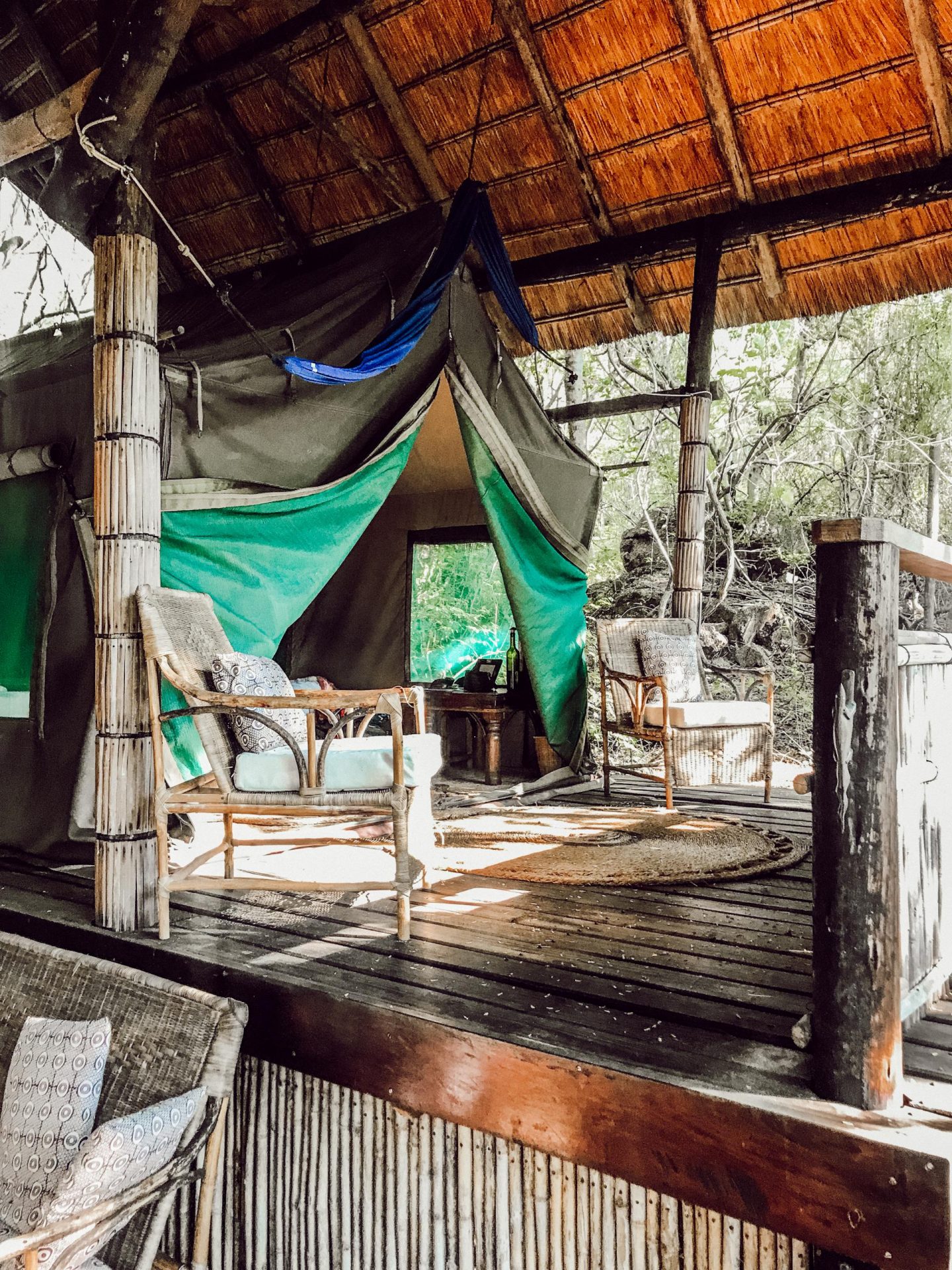 If you are into eco-travel in Africa or eco lodges then Mumbo Island is definitely one of them. They compost all of their kitchen waste, the wood for the lodges/decks are sourced sustainably in Malawi and they have a micro-loan scheme for their own staff. Water is pumped in from the lake from a solar pump and then filtered. The toilets are also compost toilets (i.e. they look like real toilets but don't flush – you simply have to add a scoop of sawdust after doing your business). It's clear that they are taking responsibility for the environment and ensuring that there isn't a negative impact from tourism on the environment.
Mumbo Island is definitely a different experience on Lake Malawi due to the fact that it is a private island. We also were able to enjoy a sunset cruise on the lake in a little boat and the water became so still at sunset it looked like glass. You could hardly tell where the sky and the lake met with one big blue haze. It's truly incredible and if you are visiting Malawi definitely make this a stop on your itinerary. Travel can be exhausting so this is a nice place to relax and unwind, especially if you are doing a lot of adventure travel or camping through Africa (like I did previously). If you want to read about my experience in Lilongwe where I discovered the most amazing boutique hotel or my unforgettable trip to Mvuu Lodge in Liwonde National Park where I saw hippos outside my room then make sure to have a read through!
For more information you can visit the Kayak Africa website HERE.